There are several chances for outdoor recreation in the city of Rexburg, which is located in Madison County, Idaho. It is unique because of its wealth of undiscovered tourist destinations and natural attractions. There are many of outdoor activities available, like exploring the gorgeous Sawtooth and Teton mountain ranges and sparkling lakes. Don't forget to visit Yellowstone National Park, which has its own Grand Canyon, while making travel plans to Rexburg. Rexburg is a great place to stay for a few days since it is just where you need to be to go to Yellowstone's entry gate. There are several local businesses, art galleries, and museums to visit in this area.

Additionally, the Teton Scenic Byway is a great place to go for a long, soothing drive. You don't even need to worry about lodging since Rexburg boasts a wide selection of themed hotels and Airbnb vacation apartments. There are several activities in Rexburg, Idaho, that will make your trip exciting if you're in the mood for an adventure.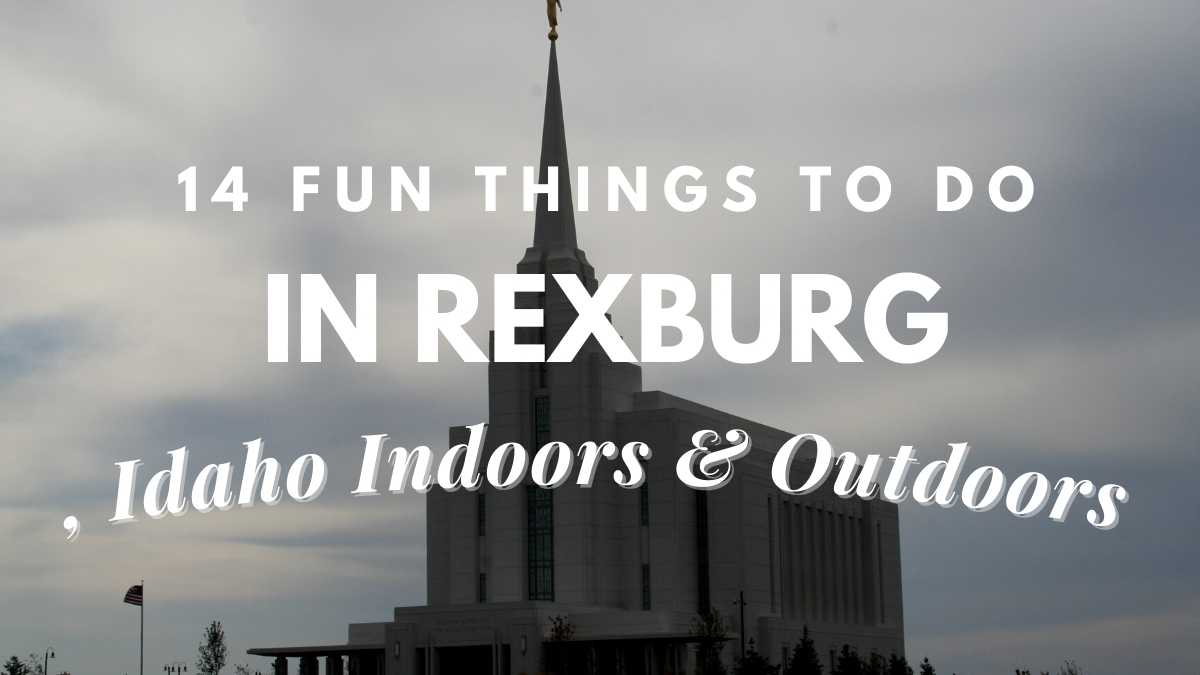 1. Take a stroll along Cress Creek Nature Trail.
A brief but strenuous trek may be found along the South Fork of the Snake River on the Cress Creek Nature Trail. The route slowly ascends, although there are several sharp drops and inclines that make navigation a little challenging. On a clear day, this well-marked self-guided route is ideal for exploring, particularly if you want to take in the panoramic views of the Snake River and the nearby farmlands. There are also a variety of activities appropriate for people of all ages. The months of June through October are ideal for hiking on this track.
Read: Is Traveling A Hobby? The Ultimate Guide To An Exciting Way Of Life Learn about the Downsides Of Traveling As A Hobby

2. Spend the day in the fresh air in Rexburg Nature Park
A 15-acre (6.1 hectares) park away from traffic, Rexburg Nature Park is the ideal place to spend a day in the great outdoors. The picturesque spot is near to the Teton River and is a perfect backdrop for a picnic. Additionally, Eagle Park Campground is conveniently connected to it, making a camping vacation possible! A 9-hole disc golf course, a skate park, and fares are available nearby this Nature Park. If you're fortunate, you could even get a glimpse of some nearby animals.
3. Visit the Legacy Flight Museum to feel patriotic
The Legacy Flight Museum, created by aviation enthusiast John Bagley, was established in 2006 to pay tribute to American war heroes. A few of the personal planes used in the service of the nation are shown to visitors by IST volunteers who maintain the museum. Not only can you see a variety of both old and new aircraft, but you can also enter the cockpit of one to experience it firsthand!
4. Visit Yellowstone Bear World to get up close to the animals.
Without making the required visit at Yellowstone Bear World, no journey to Yellowstone National Park is complete. This wildlife park that you may drive through is a true experience that allows you discover the outdoors in the privacy of your own vehicle. If you see a bison or a Rocky Mountain elk hiding in its natural environment, don't be shocked. What else? While you're at it, you may feed the bear cubs as well!
5. Arrange a fun day in Porter Park with your children.
One of the first parks in Rexburg, Idaho was Porter Park, which opened in 1919. The park, also known as Rexburg Splash Pad, has a variety of activities for you to enjoy with your children, including playground equipment, tennis courts, basketball courts, picnic pavilions, and more. You may also simply relax on its huge expanses of grass or stroll along its walking path. Porter Park has a variety of intriguing things to do, but its most notable attraction is the historic Idaho Centennial Carousel, one of the nation's 170 antique carousels.
6. View Kidsburg Discovery Center
The Rexburg Kid's Discovery Center is a facility for kids whose goal is to improve their lives. This location has grown to be of utmost significance to the neighborhood it serves throughout time by providing children with a comfortable setting in which to explore and learn through play. The events and activities are meticulously crafted to provide extra opportunity for some serious fun, and they include over 5,000 square feet (464.5 square meters) of indoor exhibitions and learning experiences! Therefore, don't forget to stop by if you want to provide your kids a variety and fulfilling experience in Rexburg.
7. Cool off at Rexburg Rapids
On sweltering summer days, Rexburg Rapids is the ideal spot to cool down. Your kids will have endless fun at this water park, which has climbing walls, water slides, a splash pad, and much more. Even though children may be the majority at the park, there is still lots of green space where you may lie down in the sun to get a tan. There is also a moderately priced concession stand with food and beverages if you don't want to bring your own.
8. Schedule a tranquil day at Smith Park
On the eastern edge of Rexburg sits Smith Park. This beloved park is discretely hidden away in a peaceful area of the city. Here, you may unwind with a good book while your children play in the nearby play area. On the Rexburg Bench, you can also see the vintage steam engine from 1962 that honors the first dry farming days. Two baseball diamonds, gazebos, tennis courts, a picnic area, and a Veterans Memorial are all included in the park's amenities.
9. Examine the Rexburg Idaho Temple's beautiful architecture.
Brigham Young University is close by the Rexburg Idaho Temple in Idaho. This remarkable landmark, a five-story temple, can be seen from the city's main thoroughfare. It is one of the most prominent buildings in this rural village due to its contemporary design and massive façade. You may go to the temple to see its magnificent architecture and then spend the rest of the day wandering around the lovely garden that is accessible to the public.
10. Visit the Rexburg Farmers Market to sample local cuisine
The Rexburg Farmer's Market is a great spot to spend a Friday afternoon looking through handcrafted crafts, eating farm-fresh food, and enjoying the best baked delicacies. This tiny, close-knit rural gathering is a lot of fun. This is the place to go if you want to experience Rexburg's local charm!
11. Stay the night at the Eagle Park Campground
The Teton River corridor and trail network pass via Eagle Park. If you want to experience classic camping, this is the place to go. You and your family may easily spend a comfortable night's sleep thanks to the 24 campsites available for tent camping, as well as the availability of restrooms and clean drinking water. If you want to visit during the busiest season, you must make reservations in advance at this popular campsite.
12. Visit the Rexburg Stake Tabernacle and the Teton Flood Exhibit at the Museum of Rexburg.
In the Rexburg Tabernacle's basement, the Museum of Rexburg: Home of the Teton Flood Exhibit first opened its doors in 1981. The museum has an array of artifacts and images depicting the city and its surroundings. You could easily spend four to five hours studying about the history contained in this structure. A 20-minute video of the actual dam collapsing, and flooding of the region is also available. This is a fantastic location for history buffs and a fantastic chance to discover Rexburg's past.
13. View the dawn from R Mountain in Wyoming's Grand Teton National Park.
In Rexburg, the traditional R Mountain trek is one of the most popular day trips. This trip may be completed in 45 minutes on a warm day and is 3.3 miles long (about 5.3 kilometers). However, going in the evening to see the sunset is the finest time to go. Bring a blanket and your camera so you can view the dawn from behind the Tetons. It makes the Snake River glow!
14. Visit Porter Park's Idaho Centennial Carousel.
The Idaho Centennial Carousel, dubbed the "jewel of Porter Park," is the only vintage wooden carousel in the state. It was constructed in 1926 by the Spillman Engineering Company of New York and transported to Rexburg in 1952. It was reconstructed in time for Idaho's 100th birthday in 1990 after being destroyed in the Teton Dam floods. At Porter Park, the carousel is one of the most popular attractions. It continues to function utilizing the original antique music scrolls manufactured by the Stinson Band Organ Company in Ohio.
Final words
By reading this article, you are aware about fun things to do in Rexburg Idaho. You just need to follow this as a guide and prepare your itinerary accordingly. Then you will be able to end up with getting amazing results in the long run. It can deliver a perfect experience to anyone who is planning to go to Idaho as well.