The finest caving lights feature a broad range of beam outputs, a long battery life, and most importantly, they are dependable. When you go ahead with exploring caves, you should figure out what the best headlamps for caving are. If you want to explore subterranean cave networks, you'll need a decent flashlight to guide you. As you descend a cave, you will quickly find yourself in utter darkness, and even after your eyes have adjusted, you will be unable to see your hand in front of your face. Continue to read and we will share details about the best available options with you.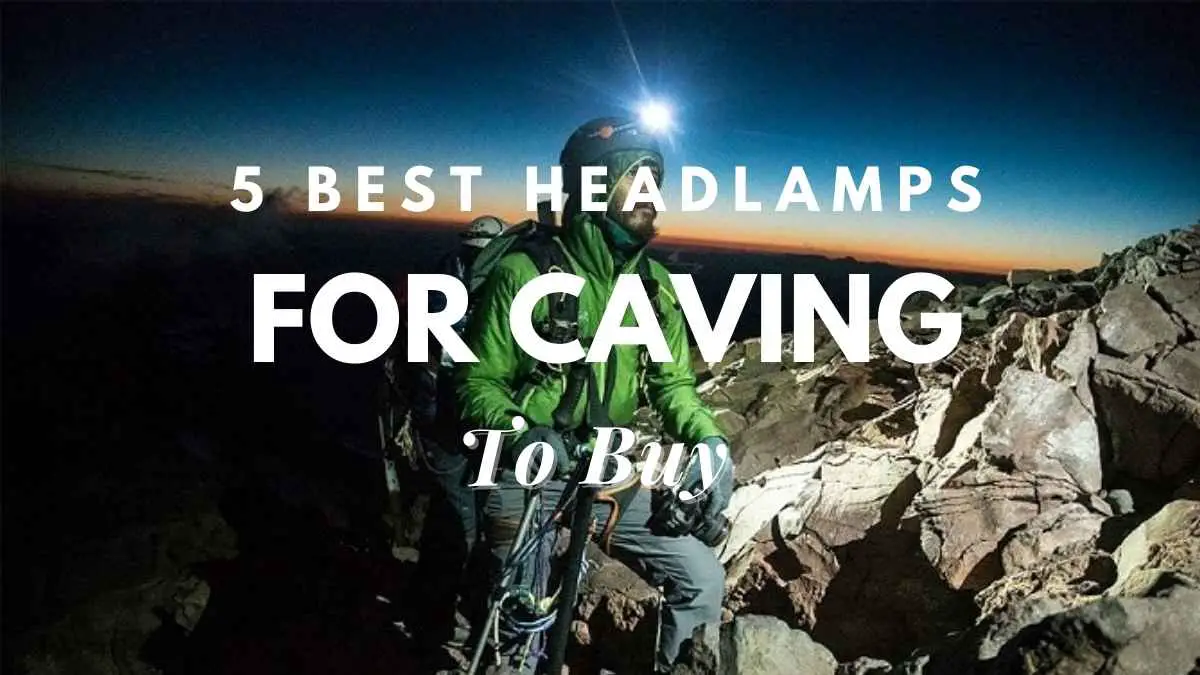 1. ThruNite TH30 LED Head Torch
Our favorite headlight for cavers of all levels is the ThruNite TH30 LED Rechargeable Head Torch.
This is the caving headlamp we'd select if we had to choose only one for the next two years.
It boasts the widest variety of lumen outputs and the longest battery life of any caving headlamp, and it can be readily unclipped to use as a handheld light while checking into narrow tunnels.
The breadth of settings is the finest we've seen, and they're all controlled by a single button, which we like.
You may choose from seven distinct light modes with lumen outputs ranging from 0.5 (firefly mode) to 3350 (turbo mode), giving you a lot of flexibility in terms of brightness and beam distance.
Firefly mode is similar to limp mode in that it allows you to look around in an emergency but does not allow you to get very far.
The turbo setting is ridiculous and will be used very seldom, but the medium-low 130-lumen output is ideal for a whole day of caving.
A single 3100MAH 18650 IMR battery is the most dependable alternative and delivers all the power you need.
If you're caving for more than a couple of hours and want a high output, you can bring replacements and quickly swap them out.
For added battery life, you may charge the light using a power bank in your pocket.
Both of these features make this an extremely dependable caving light that is ideal for lengthy usage beneath.
Read: Is Traveling A Hobby? The Ultimate Guide To An Exciting Way Of Life Learn about the Downsides Of Traveling As A Hobby

2. Petzl Duo Z1 Rechargeable Waterproof Headlamp
The Petzl Duo Z1 Waterproof Rechargeable Light has long been the caver's go-to headlamp, with several modifications throughout the years.
The DUO Z1 is packed with the most cutting-edge headlamp technology, including ATEX certification and FACE2FACE technology.
It is PRO ADAPT compatible and can be placed on your caving/helmet, miner's making it suitable for severe caving.
The four light settings (plus BOOST mode) adjust the kind of beam as well as the lumen output to fit your situation.
For close range and the best burn duration, you have a low-intensity flood beam.
Then there's a proximity option with a mixed beam, which is the most often utilized setting.
Then there's a movement beam with a targeted component and a broad beam for mixed-use.
Finally, the distance setting produces a highly focused beam that may be used to inspect deep cave passageways.
The most significant disadvantage of this light is the high cost of the batteries, which will cost over half the price of the full headlamp if you wish to carry a spare.
Even yet, if you want the greatest caving light, you'll have to spend a premium.
While on the road, you can charge the light using a pocket power bank, although this isn't ideal.
The battery can be charged from empty to full in 8 hours, and there is a CONSTANT LIGHTING function that maintains a constant output until the battery reaches 10% capacity, at which point the battery switches to reserve mode.
The Petzl DUO Z1 has an IPX6 certification, which means it's waterproof to 1 meter for 30 minutes, which should be plenty for most cavers, although I'd want it to be a bit higher.
The FACE2FACE technology, which detects other DUO headlights within 8 meters and dims the beams automatically while facing each other, is the most sophisticated feature of the latest upgraded model.
This is fantastic if you're in a small group and everyone has the same headlamp, but it's worthless with other kinds.
3. HM65R Rechargeable Headlamp by Fenix
With its separately controlled floodlight and spotlight that can be combined for an illuminating 1400 lumen output, the Fenix HM65R Rechargeable Headlamp is ideal for caving.
It has a magnesium alloy housing that is very light, strong, and protective, making it a solid alternative for cavers.
It never falls down your head since it is so light, which may be an issue with headlights that don't have a back-battery pack for balance.
The floodlight mode offers three brightness levels, while the spotlight has four, including turbo mode, for a total of seven illumination choices and combinations.
Your battery can last up to 300 hours on the lowest level in floodlight mode, putting your mind at rest that you won't run out of energy if you walk into a cave fully charged.
On the turbo spotlight setting, you can see up to 163 meters ahead of you, which is a little excessive in a cave but ideal for other outside applications.
The Fenix HM65R is powered by a single 3500 mAh battery that can be recharged by USB-C and simply replaced with a fully charged spare battery that you can carry in your pocket.
This headlamp's battery life is outstanding, and I seldom charge it unless I'm using it for caving.
Some customers have reported that it becomes a little warm after a few hours of usage, which isn't a big deal and is rather good if you're caving in the winter.
4. H15R Core Rechargeable Headlamp
The Ledlenser H15R Core rechargeable headlamp is similar in size and weight to the Petzl DUO Z1, but it is set up differently.
The side button is used to switch it on and off, and the brightness may then be changed.
Unlike other caving headlamps, this one doesn't have any pre-programmed light settings; instead, you may vary the brightness from 20 to 2500 lumens.
By extending the telescopic lens, you may concentrate the beam like a spotlight or use it as a floodlight.
On the lowest level, you'll receive roughly 20 lumens of light that will enlighten up to 65 feet in front of you and last up to 80 hours.
You must be very cautious not to flash it in people's eyes on the maximum setting of 2500 lumens since it is very bright and might cause harm.
You gain a gigantic 250-meter light range at this level; however it will ultimately decrease to reserve mode before 5 hours.
Although the 4800 mAh Li-ion 7.4V rechargeable battery is somewhat big, it is a relatively inexpensive backup battery (unlike the Petzl DUO which costs a small fortune).
The huge battery has the advantage of providing a steady power backup, so you won't be caught out in the dark.
A coiled cable links the battery to the headlight around the side, which may be detached while recharging.
5. Rechargeable LED Headlamp
The Coast HL8R Rechargeable LED Headlamp isn't horrible for caving, but it's the last one we'd recommend out of the five we've mentioned.
The reason for this is due to the fact that it is made of plastic and has a low IPX rating of 4, making it prone to water damage when caving.
The twist focus lens that shifts from spotlight to flood beam, as well as the easy variable light control, are appealing features, but are they enough to justify spending money on this headlamp?
It boasts a beam distance of more than 210 meters and a 62-hour run duration in low power mode, which is still rather bright at 50 lumens.
With the rechargeable battery, the battery pack is very heavy, and with 4 x AA cells, it is considerably heavier, although you quickly grow accustomed to it.
The battery pack may be recharged while still attached to the headlamp, or it can be removed to be charged or rotated with a spare.
Spare parts may be purchased separately.
The HL8R from Coast is our favorite headlamp for caving, but the fact that it is simply water-resistant rather than entirely waterproof is a major drawback.
You may still use it for dry caving and other outdoor activities, but when it comes to caving, safety and dependability are paramount.
We don't enjoy taking chances, but if you insist on having this headlamp, we won't attempt to convince you differently.
Cave Headlamps: A Buyer's Guide
Any excellent caving headlamp should have specific properties, but unless you've used one previously, it might be difficult to know what to look for.
Here are the major criteria we used to choose the best cave exploring headlamps:
Brightness
The brightness is usually measured in lumens (lm) and may vary anywhere from 0.3 lm on the lowest settings to 2500 lm on the highest.
You don't need a high lumen output since it will be infrequently used and will deplete batteries quickly, so concentrate on the advantages rather than the brightness.
It's significantly more crucial to be able to change the brightness quickly than it is to have the highest possible output.
Distance Between Beams
Unless you're exploring a large cave system, 100 lumens should be more than enough to see everything in front of you and for the following 20 meters.
That being said, having a little more juice is always good, and if your battery can handle 300+ lumens, you'll generally have amazing visibility of over 50 meters.
It's never a bad idea to have a broad variety of beam distances, which can usually be adjusted between flood and spotlight modes.
Type of Battery
Ideally, you should opt for non-brand specific rechargeable lithium-ion batteries that can be swapped out quickly.
The single 3100MAH 18650 battery, which is slightly larger than an AA cell, is the optimum form of battery for caving headlamps.
In comparison to bigger branded batteries, they are long-lasting, rapid charging, inexpensive, tiny, and lightweight.
A power bank may be used to increase the battery life if you can charge while using your light.
In certain cases, compatibility with throwaway batteries might be a huge plus.
Time to Charge
You can get a fair sense of how long a headlamp battery will last by looking at the run durations in both maximum output and low light settings.
One of the reasons we believe the ThruNite TH30 is a terrific pick is because we want to see strong numbers across the board.
We'd want to see a minimum burn duration of 3 hours if we're using a medium-light level of roughly 300 lumens.
You may, of course, utilize a lower light setting to extend the run life and bring more batteries if necessary.
Final words
These are the best headlamps for caving that we can recommend. Being trapped in a cave and unable to exit is a caver's greatest fear, therefore have some caving rope with you at all times. If your light source goes out when you're deep into a cave network, there's a good probability you won't be able to find your way out. This is why having a reliable light is so crucial while caving, and why inexpensive camping lanterns should be avoided. Our choices for the best caving headlamps are based on lights we've tried and tested as well as feedback from friends in the business.