Georgia's slow-moving, long-running streams of the Chattahoochee provide a distinctive Southern drawl to the state. The river runs southward to reach the state boundary with Florida from the northeastern portion of the state to the west, where it follows the Alabama border. The river yawns into large lakes in some places and teeters into whitewater rapids in others.

If you cycled the whole length of the river, you could view almost all of Georgia's latitude and longitude coordinates. These tubing locations are adjacent to camping places and will take you to every curve of the Chattahoochee River. Continue to read this article and we will be sharing more details with you about tubing on Chattahoochee River.

Without taking part in this rite of passage, a summer vacation in a Helen rental cabin is incomplete. You have undoubtedly heard how much fun tubing in Helen, Georgia is while you have been making travel arrangements for your holiday there. Actually, the most popular activity in the region is tubing (at least during the summer).

So, you wonder, what exactly is shooting the 'Hooch? A pleasant day on the water with your family and friends may be had by just jumping into the lovely Chattahoochee River. For these two hours, you and your family or friends may unwind and take in Georgia's natural splendor as you peacefully float through Alpine Helen Georgia and down the Chattahoochee River.

Helen Tubing and Waterpark and Cool River Tubing both willingly provide tubing activities in the community. Both provide various river floats as well as a day's worth of fun-filled water park activities, including slides and splash pools.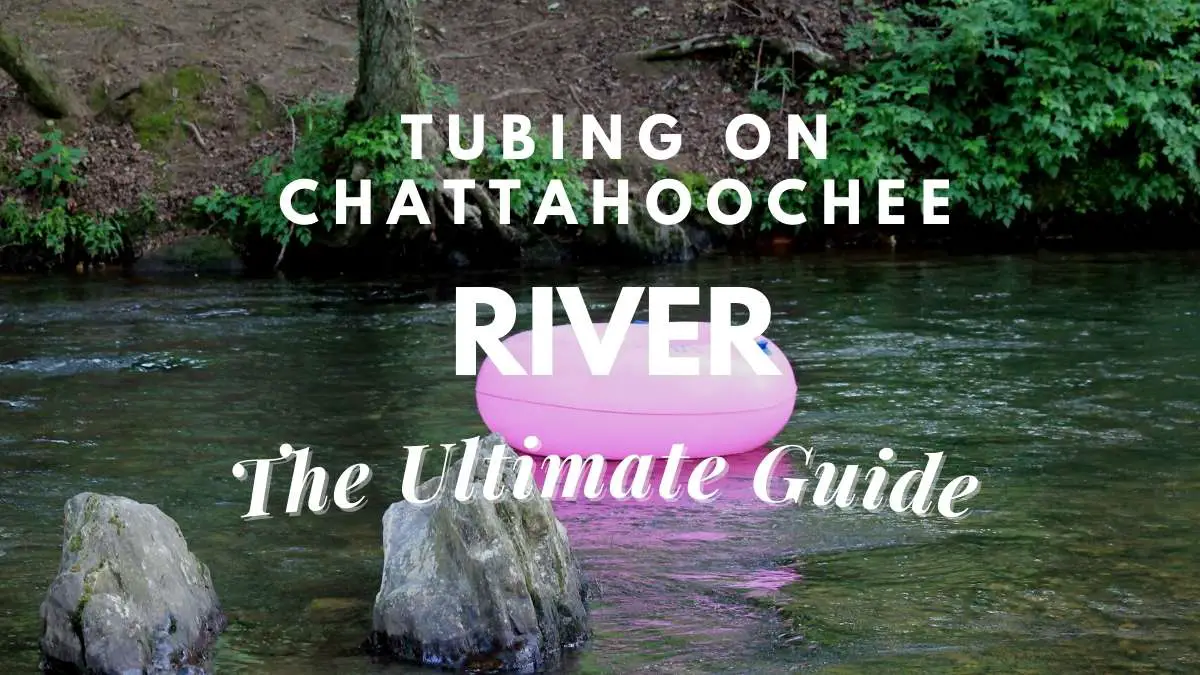 What is Chattahoochee River all about?
The enormous Chattahoochee River originates as a spring in the Blue Ridge Mountains and travels 430 miles to the Gulf of Mexico after passing through Helen, the Chattahoochee-Oconee National Forest, and the mountains. It is the ideal location for inner tubes to calmly glide through Helen because of how calm the section of the river that runs through Helen is. Any warm summer day will see visitors and residents riding colorful tubes around the town while indulging in "Hooch"; no trip to the Georgia mountains is complete unless you "Shoot the Hooch."
White water rafting is more often recognized as the trendiest river activity, yet it can be strenuous for some people and downright terrifying for others. While on vacation, the last thing you want to think about is "hard labor," which is what you would associate with canoeing and kayaking. Everyone should absolutely give tubing a try.
Read: Is Traveling A Hobby? The Ultimate Guide To An Exciting Way Of Life Learn about the Downsides Of Traveling As A Hobby

How to enjoy tubing on Chattahoochee River
The most stunning and breathtaking vistas have been observed when tubing down a river on a tube. Imagine resting in the water and tanning at the same time. a reasonable substitute for water parks where you can just sit and slide. You can float downstream while sitting inside a tube thanks to tubing.
You may be transported up the Chattahoochee River for a reasonable fee, afterwards you'll be left off with your inner tube so you can enjoy your river trip. Although locals have long known about it, tourists now find it to be rather popular. Simply because it promotes the serenity that a vacation should provide, many families will choose tubing above other activities. Starting from the top of the river, you will float downstream for, on average, 2-3 hours. You love doing this by yourself to clear your mind. Families and couples may both enjoy it. You may just float about while pointing out various animals and plants if you connect your tubes together. The landscape of Georgia is among the most breathtaking in the world. Planning a family trip that includes tubing through Helen would be a magnificent experience in and of itself.
What Makes Tubing So Great? Enjoy Your Time While Tubing
You must not pass up this chance if you're in Helen during the warmer months! The Helen, Georgia Tubing and Water Park has a water park in addition to tubing. Here are six benefits of tubing in case you're still not persuaded.
Finding family-friendly vacation activities that are both inexpensive and enjoyable is not always simple. The most well-liked activity among the numerous enjoyable and inexpensive things to do in Helen is unquestionably tubing. The family-friendly Helen tubing can be experienced for as little as $8 per person and is a fantastic way to relieve tension.
The tubing can seem a little bit excessive to folks who are not usually "outdoors" or "adventurers" In actuality, tubing is a very enjoyable and peaceful way to spend the day socializing with people. You and your party may organize your tubing excursion to fit the amount of time you have available, whether it be a speedy one-hour trip or a leisurely two-hour excursion.
You will have plenty of time when tubing with your family to fully disconnect from all of your technology and anxieties about the outside world, allowing you to instead concentrate on having fun and splashing about as a family. Tubing is the ideal activity for anybody searching for a relaxing day on the river with their thoughts, a romantic day with their special someone, or a memorable and thrilling family outing.
Family-friendly River Time
You and your group (or family) may enjoy splashing, playing, floating, and resting for either one-hour or two-hour tubing adventures, depending on how much free time you have. You will have lots of chances to converse, laugh, and take in the breathtaking beauty of northern Georgia as you cruise down the river. The sum of these components is what makes tubing such an amazing experience!
And the girls are wonderful. Helen tubing is ideal for the world's most relaxed honeymoon or for a lengthy ladies' weekend. You will undoubtedly have fun tubing on the Chattahoochee River in Helen, Georgia, regardless of who you are with.
Utilize The Cool River to Beat The Heat
Tubing in Helen can be summed up in three words: "Beat the heat." Being cooped up indoors on a steamy summer day is hardly the most appealing prospect for a getaway. Tubing is a great way to beat the summer heat on a cheap, which is one of the reasons it attracts so many tourists. Even the worst of days might feel a lot better when you're floating downriver in the cool Georgia Mountains.
A Great Technology Alternative Is Tubing
Many of us who have children are seeing their increasing addiction to their cellphones, video games, and television. However, if your kid ends up in the river, at least we'll be able to keep them off the phone for a couple of hours, so that's a start, right?
You'll have a terrific time in the water with your kids and share an experience that you wouldn't normally receive at home. You will get two hours to converse, play, and take in the surroundings without being bothered by your phone or video games. Get outside and, most importantly, enjoy yourself.
Expectations for Your Tubing Experience
Even though we often have the best of intentions when it comes to vacation planning, it seems that far too frequently our plans fail. Fun with your family might be seriously hindered by hot weather, lengthy lines, and unpleasant lodgings. The greatest way to guarantee that everyone will have a nice time is to go tubing in Helen, Georgia!
Depending on whether you choose a one- or two-hour tubing excursion down the Chattahoochee, you will be bussed up the river to one of two starting points.
You may not find it immediately appealing to wade into a river. However, you can be certain that the Chattahoochee River is not some murky, filthy body of water. The Chattahoochee River, on the other hand, has cold, beautiful waters that are sure to win over any visitor! You may unwind for hours as you float leisurely down the river in a state of calm, tranquil serenity.
The river is completely surrounded by the enormous timberland forest of North Georgia, which forms a lovely and gloomy canopy over the waters. Wildlife that you could see includes local birds, bunnies, chipmunks, deer, and more! Even the Alpine Helen town itself will be a part of your tubing route. As you cruise past, you'll take in the views of this charming neighborhood and glide under the lovely bridge.
You and your company will be able to take in the stunning vistas and wide woodlands that line the river, and you can point out the many plants and creatures that you may come across. Additionally, you can come across locations where you can "take off" your tube and hang from a rope across the river, plunge into the enticing waters, and then continue traveling downstream.
There will be plenty of opportunities for family bonding and creating memories. It might be challenging to avoid disturbances from TV, video games, laptops, mobile phones, and Bluetooth sets in the digital age. Imagine leaving things behind for two hours so that you and your family can just spend time together, sharing stories and laughs while exploring the outdoors. Nothing can bring a family together like the experience of "shooting the 'Hooch" to make them enjoy one other's company.
But after you reach the "take out," the fun doesn't stop. After the tubing experience, several tubing businesses provide water slides for some extra enjoyment. And if you and your company are still peckish, you can round off the day with a delicious picnic lunch in one of the authorized picnic spots.
Should you go for tubing on Chattahoochee River in summer?
This summer, are you looking for a nice spot to cool off? Nothing is more reviving than dipping both feet into the water. Helen Tubing & Water Park is the place to be during the hottest months of the year, whether you're ready to "shot the 'Hooch" on a tubing tour down the river or would like to splash about in the safe waters of a water park.
You will have a great time here since it is one of the most popular Helen attractions, drawing both residents and tourists. Prepare to create some wonderful memories in the seas off of northern Georgia with your family and friends!
Pricing
You may spend your day at Helen Tubing & Water Park in a variety of ways that fit your budget. If you're a little pressed for time, you may want to stick with the $8 single tubing pass. Your choice of tubing experience, a tube, a life jacket, and transportation are all included in the entry price. You have a choice between the short run, which takes around one to one and a half hours to finish, and the long run, which takes about two to three hours.
The water park entrance, which costs $25 and gives you access to all of the park's activities as well as tubing on the 'Hooch, is the greatest value. For an additional cost, swimming suits, water shoes, push-off sticks, neck boxes, and sunglasses are all available.
Everybody will enjoy the unique experience of tubing in Helen. No matter your age or gender, you may enjoy the tranquil feeling of floating down the river while passing through forests and taking in the stunning northern Georgia environment.
Final words
Now you know what it is like to go on tubing on Chattahoochee River. You may pick between tubes with bottoms and tubes with open centers at Helen Tubing and Waterpark, the latter of which can be more suitable for younger tubers. You will get a free shuttle ride to the launch places in addition to your life jacket. You may ride the river as many times as you want or go over to the water park to complete your day since free shuttles pick up guests there every 15 minutes.