The Great Smoky Mountains National Park is the most visited national park in the United States, with over 11 million people each year enjoying world-class hiking, fishing, whitewater rafting, and sightseeing. The UNESCO World Heritage Site is home to one of the most varied biospheres in the United States, as well as charming resort towns like Gatlinburg, noted for its mountain chalets and family-friendly activities, and Pigeon Forge, home to the famous amusement park Dollywood. Throughout the park's North Carolina and Tennessee border towns, visitors may pick from a choice of campgrounds, many of which include electric connections, modern bathhouses, and family-friendly facilities like swimming pools and gaming rooms. Continue to read and we will let you know about the best campgrounds in Smoky Mountains.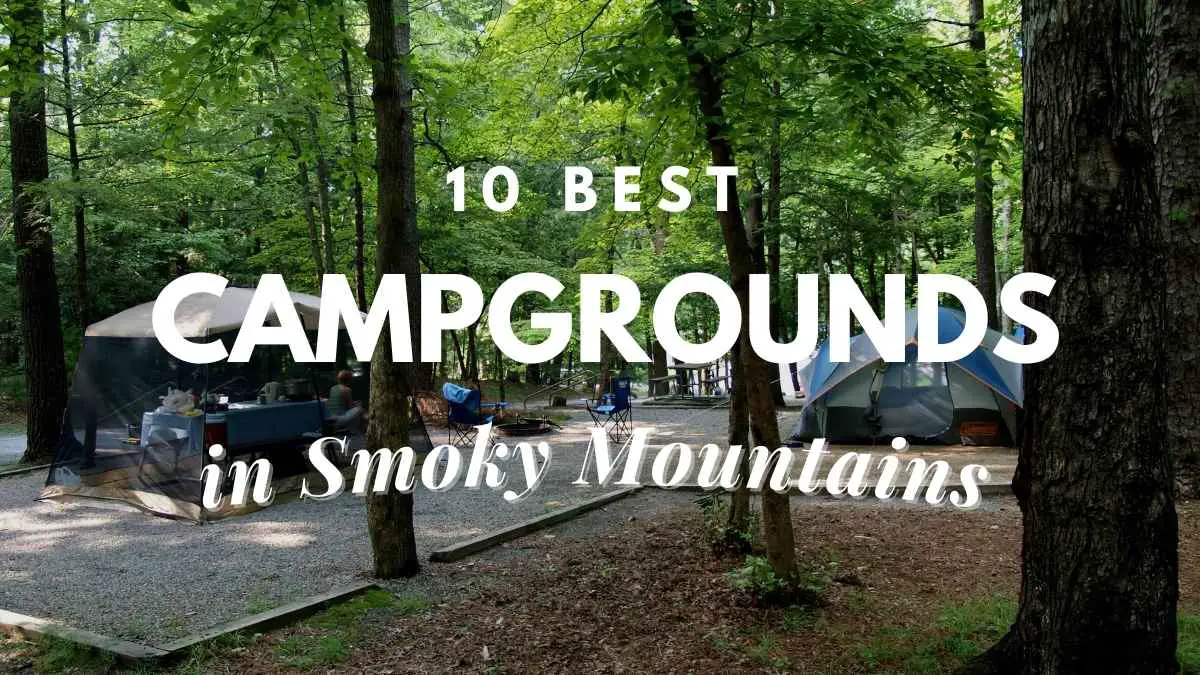 1. Abrams Creek Campground
Abrams Creek Campsite is a lovely conventional campground situated in one of the park's more secluded locations, making it a wonderful alternative for tourists wishing to escape away from the tourist traps of Gatlinburg and Cherokee. Visitors may enjoy year-round recreational activities like hiking and fishing without having to contend with the crowds that can be found in some of the park's more heavily-visited locations. It is situated at a height of almost 1,125 feet above sea level and has breathtaking natural landscapes. Traditional outdoor campgrounds lack contemporary facilities such as power connections or showers, but all campers have access to clean toilets and drinkable water. The campground provides access to over 800 miles of well-maintained hiking trails throughout the park, as well as excellent trout fishing.
Read: Is Traveling A Hobby? The Ultimate Guide To An Exciting Way Of Life Learn about the Downsides Of Traveling As A Hobby

2. Campground Alpine Hideaway
Alpine Hideaway Campsite is a charming rustic campground in the heart of Pigeon Forge, Tennessee, only minutes from the Great Smoky Mountains National Park. The park is privately owned and is set in a valley between two mountains, giving excellent shelter from natural trees at all campsites. RV connections and the usage of rented RVs with complete kitchens, showers, beds, and cable TVs are available at 62 old-fashioned campsites. There are also eight rustic cabin rentals available, each with cable television, refrigerators, microwaves, and other contemporary conveniences. Visitors may utilize day-use picnic tables, as well as BBQ grills and fire pits, outside. The campground's magnificent outdoor pool and children's playground are available to families.
Read: 20 Must-Know Great Smoky Mountains National Park Facts
3. Balsam Mountain Campground
Balsam Mountain Campground is a conventional campground with 42 traditional campsites, flush toilets, and drinking water for all guests, situated in a remote region of the gorgeous Great Smoky Mountains National Park. The campsite has no connections or showers, making for a basic camping experience for those wishing to get away from it all and enjoy the great outdoors.
The campsite is situated at a height of more than 5,310 feet above sea level atop beautiful Balsam Mountain, which has year-round moderate temperatures and serves as an elk habitat in the spring and autumn. Near the campsite, scenic hiking routes begin, offering as less-traveled alternatives to several of the park's more popular hiking trails. The Flat Creek Trail, which runs through a hardwood forest, and the 14-mile Hemphill Bald and Rough Fork loop, which offers spectacular vistas of old-growth trees, are two of the many trails available. Numerous streams meandering through the mountain range's slopes and valleys provide chances for wilderness fishing.
4. Big Creek Group Campground
Big Creek Group Campground is situated on the banks of the gently flowing Big Creek on the Tennessee-North Carolina border in the extreme northeastern part of Great Smoky Mountains National Park. The campground is ideal for group camping trips, since it can accommodate up to 25 people. Flush toilets, potable water, and running sinks are among the modern amenities available at the campground. Barbecue grills, fire rings, and tent mats are available for use outside.
The campground is encircled by a lovely woodland canopy that gives plenty of shade. The spectacular 35-foot Mouse Creek Falls, which is situated at the junction of the gorgeous Big and Mouse Creeks, is a nearby location inside the national park. A number of beautiful trailheads are within walking distance of the campsite, making it an excellent option for hikers of all abilities.
5. Brookside Campground and Rafting
Brookside Campground and Rafting is nestled on the banks of the beautiful Rowland's Greek River, less than a mile from the Nantahala River launch location in Topton, North Carolina. Beautiful grassy campsites with full power connections can be found in the Perfect Smoky Mountains National Park campground, making it a great alternative for tourists looking for a modest degree of contemporary conveniences. All overnight visitors have access to hot showers and clean toilets, as well as laundry and rubbish facilities.
There includes a gaming room for guests of all ages, as well as a children's playground for younger visitors to enjoy. Picnic areas are available for day use, and ice and firewood are sold on site. Nearby, tourists may take advantage of some of the national park's greatest whitewater rafting opportunities, which are supervised by CPR-certified guides.
6. Cades Cove Campground
Cades Cove Campground is situated in the beautiful Cades Cove section of the Great Smoky Mountains, which is home to a number of historic pioneer houses going back to the mid-nineteenth century. The area is one of the most popular tourist destinations in the Great Smoky Mountains National Park, with over two million people each year. The campground is open all year, and visitors may pick from a choice of basic and contemporary hookup campsites.
All overnight visitors have access to modern facilities such as flush toilets and drinking water. The campground's general shop sells amenities and loaner bikes during peak camping season, which runs from May through October. Nearby, tourists may engage in a variety of outdoor activities such as hiking, bicycling, and animal viewing.
7. Cataloochee Group Campground
Cataloochee Group Campground is situated in the secluded Cataloochee Valley of the Great Smoky Mountains National Park, which has some of the national park's most challenging mountain terrains as well as some of the greatest hiking and fishing options. The quiet campsite provides a more distant option to some of the area's most popular tourist destinations, allowing guests to escape the throng and unwind in the stunning mountain surroundings. Outdoor camping locations that lack contemporary facilities may accommodate up to 25 people at a time.
Larger parties may reserve all three campground spaces at once, with a total capacity of 75 people. Within the lush national park forest setting, the campsite provides access to magnificent hiking paths and wonderful fly fishing streams, including opportunities to fish at neighboring Cataloochee Creek.
8. Cosby Campground
Cosby Campsite is a picturesque mountain campground in Cosby, Tennessee, that offers the best of wilderness camping experiences in a contemporary environment. The picturesque campsite, nestled in a remote woodland region snuggled beneath a shady canopy of native trees at an elevation of 2,460 feet above sea level, provides a calmer option to many of the Great Smoky Mountains National Park's more heavily-touristed places. The park has lovely tent and RV hookup campsites with tent pads and contemporary amenities including day-use picnic spots, fire rings, and barbeque grills. All guests have access to flush toilets and potable water.
9. Cove Creek RV Resort
Cove Creek RV Facility is a beautiful RV resort nestled between the resort villages of Pigeon Forge and Townsend, Tennessee, in the gorgeous Wears Valley. The lovely campsite in a quiet region only minutes from the busy attractions of Pigeon Forge's iconic Parkway, including colorful theme park Dollywood, the Titanic Museum, and Dolly Parton's Dixie Stampede dinner theater, provides breathtaking views of neighboring Cove Mountain. Large RV campsites with 30 and 50-amp electrical vary in size from 55 to 107 feet long. There are gravel and concrete sites available, as well as contemporary facilities like as fire rings and chimineas. Potable water, cable TVs, free wireless internet, and great mobile phone connection are available to all visitors. A gaming room, a conference room, a 24-hour guest laundry, and an outdoor saltwater swimming pool are all available on site.
10. Deep Creek Campground
Deep Creek Campsite is a lovely campground situated along the banks of scenic Deep Creek, one of the most popular waterways in the Great Smoky Mountains National Park. The rustic campsite section, situated near Gatlinburg on the park's southern boundary, provides classic camping experiences against the spectacular background of the Great Smoky Mountains. Visitors may pick from three group campsites or a variety of rustic and electric hookup individual campsites, all of which provide wonderful facilities such as campfire rings, barbeque grills, and day-use picnic tables, as well as flush restrooms and drinking water. Nearby, visitors may choose from a range of hiking paths that lead to beautiful waterfalls or utilize one of the park's few mountain biking sites.
Final words
These are the top 10 Best campgrounds in Smoky Mountains that you can find out there as of now. Visit any of these campgrounds, and you will end up with getting an outstanding experience.