There is no denying that the rim-to-rim walk at Grand Canyon National Park is on everyone's bucket list. But it's clear that it's not a pleasant walk in the park. Not being prepared for the Grand Canyon rim to rim exploration may have disastrous effects. However, it may be one of the most remarkable experiences of your life if you've prepared well, have the appropriate equipment, and know what to anticipate.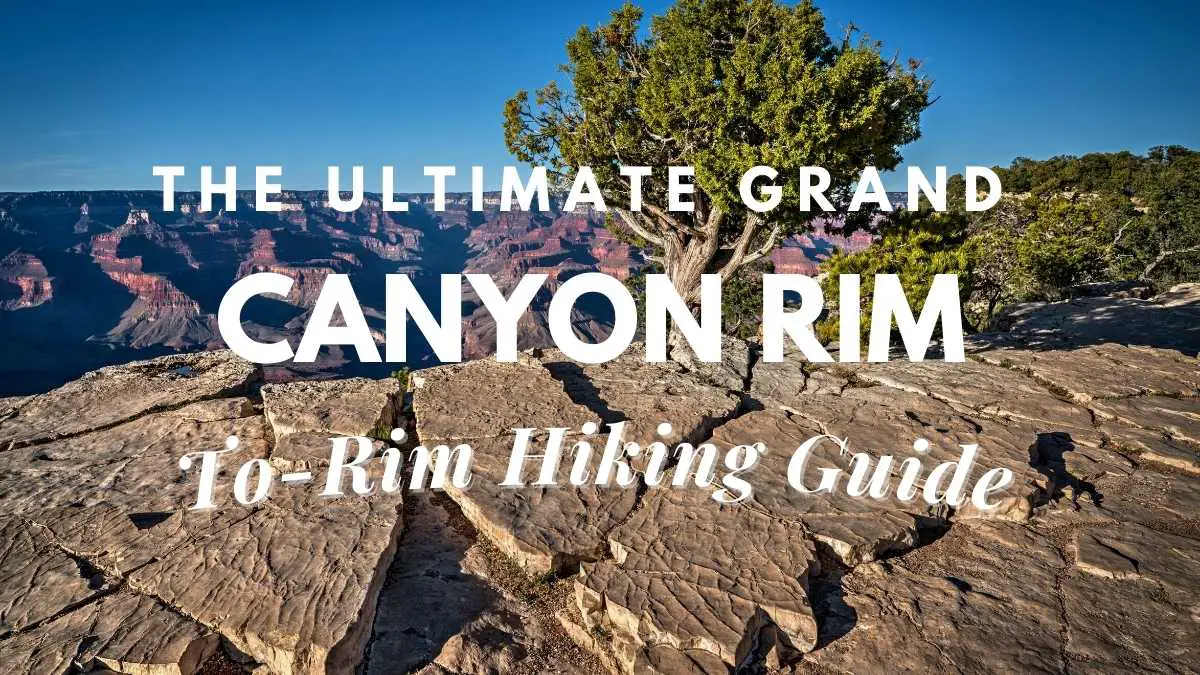 Route suggestion: Bright Angel Trail to North Kaibab Trail
Distance: 24 miles (one-way)
Level: Difficult
Best Travel period: May through October
Grand Canyon from Rim to Rim Experience
The actual majesty of the Grand Canyon is below the rim, accessible to fewer than one percent of the five million yearly tourists who are prepared to put in the effort. You'll start your tough Grand Canyon trek from the North Kaibab Trail on the North Rim and drop 14.3 miles and 6,000 feet to the canyon's floor before joining the Bright Angel Trail and returning to the South Rim by rising 4,500 feet and 9.6 miles.
You will see breathtaking beauty along the North Kaibab Trail as you go through eleven layers of ancient rocks and two billion years of Earth history. You will eventually arrive to the sand banks of the Colorado River after many hours of knee-shattering trekking. You will be surrounded on all sides by a number of enormous rock formations as you stand in the center of Grand Canyon National Park. It's sheer sensory overload for individuals who love the natural world; it's exciting, disorienting, and instructive.
Read: Is Traveling A Hobby? The Ultimate Guide To An Exciting Way Of Life Learn about the Downsides Of Traveling As A Hobby

Grand Canyon, Phantom Ranch (OARS)
At the bottom, Bright Angel Campground or Phantom Ranch, one of America's most upscale lodges, provide much-needed respite and overnight stays (maybe longer), where you can look forward to a warm supper, a cool drink, and a comfortable bed. Enjoy every moment since the true journey is yet to come.
The Bright Angel Path, regarded as the park's flagship trail, climbs out of the canyon, but it's not a simple task. However, most hikers find it to be more bearable, if not pleasurable, due to the abundance of shade, seasonal water sources, and vistas framed by enormous cliffs. You'll reach the top of the South Rim after making many switchbacks and stand there knowing you've seen the Grand Canyon in all its splendor.
Strive for It
Even the most ardent hikers and physically strong individuals need to take training seriously. Everyone from little toddlers to old adults have successfully trekked into the Grand Canyon. Many people contrast the rim-to-rim journey in the Grand Canyon with the 21.6-mile, 6,000-foot climb up Mt. Whitney in California, the highest mountain in the Lower 48 states, to put it into perspective. It's essential to exercise your heart, knees, and hips in the months before travelling to prepare for this strenuous walk. Whatever effort you put into focused training will make your experience that much more fun and safer, even if you're in the greatest condition of your life.
Gearing Up for a Rim-to-Rim Climb Training isn't the only consideration for a successful hike in Grand Canyon National Park. Having the appropriate equipment is also essential. Many hikers decide to use a mule service to bring their equipment to the bottom of the canyon and back out again in order to minimize the burden (only available from the South Rim). However, you'll need to bring a daypack with a selection of clothes and necessities for temperatures that might vary greatly in either case. A decent pair of shoes or light hiking boots, a cap, lip protection, sunglasses with UV protection, a hydration system or several water bottles, a first-aid kit, and lots of snacks with a balance of salt, protein, and carbohydrates are the absolute minimum that you should pack.
Make a travel plan
In particular, if you want to stay at Phantom Ranch, you should start arranging more than a year in advance if you're serious about climbing the Grand Canyon rim to rim. Calling 888-29-PARKS is the easiest way to make reservations at Phantom Ranch, which is run by Xanterra, and reservations open up 13 months in advance. If you'd rather camp, backcountry permits for Cottonwood along the North Kaibab Trail or Indian Garden along the Bright Angel Trail, as well as the other campsites below the rim, become available on the first of the month, four months before your start month. Also keep in mind that this is a one-way walk. You'll need to stage automobiles, leaving one at the Backcountry Information Center on the South Rim for when the walk is over, unless you wish to start from scratch. Or arrange to have a company like Trans Canyon Shuttle transport you back to your vehicle at the North Kaibab Trailhead.
Of course, there are choices if you'd want someone else to manage the whole planning process, including securing reservations at Phantom Ranch without the headache. You may choose to go with a knowledgeable outfitter like O.A.R.S., which has been leading rafting and hiking excursions in the Grand Canyon since 1969 and has a number of guided Grand Canyon hiking itineraries.
Planning your travel itinerary for Grand Canyon rim to rim exploration
About two miles north of the North Rim Visitor Center lies the trailhead for the North Kaibab Trail. This location, which is almost 8,000 feet above sea level and where the route begins in an alpine coniferous forest rather than the desert that most visitors envision, may be chilly in the morning. The trail quickly descends, switch backing below a raging waterfall on Bright Angel Creek and through a few tight cliffside parts where you won't want to look down if you're afraid of heights.
At mile 6.8, you will arrive at Cottonwood Campground, your first camping location. However, the majority of travelers go on to the nearby Bright Angel Campground or Phantom Ranch. Enter The Box around mile 12, where the canyon walls are barely a few hundred feet wide. With recorded highs of 130 degrees, this portion of the path might be the hottest. The majority of hikers spend the night at Phantom Ranch and Bright Angel Campground, which are nearby.
The two route possibilities split off here. The Bright Angel Trail is the most popular option during the warm summer months since it has less elevation increase, greater shade, and hydration stops. Drive 1.5 miles to River Rest house, where the route again leaves the river and begins to rise, from Bright Angel Campground. Continue climbing slowly for another three kilometers to Indian Garden, a treed oasis amid the red sandstone where water and bathrooms are provided. Any gradual ascent ends after Indian Garden; there are still 4.5 miles of switch backing to reach the canyon rim. The climb's panoramic vistas back over the canyon will keep your mind off your aching muscles, and the sense of satisfaction you'll experience when you reach the South Rim will make you feel like you've accomplished something.
Take the South Kaibab Trail to the South Rim instead if it's too early or too late in the season, or if you prefer the vistas to easing the severity of the climb. When you reach Black Bridge from Bright Angel Campground, cross the Colorado, and then begin rising. Gain altitude steadily until you reach the Tipoff Overlook at mile 16, where you may stop and admire the vista via Natural Arch. Switchback once more from there to Cedar Ridge's terminus for sweeping views of the Colorado River and the canyon to the east and west.
Rim-to-Rim Grand Canyon Permits
A few months before your trek, you may make Earliest Request bookings for backcountry sites on certain days (the window is from August 20 to September 1 for hikes in January, from September 20 to October 1 for hikes in February, and so on). Up to two weeks before to your trek, the remaining permits are distributed after that in accordance with the requests received (if any permits are remaining at that time). A backpacking permit costs a fixed group fee of $10 per night above the rim and $8 per person per night below it. For backcountry permit application forms and instructions, see the park's website. Enter as soon as you can to ensure your seat at Phantom Ranch, where slots are distributed by lottery many months in advance.
Keeping Hydrated While Rim-to-Rim Hiking
What is the most crucial thing a hiker in the desert can do to prevent disaster? ingest water. When trekking hard in the heat, plan to drink 5 quarts per day, and even on calm days, pack more water than you think you'll need. Recognize all of the water refill stations along your trip, as well as their distances and travel times. But don't simply sip water; throw in some electrolytes mix and eat some snacks as you go. If you just consume water, you run the risk of developing hyponatremia, which occurs when your body has too little sodium and too much water. Fatigue, headaches, nausea, disorientation, and, in exceptionally severe instances, coma and death, are some of the symptoms.
Preventing Heat Stress and Heatstroke While Hiking the Rim to Rim of the Grand Canyon
You or a hiking companion may be experiencing heat stress if you begin to feel queasy, agitated, or dizzy. Fortunately, it's quickly curable: Take a rest in the coolest and shadiest location you can locate, sip on some water, and eat some high-electrolyte foods or a sport drink. As soon as you feel well, you are! But if you don't recognize heat stress in time, it may develop into the even riskier heatstroke. Hot, dry skin, slurred speech, disorientation, headaches, and fast breathing and pulse rate are all indicators of heatstroke. Cool the sufferer as much as you can and make an evacuation call if you or your trekking companion suffers from heatstroke.
When to Go Rim-to-Rim Hiking in the Grand Canyon
When the North Rim Road is open and the weather isn't as scorching as it is in the middle of summer, May, September, or October are the ideal months to do the Rim-to-Rim. You may trek the route in the winter as well, but you'll need to travel from the south rim to the north rim and back to the south rim again to avoid the blocked road since the paths are often slippery (bring traction). If you do decide to trek it in the summer, begin your journey early, take breaks throughout the hottest portion of the day, and bring plenty of water.
Rim-to-Rim Grand Canyon equipment
You must pack wisely if you want to succeed and remain secure on the Rim-to-Rim. Bring layers; in cooler weather, a t-shirt, long johns, shorts, hiking trousers, a shell jacket, and an insulating layer constitute a decent necessary gear. Temperatures may fluctuate greatly between the canyon floor and the rim as well as between day and night. After the steamy descend to the canyon bottom, bring a second pair of socks so that your first set can dry off. Your skin will avoid scorching if you use a sun hat, bandana, and sunscreen. Be sure to have water treatment solutions (drops, tablets, or filters) in your luggage as well. You may want to think about defying the tenet of layering and wearing cotton in the summer: While temperatures reach triple digits, the material's ability to absorb heat when wet might be to your advantage.
Grand Canyon's Rim-to-Rim shuttle
From May 15 to October 16 there are two daily excursions made by the Trans-Canyon Shuttle between the rims, and from November 15 there is only one. Each ticket is $90, and reservations are necessary. As an alternative, you may drive two automobiles and leave one at your departure point or climb the Rim-to-Rim-to-Rim to reach your vehicle.
Final words
Now you have a clear idea on how to get the most out of your Grand Canyon rim to rim exploration. Keep these facts in mind and start preparing for it accordingly. You will surely love the results coming on your way.