So, you've chosen to visit Brooks Falls in Katmai National Park, but you're stumped as to how to get there, where to stay, and how much it will cost. Don't worry, I've been living in King Salmon, Alaska since 2017 and will provide you with all the information you need to organize the trip of a lifetime.

To begin, you'll need to go to King Salmon, Alaska, which serves as the entrance to Katmai National Park. The world-famous Bristol Bay area, located along the Alaskan peninsula, is home to King Salmon. Just west of Katmai, the communities of King Salmon and Naknek are located on the Naknek River.

To get to King Salmon, fly into Anchorage International Airport from your home state or country, then take a connecting flight to King Salmon. Throughout the year, Alaska Airlines offers daily direct flights from Anchorage to King Salmon. King Salmon is not accessible by car or by boat. Depending on your arrival time, I recommend that you stay in King Salmon for the night before continuing on to Brooks Falls.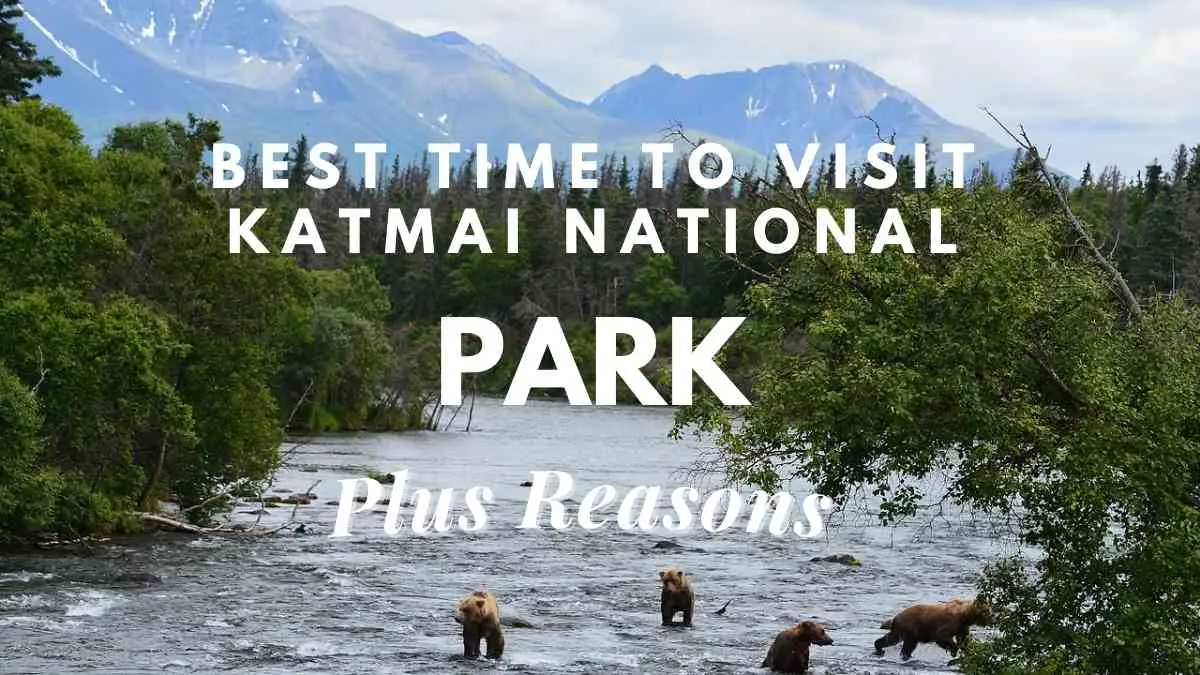 When is the best time to visit?
Alaska is a land of rough beauty and lonely nature. The local fauna may best embody the enthusiasm of this corner of the planet.
Katmai National Park in southern Alaska is famed for its grizzly bear population. Within the park's limits, there are almost 2,000 brown bears.
These massive beasts emerge from their caves in late spring, weighing up to 1000 pounds (454kg), to take advantage of the plentiful food supplies that surface after the harsh winter months. During this season, bears converge in regions such as Brooks Falls to hunt for salmon.
The greatest time to see bears in Katmai National Park is from late June through September. During this time, there are plenty of possibilities to see bears.
The salmon runs at Brooks Falls takes place in late June, July, and September. During this season, bears swarm around Brooks Falls to scavenge for salmon. Only a few bears may be seen in August since the fishing circumstances are more difficult than before.
Read: Is Traveling A Hobby? The Ultimate Guide To An Exciting Way Of Life Learn about the Downsides Of Traveling As A Hobby

Avoiding Crowds of Tourists
Because the end of June and the entire month of July are peak salmon-catching seasons for brown bears, expect crowded observation platforms.
For one hour, a maximum of 40 guests can view the bears. This restriction is always checked by park authorities. September is another high-visitation month, albeit with fewer people.
Monthly bear viewing guide
The Brooks River is where a big number of salmon leave the seas and return to spawn in the rivers where they were born. Brooks Falls in Katmai National Park is one of the greatest spots to see this stunning wildlife occurrence. It is not possible to view the bears every month. Before making a reservation, please review the seasonal bear-watching information below.
Not a Good Time | April – May
In Katmai National Park, April is the first month when grizzly bears emerge from their winter slumber. During this period, they are less numerous near Brooks Falls, preferring to forage for food elsewhere. In preparation for the impending salmon season, bears in Katmai National Park tend to travel closer to the park's rivers in May. Despite this, they will not be in significant numbers in the Brooks Falls area.
From late June until the end of September | Optimal Moment – Except The salmon run normally begins in June, although it usually doesn't get going until later in the month. A few early bears begin to cluster around Brooks Falls at this time, and small groups can be observed fishing.
Thousands of salmon travel over Brooks Falls during the salmon run in Katmai National Park, which peaks in July. This is also the best time to see bears, as the animals congregate near Brooks Falls to take advantage of the plentiful food.
The salmon run in Katmai National Park usually ends in August, with the bulk of the fish having finished their trips. As a result, bear hunting possibilities in the Brooks Falls area are limited, and many have left to seek food elsewhere.
The number of bears in the Brooks Falls area increases again in September, making it an excellent month to see them. This is because after reproducing, the salmon begin to die, causing them to float downstream and provide easy food for the bears.
October, November, and December – March | It's not the best of times.
During October, the majority of bears in Katmai National Park migrate away from Brooks Falls in search of new food sources. There may still be a few latecomers around, but not in great numbers.
The grizzly bears of Katmai National Park will be hibernating from November until March, and there will be few opportunities to observe them.
Exploring the calendar – What is the best time to visit Katmai National Park?
In Katmai National Park in Hallo Bay, you may see bears for six months of the year. So, choose your travel dates based on the activities you wish to see. In contrast to other regions, Hallo Bay does not rely solely on a two-week intensive salmon run. Bears may find plenty of food in this rich location.
May to October
The months of May through October are optimum for viewing bears at Katmai National Park (Hello Bay). Various types of bear activity can be observed around this time. Mother bears with their cubs may be seen from mid-May to mid-July, making this a wonderful time to visit.
The mating season in Katmai National Park runs from mid-May to mid-July, giving the males a break from their aggressive and intense dominance contests. Next month will be the salmon runs.
However, this months' time spent researching bears will pay off.
Hallo Bay's spring meadows are already thick with sedge grass, and the tidal flats are brimming with clams in Katmai National Park. The bears' omnivorous lifestyle suits the shifting seasons perfectly. At low tide, bears may be seen eating grass blades, digging for roots, and actively collecting clams from the mud.
This is the time of year to observe mother bears with their young cubs, as well as the first signs of bears scratching to keep their fur healthy.
Mid July to Mid-August
Salmon runs occur between mid-July and mid-August. This is a fantastic time to go.
In Katmai National Park, the stunning coastal wildflowers and fireweed flowers are at their peak right now. Bears are beginning to migrate inland, towards rivers. Now that the fat chum and pink salmon are commencing their runs, the nutrients provided by vegetation and shellfish are insufficient.
The most powerful bears have control over the greatest fishing grounds, leaving their subordinates to fend for themselves in less fruitful areas upstream or downstream.
As they cross the shallow gravel beds, the bears demonstrate their power and agility by capturing fish. Natural bear traps, such as the local Brooks and McNeil Falls, are not present in the Hallo Bay rivers. This show of sheer force is the pinnacle of bear gazing.
In preparation for their new winter coats, the bears are shedding their old fur by scratching more vigorously. There's a chance you'll encounter wolves as well!
Mid-August to mid-September
Salmon flows continue from mid-August to mid-September, making this a great time to visit.
As the days become shorter at Katmai National Park, the bears begin to show the beginnings of their new winter fur. The spawning seasons of Coho salmon have just begun. The pink and chum are working on theirs now.
Because the Coho is larger and fatter, the bears appear to prefer it. In Katmai National Park, the Coho run is also the largest on the coast, and it may last until October. The bears have returned to their varied diet of fish, mushrooms, and berries, as they prepare for the next severe winter.
Mid-September to mid-October
Bears are easy to spot along rivers and beaches from mid-September to mid-October — a good time to go. The Fall colors of Katmai National Park provide a stunning background from September through October. As the days become shorter, the bears retire to the rivers and beaches to rest. Sudden bursts of quick storms have now disrupted the weather.
The bears, dazzling in their winter fur, may be seen feasting on old salmon that have completed their life cycle after spawning, although fresh Coho salmon may still be making their way upstream. At this time of year, berries form an essential element of the bear's diet.
November and December
Bears are prepared to hibernate in November and December, so it's a peaceful period.
Large winter storms (sometimes lasting days) have grown increasingly regular in Katmai National Park, resulting in a slower pace. This is how the bears know when to start preparing for the winter.
January and February
Bears hibernate in January and February, which isn't ideal.
In Katmai National Park, bears are hibernating and giving birth during this time.
April until early May
Males displaying dominance from April until early May — best viewing on steeper hills.
Bear activity may be witnessed near their dens on the snow-covered upper slopes during this post-denning period. Because it is too early for sedge grass and goose tongue along the shore, bear activity is unpredictable as they grub for roots.
The dominant activities of the huge males are signaling the start of a new mating season. It's not a good time to see bears in easily accessible regions from April to early May.
Where Should You Stay?
Gold Creek Lodge in Alaska is the most convenient and pleasant location to stay (Google Maps Location). The nearest airport, King Salmon, is just a few miles away from the lodge. There is a complimentary airport transfer service. It only gets better: Brooks Day tours are being planned in full.
What is the best way to get to Brooks Falls?
It might be difficult to get to Brooks Falls because it is nearly 30 miles from the nearest town. The best method to go to Brooks Falls is to take a commercial aircraft trip from Anchorage to King Salmon. Floatplane transportation services are available from King Salmon to Brooks Falls.
There are no roads leading to Brooks Falls, thus this is the only way to get there. It takes around 20 minutes to fly by floatplane. A water taxi service that runs between King Salmon and Brooks Falls during the summer months is another alternative. While this is a less expensive mode of transportation, the travel is generally lengthier, taking 45 minutes each way.
Book the Gold Creek Lodge for hassle-free transportation (see above). The hotel provides a complimentary shuttle service. Everything is taken care of by them!
What Is the Source of The Salmon?
Salmon are born in the higher reaches of rivers and streams, and when they reach maturity, they migrate to the seas. They frequently stay many years in these saltwater settings before returning to freshwater to reproduce.
Salmon return to the rivers where they were born, even if it means traveling hundreds of kilometers upstream. The salmon making great vertical jumps over waterfalls may be a magnificent sight, and the bears are not unaware of this abundant eating opportunity.
Where Can You Go to See the Bears?
With thousands of grizzly bears crammed into Katmai National Park, the animals must spread out to guarantee that everyone has a chance to fish. As a result, bears can be spotted along the Brooks River at any time.
Brooks Falls, in particular, is a great place to go fishing, and it's also where the most bears congregate. The bear-watching facilities near Brooks Falls are adequately equipped, allowing guests to view the bears in a secure and pleasant atmosphere.
On the Brooks River, there are two further wildlife platforms, one immediately downstream from the falls and the other near the river's mouth. Both offer excellent opportunities to observe bears and are frequently less crowded than the Brooks Falls region.