North Cascades National Park in northern Washington State is a gorgeous and mountainous park with fewer visitors than others. In reality, it is one of the least frequented national parks year after year! Due to its relative obscurity, don't miss out on this one-of-a-kind and magnificent location. This schedule for the North Cascades National Park will help you make the most of your time there. One essential note: despite the fact that North Cascades National Park is less frequented than many others, weekends in summer and autumn will see crowds, particularly at trailheads and campsites.

It is possible to visit North Cascades National Park in a day trip from Seattle, but you will undoubtedly spend lengthy hours in the automobile, leaving little time for other activities. If you have the opportunity to spend even one night, you will be able to see a lot more! This article offers both a day trip and a weekend travel itinerary. To get to the material you're most interested in first, use the jump links below!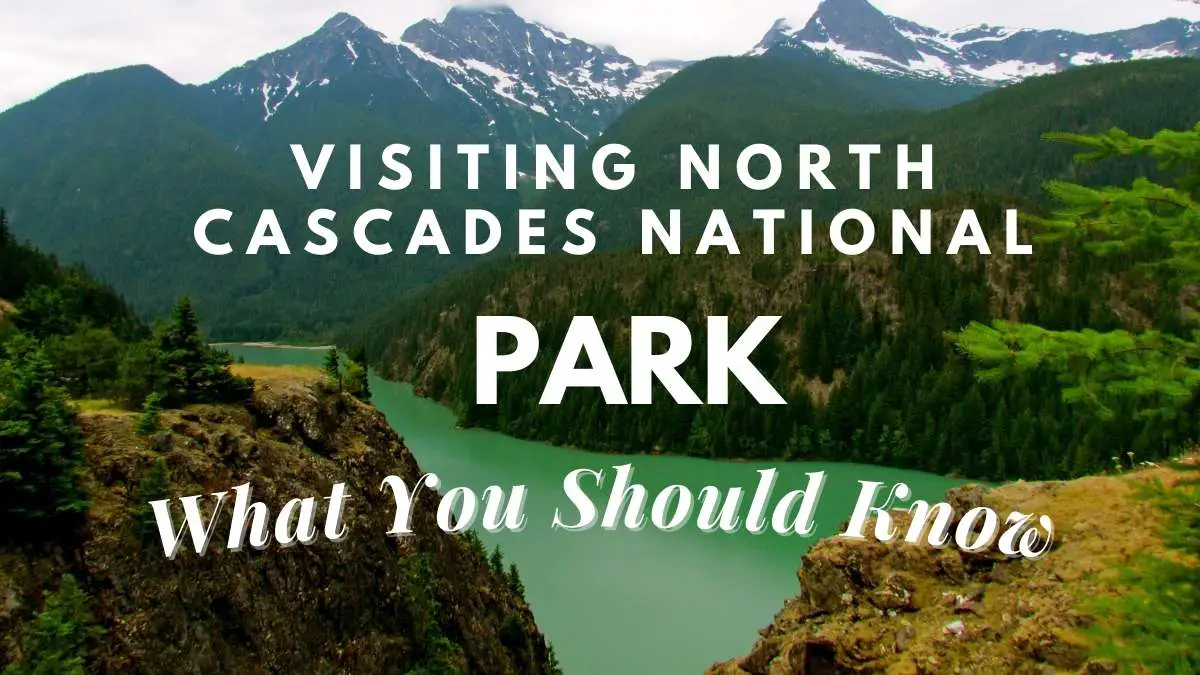 Where is the North Cascades National Park?
The North Cascades National Park Complex is a collection of federally protected resources that includes wilderness areas, Lake Chelan National Recreation Area, and Ross Lake Recreation Area, all of which are part of the North Cascades National Park. Additional wilderness areas, such as the Mt Baker Wilderness and the Pasayten Wilderness, surround it. It also runs along to the Canadian border, passing through various provincial parks, notably Manning Park, which is home to the Pacific Crest Trail's northern terminus.
The people who have lived and continue to live in the North Cascades National Park Complex have a long and rich history. The Nlaka'pamux First Nations People, as well as the Okanagan, Wenatchi, Chelan, Methow, Skagit, and other Coast Salish peoples, call this territory home.
You may still get to the park on foot with skis or snowshoes throughout the year (including winter), or take the Lady of the Lake boat from Chelan to the Stehekin area. This is not a day excursion, but rather a weekend getaway!
Read: Is Traveling A Hobby? The Ultimate Guide To An Exciting Way Of Life Learn about the Downsides Of Traveling As A Hobby

What is the distance between Seattle and North Cascades National Park?
Expect to drive 3-4 hours from Seattle depending on where you travel along the North Cascades Highway in North Cascades National Park. This makes it a little too lengthy for a day trip, but it's so beautiful that even if you just have one day, you should go!
Read: Best Time To Visit North Cascades National ParkLearn about the Ross Lake that is a great place to go fishing, boating, or just relax
Weather at North Cascades National Park
One thing to keep in mind regarding the weather in North Cascades National Park is that it may change quickly, fluctuate greatly in various portions of the park (particularly between the east and west sides of the mountains), and differ significantly from the weather in Seattle.
Even when it's bright and pleasant in the Puget Sound lowlands, expect cool and damp weather all year. There's a reason Rainy Pass is named that! It may be considerably hotter in summer and much colder in winter on the east side, in locations like Winthrop and Chelan, than it is in Puget Sound, so be prepared for any conditions in North Cascades National Park.
Some walks contain parts where there is no shade, so be prepared for hot weather throughout the day. Even in the middle of summer, temperatures may drop below freezing at night, so be prepared, particularly if you're trekking!
Read: North Cascades National Park Itinerary ( Easy to print ) Learn about the Marblemount Diner
When should you go to North Cascades National Park?
The optimum time to visit North Cascades National Park is determined on your objectives. The North Cascades Highway, the major access route, is only available during the summer. It usually opens in late May and shuts around the first significant snowstorm in November.
If you want to go trekking, you should go no sooner than mid-July. Long into July, the trails are still covered with snow. September and early October, in my view, are the ideal months for trekking in North Cascades National Park. In October, a golden larch tree limb in North Cascades National Park was photographed up close. There are evergreen trees in the distance, and it's a misty gloomy day.
Hiking in North Cascades National Park in late September and early October is highlighted by golden larches. In late September and early October, the fall colours along the roadway and on hiking paths are breathtaking. In late July and August, wildflowers along trails are spectacular, and the days are longer and the temperature is (usually) milder.
Where to Camp in the North Cascades National Park
North Cascades National Park has five National Park Service campsites, four of which may be reserved in advance. You may make a reservation on the federal government's website. The North Cascades Highway provides easy access to all of them.
There are also other forest service campsites along the roadway on both the west and east edges of the park. Boat in camping is a unique alternative in North Cascades National Park! To get to a campground near Diablo or Ross Lake, you may kayak or rent a motorboat. This is covered in more depth in the backcountry section.
Things to do while you are at North Cascades National Park
Begin your day by travelling north and east, following the best route suggested by your GPS. It may take you through the Skagit Valley, or it could take you via Oso and Darrington to the east. In any case, you'll arrive at the North Cascades Visitor Center in Newhalem in approximately two and a half hours. The visitor center is an excellent spot to use the restroom and obtain some information about the park. You may also check the weather forecast for your day.
Your walk or kayaking destination is up next! This will take anything from 15 minutes to an hour outside of Newhalem, depending on where you travel. Here are some ideas on how to spend your day (I'd only do one of them if it's just a day trip!):
You may launch your kayak, paddleboard, or canoe at the Colonial Creek Campground boat launch, which is about 10 miles east of the visitor center. Paddle about and take in the breathtaking views of the North Cascades National Park's magnificent mountains and the amazingly beautiful blue green water!
Is there no boat? It's no issue! Rent kayaks and canoes at the Ross Lake Resort, which is accessible via water taxi. For customers renting boats from the resort, the water taxi costs $3. (remember, to stay here you must have a reservation and there are no dining or food options here or anywhere else in the park and you cannot drive to the resort). You may also hire fishing equipment and motorboats!
On the Maple Pass Trail near the North Cascades National Park border, a few golden larch trees stand on a high open meadow ridge with a view of numerous distant mountains in the backdrop.
On the Maple Pass Loop Trail, it's a beautiful autumn day.
Thunder Knob is a 3.5-mile hike with a 600-foot elevation increase that is dog-friendly. The views of Diablo Lake and the surrounding mountains are stunning from this hike. Begin at Colonial Creek Campground.
Thunder Creek Trail is a 12-mile round-trip hike with a 1300-foot elevation gain. Even a short trek on this path will take you through gorgeous woodland and along the roaring stream, with views of the mountains thrown in for good measure. Begin your journey on the other side of Colonial Creek Campground. This path is not dog friendly.
Maple Pass is a 7.5-mile hike with a 2000-foot elevation increase that is dog-friendly. This is one of Washington State's most beautiful walks, especially in the autumn when the larches turn golden. You may either take a short side excursion to Lake Ann or trek the circle and see the lake from all sides from above. On weekends, particularly in the late summer and autumn, expect to see a lot of people on this popular path.
Blue Lake is a 4.5-mile round-trip hike with a 1100-foot elevation gain that is dog-friendly. Another beautiful mountain and larch climb lead to a wonderful lake. It's significantly shorter, easier, and less congested than Maple Pass.
Cutthroat Lake is a 4-mile round-trip hike with a 400-foot elevation increase that is dog-friendly. A view of mountains, golden larches in the autumn, and a lake that's much easier and less crowded!
You'll return west the way you came after your boating or hiking activity to conclude your North Cascades National Park day trip!
Overlook at Washington Pass
Visit the Washington Pass Overlook for breathtaking views of Liberty Bell Mountain and the Early Winters Spires. The walk to the viewpoint is a short quarter-mile circle, and it's immediately off the highway with a lovely parking space.
Visit the Newhalem Creek Campground
Newhalem Creek Campground is a natural jewel, shrouded by cedar, hemlock, and Douglas fir trees and situated near the Skagit River, which is fed by glacial flow. Salmon and bald eagles may be seen here, and the popular campsite offers a variety of hiking paths. It's near to Skagit, and there's a visitor center where you can learn more about this unique portion of the North Cascades.
Stay at the Ross Lake Resort
Imagine waking up on your porch and being welcomed with the greatest vista in North Cascades National Park—what that's you'll receive at Ross Lake Resort. The lake itself is your backyard in these magnificent floating homes, which are bordered by snow-capped mountain peaks and lush evergreen woods. Each cabin offers a breathtaking outlook.
Unless you wish to take a mile-long trip with all your bags, the resort is best reached via water taxi or boat. You'll get an almost uninterrupted view of the lake, mountains, and trees. It's also a fantastic location to unplug since cell service and internet are patchy up here. You may spend your days fishing, hiking, boating (bring your own or hire one), or just relaxing on the dock and taking it all in.
Diablo Lake, a reservoir recognized for its vibrant blue hue, is one of the park's most recognizable features. Glaciers shred stones into a powder, which is subsequently transported into the lake by glacier melt, giving the lake its vivid blue color. There are some lovely views from here, but the best way to see the lake is to hire a canoe and go out on the water.
Visit the Ladder Creek Falls
These grotto-like falls, situated near Newhalem in a slot canyon, are beautiful during the day, but they truly dazzle at night. Colored lights are projected onto the falls, transforming them into a spectacular light display. The falls are fed by a glacier and run nicely all year. The walk is brief but exciting, leading you through a suspension bridge and up a flight of steps.
Enjoy a meal at the Marblemount Diner
Marblemount Diner, situated just outside the park, is a terrific place to cool down with a creamy, hand-dipped milkshake or warm up with a cup of coffee. This traditional small restaurant is certainly worth a visit or two on your vacation, with sandwiches, burgers, and delectable baked pie.
Head to the Slide Lake Trail if you're here in early June and there are several frozen lakes and snow-covered pathways. It thaws out ahead of most other lakes, and the one-mile round trip is a nice walk. Slide Lake also boasts excellent fishing.
Visit the Cascadian Farms
Cascadian Farm's roadside kiosk is located just off the North Cascades Highway, where you can get handcrafted ice cream and pints of fresh berries. Flowers, chips, granola bars, and other delicacies are also available. Everything cultivated on the farm is organic, and the stand's setting is idyllic.
Final words
Keep these tips in mind and visit the North Cascades National Park. You will be able to get an unforgettable experience during the time that you are spending at the park.