Finding a reliable resource to help you create your schedule will make it much simpler to plan the ideal summer or autumn break. The ideal place to spend your well-earned vacation days is Wisconsin Dells. Our vacation spot offers a variety of fascinating indoor and outdoor activities, thrilling water parks, a bustling downtown, exclusive regional restaurants, and pubs, and much more to keep you occupied. Additionally, our collection of vacation rentals has special features and neighborhood amenities that will make your stay enjoyable. Here is our comprehensive Wisconsin Dells travel guide for the ideal summer or autumn getaway.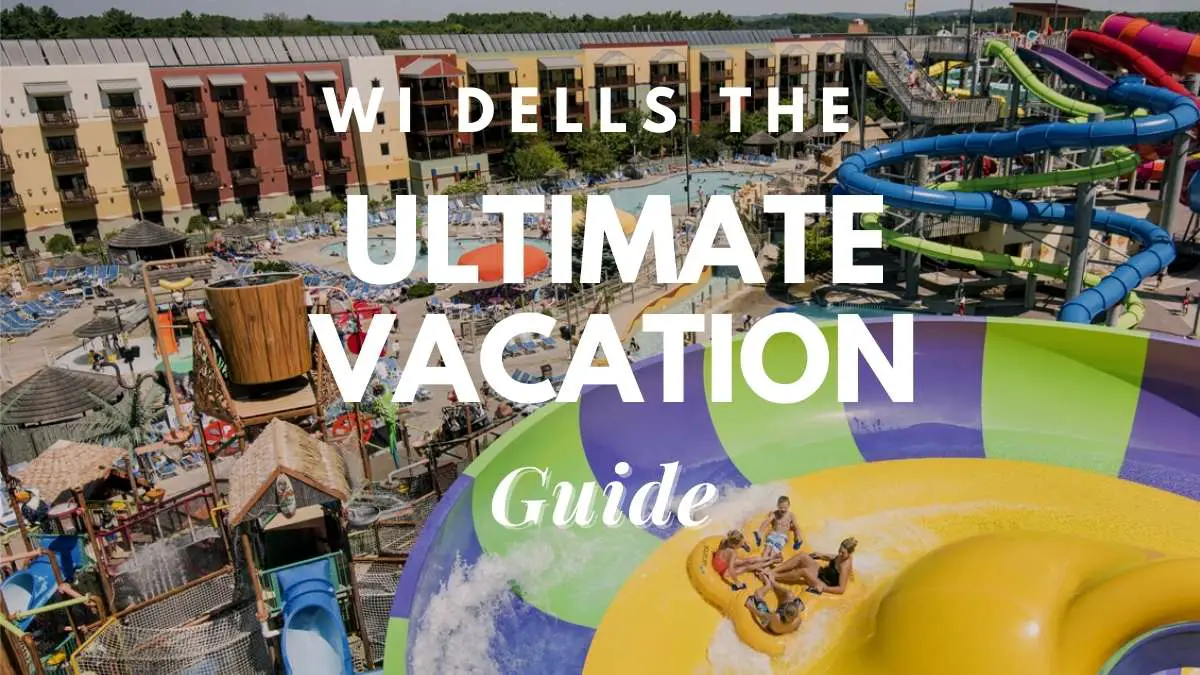 Getting the most out of your Wi Dells vacation
The fact that Wisconsin Dells is regarded as the world's water park capital is a well-known fact. The globe, you read it correctly! There are several water parks in the city to choose from, which will make your visit fun. Every water park offers unique benefits and attractions to entice you to visit.
Read: Is Traveling A Hobby? The Ultimate Guide To An Exciting Way Of Life Learn about the Downsides Of Traveling As A Hobby

1. Waterpark at Noah's Ark
Noah's Ark Waterpark is one of the most well-liked water parks in the region. The fact that it is the biggest outdoor water park in the nation sets it apart from the competition. There are 51 distinct slides at this water park, along with several other attractions. Both young children and adults will enjoy the distinct play areas and the lazy rivers. Huge tides are produced by two enormous wave pools. The lines at Noah's Ark Waterpark move rapidly even on the busiest days, so you may quickly move on to the next slide. A season pass that entitles you to unlimited visits is available if you want to remain for a prolonged period of time during the summer. The hours of operation at Noah's Ark Waterpark, which is located at 1410 Wisconsin Dells Pkwy, are 10:00 AM to 6:00 PM Monday through Friday and 8:00 PM on weekends.
2. Mount Olympus
Exploring the neighborhood water parks is a terrific autumn pastime as well as a summer one. Many of the city's water parks feature indoor water parks, allowing you to enjoy the pleasure without being exposed to the colder weather. Mt. Olympus is the best indoor water park available. Water slides, lazy rivers, wave pools, and other attractions may be found in both the indoor and outdoor areas of this water park. Since the indoor areas are always open, you can cool yourself if the weather becomes chilly outdoors. You'll be going down at great speeds on the 10-story-tall water slide, a favorite among visitors. Mt. Olympus is located at 1881 Wisconsin Dells Pkwy A and is open every day from 10:00 AM to 6:00 PM, closing at 9:00 PM on Wednesday through Friday.
3. Outdoor Recreation
Wisconsin Dells is a haven for outdoor enthusiasts, particularly in the summer and autumn. The region is located on the Wisconsin River's dells, which provide a ton of enjoyment. Look at some of the activities you could find yourself engaging in:
Walking A trek or two are the best way to get to know the region around Wisconsin Dells. At one of the numerous nearby parks, there are many miles of paths. Devil's Lake State Park is nearby and is the most popular park in Wisconsin. Walking trails surrounding this lake provide breathtaking cliff views. From beginning to end, hikes provide breathtaking vistas and vary in difficulty from basic to challenging. The Mirror Lake State Park may be explored by foot. As the name implies, the lake's reflection of light provides a stunning mirror-like image that must be seen in person. The majority of the park's trails are shaded by trees, making them comfortable for hiking. In the vicinity of Wisconsin Dells' downtown, Rocky Arbor State Park offers family-friendly hiking.
4. Canoeing and Kayaking
You may have noticed that each of the hiking locations has a lake as well. Using a kayak or canoe is the best method to explore these lakes. Each lake enables boats and other powered watercraft, so you may leisurely explore them. You will need a kayak rental during your visit to do this. All you have to do is go to Dells Kayak Rentals, and they will provide everything. So that you may spend as much time exploring the lakes as possible, reserve your rental by the hour or day. The waterways are serene and beckon you to go kayaking for an enjoyable day.
5. Fishing
Fishing is another well-liked outdoor sport around here in Wisconsin Dells. Since fishing is permitted year-round in the Wisconsin River, this is a terrific activity. A wide variety of species, including northern pike, bass, walleye, panfish, sturgeon, and musky, may be found in the Wisconsin River. If you have a boat, there are many boat launches on the river (or rented one). Great neighborhood rental businesses with a wide range of boat services include Dells Watersports and Castle Rock Water sports & Boat Rentals. Stop by River's Edge Bait Shop & Boat Rentals to get all the fishing equipment and permits you need. Everything you need to make your fishing excursion successful is available to them.
6. Golfing
Make the most of the lovely weather in summer and autumn by playing a round of golf at one of the nearby courses. You may play golf at a variety of courses in Wisconsin Dells. You will have access to Spring Brook Golf Course when you reserve a stay at one of our deluxe vacation properties. The hours of operation for this 9-hole golf course are from 11:00 AM to 10:00 PM every day, with early opening hours on Friday and Saturday at 8:00 AM. Make a tee time reservation by calling 608-254-1477.
7. The center of Wisconsin Dells
Whenever you go to a new place, touring the downtown district is a lot of fun. For those who come searching, there is a ton of excitement waiting in downtown Wisconsin Dells. As you search for entertaining activities, you may get your steps in on one of the many excellent walking routes in the neighborhood. Visit Asgard Axe Throwing for a fun family activity where you may hurl axes at a wooden target. You can find Bella Goose Coffee right on the river and it is your one-stop shop for anything coffee-related.
Visit Capone's Original Old Time Picture Studio to have a family picture; you may choose from a number of different styling options. Your family will be challenged to play their best bowling at Chalet Lanes & Lounge, which also serves up some of the city's top burgers at the on-site restaurant. Even a sunset dinner cruise is an option with Dells Boat Tours. They provide two-hour Wisconsin River cruises that include live entertainment, breathtaking scenery, and delectable gourmet cuisine. As you can see, Wisconsin Dells' downtown area is considerably more than just a handful of stores, so be sure to check it out for yourself!
8. Local Restaurant
Everyone who travels to Wisconsin Dells will eventually become hungry. We suggest visiting our locally owned eateries rather than the well-known fast-food franchises. Any hunger you have may be satisfied by a variety of cuisines.
Macaroni and Cheese Shop (MACS) Since everyone enjoys mac and cheese, why not give MACS a try. You guessed it—all varieties of mac and cheese—are this neighborhood restaurant's specialty. You may have never thought to try some of the mac and cheese variations before. Try out some of the popular vegetarian alternatives or local favorites like the Philly cheesesteak, ham, and broccoli, or one of the many other dishes. Your waitress can assist you in locating the mac and cheese dish you weren't even aware you were seeking. MACS is located at 208 Broadway in Wisconsin Dells and is open every day from 10:30 AM until 9:00 PM.
9. Terrace on the River
If you go to Wisconsin Dells, you must eat near the river. The lively and laid-back Riverfront Terrace provides mouthwatering entrées and beverages with a waterfront setting. Their food cart, which is located at the event, serves up a range of appetizers, wings, tacos, and freshly baked pizzas. The beverage menu offers a range of sodas for kids as well as beer, wine, and cocktails for adults. On the weekends, Riverfront Terrace has live music so you can unwind by the water and take in the ambiance. On weekdays, they are open for supper from 5:00 PM to 11:00 PM, and on weekends, they open at noon. This neighborhood favorite may be found at 27 Broadway.
10. Nearby wineries
Additionally, there are other wineries in Wisconsin Dells that specialize in producing special wines. Prairie Hawk Winery and Broken Bottle Winery are a few of the must-see locations. Each establishment provides tastings so you may sample several wines before choosing one or two bottles to bring back to your vacation rental. Don't pass up these distinctive wines, which are exclusively available in the Wisconsin Dells region.
The place to stay Wilderness Lodge
The Wilderness Hotel & Golf Resort, which has 444 hotel rooms, 40 Vacation Villas, 76 Frontier Condominiums, and 35 cottages, is located in the Wilderness Resort, which spans more than 600 forested acres in Wisconsin Dells. It also houses Glacier Canyon Lodge, which has 460 expensive condominium suites, and Wilderness on the Lake, which has 108 opulent two and three bedroom condominium units overlooking Lake Delton.
Over 12 football fields worth of intense water fun are available at these three facilities' combined four indoor and four outdoor waterparks, which total close to 500,000 square feet. Additionally, the resort is home to the Glacier Canyon Conference Center, Sundara Spa, Wild Rock Golf Club, The Woods 9-Hole Golf Course, Dodge 'Em City, Timberland Play Park, three Clip 'N Climb Challenge Walls, OK Corral Lazer Tag Arena, Marshall Training Lazer Maze, The Wild Abyss indoor 3-D black light mini golf, VRSpace Virtual Reality Arena, bumper boats, indoor and outdoor go-karts, kiddy-karts, Field's at the Wilderness, Sarento's, Survivors, Thirsty Buffalo, and a number of other fast service restaurants are among the alternatives for dining.
Should you be visiting Wi Dells?
Having access to our vacation cottages and their numerous facilities is one of the nicest aspects of visits here in Wisconsin Dells throughout the summer and autumn. For your next visit, these homes are completely furnished. Enjoy the open layouts that tie the house together. The space and equipment you need to help feed everyone are available in kitchens. The flat-screen TVs and comfy beds in each bedroom will make it easier for you to rest after a wonderful day of exploration. To genuinely enjoy your trip, grill up supper on the barbecue or lie out in the sunshine. We provide a range of sizes for our vacation rentals so you may discover the ideal one for you. Although specific facilities vary depending on the rental, most of our residences have similar qualities.
Additionally, Spring Brook provides several special community features for our residences. You may use a lot of fantastic amenities when you choose to stay with us. This includes using our local fitness facility while on vacation to keep up with your routines. We highlighted the 9-hole golf course at our Spring Brook Golf Course, which is open every day of the week for play. The Spring Brook Sports Bar & Grill has food for purchase. Come here to watch the major sporting event or for a relaxed night out; we love the wonderful comfort cuisine and draft beers. Even if you've already spent a lot of time at the nearby water parks, the community pool is a terrific spot to splash about. We also offer a playground that is ideal for little ones. These community features are not available at any other accommodation choices in Wisconsin Dells. Keep this article in mind and create a plan. Then you can end up with getting the best possible experience at all times.