Whether it's this weekend or later in the summer, we're sure many of you will be floating. Floating the Illinois River in Tahlequah, Oklahoma is a fun outdoor weekend. The Illinois River bends through the Cookson Hills, revealing rocky cliffs, vegetation, and maybe animals.  This is where you need to think about going ahead with Illinois river rafting Oklahoma. It is a great experience that you can secure, and you will fall in love with all great experiences that come along with your adventure. As the popular floating season approaches, it's crucial to be prepared for a safe river excursion with friends and family.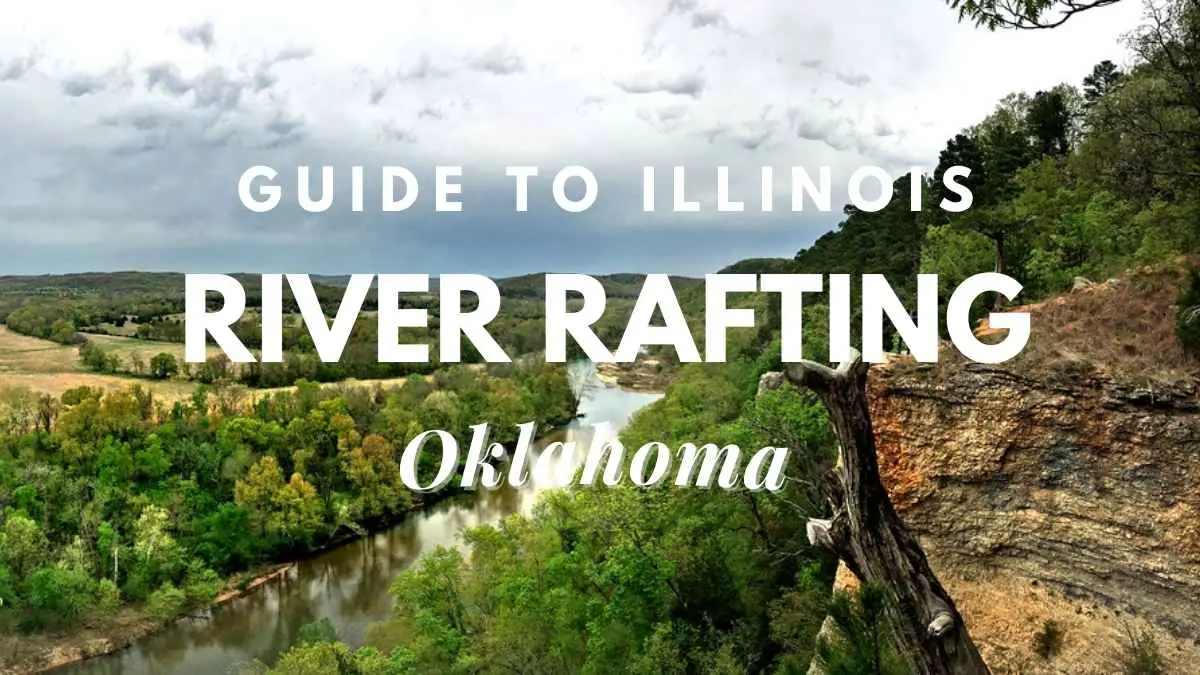 Plan your vacation
Choosing a resort for your float vacation is easy. Most resorts provide packages that include camping, float trips, paddles, life jackets, and transportation. Most have rafts, canoes, or kayaks. Choose thoughtfully, ensuring that all members of your party can safely steer and paddle throughout your float. 2 to 5-hour outings and 4 to 8-hour float tours. Most resorts require check-in by 6:00 p.m., so plan appropriately to get off the boat safely.
Read: Is Traveling A Hobby? The Ultimate Guide To An Exciting Way Of Life Learn about the Downsides Of Traveling As A Hobby

Always inspect the river
Read up on Illinois River levels before you float. Why? The river's water level fluctuates dependent on rainfall patterns, and it's been raining in Oklahoma this week! Call beforehand and ask your resort river guide about current conditions and safety procedures. The Tahlequah Daily Press also often reports on Illinois River Basin conditions.
What to bring on the water
Dry box for keys, tiny first aid pack, and emergency phone or whistle.
Water shoes to protect feet from river rocks.
Small ice chest or cooler with locking mechanism or bungee closure.
Lots of water (it is very important to stay hydrated during your float).
Sunscreen.
A litter-prevention sack
Lunch and snacks to refuel after a long swim or paddle.
Cover up, hat, and sunglasses. The sun reflecting off the lake creates a headache to anyone without sunglasses, and the additional clothes helps prevent sunburn.
How to be safe with Illinois river rafting Oklahoma
Please wear your own flotation device. You never know when you'll need it. Even powerful swimmers might be caught in a current or strike an object in the water, overturning their raft. Teenagers also often tie rafts together using life vests. Because attaching rafts together makes it difficult to move them safely, it is not advised.
Have a plan
Prepare a strategy in case you lose contact with your group. If you're on two different rafts, canoes, or kayaks, it's difficult to rejoin depending on the current. Also, pick a vacation your group can handle. Beginners should start with the 2- to 4-hour journey. If you're bringing kids, avoid the crowds. Travel early in the morning or skip holiday weekends to avoid party scenes.
Preparation is crucial to keeping safe over Memorial Day weekend and throughout the summer. Plan ahead, study, pack appropriately, and have fun on the water.
Making the most of your Illinois river rafting Oklahoma trip
A 60-mile picturesque stream winds through the Cookson Hills in northern Oklahoma. The Illinois River winds past rugged cliffs, providing a stunning panorama. A sycamore, dogwood, dogwood and redbud tree surround the river, giving shade and natural habitat for deer, foxes and bald eagles.
This lovely terrain is plenty of recreational activities, particularly along the river's parallel to SH-10 northeast of Tahlequah. A float trip on the Illinois River is the most popular method to see the river. With so many outfitters and campgrounds nearby, the river has everything you need. You just need to show up.
Travel Planning
Floating the Illinois River is possible by canoe, kayak, or inflatable raft. Canoes are simple to manage and can hold three persons. Some rafts can hold up to nine people, making them ideal for families. The river is graded Class II and has a moderate stream and minimal dangers, making it suitable for both professionals and beginners. There are trips ranging from six to 70 miles in duration.
From Memorial Day through Labor Day, the Illinois River is crowded with families and vacationers looking to cool down and escape the summer heat. In the winter, several Illinois River outfitters along SH-10 can host visitors, allowing you to float the river in peace and quiet.
Choosing a Guide
You may get all the equipment you need for your float trip from an outfitter, including personal flotation devices. After dropping off riders, many outfitters have them float back to the camp or to a pick-up location. Accommodations include campgrounds, cozy cottages and low-maintenance bunkhouses, as well as additional facilities like swimming pools.
AAF
Set your camp at All American Floats on the Illinois. Picnic spots, bathrooms, showers, and a volleyball field are all within a few hundred feet of your tent. Choose from 4-, 9-, or 13-mile float adventures and embark on a raft, canoe, kayak, or tube. Highway 62 runs directly through All American Floats into Tahlequah.
Arrowhead Lodge
Arrowhead Resort has everything covered for a river float excursion or a weekend vacation. Take a 58-mile canoe or kayak excursion, or a six- to 12-mile relaxed tour. A six- or 12-mile rafting trip is also an option. After your river adventure, relax in the campsites, a cottage, or the group lodge.
Diamondhead Inn
Diamondhead Resort offers campers, hotel rooms, and a bunkhouse. There's also a nine-hole disc golf course, horseshoe pits, lit basketball, and volleyball courts. Choose from kayaks, canoes, or rafts for a six- or 12-mile river journey.
Eagle Bluff Resort Camp by the river in a tent or RV, or in an air-conditioned cabin or the group lodge. Snack bar, playground, sand volleyball, and basketball courts are among the attractions. Float excursions in a canoe, kayak, or raft are also available. A thrilling overnight float tour may be arranged.
Peyton's
Peyton's Place, one of the Illinois River's oldest canoe sites, has been a favorite for decades. Accommodations and camping are provided on-site, as well as canoes and rafts. You'll find anything from a 48-person group cabin to tent sites with power connections.
WAR EAGLE
Your river adventure starts at War Eagle Resort, where you may raft, canoe, or kayak. Travel six or 12 miles and return to one of the resort's two-bedroom A-frame cabins or the War Eagle hotel. Large parties may stay in bunkhouses, and camping is available. The enormous water slide and pool on site keep everyone cool while having fun. Other Illinois River outfitters include Sparrow Hawk Camp, Riverside Resort, Hanging Rock Camp, and Falcon Floats.
Different river rafting routes available
As you go ahead with Illinois river rafting Oklahoma, you will come across the need to be aware of different routes that are available for you to proceed with. Then you can pick the best route and secure the best adventures coming on your way. While keeping that in mind, let's take a look at the different river rafting routes that are available for the people who wish to get the best river rafting experiences in Oklahoma.
Best route and price for our customers! You float back to All American from our private entrance nine miles upriver. This is an all-day float that takes between 4-6 hours and passes by the famous Elephant Rock! Several bathing holes and beaches are found here. Every day at 2pm. Weekends and holidays: $25 per person; weekdays: $20 (weekdays). This is the finest deal on the river for both cost and kilometers.
You float back to us from Sparrowhawk. This journey closes at 4pm everyday (which is the latest departure anywhere on the river). This excursion is ideal for those tubing, desiring a shorter vacation, or arriving late. $20 per person
All onboard our bus for a 14-mile float up the Illinois River. This is a 6-9-hour all-day float that is unsuitable for novices. After No Head Hollow, float back to All American. Arrive with lots of food, water, and sunscreen before 10am. $29 per person
Final words
On all tours, the tour guides  transport you upriver and you float back to us and your vehicle. Enjoy the stunning countryside, excellent swimming holes, and pull-off beaches for as long as you like (return by 7pm). However, this would slightly vary from one tour operator to another. You just need to keep this in the back of your mind, so that you can continue to secure the best experience coming on your way. Weekend reservations are necessary and accepted weekdays. Saturday and Sunday frequently sell out, so prepare ahead.
Now you have a good understanding on what it is like to go ahead with Illinois river rafting Oklahoma. Keep these tips in your mind and proceed with securing the best experiences that come on your way. You will never regret about any experience that you can get as all of them are quite amazing.