Spending a vacation on a cruise ship is a dream come true to many. However, it is not something affordable to most people out there as well. That's because cruise ships are so expensive. When ordinary travelers first look at expedition cruise choices, they are sometimes surprised by the prices. They enquire, "How come it's so expensive?"

The size of cruise ships is increasing (and uglier, depending on whom you ask). Cruise lines want their ships to have eye-catching facilities and activities. And each ship is becoming crammed with restaurants, pools, entertainment spaces, and other attractions. Adding a new ship to a cruise line's fleet is notoriously expensive. How much do cruise ships cost, though? And why are they so pricey in the first place?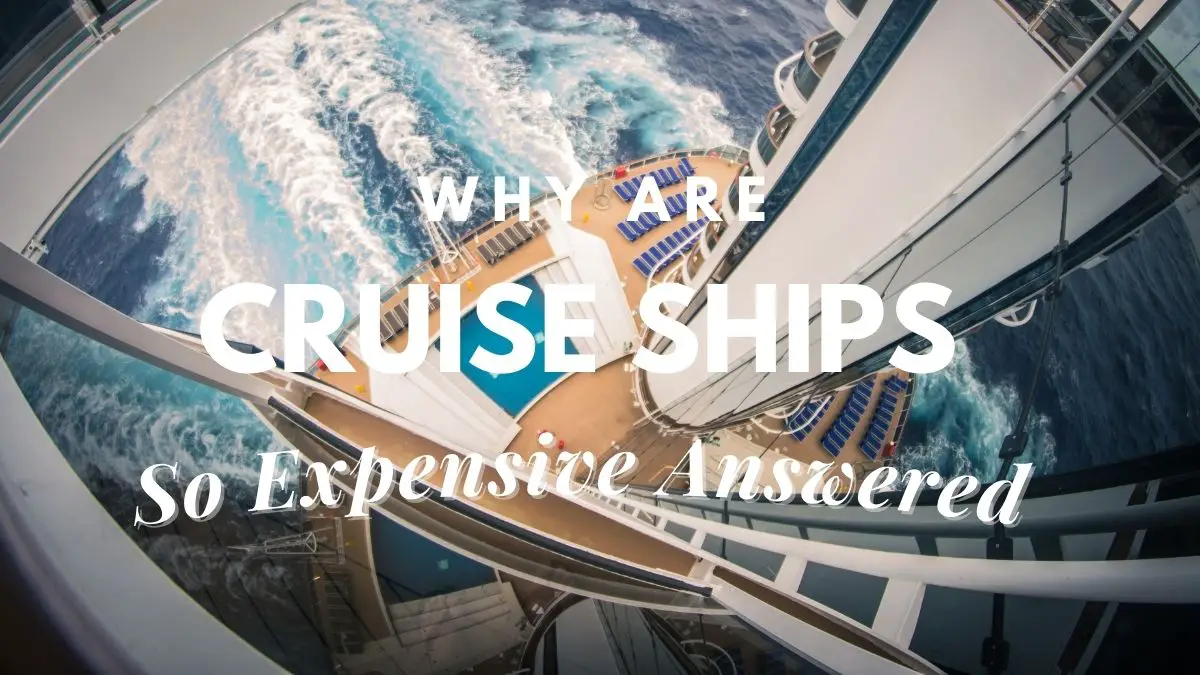 What are the prices of cruise ships?
Do you ever wonder what it takes to design and construct a world-class cruise ship? To accomplish that off, you'd need more than a billion bucks.
The Harmony of the Seas, the world's biggest cruise ship, cost Royal Caribbean an estimated $1.35 billion to build (including 2,747 cabins, robot bartenders, a Starbucks Cafe, and a hand-crafted carousel).
The second-largest cruise ship in the world, the Allure of the Seas, is said to have cost Royal Caribbean $1.5 billion.
Another Royal Caribbean ship, the Oasis of the Seas, cost $1.4 billion.
Those Royal Caribbean ships are, of course, massive, and luxurious.
What does it cost to build a standard cruise ship?
The Muster Station acquired and analyzed data on more than 200 cruise ship acquisitions.
According to the newspaper, a ship capable of accommodating up to 500 guests costs on average $260 million.
The cruise operator spent $394 million on a vessel that can accommodate 500 to 1,000 people.
Then there's the $442 million expense of a ship that can carry 1,000 to 2,000 guests.
Ships get more costly as they grow in size.
The average cost of a ship with 2,000 to 3,000 passengers is $555 million.
The cost of the cruise ship to seat 3,000 to 4,000 guests is estimated to be over $734 million.
The cruise operator will spend $937 million on a ship that can carry 4,000 to 5,000 guests.
The price rises to $1.31 billion if the cruise ship needs to seat more than 5,000 people.
So, what does a cruise ship cost?
This is dependent on the size of the room, as well as a few other criteria.
Read: Plane VS Cruise Ship On Vacation – What Is The Best Option?Learn about which one is better?
What is the cost of a cruise ship?
According to Oz Cruising, the number of berths (or beds) influences the price of a cruise ship.
According to the newspaper, "the cost of all cruise ships is determined by a number of criteria, including the size of the vessel, onboard facilities and amenities, the shipyard where it is built, and the health of the economy at the time it is built."
Materials are notoriously costly, and the cost of steel, particularly for ocean liners as compared to boxier cruise ships, can be a considerable consideration.
When possible, many cruise lines choose to refurbish an existing ship rather than build a new one, according to the newspaper.
"Even improvements may rapidly reach the half-billion dollar mark," Oz Cruising points out.
Let's be honest: waterslides, circus arenas, and ice skating rinks aren't cheap.
"Next time you're onboard a cruise ship, remember to simply lie back and take in the sheer luxury of it all," the newspaper recommends.
Read: Is Traveling A Hobby? The Ultimate Guide To An Exciting Way Of Life Learn about the Downsides Of Traveling As A Hobby

How are cruise ships constructed?
According to Cruise 1st, none of the main cruise lines have their own in-house shipbuilders, owing to the high expense of the equipment.
Instead, when they require a new cruise ship, they turn to specialized shipbuilders.
"German shipbuilder Meyer Werft, STX Europe, and Italian shipbuilder Fincantieri are three of the main shipbuilders — responsible for the bulk of the world's largest cruise ships," according to the newspaper.
The final of the four shipyards capable of building cruise ships is operated by Mitsubishi Heavy Industries.
These shipbuilders have large shipyards along the shore or on rivers, and they can build a cruise ship in 12 to 18 months.
However, designing the ship generally takes a year before building can begin.
The ship's heaviest components, such as engines, propellers, and fuel tanks, are located in the lower decks.
Engineers evenly disperse all of the weight.
Cabins are manufactured separately from the rest of the ship, brought to the shipyard, and then slotted into place.
Read: Why are cruise ships called floating hotels?Learn about concierges and front desk workers work at hotels. Is it the same for ships?
Why are cruise ships so expensive?
Yes, it is true that cruise ships are so expensive.
However, while the solution is not straightforward, if you consider all of the factors, you will begin to ask, "How do they do it for the money?"
Here are our top 11 reasons why adventure cruising looks to be pricey at first glance…
 1. The crew's size and pay
The higher the expense to the consumer, the more personnel you have per passenger.
With a crew/passenger ratio of 70 to 100, for example, each passenger's daily cost must cover 70% of the crew wage.
Furthermore, it's understandable that expedition crews make far more than the industry average.
This is due to the fact that operating remotely with minimum 'down time' is extremely difficult.
They must be more specialized and extremely well-trained.
2. Fixed costs
Every cruise has a set of fixed costs that are shared among a big number of guests on a large ship.
On a small expedition ship, these expenditures are shared among a considerably smaller number of people.
Read: Why Are Vacations Important?Learn about vacations that can help you with stress management
3. Fuel prices
Expedition operators have greater fuel expenses than other operators since they use high-grade fuel throughout the trip, which is especially expensive in the protected polar areas.
4. Land excursions
The company's own zodiacs, which need maintenance, fueling, and crewing, are used to give shoreside activities at no additional cost, frequently in isolated locations.
The operator must pay villagers' expenditures in exchange for access to their property, as well as agree on ancillary advantages for the community.
5. Medical services
When working in distant locations, your doctor must be of the highest caliber and have better facilities, since he will have no other option in the event of an emergency.
There is no opportunity to access shoreside medical services for the crew's basic requirements.
6. Provisioning space apart from guest space
The majority of ships are designed for voyages of 7 to 10 days.
Expedition ships frequently cruise for three weeks or longer without stopping to resupply.
This implies that, in comparison to traditional ships, a higher amount of space is allocated to storage, whether for fuel, food, hotel equipment, or technical consumables.
Furthermore, supplying outside of major ports is significantly more costly and involves extra (expensive) logistical problems.
7. Itinerary preparation
Itineraries cannot be arranged from an office with a guide indicating sailing times from one port to another while operating off the usual path.
Someone must physically travel to the region and conduct extensive study on the route, forming relationships and establishing a support network in locations where none now exist.
Read: Why are vacations so stressful?Learn about assuming that travel will help you solve all your problems
9. Experts on board
Expedition ships transport a number of high-priced professionals, such as naturalists and highly educated and skilled expedition leaders, who must be paid and accommodated on board.
10. Financial support to local communities
Expedition operators typically have a strong culture of responsibility, giving back to the local community in the form of financial support.
11. Insurance
Expedition cruising is risky, to put it mildly.
You are operating in isolated and hostile locations, which are frequently under- or un-surveyed, necessitating not only extraordinary skill and training on the part of your crew, but also significantly greater insurance premiums than ships operating in known seas.
Tips to locate cheap cruise deals
Even though cruise ships are expensive, it doesn't mean that you should spend a fortune on the next vacation.
Instead, there are multiple methods available for you to locate cheap cruise deals.
Here are some of them.
Read: How To Eat Healthy On Vacation [Answered]Learn about the healthy meal plan even before you leave
Book ahead of time
Last-minute cruise bargains are difficult to come by for certain dates and places, especially if you want your selection of staterooms.
Summer travel and school vacation times fill up quickly, especially for cabins that sleep three or more people and are popular with families.
Do you want to go on an exotic cruise?
You can forget it unless you book months, if not a year, in advance for some lines and sailings.
This is especially true for "bucket-list" trips to destinations like Antarctica, the Arctic, and World Cruises, which may sell out in a matter of hours.
We recommend reserving early if you want what everyone else wants, or if you have a particularly specific cruise scenario in mind.
The best cabins on the most popular new ships will sell out rapidly, driving up rates the longer you wait.
Luxury cruises also advertise their best rates early on.
Every three months, Oceania and Regent Seven Seas raise their prices.
For a short period, Crystal's Book Now tickets provide thousands of dollars in savings per couple; once the deadline has passed, the line promptly hikes the rates.
These upmarket lines make it clear: If you wait, the lowest rates will vanish.
It's also a good idea to reserve river trips ahead of time.
As the sail date approaches, not only are popular itineraries likely to sell out, but the price is also likely to rise, not fall.
Remember that last-minute cruise bookings generally come with a price premium, which is usually an increase in airfare.
Monitor the prices
Be your own best advocate when it comes to pricing.
Before you book a cruise, do some research on average rates for the trip you want to take, and check back often (at least daily) to see if the price has reduced.
Check out what unique offers each cruise company has to offer, and then contact your chosen travel agency to inquire about price and promotional discounts.
Don't have time to keep an eye on cruise prices like stockbrokers keep an eye on the Wall Street ticker?
Check out Cruise Critic's "Price Alerts," a cruise price tracker that notifies you when prices on the voyages you're interested in change.
Read: [20 tips] Staying With Friends And Family On VacationLearn about involve everyone in the planning
Ask for a discount when the fare changes
It's feasible to take advantage of a reduced cruise cost if it changes after you've booked but before you've completed your final payment.
Enlist the assistance of a travel agent who can keep an eye on prices after you've booked and request a re-fare at a cheaper rate.
If the fare drops, you can ask for a rate modification, cancel and rebook at the reduced cost, or seek an onboard credit for the difference.
The benefits you're entitled to vary by cruise company, but they all add up to extra money in your wallet.
It's worth noting that certain lines may have nonrefundable deposit policies; always read the small print before canceling and rebooking.
Do a last minute reservation
Flexibility can pay well for individuals who are able to be spontaneous.
Check out our last-minute cruise offers area for discounts on a range of sailings departing in the next 90 days — 90 days is the customary deadline for final trip payments.
There are always a plethora of Caribbean and Mediterranean cruise offers available.
Other cruises that are difficult to fill, such as shoulder season cruises and one-way repositioning sailings that need open-jaw airfare, might be heavily reduced at the last minute.
Of course, buying a last-minute flight might negate any savings.
Additionally, there will be a limited number of cabin sites and dinner seating available.
It's a wonderful method to enjoy a vacation without breaking the budget if you're flexible and can drive to a cruise port — or if you have a lot of frequent traveler airline points to spend.
Final words
Follow these tips and you can increase your chances of finding a cruise ship without spending a fortune. Then you will be able to go ahead with your cruise vacation and enjoy it to the fullest.