Smith Mountain Lake takes pride in being a tourist destination that welcomes boaters. Many excellent marinas and boat rental businesses, as well as water-accessible eateries and shops, can be found here. If you have a boat of your own, you may launch it from any of the six public docks or one of the lake's marinas. You don't own a boat? You can locate the ideal boat at one of the lake's rental firms, whether you're looking for a pontoon boat for a leisurely day with family and friends or something with a bit more oomph for skiing or wakeboarding (see guide below).

SML Sailing School provides boat rentals and sailing lessons for ambitious sailors. Or, for those who aren't as interested in being a captain for the day, go on a lunch or dinner cruise aboard the Virginia Dare, the best luxury side-wheeler on Smith Mountain Lake!

Any trip to Smith Mountain Lake must include at least one day on the water. Before going out on the water, make the most of it by taking a boat safety course. A list of boater education programs around Smith Mountain Lake, as well as links to online resources and U.S. Coast Guard courses, are provided on the association's website. In this Smith Mountain Lake boating guide, we are planning to share all useful information hat you need to know about boating in here.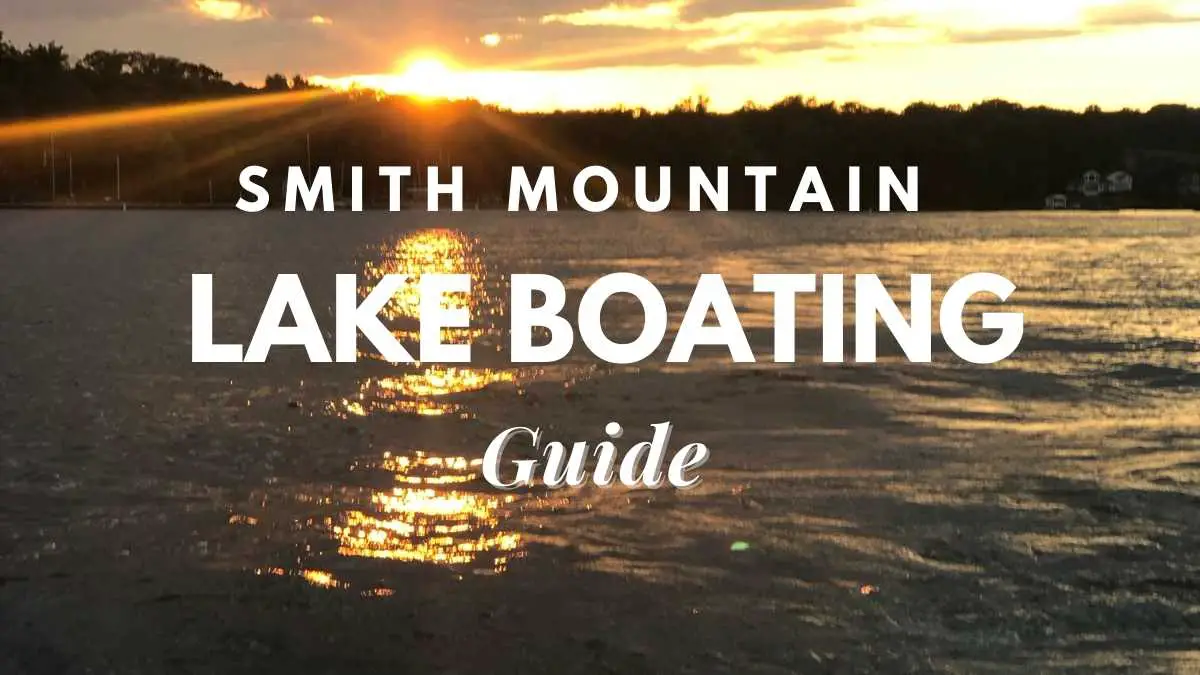 How to ensure your safety?
Government officials in Virginia agree, which is why the third week of May of every year is recognized as Safe Boating Week in the state. The Governor's Transportation Safety Award for Water Safety winner Roy Enslow, a longtime advocate of safe boating at Smith Mountain Lake, offers his best advice in the following paragraphs.
Obtain an inspection for your boat at the beginning of each season. At Smith Mountain Lake, this entails getting in touch with the Smith Mountain Lake Sail and Power Squadron, which performs inspections at SML at NO COST.
All PWC operators must have passed a boating safety course by July 2, 2015, and boat operators must be 50 years old or younger. You may take the course online or in a classroom for free. Before starting your boating expedition on Smith Mountain Lake, check the weather prediction for the lake and the level of your gasoline. Additionally, bring your fully charged smartphone.
Ensure that every person on your boat is wearing a life jacket that has been authorized by the U.S. Coast Guard and is correctly fitted. Having trouble deciding? Consult a staff member at the Bridgewater Marina. Select a captain who will not use alcohol. When visibility is limited and between sunset and daybreak, turn on your navigation lights. Also keep in mind that personal watercraft, such as jet skis and Sea-Doos, may only be used during the daylight and lack lighting. Make sure you have a USCG-approved, fully charged fire extinguisher on board your yacht. Make that the bell, whistle, or horn on your boat is in working order.
Respect lake markers and no-wake zones, which are located within 50 feet of shore docks, persons in the water, and orange and white buoys. Ensure that there is someone watching the skiers, snowboarders, or tubers who can warn the driver if he or she has to stop or slow down. To ski, you need three people.
Read: Is Traveling A Hobby? The Ultimate Guide To An Exciting Way Of Life Learn about the Downsides Of Traveling As A Hobby

What is it like to boat in Smith Mountain?
The deepest part of Smith Mountain Lake, which is surrounded by mountains, is located close to the dam, roughly 250 feet below full pond. It has a "typical" depth of 55 feet (for more stats, see this extensive Smith Mountain Lake article on Lake Lubbers).
80-150 feet are usual beyond the lake's many coves in its main waterway. Excellent water quality. Swimmable waters are available from May through September. There are several fishing competitions, ranging from regional and municipal competitions to Bassmaster pro competitions shown on ESPN.
32 square miles make up the surface of SML. Its entire pond is 795 feet above sea level at its greatest usual water level. It can contain 200 trillion billion gallons. The water level normally varies relatively little from season to season. Production of power varies from 12 to 24 inches per day.
Lake levels have dropped by five feet during periods of extreme drought, such as in 2007 and 2012. The Smith Mountain Dam, which is 802 feet above sea level, might have water as high as seven feet over full pond if there were severe flood conditions. Check the level of Smith Mountain Lake at the moment.
Franklin County, Bedford County, and Pittsylvania County are three Virginia counties that are partially covered by SML. In the summer, the air is typically 73°F, while in the winter, it is 41°F. The average annual rainfall is 43 inches. Average annual snowfall is 10 inches, and the majority melts within a day or two.
What is the weather out there like?
Smith's Hourly Water Level Graph There are roughly 22,000 permanent inhabitants in Mountain Lake. Residents of SML are kind and welcoming, extraordinarily talented, and generous donors of their time and other resources to neighborhood initiatives. Although the neighboring counties tend to vote Republican, Virginia is a heavily Democratic state because of its proximity to Washington, D.C.
Roanoke, Virginia is closest to the west end of SML, which includes the unincorporated settlement of Moneta (population approximately 100,000). The area closest to Lynchburg, Virginia, is the east end, which includes Huddleston (population about 85,000).
Most lake dwellers can reach Roanoke and Lynchburg within 30 to 60 minutes of each other by car. Both cities provide practical "big-city" features including expansive malls, big-box retailers, and a broad range of dining options.
Both cities also offer up-to-date regional airports where you can park your vehicle and walk five minutes to the terminal, leaving you with 20 to 30 minutes to drive home (with your checked bags).
round the lake, there are several services and retail establishments. A few miles north and south of Hales Ford Bridge, most are situated on or close to Rt. 122 (Booker T. Washington Highway in Franklin County and Moneta Road in Bedford County). There are two huge, up-to-date supermarkets, dozens of restaurants, banks, marinas, churches, fitness centers, two libraries, real estate agents, lawyers, accountants, doctors, dentists, and veterinarians, in addition to hundreds of independent shops.
At Westlake, close to the junction of Routes 122 and 616, a medical evacuation helicopter and an urgent care facility are situated. Six miles distant, at the Scruggs Volunteer Fire Department, lies a second helipad.
In Roanoke, Lynchburg, Bedford, Gretna, and Rocky Mount, regional and community hospitals, including a regional heart and trauma center, are 30-45 minutes distant from SML. It takes 2 to 2.5 hours to go to two top-notch teaching hospitals (the University of Virginia and Duke).
What is the best time to on Smith Mountain Lake boating?
Most beachfront Smith Mountain Lake vacation rentals have weekly prices between $700 and $15,000 from June to August, with size and amenities (rather than location) serving as the main price factors. You will normally need to check in and out on Saturdays during high season and rent for a full week.
Mid-season
You may anticipate warm, pleasant weather, fewer guests, slight reductions off peak prices, flexible check-in, and check-out dates, as well as weekend and daily pricing alternatives, throughout the 4-6 weeks leading up to and after the summer.
Low Season
You can often anticipate pleasant weather, fewer guests, savings of 20–50% off your vacation rental, flexible check-in, and check-out dates, as well as weekend, daily, and monthly pricing choices, from mid-October to mid-April.
Final words
Based on this guide, you may think about getting the most out of your boating adventures in Smith Mountain. It will be a fun-filled experience for everyone, and we strongly encourage you to proceed.