Jackson Hole sleigh rides give you the chance to tour the National Elk Refuge, where you can see thousands of majestic elk and other wild animals. You can also eat a once-in-a-lifetime meal while touring the refuge, giving you a completely new perspective on our snow-covered landscape. During your stay in the winter, you must check this item off your bucket list! Take a look at these Jackson Hole sleigh rides and pick the best ones out of them to your list!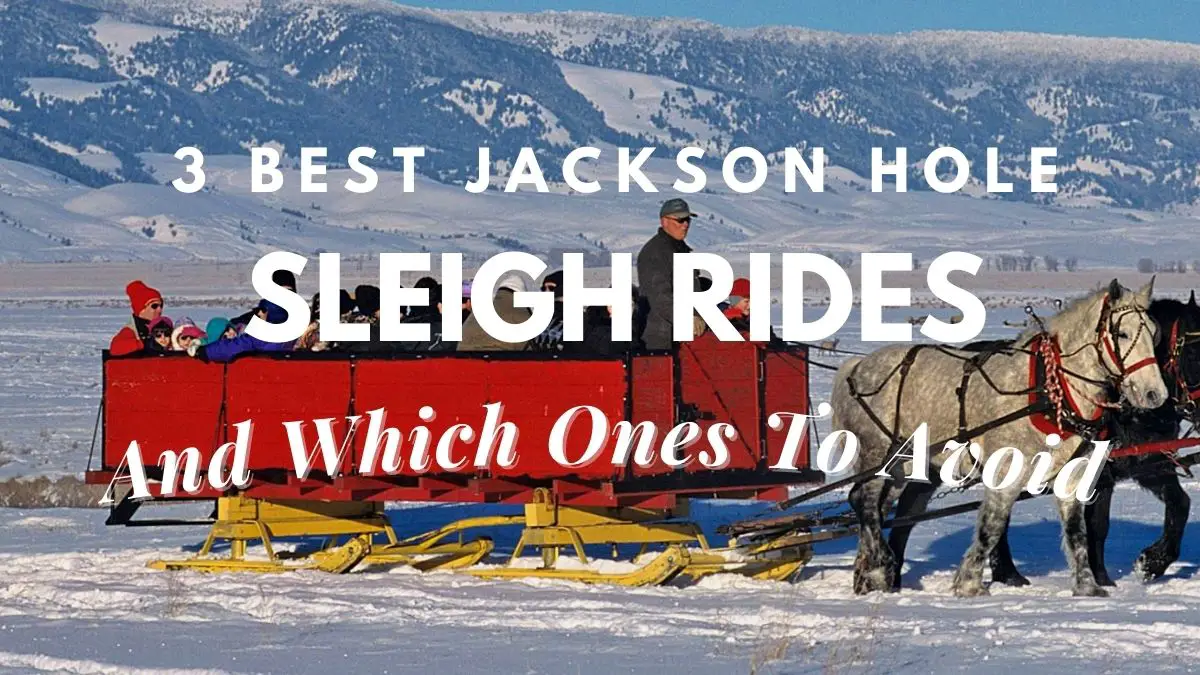 1. Elk Refuge National Sleigh Rides
Allow the National Elk Refuge Sleigh Rides to take you on an amazing journey. You will be immersed in a western adventure unlike any other when you board a horse-drawn sleigh and are driven onto the National Elk Refuge. This century-old custom is still a distinctive wildlife activity. It's an amazing and thrilling way to learn new facts about the local wildlife firsthand. You will see sights that are unique to the National Elk Refuge as you travel through the Refuge while listening to the sound of snow crunching beneath the horses' feet.
You will meet your guide as you board your sleigh. Not just the horses are driven by them. Whether a man or a woman, your driver is a fountain of knowledge and fascinating facts. Prepare yourself for an interactive experience by bringing questions.
Discover the history of the National Elk Refuge and its continuing significance. As you sit a few feet from these majestic animals, interesting information about elk is shared. Questions that you had never considered before suddenly become important. How is the refuge currently run? How do the animals on the National Elk Refuge interact with the elk? Antlers, lifespan, migration, young elk (known as calves), the rut, history, advantages, and disadvantages of management, etc. You specify the subject or pose the query. A sleigh ride across the National Elk Refuge's wide terrain provides the ideal backdrop for mind-blowing inquiries and revelations.
Some of Wyoming's most beautiful scenery, like the Grand Tetons, are all around you. Because there are so many different things to view, every ride is different every day. All ages may participate in this experience, which will be a highlight of your trip to the Jackson Hole region and leave you with lifelong memories. Elk follows the snowfall just as it does. You will get the chance to witness hundreds of elk who call the National Elk Refuge their winter home here in Jackson Hole. Additionally, you may get right into the action with the National Elk Refuge Sleigh Rides.
Eagles, coyotes, foxes, badgers, bison, deer, wolves, as well as trumpeter swans, ducks, geese, and a variety of other birds, may also be present. You never know what you'll see next on a ride since they are all different. Have your camera at the ready.
Read: Is Traveling A Hobby? The Ultimate Guide To An Exciting Way Of Life Learn about the Downsides Of Traveling As A Hobby

2. Mill Iron Ranch
For four generations, the Wheeldon family has visited the Mill Iron Ranch. Here in Jackson, we continue the traditional cowboy customs by teaching guests how to ride, fish, hunt, and camp. Since 1921, Mill Iron Ranch has been in operation.
Since taking over from his father, Clark, in 1974, Chancy Wheeldon has been managing the Mill Iron Ranch for 30 years. The Mill Iron Ranch has been transformed into one of the top hunting, fishing, riding, and dining establishments in this area by Chancy, his wife Kim, Coby, and Sadee.
We are one of Jackson Hole's few locally owned and run horseback riding and hunting businesses. The Bridger Teton National Forest and Wyoming's second-largest state-run elk feed yard encircle our ranch on three sides. Trail riding, hunting, and fishing options are unmatched because to our special position in the Horse Creek Valley, which we also provide to our visitors.
The Wheeldon Family will show you Jackson Hole at its best at the Mill Iron Ranch, as it should be seen from a horse. Our courteous and competent drivers will amaze you, and you'll enjoy their fantastic stories and be fascinated by the sights they take you through. The highlight of a vacation to Jackson Hole and the true west is often hanging out with genuine cowboys. Join us at our lodge for our renowned lucious t-bone steak supper after the thrill of the animals, horses, and photos.
3. Adventures in Vintage Jackson Hole
Jackson Hole's winter is a lovely time of year. Finding a peaceful area in the valley and slowing down for the experience are the only ways we can imagine appreciating it. Luxury sleigh rides along the Snake River are offered by Jackson Hole Vintage Adventures. Before reaching our tipi camp, which is tucked away among the cottonwood trees at the river's bank, travel through a winter wonderland. The tipi camp is fully made of wooden poles and canvas, much as the ancient native and mountain men's camps were. In this region, which is home to a variety of species, including moose, elk, deer, river otters, eagles, trumpeter swans, and more, experience the peaceful serenity and tranquility of winter. Our last stop is the deliciously warm riverbank tipi camp, where you may enjoy sweets and hot chocolate or a delectable supper that has been thoughtfully prepared.
Our tastefully furnished vintage wooden sleigh is pulled by a team of draft horses and offers a tranquil and nostalgic way to take in the many sights and sounds of this breathtaking environment. Join us this winter for some classic Wyoming fun.
Tipi Camp, a cluster of tipis built completely of wooden poles and canvas, as were the camps of native people and mountain men of the past, is where Jackson Hole Vintage Adventures entertains visitors.
Our "Snow Boats" during the winter are our sleighs. They are the focal point of our winter festivities, handcrafted by artisans from another time. We take great delight in maintaining these vintage sleighs in excellent condition. Anything less than the greatest would not be acceptable to our teams of draft horses.
Our antique sleighs are handcrafted utilizing methods of traditional workmanship using wood that is purchased locally. Amish-bred gentle giants pull the sleighs in a stunning team of Belgian draft horses. Long ago, transportation, food, and survival in Jackson Hole relied on a well-kept team of horses. As the calm might of the team pushes your sleigh out along the route, feel a true connection to a simpler period. Come along for a spectacular Jackson Hole sleigh ride.
Since their invention thousands of years ago, snowshoes have always been fashioned of wood and animal skin. All of them, including the contemporary design made of metal and plastic, have been tested. These contemporary footwear styles have a place, but not at our camp. On these dated, conventional "woodies," you may enjoy the local light powder snow to its fullest. They need some time and care to maintain them in good condition, just like all of our antique wooden boats, but this is what we do.
How to get the most out of sleigh rides Jackson Hole
It's so much joy to take a sleigh ride. It is not only fun, but it also provides a lot of health advantages. Due to the ample fresh air, sunshine, and proximity to animals, people who take sleigh rides are less unhappy. You've come to the perfect location if you're thinking of taking a sleigh ride this winter. I'll discuss the main justifications for taking a sleigh ride this winter, as well as some riding advice, in this post. I hope reading this post encourages you to take a sleigh ride this winter.
Why Sleigh Riding Is a Good Idea This Winter?
This year, you should take a sleigh ride for a variety of reasons. Going on a sleigh ride offers several advantages for your health, including being enjoyable and having positive effects on your health. Here are several justifications for taking a horse-drawn sleigh ride this season.
1. Make sure that you enjoy it
Seasonal Affective Disorder, or SAD, is often brought on by the absence of warmth and sunshine. Going on a sleigh ride might be beneficial since spending time outside can help lower your risk of developing SAD. A sleigh ride allows you go outside in the sunshine and engage in enjoyable activity. Here are several explanations for why riding in a sleigh might lessen your risk of developing the winter blues.
2. Being among animals uplifts your mood.
According to studies, individuals who are near animals tend to be happy people. According to studies, simply viewing fish may relax tense muscles. A horse-drawn sleigh ride will undoubtedly lift your spirits. Your blood pressure and cholesterol are reduced by animals. In addition to making us happy in general, research have proven that horses are an excellent kind of treatment for those who are suffering from the winter blues. They not only make you feel wonderful but also assist in reducing any tension you may be experiencing.
3. You Can Overcome the Winter Blues by Spending Time in the Sun
SAD is most often brought on by a lack of sunshine, which is one of the main causes. Many people don't go outdoors much at this time of year since the sun sets so early and it's too chilly. Going on a sleigh ride is a terrific option if you haven't been able to spend as much time outdoors as you'd want to. Even though you'll likely be covered up with clothes, simply feeling the sun on your face will make you happy. The sun offers several health advantages in addition to making you joyful. In addition to treating thyroiditis, rheumatoid arthritis (RA), systemic lupus erythematosus, and acne, vitamin D helps strengthen your bones. Even yet, too much sun exposure increases the risk of developing skin cancer. In general, just going outside in the sun may improve your health and happiness.
4. Sleigh rides provide you the chance to breathe fresh air.
Going on a sleigh ride helps you to obtain some fresh air. Getting some fresh air is also another effective SAD remedy. Try taking a sleigh ride if you've been struggling with the winter blues. The more oxygen you breathe, the more serotonin (the happy hormone) you will breathe in. The fresher air you breathe, the more oxygen you will breathe. You ought to experience less depression as a consequence while you're outside in the open air. Getting some fresh air is usually beneficial, even if you don't feel gloomy.
5. You'll Take Some Outstanding Photographs
You may be sure to take some stunning photos if you opt to bring your camera. It should not be difficult to get lovely images with the snow and the gorgeous horses. Ensure that your camera is prepared for usage. Make sure your phone is charged if you plan to use it.
6. Excellent Activity for Visitors from Family and Friends
You may be wondering what things you can do to keep your friends or family entertained if they are coming over for Christmas or the New Year. Going on a sleigh ride is a fantastic option if you are at a loss for what to do. Even if your friends or family have never taken a sleigh ride before, they will never forget this experience. The winter blues may also be effectively treated by participating in enjoyable activities while spending time with family and friends.
7. Sing Holiday Songs
Even though Christmas may be past, singing holiday songs is always enjoyable. Consider singing the Sleigh Ride tune if you're seeking for a festive carol to sing. Since "Sleigh Ride" doesn't specifically reference Christmas in its lyrics, you may sing it at any point during the winter. Another excellent tune to sing along to is "Jingle Bells."
Final words
You may take a look at these sleigh rides in Jackson Hole and plan your trip accordingly. You will be able to get the most out of your plan with proper planning.