Are you in need of indoor activities when visiting Hilton Head Island? If you're looking for indoor activities on Hilton Head Island, South Carolina, we've got you covered, whether it's raining or simply too hot outside. Here is Kristina Hernandez of KAG's list of indoor activities.

On Hilton Head Island, it always pours when it rains. The Gulf Stream, which is located outside the island and drives storms away from it, contributes to the island's generally favorable weather. But other times, well, the downpours are fairly spectacular and there's no way to enjoy anything outdoors, so you need to find pleasure within. But if you're on vacation and it's raining where you are, there are plenty of enjoyable indoor activities available, such as pottery painting, skeeball, bowling, free museum visits, and learning about the local environment. On this article, we are looking forward to sharing a list of fun things to do in Hilton Head when it rains.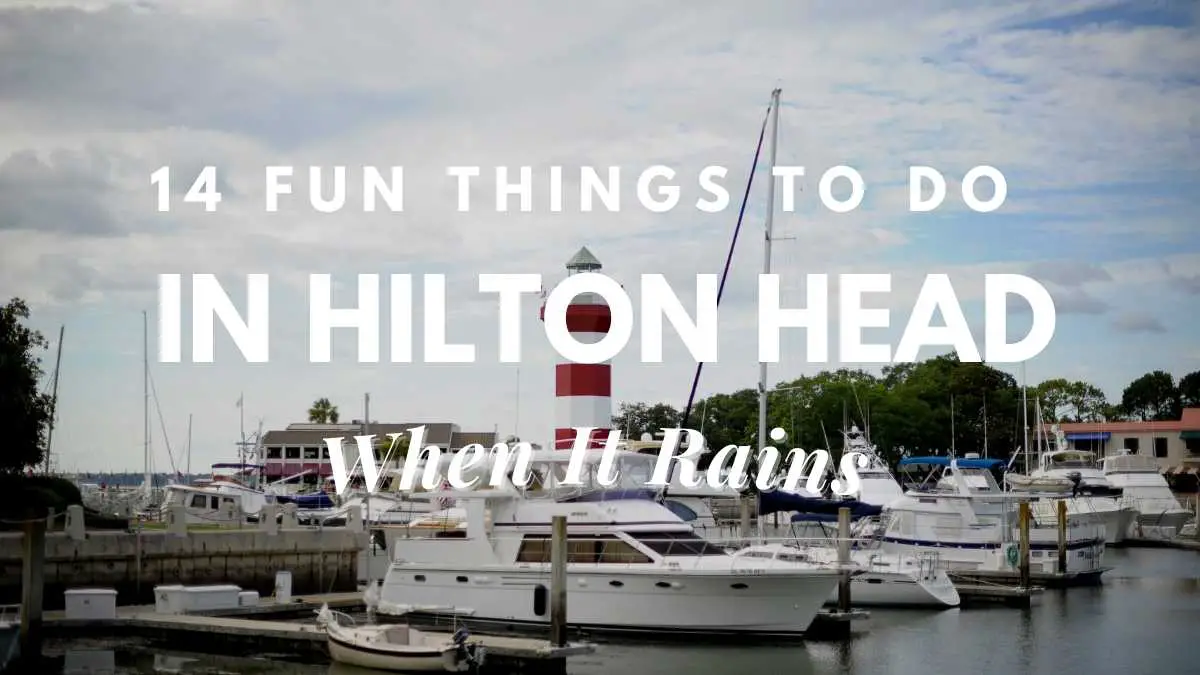 1. Arcade Adventure Cove
In addition to two amazing mini-golf courses, Adventure Cove features a superb indoor arcade with a ton of games, including one of my favorites: skeeball! I believe I may have secretly taken a few tokens from my children to use in that game. My kids were overjoyed when they got to choose two small unicorns from the prize table since we were fortunate enough to win 500 tickets on one of the games. We only intended to stay for about an hour, but since we were having so much fun, we stayed for about three hours.
Read: Is Traveling A Hobby? The Ultimate Guide To An Exciting Way Of Life Learn about the Downsides Of Traveling As A Hobby

2. The Children's Museum at The Sandbox
The interactive children's museum located in the center of the island was a big hit with my children (ages 8 and 5). The Sandbox encourages kids to play freely and with their imaginations in every way. Spend at least two hours here since there are more than 11 interactive displays spread over two levels. In the spring, autumn, and winter, they also have free family fun evenings, and in the summer, they host Parents Night Out.
3. The Art Cafe
The brilliant concept of Kids Night Out was created by the proprietors of Rockfish Restaurant and the Art Cafe to allow parents to have a date night at the restaurant while their children painted ceramics upstairs and ate supper at the Art Cafe. Kids Night Out was a big success when we gave it a try. On a wet day, you might also go there and paint pottery with your family!
4. Museum of Coastal Discovery
In order to fully understand the local environment and what you will be experiencing on the island, I would advise visiting the Coastal Discovery Museum at the beginning of your tour rather than towards the conclusion. They feature a children's area that includes a sweet loggerhead turtle nest model along with books, educational toys, and fish tanks. Similar to the one at Roper Mountain Science Center, a freestanding enclosed butterfly garden is available where you may see the cocoons of numerous butterfly species. The adjacent marsh has a lovely walking route that is bordered by Spanish moss-covered oak trees. Although there are a number of tours and activities, such a Meet the Critters for youngsters, that do need a cost, admission is free.
5. The Kazoobie Kazoos
This is off HHI but close by and a wonderful experience since it's one of only two kazoo factories in the whole nation that imprints kazoos (such as for businesses, parties, and fundraisers). Every day, they produce over 5,000 kazoos! After taking a tour of the facility, you may create your own kazoo. This is a one-of-a-kind chance to get knowledge about the instrument that predates the First World War. The tour is extremely cool; they demonstrate several kazoos and whistles (my kids really enjoyed this part) and show you a little documentary on the background of kazoos. Then, of course, you get to manufacture your own kazoo after getting a tour of the little factory.
6. Aquarium at Port Royal Sound Foundation
On a single wet day, you may visit both this location and Kazoobie Kazoos since they are close by. The Port Royal Sound Foundation Maritime Aquarium is located on the Port Royal Sound and is entirely free. It has a wide variety of fish, young alligators, turtles, and a ton of pretty interesting background information on the local seas. It isn't too huge, which is wonderful for younger children, but it's jam-packed with fascinating exhibits, and there's even a little space where youngsters can paint.
7. Station 300
Station 300 is a bowling alley with an arcade and café that is situated in Bluffton, not far from HHI. Don't forget to register for Kids Bowl Free in advance if you plan to come on a wet day during the summer as they are a participating bowling alley!
8. Cafe Salty Dog
Eat something beneath the awning or inside where the air conditioning is cool. One of Hilton Head's most well-liked eating establishments, with dishes the entire family will love. Don't forget to get your Salty Dog T-shirt as a memento!
9. Park Plaza Theater
The Park Plaza Cinema is the place to be whether you're looking for nighttime entertainment or sheltering from summer downpours in the day. The Parlez-Vous Lounge & Cine'-Cafe serves food both before and after the performance.
10. Theater Coligny
You might choose to see a recently released blockbuster at Coligny Theatre or a movie made by small producers. This quaint tiny theater, once known as "The Island Theater," features local artist Ralph Sutton's creations.
11. Northridge Movies
The finest movies are usually released as summer blockbusters, so be sure to see the major premieres while you're away. Modern electronic recliners with illuminated cupholders are the perfect place to unwind and enjoy the movie! On Tuesdays and Thursday mornings, Northridge Cinema provides FREE family-friendly movies for kids and families.
12. Arcade & Mini Golf at Adventure Cove
The only arcade on Hilton Head Island lets you outsmart wizards, slay dragons, and air hockey your parents! If you have to stay indoors because of the rain, Adventure Cove is the ideal place to have fun. If the weather improves, you may challenge your family to a round of 36 holes of miniature golf.
13. Coligny Square
Coligny Plaza is a retail mall that the whole family can enjoy and is situated in the middle of Hilton Head Island's south end. This enclosed shopping area will keep you dry even when afternoon rains strike, whether you're looking for the ideal memento or a mouthwatering ice cream cone.
14. Tanger Stores
The Tanger Outlets 1 and 2 are located in the heart of some of the greatest outlet shopping, only 15 minutes away from Hilton Head Island. This is the place to come whether you need some new surf shorts or a fantastic deal on back-to-school clothing. Avoid missing out on a pleasant day by walking to your favorite establishments along covered pathways.
Final words
As you can see, spending time in Hilton Head when it rains is never boring. There are many fun things to do in Hilton Head when it rains. Therefore, you can think about visiting here during the rainy season of the year as well.