Michigan checks all the boxes for tourists, whether they are seeking for breathtaking scenery, beaches, wedding sites, parks, resorts, water parks, delicious cuisine, weekend getaways, romantic getaways, fun family activities, or elegant historic buildings. Mackinac Island, Holland, Frankenmuth, Ann Arbor, and Grand Rapids are popular weekend getaway locations in Michigan. You may spend your days in the spring and summer exploring the world's longest freshwater shoreline and taking advantage of first-rate water sports on the many interior lakes. Here are the greatest Michigan vacations that you can consider during your stay.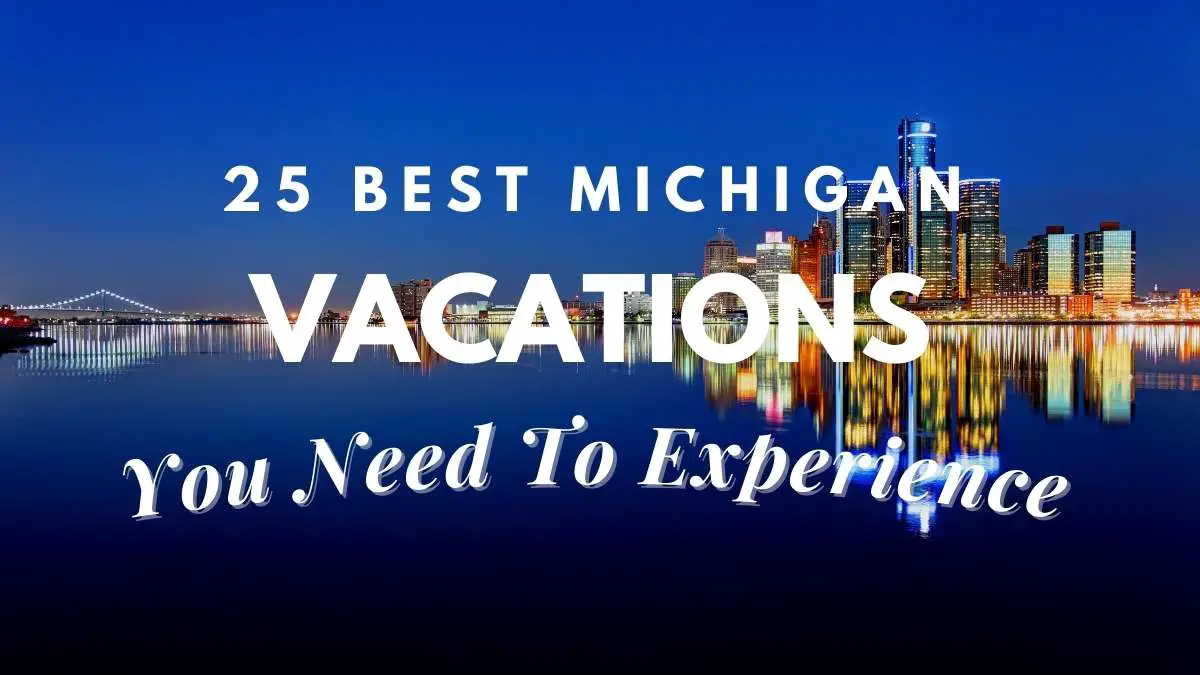 1. Mackinac Island
The lovely island getaway of Mackinac Island is a place where time has stopped still, and driving is not allowed. On the tranquil waters of Lake Huron, you may enjoy a variety of water activities or explore the area's 70 miles of walking, hiking, and bicycling trails. 40 miles of bridle pathways are accessible for horseback riders, and horses are rented at Jack's Livery Stables or the Grand Hotel Stable.
Popular activities include taking a Great Turtle Kayak Tour to explore the stunning shoreline, taking a Mackinac Island Carriage Tour to view the island's attractions, and visiting historic Downtown Mackinac, where a number of historic structures are available to the public. One of the top tourist destinations in Michigan is Mackinac Island.
Read: Is Traveling A Hobby? The Ultimate Guide To An Exciting Way Of Life Learn about the Downsides Of Traveling As A Hobby

2. Ann Arbor
The whole family will find plenty of intriguing cultural, historical, and outdoor activities in vivacious Ann Arbor. Spend some time exploring a couple of the wonderful local museums, such as the UMMA – University of Michigan Museum of Art, the interesting UMMNH&P, and the Ann Arbor Hands-On Museum. One of the top destinations in Michigan for couples is Ann Arbor.
Active tourists may go hiking, bicycling, or canoeing at Argo Park or the Hudson Mills Metropark, while bookworms can get lost in one of the more than eleven local book shops. Everyone should schedule time to see a football game at Michigan Stadium. If you like the theater, you may catch a performance at Hill Auditorium or the nostalgic Michigan Theater.
3. Holland
Come and experience the authentically Dutch ambiance and tastes of Holland, Michigan, where you may stroll among the tulips in the spring or view a functioning Dutch windmill. On the shores of Lake Michigan, there are a number of beaches where you may unwind or go sailing, kayaking, or paddle boarding. Rental gear is offered from a number of outfitters. One of the best places for a romantic getaway in Michigan is Holland.
You may visit the Kruizenza Art Museum or the Holland Museum if you like art and history, while music fans can go to a performance by the Holland Chorale or the Holland Symphony Orchestra. The Critter Barn petting zoo will be appealing to kids. If you are going ahead with Michigan vacations with kids, this is something that you shouldn't ignore.
4. Traverse Town
At the southernmost point of Traverse Bay, Traverse City boasts a prime position with easy access to many miles of fantastic beaches. The "city" exudes small-town charm and offers a wide range of recreational opportunities for visitors of all ages, including a vibrant arts scene where you can catch performances by the Traverse City Orchestra at the City Opera House, the Interlochen Center for the Arts, and the Dennos Museum Center.
While foodies may enjoy brewery and vineyard tours and fantastic farm-to-fork restaurants, outdoor enthusiasts can immerse themselves in a variety of water sports or explore the various hiking and bike trails in the region. For excursions to lighthouses and museums, set aside some time.
5. Lansing
Lansing is a great getaway spot in the heart of Michigan because it has a wide range of family-friendly attractions. Before continuing on to the intriguing Impression 5 Science Center, the Michigan Historical Museum, and the R.E. Olds Transport Museum, you might begin your journey by going to the Michigan State Capitol Building in Downtown.
The Wharton Center for the Performing Arts and the Eli and Edythe Broad Museum for Contemporary Art at Michigan State University are great attractions for art enthusiasts. You might enjoy a riverboat ride or a walk in the W J Beal Botanical Garden or Cooley Gardens. On a Makers & Shakers Tour, set aside some time to visit more than a dozen wineries, breweries, and distilleries.
6. Tecumseh
Tecumseh is one of the three oldest communities in what was formerly Michigan Territory. It is a tiny, historic city in Michigan. Only 25 minutes from Ann Arbor and 30 minutes from Jackson, it is situated on the river Raisin. The majority of the downtown buildings have been transformed into offices, stores, and eateries, and companies often take part in the regular social gatherings like Art Walk, the harvest festival, and the ice sculpture festival. While canoeing on the River Raisin Run is a well-liked summer sport, art aficionados will appreciate the free Art Trail Tecumseh display of sculptures by local artists. Golf at Raisin Valley Golf Club all day or take the kids to Stone Mountain Family Fun Center for some minigolf fun.
7. Grand Rapids
Grand Rapids has a fantastic blend of old-world architecture, educational museums, and family-friendly outdoor activities. Before visiting the Gerald R. Ford Presidential Museum and the Grand Rapids Art Museum, take a self-guided walking tour of this enormous open-air museum at Heritage Hill to see an extraordinary collection of historic buildings that dates back to 1844.
All art enthusiasts should visit the Frederik Meijer Gardens and Sculpture Park, while active tourists may go hiking in Millennium Park, ziplining at the John Ball Zoo, or kayaking along the Grand River Heritage Trail before quenching their thirst on one of several craft brewery tours.
8. Frankenmuth
German immigrants who moved to the region around 1845 are responsible for giving Frankenmuth its particular Bavarian culture and architecture. Bronner's Christmas Wonderland, where you may discover everything you need for a holiday season that sparkles, is one of their legacies. The Frankenmuth Historical Museum offers information about the town's past.
Numerous outdoor pursuits are available when you come here as a part of Michigan vacations. They include zip-lining at the Frankenmuth Adventure Center, riverboat cruises, horse-drawn carriage rides, paddle boarding, and kayaking on the Cass River. While adults may enjoy wine and chocolate sampling on a Frankenmuth Fun Ships Tour, younger guests will enjoy the Frankenmuth Corn Maze (in the autumn).
9. The National Lakeshore of the Sleeping Bear Dunes
The sunny beaches, soaring dunes, interior lakes, and lush woods that make up the Sleeping Bear Dunes National Lakeshore provide the ideal setting for an exciting back-to-nature getaway. The Philip A. Hart Visitor Center, where you can pick up maps and see an orientation movie, is a wonderful spot to begin your trip.
You may go for a picturesque drive, engage in some dune climbing, hike or bike along the Sleeping Bear Heritage Trail, or go kayaking or paddling on the lovely Loon Lake, where you'll also get to see some animals. Spend some time exploring Glen Haven Village's historical district.
10. Kalamazoo
Kalamazoo, Michigan is well located for weekend getaways since it is midway between Detroit and Chicago and just 45 minutes from Lake Michigan's coastline. Among the city's attractions are the Gilmore Car Museum, the Kalamazoo Valley Museum for history buffs, and the exhilarating Air Zoo, where visitors can learn all there is to know about aviation while also taking part in rides and flying simulators.
While youngsters will enjoy Binder Park Zoo, Kalamazoo Nature Center, and Kellogg Bird Sanctuary, cyclists may explore miles of routes, including the Kalamazoo River Valley Trail. On a West Michigan Brewery Walking Tour or Beer and Bike Tour, adults may taste regional beers.
Where to go nearby: Florida Keys, Indiana; Healdsburg, California; Madison, Top beaches in the USA Texas, New Braunfels, Long Island, New York, North Carolina, Oklahoma, Oregon, Day trips to Harpers Ferry, Durham, Cocoa Beach, and Southern California
11. Picturesque Rocks National Lakeshore
When you visit the Pictured Rocks National Lakeshore, you will have the opportunity to explore more than 40 kilometers of breathtakingly beautiful Lake Superior shoreline. A varied scenery with beaches, dunes, waterfalls, sandstone cliffs, lovely woods, and lakes may be seen there.
90 miles of trails allow trekking against this scenery, some of which include backcountry camping. Other activities include cross-country skiing, snowshoeing, snowmobiling, swimming, and diving in the winter; and picnics, boating, and camping in the summer. Day walks, evening programs, and boat trips are just a few of the guided tours and events offered by rangers.
12. Mackinac Island State Park State Park
More than 80% of Mackinac Island is covered by Mackinac Island State Park, which offers energetic tourists a superb playground for engaging in outdoor activities. On the island, motor cars are not allowed, thus people must go by foot, bicycle, horseback, or horse-drawn carriage.
Over 70 miles of interpretive roads and trails can be enjoyed, and they will take you to numerous historic locations, such as Fort Holmes, Fort Mackinac, Mill Creek Discovery Park, Old Mackinac Point Lighthouse, and Colonial Michilimackinac State Park, which has a number of kid-friendly hands-on exhibits. Finish off your trip with a zip-line excursion at the Treetop Discovery Tower.
Free activities, nearby beaches: Anaheim, Vermont attractions, Hawaii resorts, Ohio, Northern California beaches, Holland, Michigan, Ellensburg, Washington, Encinitas, Louisiana, Maine, Michigan, Canada, ID, Delaware, and Maryland Islands, and Florida
13. Mackinac Bridge
The Mackinac Bridge spans the Straits of Mackinac and connects Michigan's upper and lower peninsulas. It is the longest suspension bridge in the United States. The bridge, a wonder of contemporary engineering, carries two lanes of traffic in each direction and rises an astonishing 200 feet above the river at its highest point.
You may reach the bridge from either Mackinaw City on the southern peninsula or from northern Michigan's St. Ignace via Interstate 75. You should plan your trip to coincide with the annual Mackinac Bridge Walk in September, which draws hundreds of enthusiastic walkers, if you want to experience walking across this spectacular bridge.
14. Sugarloaf Mountain
Sugarloaf Mountain, which stands watch over Partridge Bay in Lake Superior, provides visitors with one of the most breathtaking views along the Upper Peninsula's coastline in Michigan. The 3,200-foot track, which is made up of a cleared path and some stairs, will lead you to the peak (470 feet over Lake Superior), and even though it is extremely steep, it is regarded as an easy trek since it only takes 20 to 30 minutes to complete.
At the peak, you will be rewarded with stunning views of Hogsback Mountain, Marquette, Presque Isle Park, and the forest canopy produced by century-old trees that line the route.
15. The Great Lakes Bay Area
The Great Lakes Bay Region offers a wonderful vacation location with a variety of cultural and outdoor activities. It is located along the southern shoreline of Saginaw Bay on Lake Huron. While history buffs may visit Castle Museum, the Japanese Culture Center, and the historic Alden B. Dow Home, art enthusiasts can enjoy the Midland Art Center, Saginaw Art Museum, Northwood Gallery, and Art Reach of Mid-Michigan.
The Chippewa Nature Center and Midland City Forest provide hiking, bicycling, and other outdoor pursuits for adventurers. There are several entertainment options, including the Saginaw Bay Symphony Orchestra, Midland Symphony Orchestra, State Theatre, Temple Theatre, and Dow Event Center.
16. Scenic Drive at Pierce Stocking
One of the attractions of a trip to the magnificent Sleeping Bear Dunes National Lakeshore in Michigan is without a doubt the Pierce Stocking Scenic Drive. As you travel the seven-mile circle, which passes between beech-maple woods and tall sand dunes, you may get some of the greatest views of Lake Michigan.
There are several places to stop and take in the scenery along the journey, such as the Glen Lake Overlook and the Lake Michigan Overlook, which is situated 450 feet above the lake and is famous for providing the most breathtaking views of the coastline at sunset.
17. Lake Michigan, Manistee Lake, and the Manistee
Lake Michigan, Manistee Lake, and the Manistee River almost completely encircle Downtown Manistee, making it the ideal playground for outdoor lovers. At the Manistee Municipal Marina, you may launch your boat and take advantage of miles of quiet rivers for paddling, tubing, and boating.
As you meander down the Manistee Riverwalk to the busy Manistee Marina, the area's primary center for eating, shopping, and entertainment, you may discover more about Manistee's logging past. History buffs can explore one of Michigan's best collections of historic buildings on a self-guided walking tour through Historic Downtown, and foodies shouldn't miss the Saturday Farmer's Market. resorts in Michigan
18. The Petoskey Region
The picturesque lakeside towns of Harbor Springs, Petoskey, and Bay Harbor are all part of the Petoskey Area in northern Michigan, which makes it a desirable vacation spot. Try one of the many scenic routes to take advantage of the vibrant color during the most beautiful time of year to visit, which is fall.
The Boyne Mountain chairlift, the trails in the Avalanche Mountain Preserve, the beaches, a variety of water activities, hiking, and biking are all available in the summer. There are three ski resorts and the Avalanche Bay Indoor Waterpark for wintertime entertainment. There are several live entertainment alternatives as well as a number of museums for rainy days. Orange County Beaches, Fairbanks, Aberdeen, Providence, Lake George, Leesburg, Niagara Falls, Ann Arbor, Sausalito, Morrison, and Athens GA are other nearby romantic weekend destinations.
19. Escanaba Escanaba
With 211 miles of stunning coastline, marshes, beaches, and wetlands, the Escanaba region in northern Michigan is a well-liked holiday spot for nature lovers. Driving the Peninsula Point Interpretive Lighthouse Trail and the Maywood History Trail will teach you about Escanaba's past, as will stopping by the Delta Country Historic Museum and the Fayette Historic Townsite.
There are several outdoor activities available, including shipwreck searching from a glass-bottomed boat, scuba diving, fishing, hiking, cycling, and ORV trails. In the winter, cross-country skiing, snowshoeing, and snowmobiling take center stage. On one of the several Fall Colors Scenic Drives, you may view Escanaba at its most vibrant.
20. Isle Royal National Park
Isle Royal National Park can be just what you're looking for if you have the need to go away from civilization and experience nature, tranquility, and quiet off the main path. Isle Royal in Lake Superior is a beautiful, remote, and mountainous island that provides travelers with an amazing back-to-nature experience.
A backpacking trip around the island's 36 campgrounds and more than 160 kilometers of gorgeous trails is one way to take it all in. Also available are a number of easier day treks, motorized boat tours of the many coves and bays, and canoeing and kayaking on the more tranquil interior waterways. There are additional options for scuba diving, escorted trips, and ranger-led activities.
21. St. Ignace
With water on three sides and a location on an isthmus off the northern edge of the Mackinac Straits, St. Ignace is the ideal vacation spot for anybody interested in water activities. You may join a Great Lakes Boat Tour to see some of the several islands, each of which has its own unique beauty, or you can go parasailing over the bay or fish for your meal.
If you'd rather remain on dry ground, you may go hiking on the North Country Trail or in the Hiawatha National Forest, or you can go to the Fort De Buade Museum, the Carlyn Zoological Park, the Indian Village, the Great Lakes Shipwreck Museum, and the Whitefish Point Light Station.
22. Detroit
Vehicle City Detroit features a number of various activities to make sure that tourists of all ages enjoy an action-packed holiday. Before visiting museums like the Automotive Hall of Fame, The Henry Ford Museum, the Detroit Historical Museum, the Detroit Institute of the Arts, and the Dossin Great Lakes Museum, you may take the People Mover automated train for a tour of Downtown Detroit (which documents shipping and maritime history).
Numerous family-friendly activities are available, such as riverboat cruises on the Detroit Princess, excursions to the fantastic Detroit Zoo, and time spent at the Legoland Discovery Center. The Anna Scripps Whitcomb Conservatory at Belle Isle Park is a must-see for everyone who loves plants. Activities in Detroit
23. The Estivant Pines
The Estivant Pines, some of which have survived the loggers' saws for more than 600 years, are thought to be the final stand of old-growth white pines in Michigan. The whole forest is like a spotless living natural history museum, with 125-foot-tall trees and a thick undergrowth that is home to several different flora, including ferns and orchids.
As you stroll through the three path loops, you may see numerous tiny creatures and over 85 different bird species that call the forest home. The biggest of the trees are located along the Cathedral Trail Loop, but the Memorial Trail Loop is as rewarding; combine the two paths to maximize your time there.
24.  Thorne Swift Nature Preserve
Just three and a half miles west of Harbor Springs, the Thorne Swift Nature Preserve is a 30-acre wildlife refuge located along the beaches of Lake Michigan. The park has a 300-foot public beach with sand along the shoreline, hiking paths, and other recreational opportunities, making it a terrific area to spend a sunny day.
On the pond observation platform, you may spend some time studying aquatic life. On the dune observation platform, which is also a great site to see the sunset, you can take in the protected dunes. Summertime guided hikes are available at the Elizabeth Kennedy Nature Center, or you can explore on your own along the Beach Trail and Balsam Trail.
25. Shiawassee National Wildlife Refuge
Explore more than 9,800 acres of marshes, forests, and grasslands at the Shiawassee National Wildlife Refuge, which make up a U.S. Important Birding Area and are home to more than 270 species of migratory water birds. In the refuge, you may go hunting, fishing, hiking, studying the environment, seeing animals, and taking photos.
The Ferguson Bayou Trail and the Woodland Trail may be traveled on foot, on bike, on skis, or by car through Wildlife Drive. There are an additional 2.5 miles of hiking and cross-country skiing paths, as well as seasonal educational activities, at the Green Point Environmental Learning Center.
Final words
These are the best Michigan vacations available for you to consider as of now. Take a look at these options and come up with your travel plan. Then you can end up with getting the best possible experiences that you can secure while you are in Michigan.