Acadia National Park is one of the most pet-friendly in the United States. You may enjoy approximately 100 miles of hiking trails and 45 miles of carriage roads with your dogs at the first National Park east of the Mississippi. With so many alternatives, the possibilities seem limitless, but in my view, there are five must-do dog-friendly treks in Acadia.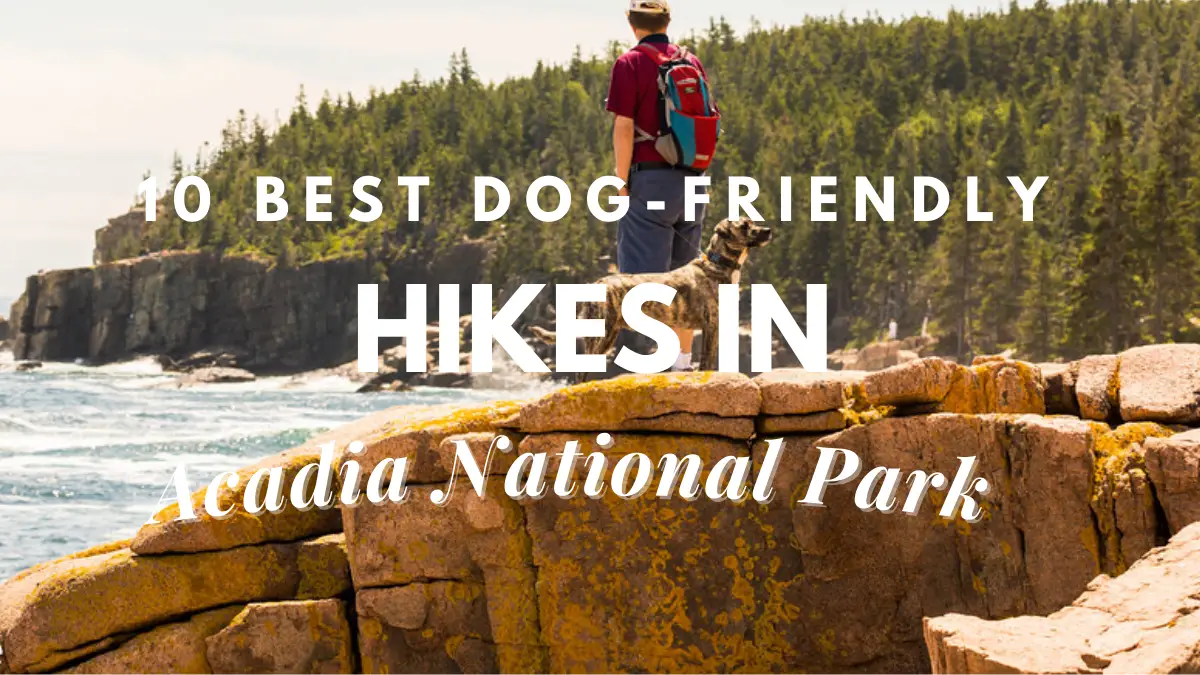 Visiting Acadia National Park
If you missed it last season, Acadia has implemented a Cadillac Mountain Reservation System.
The goal of this endeavor is to limit the number of cars that may drive to the peak of Cadillac Mountain at the same time.
Reservations can be made through Recreation.gov.
This is in addition to the fact that an Acadia National Park admission pass is necessary at all times.
Because connectivity might be patchy near the check station, print, download, or screenshot your confirmation code to display.
Each car reservation has a two-hour dawn entrance window and a 30-minute daylight access window.
There is no time limit on how long people can stay in the reserve area.
On a rolling basis, 30 percent of available car bookings are issued 90 days prior to each calendar date.
70% of tickets are issued two days ahead of time at 10 a.m. ET to provide tourists a little more flexibility when planning their trip!
Before you go, be aware that there are certain exclusions, including the majority of the water in the park.
The majority of lakes are public water supply, and no swimming is permitted.
This applies to both pets and humans.
If you visit during the offseason, Sand Beach and Echo Lake are pet-friendly.
Dogs are not permitted at any location during busy seasons.
The peak season for Sand Beach is June 15 to September 8, while for Echo Lake, it is May 15 to September 15.
There are also a few paths where dogs are not permitted.
These include the Precipice, Bee Hive, Ladder Trail to Dorr Mountain, Beech Cliffs Trail, Perpendicular Trail, Jordan Cliffs Trail between Penobscot East Trail and the carriage road, and Jordan Cliffs Trail between Penobscot East Trail and the carriage road.
Acadia Mountain, Flying Mountain, Giant Slide, Cadillac Mountain (west face), Bubble and Jordan's Ponds Path (between carriage road and Featherbed Pond), Nuremberg Goat Trail, Bubbles-Pemetic Trail, Penobscot Mountain Trail, Upper Beachcroft Trail, and Upper Gorge Trail are not recommended for the pup(s).
Basically, make the best decision you can.
There's a reason why dogs aren't allowed on some paths.
The majority of them feature rungs, ladders, or exposed cliff walls that are extremely harmful to your pet.
All campgrounds welcome dogs and camping in Acadia is a terrific way to enjoy the park with your pets!
Check out The Complete Guide to Camping with Dogs in Acadia National Park.
What are the best dog-friendly hikes in Acadia National Park?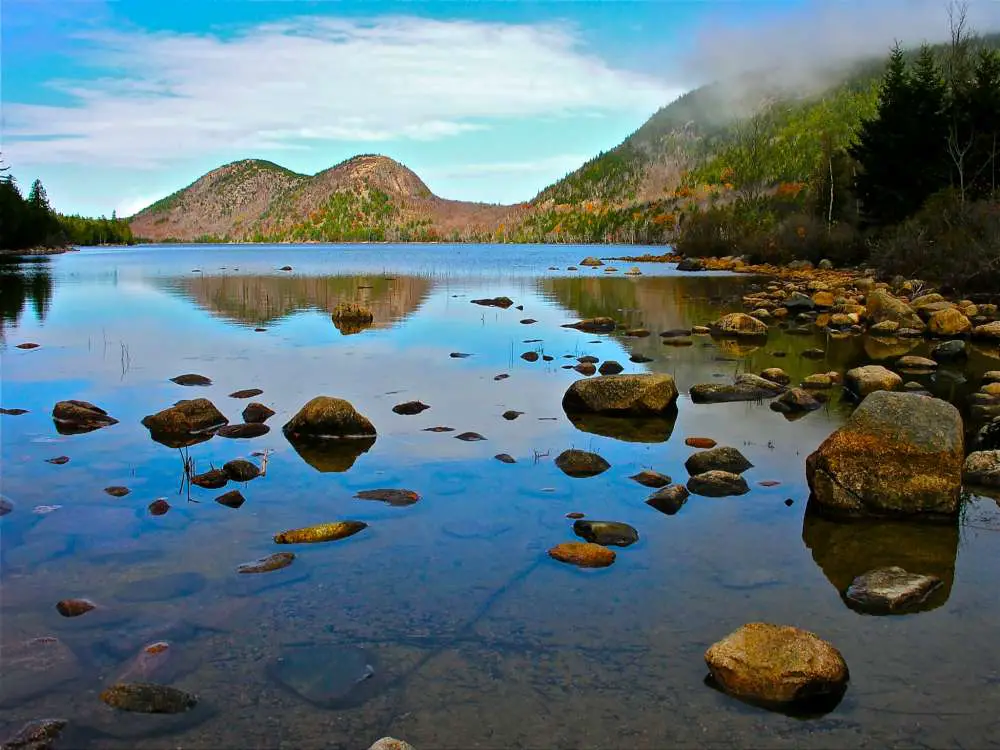 Read: Is Traveling A Hobby? The Ultimate Guide To An Exciting Way Of Life Learn about the Downsides Of Traveling As A Hobby

Wonderland Trail – 1.6 mile distance
Our favorite trail is the Wonderland Trail.
It's the ideal place to unwind in the early morning or late at night.
Yes, it's a short trek (1.6 miles), but you'll most likely be the only one there early in the morning or late in the evening.
It is located on the "peaceful side" of the island, which may explain why it is so undervalued.
I sat here for at least an hour, letting My dog run about on the pebble beach.
My dog was up to his usual antics as we watched lobster boats sail past.
He had a lot of fun digging in the stones.
It was one of the highlights of the trip for me.
The Wonderland Trail's sunsets are quite spectacular.
You won't get a complete view of the sunset from here, but it's near and really beautiful.
This is a wonderful choice if you can't secure a reservation at Cadillac Mountain or don't want to fight the crowds at Bass Harbor Lighthouse for sunset.
For this sunset, my dog and I had the entire beach/area to ourselves, which was incredible.
I will caution, though, that pay attention at this time of day since the tide comes in swiftly!
It's the ideal dog-friendly twilight stroll at Acadia National Park!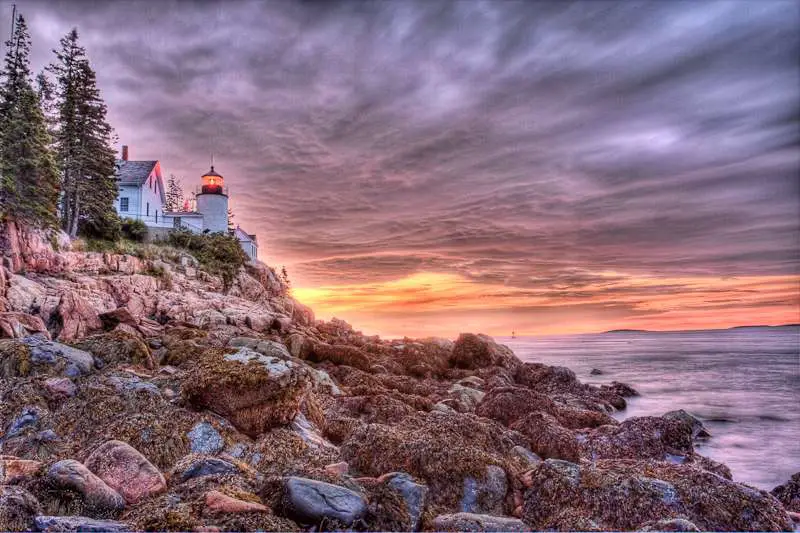 Read: Mt. Moosilauke Winter Hike (What to expect)Learn about the Mount Jim Ridge trail
Cadillac Mountain South Ridge Trail – 8.1 miles, moderate difficulty
The Cadillac Mountain South Ridge Trail is a great day trek, but it's an 8-miler, so carry lots of water for the dogs and check the weather forecast before heading out.
It's also possible to get dropped off at the top of Cadillac Mountain (which is now more difficult due to the reservation system) and trek down the South Ridge Trail to Blackwoods Campground.
If you can't secure a reservation for a dawn or sunset at Cadillac Mountain, you can always hike this trek at sunrise or sunset! Just don't forget your headlamp!
Another alternative is to trek a section of the path and then turn around.
It was a scorching day on my trip in 2019, and I didn't think My dog was up to a long trek.
As a result, I trekked down a few kilometers before turning around and hiking back up.
My dog seemed pleased, and I was able to enjoy some of the beautiful scenery.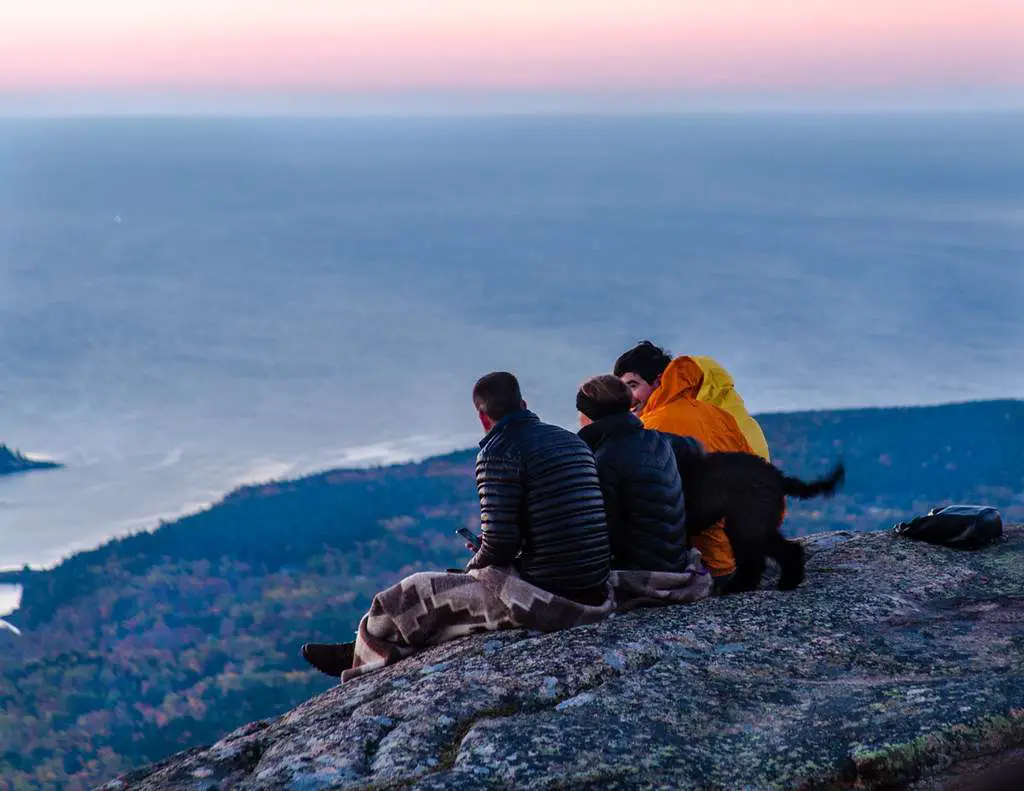 Read: 12 Best Washington Spring Hikes To Try Out In 2023Learn about Hoh Rain Forest Loop trail
Great Head Trail – 1.8 mile distance
The Great Head Trail offers a variety of alternatives.
There is a 1.6-mile short variant that is classified moderate.
It's a terrific path for both younger and older dogs, and it's a great (shorter) day hike.
The whole loop is the alternative option, and it's not that much longer.
It's fairly manageable for any/all dogs at 1.8 miles and a moderate rating.
In any event, it's a fantastic alternative for a quick climb with stunning views of Sand Beach.
However, bear in mind that your dogs will not be allowed on the beach if you visit during high season.
I visited in mid-May, and dogs were permitted on the beach.
It was a huge hit!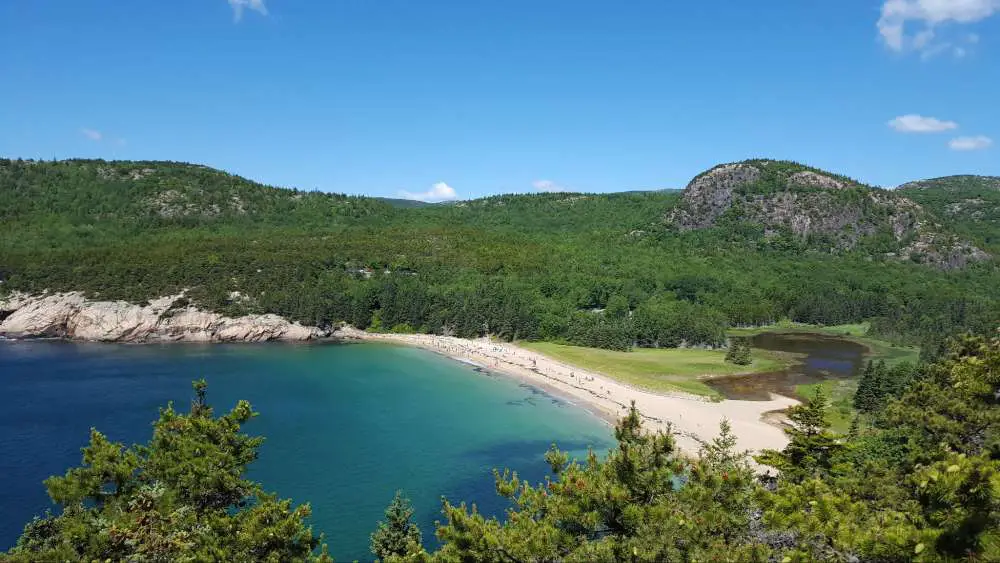 Read: 14 Best Hikes In Denali National Park To Try Out 2023Learn about The Gorge Creek Trail
Jordan Pond Full Loop Trail – 3.4 miles long.
Jordan Pond Trail – Full Loop – Jordan Pond Loop Trail is a great place to go for an early morning trek with beautiful views of the bubbles.
The ideal time to visit is early in the morning, as the route becomes quite busy as the day progresses.
It may be difficult to keep dogs on the planks when there are boardwalks to keep people/pets off of what is growing below, and My dog got his foot trapped a few times.
Keep in note that this trail gets a lot of foot traffic.
People who operate the plank boardwalks are included.
Tip: Also, don't make my mistake of wearing my chucks on this trip, and believe me, I've made this mistake many times.
It wasn't on purpose; I walked out to photograph the dawn and had no intention of hiking.
This is something I do all the time; I locate a random route and end up going on it.
From now on, I'll just keep my boots in the car, and the problem will be fixed!
There are several stones on the west side of the route that you will have to climb over.
So, if you're wearing flip flops or chucks, or if you're pushing a stroller, this trail isn't for you.
Don't make the same mistake as me and wear the proper footwear!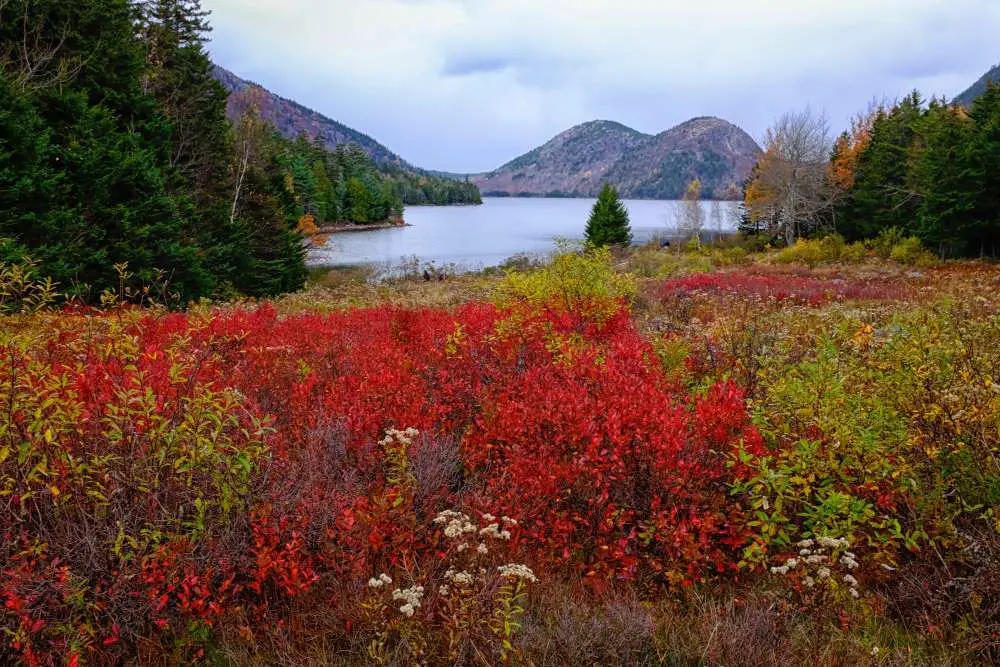 Read: [9 Best] Kid Friendly Hikes At Mount HoodLearn about Laurance Lake trail
Gorham Mountain Trail – Distance: 1.6 km
This walk is suitable for hikers of all abilities and offers breathtaking vistas as well as gorgeous wildflowers throughout the summer.
I've hiked this path previously without dogs, and I think it'd be perfect for most dogs.
If you have elderly dogs, the elevation rise may be a problem for them.
This trail also offers some spectacular vistas for a short trip.
It's a fantastic path in every way.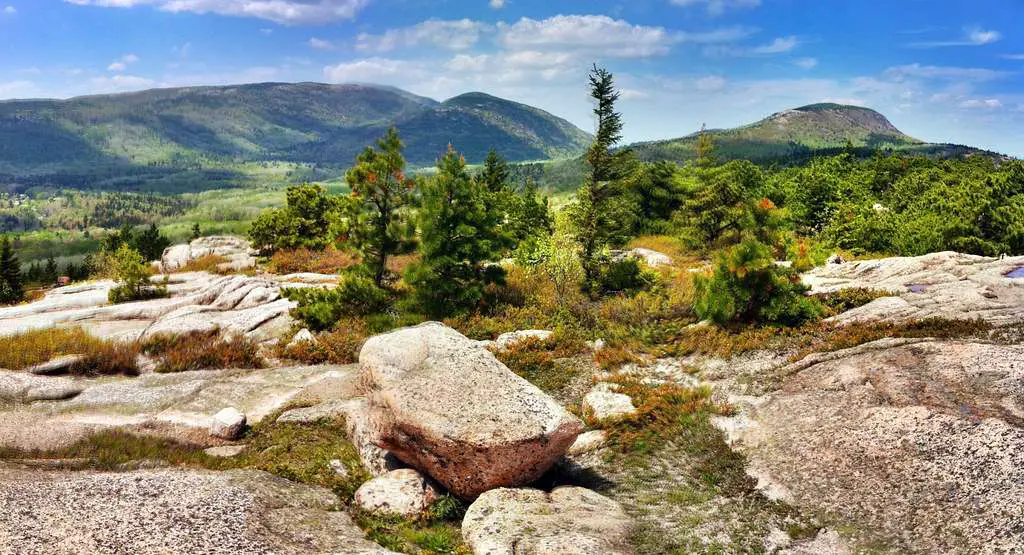 Read: 8 Best Hikes In Saguaro National Park RatedLearn about Valley View Overlook Trail
Jesup Trail – 2.2 miles
The scenic boardwalk and ease of access are the major attractions of the Jesup Trail.
This is not the trek for you if you are seeking for a challenging hike (or your pups).
This is the route for you if you want to have a lovely calm walk through the woods on a really attractive boardwalk.
The track is also wonderful for birding and hiking the circle clockwise will reward you with beautiful vistas and happy legs!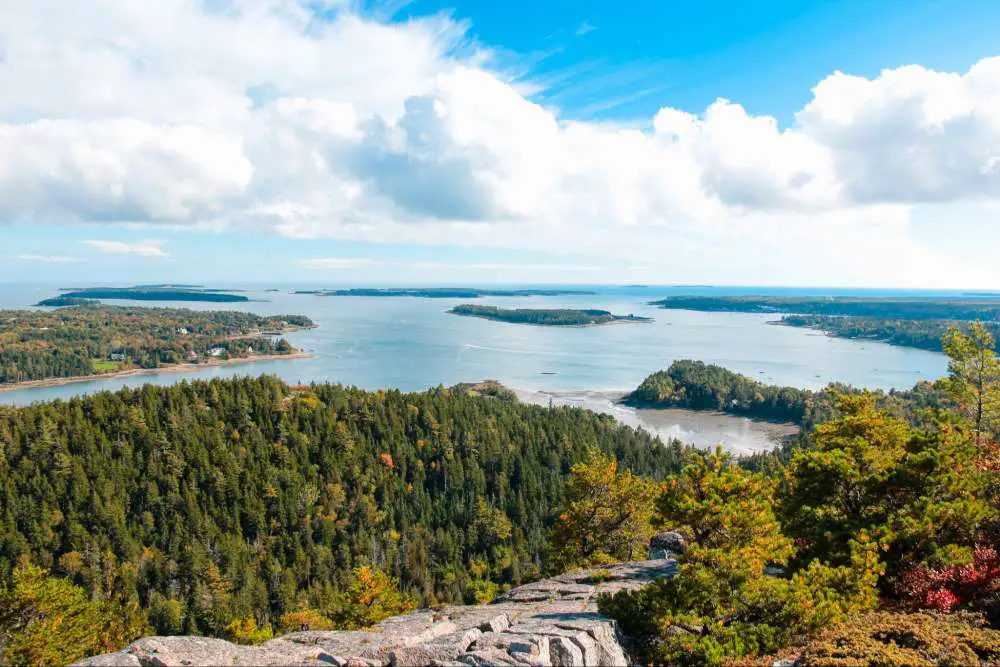 Read: 10 Kid Friendly Hikes In The Red River Gorge ReviewedLearn about Tom McCall Preserve trail
Lower Haddock Pond – 2.3 miles
Lower Haddock Pond is a nice place to go if you want to take it easy in the morning.
It's particularly amazing just after it rains since you can see the waterfall in its entirety.
If you come after it has rained, be aware that the trail will be muddy, but your dogs will like it!!
This route also contains a waterfall, but unless it has just rained, you will only see a drip of water.
On my morning trek in August 2019, it was absolutely dry.
However, that was such a gorgeous waterfall after some rain on my early September morning trip in 2021!
Read: [10 Best] Hikes In Pinnacles National ParkLearn about the Best moderate hikes at the park
Ocean Path Trail – 4.5 mile distance
Easy Elevation is a rating that describes how easy it is to get to the top Dog-Friendly Hikes Gain: 374 ft The Acadia Ocean Path Trail is an excellent way to explore some of the attractions in Acadia National Park.
It's also a beautiful spot to see the dawn, and if you're lucky, you'll have the place to yourself.
At morning, I was the only one on Ocean Path! On Ocean Path, though, you may view Thunder Hole, Monument Cave, and Otter Point.
Keep in mind that the Ocean Path runs alongside Park Loop Road in several places.
Although there is a visible concrete walkway in some spots, it's worth noting for pet parents who are concerned about their dogs going along the road.
You may have much of the trail to oneself early in the morning, and there isn't much traffic either.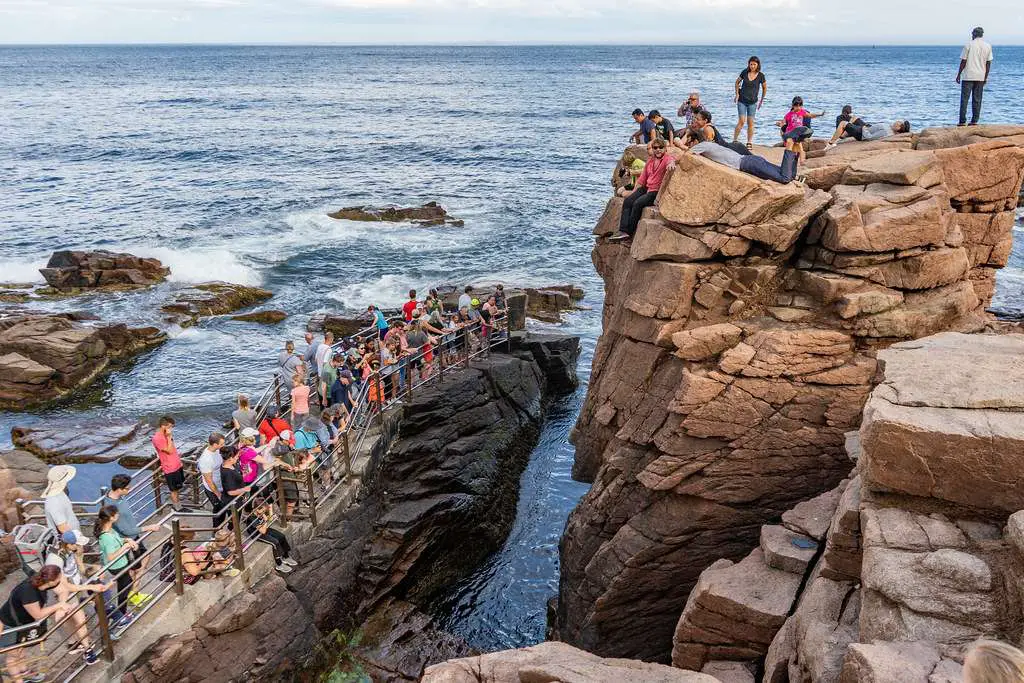 Read: [9 Best] Hikes In Everglades National ParkLearn about Pa-hay-okee Overlook
The Carriage Roads
There are 45 miles of carriage paths to choose from.
There are over 45 miles of carriage roads for you and your dogs to enjoy.
The majority of them are located in densely forested areas and provide excellent shelter when it rains.
Despite the fact that My dog was not permitted to enter any of the water, he became wet and filthy on our carriage road stroll.
Update for 2021: Due to a construction/maintenance project, access to Eagle Lake Carriage Road will be restricted.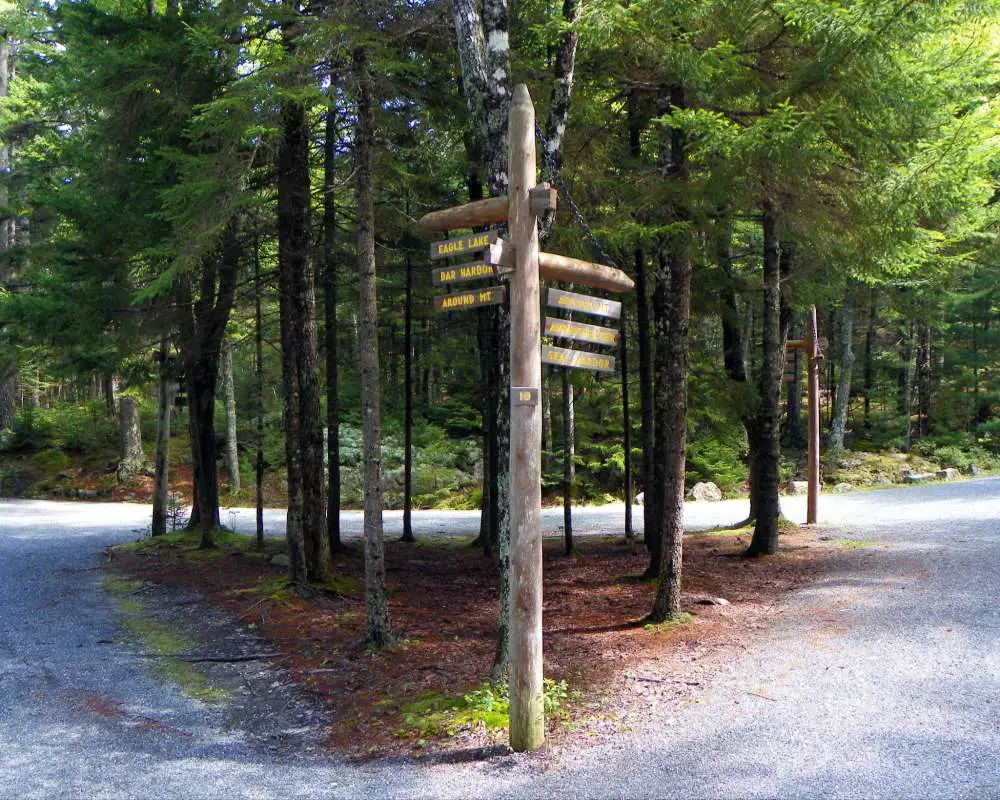 Read: [9 Best] Stroller Friendly Hikes Sedona In (2023))Learn about Devil's Bridge Trail
Charlotte's Legendary Lobster Pound
Stop at Charlotte's Legendary Lobster Pound on the calm side of the island for the greatest lobster rolls in Acadia while staying at Seawall Campground or after hiking Wonderland Trail.
Because the dining is outside, the dogs are welcome to join you! For dessert, acquire some ice cream and split it with them.
Alternatively, for ocean views with your lobster rolls, walk down to Seawall Picnic Area (less than 5 minutes down the road).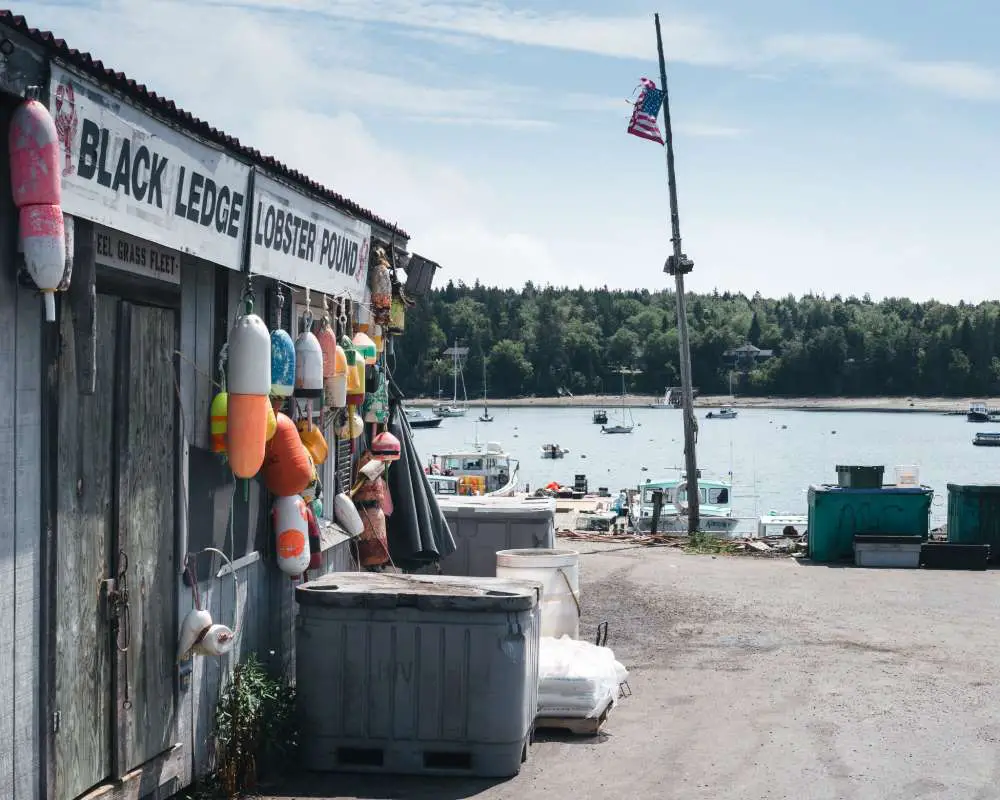 Final Words
Read more about how Acadia is one of the most pet-friendly national parks in the country here. You may enjoy approximately 100 miles of hiking trails and 45 miles of carriage roads with your dog at the first National Park east of the Mississippi (s). With so many alternatives, it appears that the possibilities are limitless!
There are a few exceptions, such as the majority of the water in the park. Because the majority of lakes are public water supply, no swimming is permitted. This applies to both pets and humans. If you visit during the offseason, Sand Beach and Echo Lake are pet-friendly. Keep these facts in mind and go ahead with exploring the Acadia National Park. Your companion will fall in love with the experience offered by the park. There can be numerous great experiences offered to you in the park. Your dog will never miss out the chance to have fun while spending time within the Acadia National Park as well.