Tubing down the Rainbow River is a fantastic family activity. As you float, take in the scenery, relax, or get out of your tube and swim or snorkel in the pristine waters of the Rainbow River. While our family had a fantastic day, I do have some recommendations for tubing the Rainbow River before visiting the park. You can go through these rainbow river tubing tips to get the best possible experiences with tubing in the rainbow river.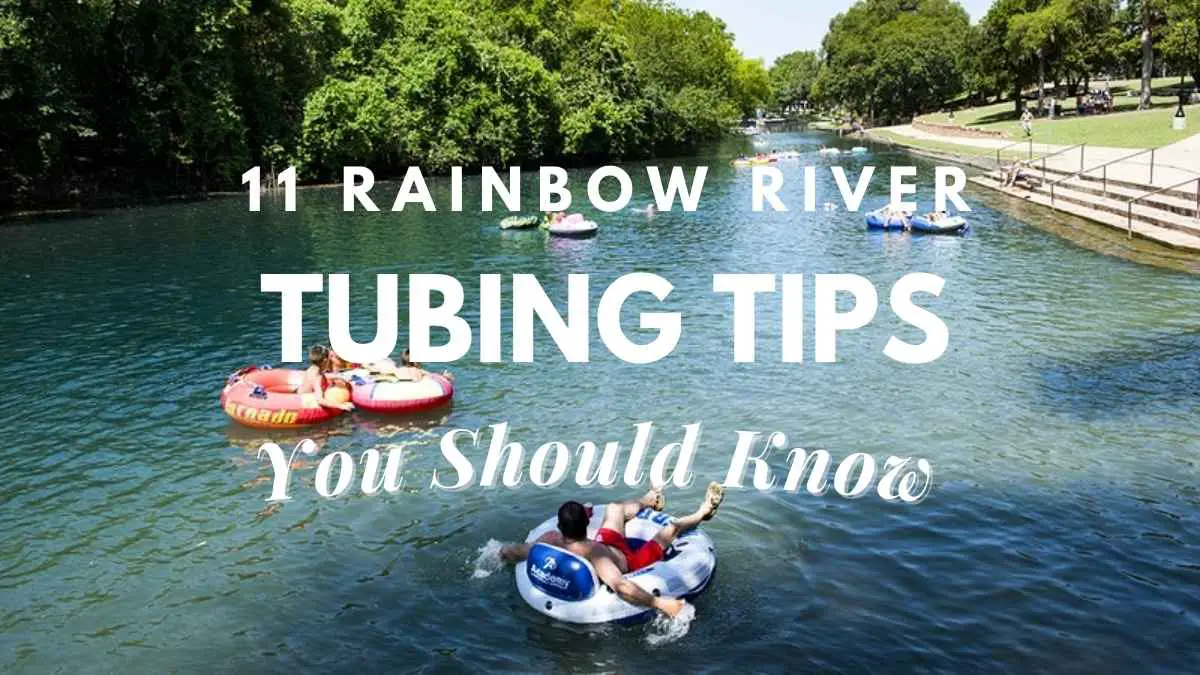 1. Get your hands on the best type of tube
On the Rainbow River, which tube performs best?
Anything that floats and has the ability to hold you.
There are large tubes, little tubes, and tubes in between.
Two ladies were even seen floating down the river on pool noodles!
I wouldn't recommend it, but they sat on their noodles, floated, and looked to be having a great time.
Hey, do whatever makes you happy.
We brought a couple of tubes with us.
Tubes with handles, bottoms, and rope were bought by my immediate family.
We paid $12.99 apiece for them at Academy.
Read: Is Traveling A Hobby? The Ultimate Guide To An Exciting Way Of Life Learn about the Downsides Of Traveling As A Hobby

2. The bottom is stronger than you think
The bottom is made with a strong net.
So, you're sitting in water, but you can't get out since you can't fall through the bottom.
This is great for the entire family, but it's especially great if you have little children since you won't have to worry about them slipping through.
It will also protect your bottom if you run over pebbles.
In the Rainbow River, we didn't travel over any sharp rocks, but I have in Wekiva, and it's not enjoyable!
Is there a disadvantage to the tube above?
It's more difficult to get back in if you don't have sufficient upper body strength and leap or fall out.
It is unquestionably simpler to pass through the center of an open tube.
If you fall out and can't get back in, swim over to the side and climb up on the beach or a dock to get back in.
Also, there are CUP HOLDERS on the tube above!!!
3. You don't have to spend a lot of money
If you're on a budget, a tube like the one shown above will suffice.
I got this one for around $3 at Academy.
There are no handles, cup holders, or bottom to speak of.
However, the pricing is fantastic!
The one seen above includes a rope and is much more durable than the $3 float.
This one may be found on Amazon here.
4. Be ready to face the sun
Sunscreen. Before you enter the water, put it on.
Bring it with you when you reapply.
In the center of the sea, you are a solar MAGNET.
After an hour or so, I began to FEEL the burn and reapplied.
Even so, I was scorched.
So, I guess I should've applied a third time.
You've turned your back on the sun.
Take your sunglasses with you.
If possible, choose a pair with a necklace or rope around your neck.
5. Take a mesh laundry bag
To hold everyone's flip flops or sandals, use a big laundry bag or numerous smaller wash bags.
All you have to do now is attach them to your tube and you're ready to go.
If you have a GoPro case, snorkel masks, and other accessories, they can all fit in there as well.
You may be able to get them for a $1 at Dollar Tree as well!
6. Be ready for snorkeling
Snorkeling equipment is required.
It was really worth it!
There are a TON of fish to view.
We put it to a lot of usage, so it's built to last.
We use it to swim in the springs, rivers, and the ocean, among other places.
When scalloping and lobstering, we utilize it.
You do not want to get a low-cost set.
7. Find a way to be hydrated
You should look for a way to be hydrated while you are tubing in the Rainbow river.
A reusable bottle, such as this Contiga bottle, is required.
Don't skimp on them since they won't seal.
The Contiga bottles were in our possession.
We carried 4 water bottles and a bag of ice.
It was sitting on its own flat raft.
Alternatively, you may purchase a cooler raft.
Alternatively, fill your cup holders with simply ice from our bottles.
But I guarantee you'll want a drink.
8. Waterproof casing
The case is waterproof.
Even if you don't bring your phone, you'll need a place to keep your keys, wallet, license, and other valuables.
I didn't trust anything with my phone, but my husband and kid did, and when we came out of the water, they were bone dry!
When they snorkeled, they wore them around their necks or carried them in their tubes.
9. Wear water shoes
It's a good idea to wear water shoes.
If you're going outside and don't want your feet to come into contact with slippery pebbles and slimy grass…
Purchase a pair of water shoes.
Thank you very much.
Is it really necessary to have everything listed above in order to have a good trip?
If you're not snorkeling and apply a lot of sunscreen and drink well beforehand, I believe you might get by with only a tube and a bag for your keys…. and you can simply tie your shoes to your tube's rope.
If you want to be comfy for four hours, though…
I strongly advise you to use some of the suggestions above.
NOTE: We didn't pull our phones out to take pictures; instead, these photos were shot THROUGH the waterproof covers and turned out OK!
10. Know where to park
There are a few possibilities.
We had a fleet of vehicles, which worked out well.
There was just one automobile parked at the finish.
A parking lot is located directly in front of the restaurant (Swampy's).
Because it's a tiny venue, arrive early.
This is the end of your tubing excursion, therefore leave just your car there.
Then, with the help of the other cars, drive up to KP Hole, where you will enter the water.
You will save money by not having to pay for the tram to take you back.
11. Learn how to manage food
We didn't pack food this time since we were already on a vacation when we got to the river and weren't returning home.
Put some snacks in your cooler or an extra float or have a cooler in your vehicle to eat after you're through.
We decided to dine at the restaurant at the tube station's terminus.
Swamp's is a pub and grille that specializes in burgers, seafood, salads, and other dishes.
There is also a children's menu and a happy hour.
Final words
These are the best Rainbow River tubing tips to keep in mind. One more teeny-tiny remark. This is the state of Florida. We also have animals in Florida. Turtles, huge and little fish, a plethora of dragonflies, birds, and one very small gator were among the creatures we encountered. It was TINY, and it was a long way behind us. I don't want to terrify you, but you should know that gators and snakes are part of Florida's nature. We remained in the center of the river, and the animals were uninterested since there were so many humans surrounding us.