When you are packing for a beach vacation, there are few important things to include in your bag. However, we often see ladies running into problems because they don't take essentials along with them. To make sure that you won't run into any such problems, we thought of sharing a guide with you on what to pack for a beach vacation.

This beach vacation checklist will have you packing for the beach with the ideal beach holiday outfit and on your way to your tropical destination in no time, whether you're wondering what to pack for a week at the beach or a month. You should definitely print out this packing list for a beach vacation and check each item off while you pack your belongings. If you wonder what to pack for a beach vacation woman, continue to read this guide, and you will get all useful information.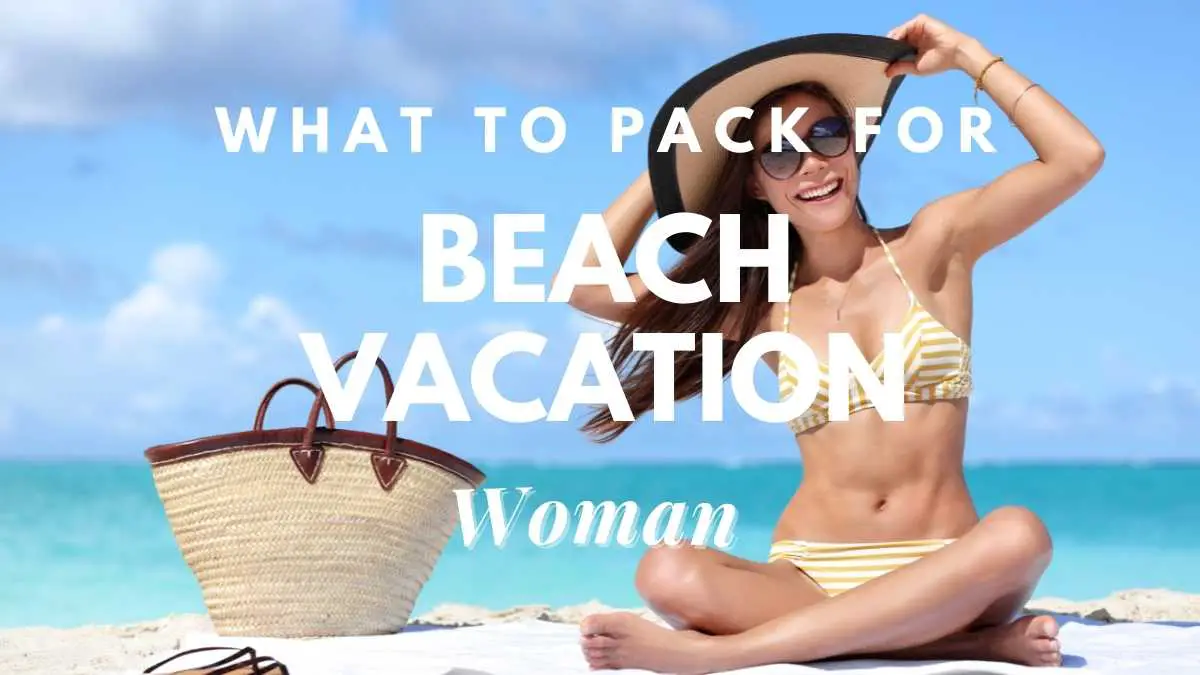 What Should I Bring on a Beach Vacation? – A Checklist
This beach vacation packing list has been divided into the following sections for your convenience: clothing, shoes, beach gear, luggage, toiletries, gadgets, and travel papers. It really is a matter of personal preference what clothing to pack for a beach vacation. However, my suggestion to you is to pack lightly for a beach trip since you won't wear anything you bring. You'll discover that you spend the majority of the time in your bathing suit.
Read: Is Traveling A Hobby? The Ultimate Guide To An Exciting Way Of Life Learn about the Downsides Of Traveling As A Hobby

1. Swimsuit or bikini
Your bikinis are perhaps one of the most important items to bring for a beach holiday. I advise you to pack two swimsuits, one of which you may put on while the other is drying.
2. Sarong or swimwear
You must carry a swimsuit cover if you're going on a beach vacation. This is ideal for wearing to the beach, but you may prefer a sarong if you're going somewhere with temples or monasteries since you can use it to cover your shoulders or legs.
3. Skirts
Bring a few cozy pairs of shorts to go to the beach or while exploring the city. I like shorts like that are comfortable and practical to wear.
4. Tank tops
Only three shirts, which you may mix and match with your shorts, are necessary.
5. Dresses
I'd advise you to carry 1-2 casual summer dresses, depending on whether you like to wear dresses over shorts. Depending on your preferences, you could bring more dresses and less shorts, or vice versa, so adjust your beach vacation packing list accordingly. Dresses like the one shown here are ideal since you can dress them up for a nighttime casual supper. If you want to eat somewhere upscale, you may also want to pack something a bit more formal.
6. Pants
Pants Bring a pair of thick pants if you anticipate that the evenings may turn chilly.
7. Jacket
It's possible that you'll also need to pack a lightweight jacket if it turns chilly or windy at night. If you're heading someplace where it rains often, especially if it's during the rainy season, investing in a rain jacket could also be worthwhile. 3 in 1 jackets are ideal since they keep you warm and shield you from the rain as well.
8. Underwear
For each day, I advise wearing two bras and a pair of knickers.
9. Nightwear
One pair of pajamas is also necessary. You may get them cleaned if you stay for more than a few days.
10. Sneakers
A pair of flip flops is one of the beach holiday essentials since you'll be spending the most of your time at the beach or by the pool. What footwear to bring for a beach vacation. Only 3 pairs of shoes—flip flops, sandals, and water shoes—are on my packing list for a beach trip.
11. Sandals
for going out to dinner, shopping, or strolling around town. These Teva sandals are excellent; you could wear them for short walks as well. They are available in a variety of lovely colors. For additional details on these Teva sandals, go here. You may want to bring a nice pair of wedges or sandals as well.
12. Water Shoes
A pair of slip-on mesh beach shoes might be a good item to take for a beach holiday to protect your feet as certain beachy places can have a lot of pebbles and coral on the beaches. For more information on these shoes, which are available in a variety of fantastic colors, go here.
13. Beach Hat 
How should I pack for a beach vacation? Of course, a large sun hat to prevent sunburn on your skin. The best sun hat is one with a wide brim all the way around, like the one seen below. You can check on the internet to learn more on the sun hats that are available for sale out there.
14. Beach towel
I suggest using a lightweight, microfiber beach towel that dries quickly when buying a beach towel. The fact that sand won't attach to it is another reason why I appreciate it. I'd go with something like to this.
15. Set of snorkels
Never leave home without a top-notch snorkel equipment if you're going someplace with amazing undersea life. Although your lodging may sometimes offer a pair you can rent or borrow, I like to have my own for the ideal fit. Check out these snorkel sets from Amazon that are top sellers.
16. Floating Equipment
Want to take some amazing Instagram photos? Bring one of these ultra-unicorn floats with you. Or, if you'd like something a bit more useful, get a straightforward lie-flat pool float. You can do some online searching and understand the best floating equipment available out there for purchase.  
17. Body Board
If you're on a road trip, consider throwing a body board in the back of the vehicle to catch some waves. This is probably not realistic if you have to fly to your destination.
18. Beach Shelter
I strongly advise you to invest in an appropriate beach shelter if you plan to spend more than an hour or two at the beach. Again, not very practical if you're traveling by plane, but if you're traveling by car, don't leave home without some kind of shelter. I like the simple pop-up ones.
19. Sunglasses
requisites for a beach vacation? Of course, sunglasses! Leave the house without them!
20. Water bottle
Bring a refillable water bottle with you since we are all aware of the terrible effects plastic bottles have on the environment nowadays. I want one with a clasp so I can connect it to my day bag and one that won't leak.
21. Beach chair
A beach chair is something else you can need while on your beach trip. Check out the list of the top beach chairs on internet and buy the best one.
22. Beach bag
Bring a beach bag to store everything you need, or you can simply utilize your backpack as we'll cover below. It goes without saying that you'll need a couple different bags to pack everything you need for a beach resort holiday.
23. A purse
To always have your wallet and camera with you, a tiny shoulder bag is great. You can buy something that can accommodate all of your needs for a whole day of touring. Make sure that the purse you bring is something practical for the beach  
24. A bag
If you want to go out for a day of touring, a compact backpack is a need. If you don't want to pack different bags, you might use this as a beach bag as well. This is where you should go for a bag that is practically useful to you throughout the day.
25. Storage cubes
These packing cubes are a need to keep all of your possessions organized. Since you are going to pack a lot of items, you will need to use storage cubes to make sure that you remain well organized throughout the journey.
26. A cosmetic bag
Bring a tiny transparent bag for airport security as well as a toiletry bag like this one to contain all of your essentials.
27. Wet Bag
Nothing is worse than coming home after a day at the beach and not having a place to store your wet swimwear. You may keep your wet garments apart from your other belongings by bringing a tiny damp bag.
28. Medicine
Bring any necessary medications. Bring at least some pain relievers; if you get a headache, you shouldn't have to worry about finding the closest drugstore.
29. Motion sickness medications
Especially crucial if you want to do any boat excursions.
30. Mosquito repellant
For the majority of beach places, you'll need to apply mosquito repellent before leaving the house in the evening.
Final words
This is a complete list of what to pack for beach vacation woman. Continue to get ready with these items, and you can get the most out of your beach vacation without a struggle.