When you visit Vermont, everything will be new. Because of its natural feel, from fresh vegetables to crisp, fresh air, it's quite simple to let go and relax in this northern US state. What are the must-see destinations? You'll love seeing small-town life in its charming, historic cities and touring its magnificent national parks. From this article, we will share the list of best places to visit in Vermont in winter this year. Additionally, Vermont offers numerous delicious delicacies to sample, including cheese, wines, and the ever-popular Ben & Jerry's ice cream. Leave the hustle and bustle of the city behind and go to the greatest locations to visit in Vermont.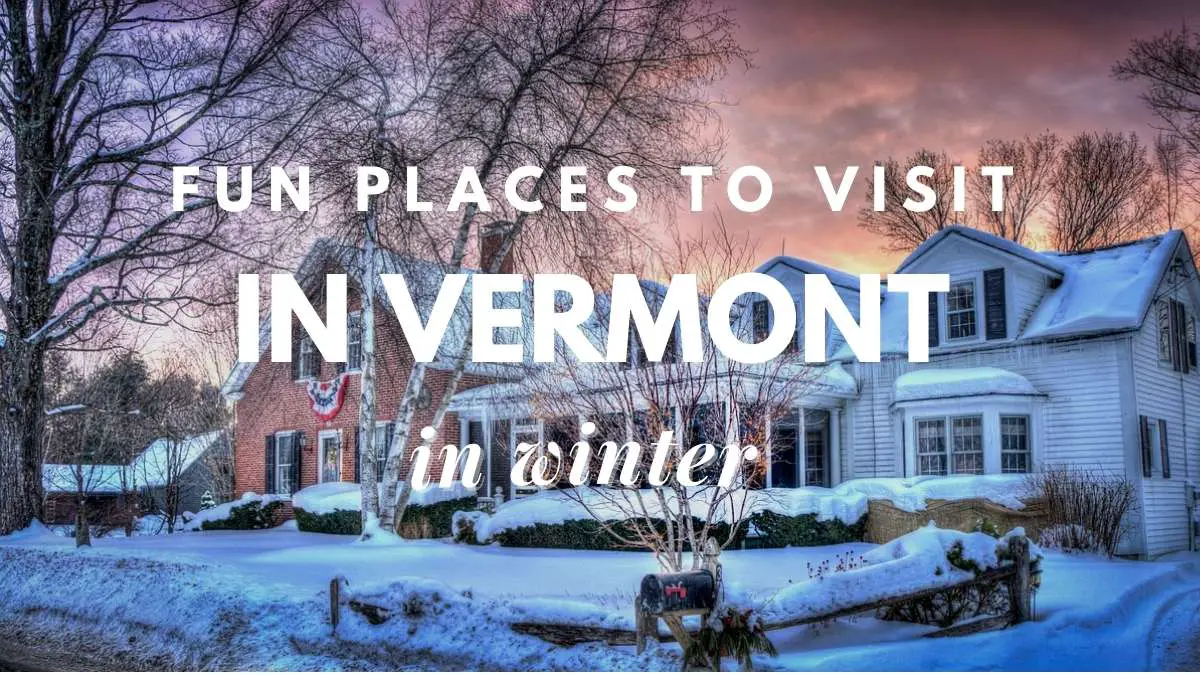 1. Lake Champlain
Between Vermont and New York, Lake Champlain is a natural freshwater lake. It also crosses the Canadian border into Quebec. Anglers will appreciate spending time in the clear waters of this lake, which is a favorite place for catching a variety of species. Catch yellow perch, a kind of bass, bluegill sunfish, and other species. You may be able to view enormous fish from here if you're fortunate.
Aside from the lake, the Burlington region is one of the most beautiful sites to visit in the area, so don't miss it. Going for a ride on the Burlington Bike Path is a terrific way to get some fresh air and take in the scenery.
Read: Is Traveling A Hobby? The Ultimate Guide To An Exciting Way Of Life Learn about the Downsides Of Traveling As A Hobby

2. Stowe
Stowe is a tiny town near Mount Mansfield in northern Vermont. Smuggler's Notch State Park is also nearby. This quaint alpine village should be on your list of places to visit in Vermont at any time of year because of its breathtaking mountain vistas. The little village is encircled by lush trees that change color dramatically. It is vibrant green in the spring, fiery orange in the autumn, and snow-capped in the winter.
If you're a skier, stay in town since you can easily access Mount Mansfield's slopes and trails from here. The intriguing ski gear exhibitions at the Vermont Ski and Snowboard Museum are certainly worth seeing.
3. Shelburne Museum
Near Lake Champlain, the Shelburne Museum is a 45-acre art and local history museum complex. There are more than 30 display structures on the site. History fans will enjoy seeing the museum's over 25 historic structures, which include ancient homes, a blacksmith shop, an antique carousel, a barn, a jailhouse, and more. Vintage toys, Vermont firearms, and even a whole side-wheel steamboat are among the treasures on show.
Because of its accessibility, this museum is a popular pick for engaging, informative Vermont tourist attractions. Use the shuttle service to go about the grounds quickly and make the most of your time here.
4. Church Street Marketplace
Between Main and Pearl Streets in downtown Burlington, Church Street Marketplace is a four-block outdoor pedestrian retail center. Since 1981, this historic district has been a bustling focus of shopping and commerce in the city. With over 130 stores and restaurants to select from, you'll have no trouble finding inexpensive souvenirs to take home and tasty local cuisine to sample.
The open-air mall is one of the city's most popular attractions since you can spend the whole day shopping and not get bored. It boasts a great mix of all-time favorite brands and small stores that you should certainly see.
5. Waterbury's Ben & Jerry's
Waterbury is home to the original Ben & Jerry's ice cream restaurant and facility, which opened in 1985. Because here is where the Ben and Jerry magic began, add this factory-turned-shop to your list of intriguing and unusual things to see in Vermont. Today, you may take a factory tour to learn how ice cream is manufactured.
A visit to this historic ice cream factory would not be complete without sampling some of your favorite flavors. Visit the scoop store to buy your favorite flavor or try something new. The Vermonster and Vermonster sundae are also available.
6. Hildene
Hildene was the vacation residence of Robert Lincoln, President Abraham Lincoln's only surviving child. The wonderfully restored Lincoln mansion in Vermont will wow history and architectural buffs. The front has a stately Georgian Revival architecture, while the inside still has authentic Lincoln furnishings.
The mansion isn't the only thing to see on the property. Take a walk around the estate's pathways if you're seeking for a great glimpse of Vermont's natural beauty. From woodlands to meadows, there's enough to see.
7. Mount Mansfield and Smugglers Notch
Smugglers Notch is a Green Mountain pass that connects Mount Mansfield with Spruce Peak. Adventurers will love going on enjoyable trekking adventures around the mountain to take in the breathtaking views. The notch showcases Vermont's greatest features, including stunning views of the Green Mountains, streams, and animals. Along the paths, you may also go cave exploration and bouldering.
Try Bingham Falls Trail if you want to trek the notch but aren't an experienced hiker. The route is just 0.8 kilometers long and has a few steep sections. The spectacular falls and beautiful gorge along the way, though, make the journey worthwhile.
8. Woodstock
Woodstock is a tiny town in east-central Vermont that is sometimes referred to as "America's Prettiest Town." It's difficult not to fall in love with this town's modest charm, which is surrounded by beautiful vegetation and full of old buildings. For its architecture and calm ambience, it's certainly one of the nicest cities to visit in Vermont.
One thing you must do is take a morning walk about the village to get a feel for the place. Take a cup of coffee from Mont Vert Cafe, go over the covered bridge, and breathe in the fresh morning air. The simple pleasure of lazy mornings is one of New England's most popular vacation destinations.
9. Montpelier
Montpelier is the state capital of Vermont and the country's smallest state capital. The stately gold-domed statehouse and the Vermont History Center Museum make the capital one of the most interesting destinations to visit in Vermont. When visiting the capital, make a point of visiting downtown for farm-to-table food, historical excursions, and live music.
Art galleries and individually owned businesses offering music, books, crafts, and clothing are also worth visiting. Artisan findings are well-known throughout the city. Capitol Plaza Hotel Montpelier Tapestry Collection by Hilton is a nearby hotel that is recommended.
10. Manchester
Manchester is a tiny Vermont town noted for its peaceful environment and beautiful scenery. If you want to get away from the hustle and bustle of major cities, this hamlet is one of the best locations to visit in Vermont for an unforgettable holiday. Its beautiful grounds and limited population make it simple to unwind and enjoy the serenity when visiting.
The town's varied attractions, including a sculpture park, the Lincoln estate, and the trails winding around Mount Equinox, are likely to appeal both art and nature enthusiasts.
11. Quechee Gorge
With a depth of 165 feet, Quechee Gorge is the state's deepest ravine. It's in Windsor County, along US Route 4, in the town of Hartford. Because of its distinctive river vistas situated between towering natural cliffs, this canyon is one of the best spots to visit in Vermont if you like hiking. Whitewater kayaking is also popular on the Ottauquechee River.
The 4.3-kilometer Quechee Gorge Trail offers stunning vistas. Explore downstream to observe a few rock formations or travel upstream or over the bridge for top views of the gorge. The sounds of flowing streams add to the tranquility of the simple stroll down the route.
12. Covered Bridges
Vermont has approximately 100 covered bridges, the majority of which were built in the nineteenth century. Looking for villages with historic covered bridges is a wonderful way to see the state. Their design has become synonymous with Vermont due of its widespread recognition. They also make fantastic backgrounds for holiday photography.
The 150-year-old Windsor Cornish Covered Bridge is a must-see when it comes to unusual attractions. It is the country's longest wooden bridge. It crosses the Connecticut River 465 feet.
13. President Calvin Coolidge State Historic Site
The President Calvin Coolidge Historic Site is situated in Plymouth Notch, in the Green Mountains, and is where President Coolidge grew up. The Coolidge Homestead is a well-preserved historical site that realistically depicts rural Vermont life in the early 1900s. You may also see the old Summer White House office, ancient residences, the local shop, and other historic structures in addition to the president's residence.
The local cemetery is a worthwhile trip while you're here. Visit President Coolidge's humble grave to pay your respects. Several generations of his family are also buried here.
14. Woodstock Marsh-Billings-Rockefeller National Historical Park
The 643-acre Marsh-Billings-Rockefeller National Historical Park is located in Windsor County. It's close to Woodstock. When vacationing in Woodstock, this park is just a few feet away and provides for a terrific spot for trekking and short walks in the woods. You'll encounter 400-year-old hemlocks, mountain meadows, ponds, and stunning vistas of the valleys during your trek.
Aside from the breathtaking vistas, the national park is home to the historic Billings Farm. Today, the farm's museum allows visitors to learn about living in rural Vermont via displays and activities.
15. Cabot Creamery
Cabot Creamery is a New England dairy cooperative owned and run by local farmers. Vermont is famed for its delicious dairy products, and many of them can be found at this creamery. You can acquire all of their various cheeses, yogurts, and dips in one location if you come here. If you want to learn more about the dairy business, this creamery is one of the greatest locations to visit in Vermont. Consult the educated staff to determine which of their items will complement various recipes.
16. Waterbury's Ben & Jerry's Ice Cream Factory
This legendary ice cream plant in Waterbury has been conducting delectable and entertaining tours since 1986. Ben & Jerry's Ice Cream Factory is without a doubt one of Vermont's most enjoyable attractions. The original Ben & Jerry's factory, which is both creative and adorable, will wow you with its delicious cookie scent and enjoyable tours. Take a tour of the plant and get a free taste. Then, don't forget to visit the Flavor Graveyard to see the company's short-lived tastes.
Final words
Now you are aware about the places to visit in Vermont in winter. Make sure that you come up with a proper plan based on this list, so that you will be able to end up with getting the best possible experience out of exploring Vermont this winter.