Have you ever imagined how different your outdoor trip would be if a hiking route brought you to a riverbank and you had a method to paddle downstream while carrying your gear? You're not alone, after all! Given that some hikers like splashing about in a river when rafting or kayaking, the ideal experiences, in our opinion, are those that have exactly the appropriate amount of ground-to-water ratio in a single trip. Continue to read and we will help you with figuring out the best packrafting trips out there.

Packrafting is an outdoor adventure that combines hiking with kayaking, allowing you to explore more gorgeous lakes and life-giving rivers. Modern packrafts replace impracticable and heavy kayaks or water rafts for long walks since they are lightweight and, well, packable! They let you bring everything you'll need for the lengthy hike and natural waterways in your backpack. Packrafting might become your new favorite outdoor activity if you approach it with the appropriate mentality and preparation. In this introductory how-to lesson, we'll start with the essentials.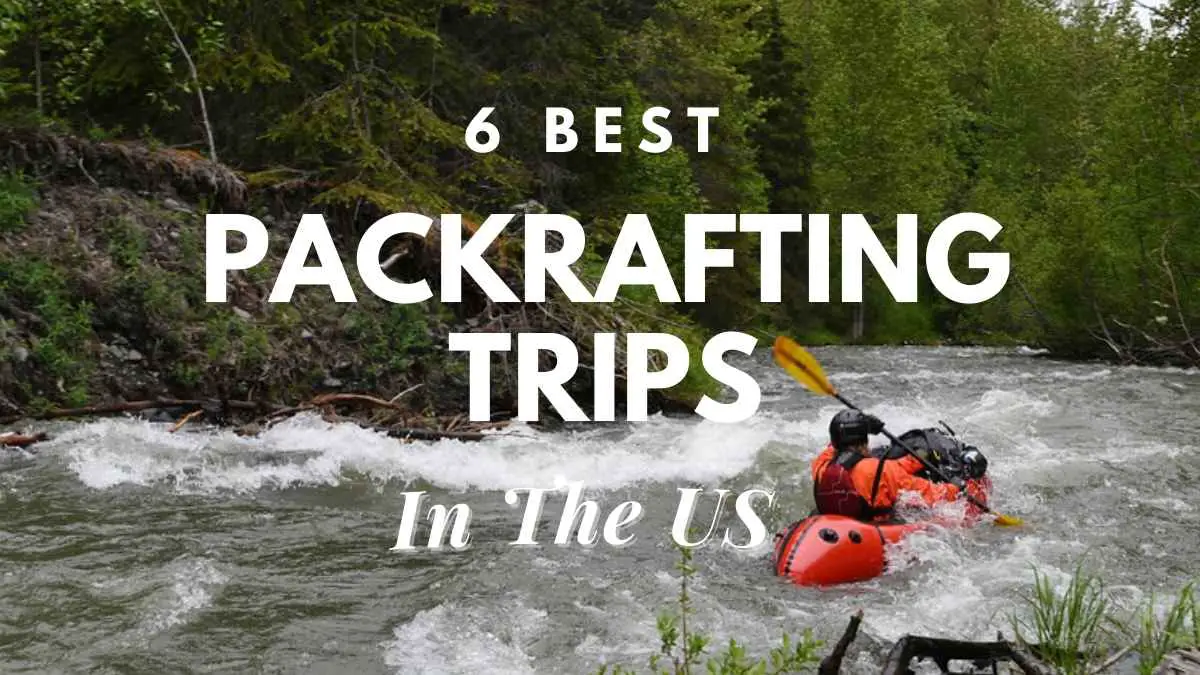 What is Packrafting?
As previously said, packrafting is an outdoor sport that complements other backcountry pleasures such as hiking, cycling, climbing, and paddling by allowing you to circumvent challenging terrain and paths that you would not have access to otherwise. It necessitates the use of a packraft, which is a compact, inflatable, portable boat built of robust and lightweight materials and designed to fit in your bag like any other item of camping equipment. A packraft may weigh anywhere from 3.30 to 13.20 pounds, depending with its size and features, so the question you should ask yourself is how do you love spending time in nature?
Packraft should always be used in conjunction with such activity. If you're an ultralight enthusiast, bringing a 10-pound boat on your trip won't make much sense, right?
A contemporary packraft may be an important tool for many casual nature lovers, seasoned hikers, and even survival enthusiasts, whether they are going on a leisurely hiking excursion or multi-day trekking in the spectacular Alaskan Bush. Thousands of outdoor enthusiasts suit up throughout the nation every year – except in 2020 – to go on a packrafting trip.
Read: Is Traveling A Hobby? The Ultimate Guide To An Exciting Way Of Life Learn about the Downsides Of Traveling As A Hobby

What are the best packrafting trips?
Let's take a look at the list of best packrafting trips that you can find in the United States as of now. Then you can pick a trip out of these and go ahead with enjoying.
1. Alsaka
Alsaka is a fantastic adventure destination and the genuine birthplace of packrafting as we know it today! Expect spectacular rivers, mountain walks to glacier lakes, and a genuine adventurer's playground in Wrangell St Elias National Park! Alaska might be challenging to navigate on foot, but if you open up the rivers, it's a very other story, with formerly inaccessible locations suddenly being accessible!
Waterways in this area were formerly seen as impediments, but they are now regarded as enjoyable challenges! If you want to learn how to make the most of your time in the woods, contact a reputed travel guide, who provide two-day training on anything from river tackling to self-rescue.
2. Delaware Brandywine Creek State Park
If you're just getting started, Brandywine Stream is an excellent spot to start since it's largely tranquil, with a gorgeous rural landscape around you as you meander down the creek. It also has some fantastic hiking paths with breathtaking vistas, making it a terrific day out for the laid-back backpacker!
Delaware's Brandywine Creek Photo by Lazy Penguins of Brandywine Creek in the United States of America on an Autumn evening. If you're looking for faster water, move upstream to Pennsylvania!
3. Upper Lehigh River to Rockport Gorge (Pennsylvania)
If you're looking for something a bit brighter, here is the place to go! However, keep in mind that when I visited in 2018, it was really crowded, with a large number of private boats, paddlers, and guided rafting groups. Negotiating your way through them might be difficult, so you'll need some expertise! The Lehigh River includes two Class III whitewater sections, which are gentler than the Lower Yough but more difficult than the Delaware.
According to American White Water, the typical discharge here is about 800 cfs, which makes for a pleasant overall experience. The dam releases double, triple, and sometimes quadruple discharges a few times a year, providing substantially higher whitewater difficulties. Here's a link to an in-depth dam release schedule and river information from American White Water.
From Youghiogheny to Lehigh, the Pine Creek Gorge is a beautiful wilderness with fantastic rivers to packraft on. It's also a great area to go hiking since the paths are well-marked and easy to get from Rattlesnack Rock. The West Rim Trail is a fantastic 10-mile hike with conveniently accessible rivers for a quick packraft return!
4. MaryLand Harpers Ferry to, Potomac River
As you travel down the river that cuts through the Appalachian Mountains, expect stunning and powerful landscape. This is a beautiful whitewater flow, and spring is the best time to go since there are less people and larger waves!
5. Grand Canyon National Park in Arizona
From one end of the Grand Canyon to the other, the Rim to Rim is a spectacular rough journey via the North and South Bass Trails. You will experience wild and pristine regions of the Grand Canyon during a trek and Packraft session that only a tiny percentage of Canyon visitors will ever witness!
6. Rappahannock River to Kelly's Ford, Virginia
The upper Rappahannock River is fantastic because it starts off very quiet with a lovely flat water course, then gradually rises in gradient to deliver some terrific Class II-III waves and lifts, making it an exciting experience! This river is also readily accessible, allowing you to exit and re-enter your favorite sections!
What Is the Best Way to Packraft Like a Pro?
You may watch or listen to an infinite stream (pun intended) of videos, Instagram photographs, articles, and podcasts on packrafting, but don't allow the prospect of trying it out deter you. To begin, you might combine the workout with trekking. Check to see whether any of your favorite there-and-back routes are near a river. You can go all the way to the end of the route, down to the riverbed, inflate your packraft, and splash your way back to the trailhead. Mountain bikers may use packrafts to access downhill terrain on the opposite side of a lake that would otherwise be inaccessible. In a minute, I'll tell you more about bike rafting!
Start slowly when you are ready for your first vacation. Start with some well-known sites and keep the Colorado rapids until after you've gained some expertise. Slow-moving rivers and lakes are less taxing on the body and may be enjoyable to explore and make a memorable voyage. It's critical to choose a path and area that are appropriate for your abilities; if you're new to packrafting, go with caution and progressively increase your experience.
Once you've chosen a spot and are ready to paddle, get a sense of the water current and topography. Slowly ease yourself into the water to obtain a feel for the controls. Because each area is unique, you'll need to be flexible while paddling.
What skills do you need to have?
If you haven't tried kayaking or paddling before, it will take a few excursions out to feel entirely comfortable with packrafting, since paddling has a learning curve. Don't attempt to cross rivers with strong currents if you're just starting out. As you gain strength and confidence in your paddling abilities, work your way up to more demanding seas.
Bringing a companion with paddling expertise, especially someone who has packrafted previously, is the best way to guarantee your journey isn't cut short. You may also enroll in training classes online or in some of your local outfitter shops. Safety, self-rescue, and general rescue abilities are the most critical skills you can master. However, depending on the packraft, you may paddle both kayak and canoe style, using double-bladed and single-bladed paddles, if you have the expertise.
What Is the Best Way to Inflate a Packraft?
An inflation bag — a lightweight nylon bag in which you physically capture air and then force it out into the raft via a valve – is the best and easiest method to inflate a packraft. When you're not pumping air into the packraft, be aware of the backflow. Iron Raft created a fantastic time-lapse film demonstrating how to inflate a packraft. Take note to how the outdoorsman had to pump air into the raft himself to get it to float. If you're a newbie, the procedure will take you between 5 and 10 minutes.
I suggest practicing a few times at home before going out, just to get a feel for it. When compared to large air pumps for other inflatable rafts, utilizing the bag saves on carrying weight.
How to Select the Most Appropriate Packraft for You
Packrafting is becoming more popular, therefore there are a variety of boats to select from, the most popular of which are alpacka packrafts, created by Alpacka Rafts and manufactured in Mancos, Colorado.
Although an alpacka raft has a price tag, you can simply locate one that is ideal for your intended activities and budget by searching online. There are single and two-person packrafts, much like kayaks, rafts, and other inflatable boats, so if you want to go on a vacation with a friend or significant other, you may do so in a tandem packraft.
Packrafts come in a variety of weights and sizes. You can obtain an ultralight packraft, which weighs between 1.5 and 7 pounds and is excellent for longer hikes. Choose a packraft carrying 7 pounds or more for more demanding, splashy seas.
For newbies, calling or emailing the packraft store for professional advise depending on where you're going and what you need is a smart idea. Finally, packrafts come in a variety of configurations. There are fly fishing ones for serious rafters and anglers, as well as heavier and more robust ones designed for experienced whitewater rafters. Thigh straps and a spray deck are included in these packrafts, so you don't get wet in the rain or when paddling through huge rapids.
Checklist for Packrafting Gear
The following is a basic list of packrafting equipment that you should bring with you on your trip. Of course, the excursion would not be complete without a packraft!
If you must, bring an inflating equipment such as an inflation bag or a pump.
Paddle for Packrafts — Most packrafts come with a four-piece paddle that can be readily dismantled. The lightest paddles are made of carbon or fiberglass. Make sure your packraft paddle can withstand the rapids if you're traversing whitewater.
Repair kit Always have a repair kit on hand in case you need to fix a hole. If your packrafting equipment doesn't include one, we offer an article on how to create your own backcountry emergency kit.
Personal Floatation Device (PFD) – Always wear a PFD while out on the water. This way, you'll stay safe and avoid the potentially deadly effects of unpredictably occurring occurrences that may happen at any moment and for any cause.
Helmet – It protects your head when you're out in the woods.
Packable Food — For your aquatic activities, it's a good idea to have light, sealed, pre-made, wonderfully tasty hiking food that can keep even the USSF satisfied.
Outdoor Clothing – Clothing that is both durable and quick to dry
Packrafting, like backpacking and riding, can be a strenuous outdoor exercise regardless of terrain or weather. Picking high-quality outdoor gear – particularly during the summer – is the greatest way to prevent excessive sweating and being uncomfortable all day.
Pack lightweight, breathable gear made for the task that lets you to paddle with a full range of motion. Look for quick-drying and water-resistant characteristics, which are critical in the event of a sudden rain shower or a large splash when paddling.
Don't forget about the hats. Because your upper body will be in constant motion, you'll need a shirt that is breathable, quick-drying, and UV-protective. Choose a lightweight jacket as an outer layer in the spring and autumn.
Final words
Now you are aware about the best places to go ahead with packrafting in the United States. Go ahead with these adventures, and you will love everything that comes on your way.