Are you looking for the best Branson fishing adventures? Then you are at the right place. In this article, we will share all information that you need to be aware of before you go ahead with fishing in Branson. Then we will help you to get the best possible experience out of fishing in Brandon. You will fall in love with the entire experience that comes on your way.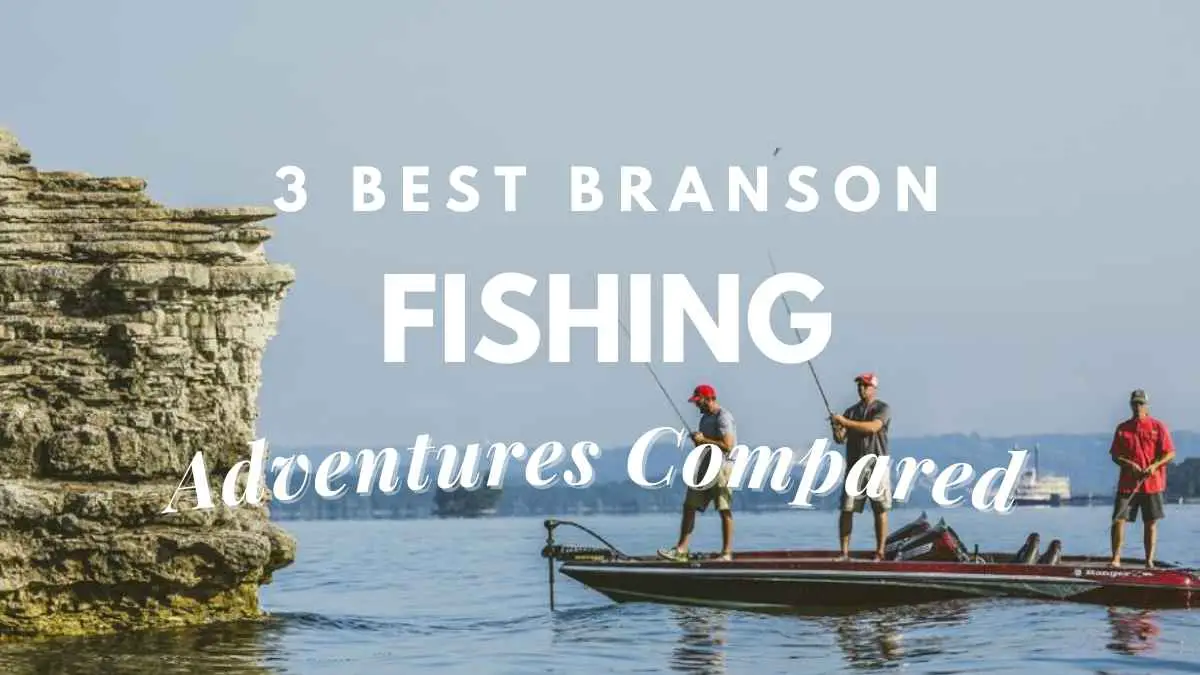 Should you visit Branson for fishing?
While the city is most known for its varied entertainment venues, any fisherman will find fishing in Branson, MO to be a pleasant surprise. When you've had your fill of seeing the theaters along 76 Country Boulevard, go down to the neighboring lakes for a true Branson-style freshwater fishing trip! You're in for a treat since it's home to some of the best fishing sites in the Ozarks.
If there is one thing a person will keep a secret from his closest friend or spouse, it will be his favorite fishing site, and this knowledge will be true to the majority of the fishing code of behavior. It's unclear if this is to retain a sense of privacy or to safeguard the slimy swimmers' personal treasure, but a fisherman will keep the secret.
Anglers of both genders are referred to as fishermen (a person who fishes with a rod and line). As far as I can tell, there are as many girls as guys casting for the catch, particularly since one of my elder sisters taught me how to fish. (Incidentally, I taught her how to chew tobacco, which none of us should have been doing, but who cares if it's a hidden location, right?)
Branson is known as the "Tri-Lakes" region because of its beautiful, clean water and plenty of fish. Table Rock Lake, Lake Taneycomo, and Bull Shoals Lake make up the trio, and being part of the White River system, each has its own distinct characteristics.
Read: Is Traveling A Hobby? The Ultimate Guide To An Exciting Way Of Life Learn about the Downsides Of Traveling As A Hobby

Fishing Spots in Branson
Branson fishermen should count themselves fortunate to be surrounded by so many fantastic freshwater areas. And word spreads swiftly. Lake Taneycomo is widely regarded as the greatest trout fishing in the Midwest. Similarly, because of their world-class bass fishing, Bull Shoals and Table Rock Lake are routinely included in FLW and B.A.S.S. events.
1. Lake Table Rock
Table Rock Lake has earned a reputation for having some of the best bass fishing in the country. You'll be returning for years to come after you experience the Largemouth and Smallmouth bite throughout the season. There are additional species like Crappie, Catfish, and Bluegill in the lake, so don't expect things to become boring anytime soon.
Table Rock, the Branson area's most popular lake, is teeming with a variety of bass, including largemouth, smallmouth, spotted, and white bass, in its broad, gorgeous, clear blue waters. The lake's several arms, cliffs, water depths, brush piles, and places near docks provide ideal conditions for catching fish.
Table Rock Lake is simple to fish year-round because to Branson's warm winters, since ice seldom forms anywhere on the lake. Paddlefish, channel catfish, flathead catfish, bluegill, black crappie, white crappie, and walleye are among the various fish found in Table Rock Lake. The time of year, varied water depths, and other circumstances are all taken into account when deciding the sort of fish you'll encounter, as any expert fisherman knows.
2. Taneycomo Lake
When visiting these places, you must go trout fishing on Lake Taneycomo, which is widely regarded as one of the greatest in the world. Local Rainbows and Browns may be found all year and are excellent fly and conventional fishing targets. Locals refer to Taneycomo's headwaters as Trophy Trout Central.
The cool, clear water of Lake Taneycomo is perfect for trout fishing, and the Shepherd of the Hills Fish Hatchery has stocked it with both brown and rainbow trout. Lake Taneycomo is known for its trout, but other species such as bluegill, black crappie, white and smallmouth bass, and walleye may be found in various portions of the 22-mile-long lake.
Countless fishing boats may be seen where the river-like Lake Taneycomo runs through Branson's downtown section during certain seasons of the year; at other times, there are relatively few boats. Anglers fly-fishing along the Taneycomo River's banks below Table Rock Dam are another sight to see. When fishing near the dam, it's critical to pay heed to warnings concerning water release. Lake Taneycomo, like the warmer Table Rock, offers a terrific year-round fishing experience that's as interesting as it is diverse.
3. Bull Shoals Lake
Bull Shoals Lake, located near Branson and straddling the state boundary between Missouri and Arkansas, is another excellent fishing spot. This diversified lake, which is home to a variety of bass species as well as Crappie and Walleye, is well worth your time. The greatest months to fish here are undoubtedly October and November, although you may catch fish at any time of year.
A tour through Branson will soon reveal that the city has two magnificent lakes, but many people are unaware that only a few minutes away near Forsyth, Missouri, the massive and stunning Bull Shoals Lake is waiting to be found!
During the summer, Bull Shoals provides a variety of water activities, including fishing for largemouth, spotted, striped, and white bass, as well as crappie, channel cat, bream, and walleye. The water right below Powesite Dam, as well as the Taneycomo tailwaters region just above the dam, is still chilly enough for brown and rainbow trout fishing.
Empire Electric owns and operates Powersite Dam, and the regional power company built and maintains a pleasant park area above the dam, which is a fantastic setting for a picnic while fishing.
Read: Willamette River Fishing Guide 2023(All You Should know)
Tips for Fishing in Branson
Now you are aware about the best places to go ahead with Brandon fishing adventures. While keeping that in mind, we also thought of sharing some useful tips on how to get the most out of fishing in the region. The local fish will eat a lot throughout the autumn months to prepare for the winter. Because of the higher water levels, creek mouths provide some of the greatest fishing at this season.
When fishing, it's important to be aware of how the weather may assist you. Clouds and wind may be useful partners on the sea, which may surprise you. Fish like to be out of direct sunlight, and windy conditions make the water muddy, which attracts Bass.
What You Should Know
While there is excellent fishing in Branson throughout the year, hiring a professional guide is highly recommended. That way, you may save a lot of time that would otherwise be spent hunting for fruitful areas.
Regulations
If you intend on doing any freshwater fishing here, you'll need a fishing license. You'll also need a federal Trout stamp if you're fishing for trout on Lake Taneycomo. Everyone above the age of 16 is subject to these rules.
Budget
If you take the time to look around, fishing with a guide may be extremely inexpensive. A four-hour fishing excursion may cost as low as $250, while a full day of fishing seldom exceeds $400. If you're looking for a budget-friendly guided tour, Branson is the place to go.
How to Get There
The major connection to other surrounding cities is U.S. Route 65, which you'll use whether you're going up from Springfield in the north or Little Rock in the south. If you're flying in, though, you'll be able to use the local Branson Airport.
The Branson region is great for fishing, with easy access to three clean, gorgeous lakes. Professional anglers to weekend walleye warriors, amateur competitive fisherman to the sport's biggest stars, everyone can find their brand of fishing pleasure in Branson. Branson presents the ideal landscape for an unforgettable fishing adventure, whether it's for a guy's annual getaway, a girls' weekend, or a full-family outdoor vacation, with the added benefit of live music shows, museums, kid-friendly attractions, dining, shopping, and a variety of outdoor entertainment options.
Get ready to do lots of bass fishing
When you go ahead with Branson fishing adventures, you should be ready to do lots of bass fishing. It is one of the best experiences that you can get in the long run.
Throughout the year, all three Branson area lakes feature amateur and professional fishing contests and events, which are ideal times to schedule your fishing vacation to Branson. Obviously, there are fantastic lakes in many places around the country, but Branson has three great lakes that would satisfy even the most discriminating anglers!
Final words
Now you have a solid overall understanding on how to get the most out of Branson fishing adventures. Make sure that you plan how to get the most out of Branson fishing before you go. Then you will end up with enjoying what the Branson lake has to offer you with fishing adventures.