It's likely frustrating for those who enjoy being outside that the epidemic has curtailed their mobility. It's a good thing that certain national parks are already open, as long as they follow safety measures. When it comes to national parks, Washington is awash with them. It has three magnificent national parks, and we'll compare Mount Rainier and Olympic National Park today. The most frequented national parks in Washington are Mount Rainier National Park and Olympic National Park.

These two are the most popular of Washington's three national parks. Mount Rainier is the most popular mountain in the United States, owing to its accessibility. If you're in Washington and want to see some sights, these two national parks are must-see. This essay will attempt to provide an overview of what to expect from both national parks, in the hopes of assisting you in deciding which to visit first.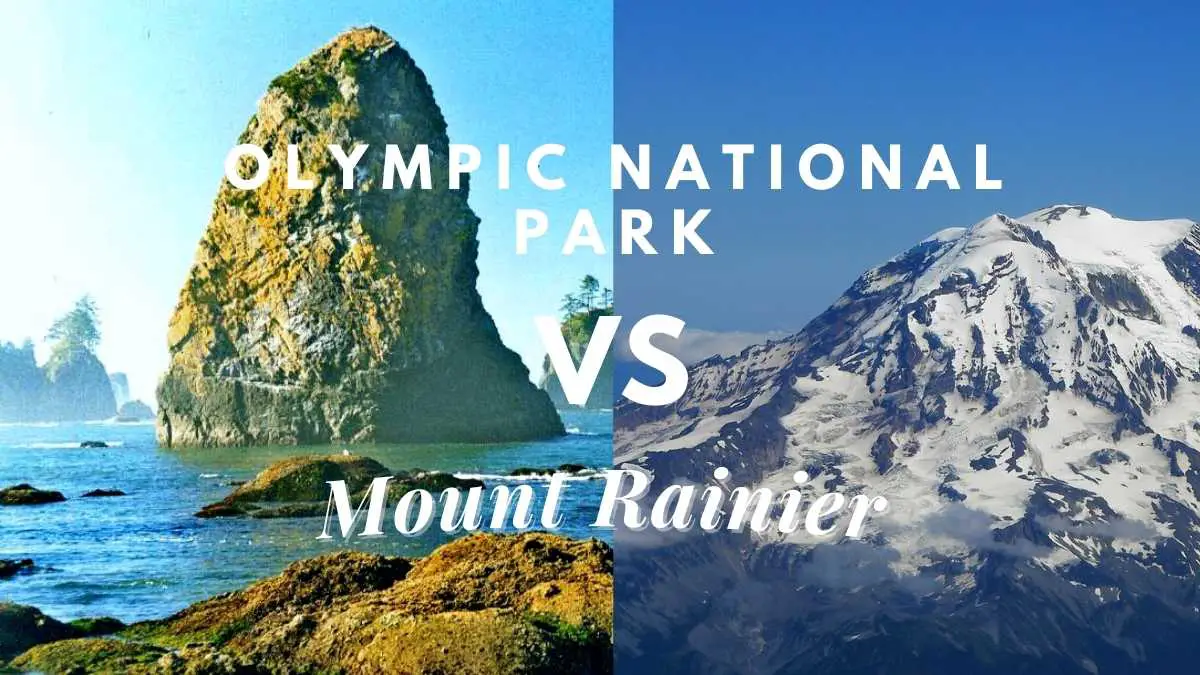 What is the Mount Rainier National Park?
Mount Rainier National Park is located in the state of Washington. Mount Rainier is a live volcano that has erupted several times in the past. It is now one of Washington's most popular parks. There are five separate roads that go to the national park. Mount Rainier had to overcome a lot of issues before becoming the national park that we know today. Its designation as a national park was the result of a protracted preservation and anti-mining struggle. Even the park's name has a fascinating backstory.
George Vancouver, a British explorer, is reported to have given the peak its name in 1972. He named it after his buddy, Royal Navy Rear Admiral Peter Rainier. The Americans in the area, however, prefer to refer to the peak as Mount Tacoma.
Read: Is Traveling A Hobby? The Ultimate Guide To An Exciting Way Of Life Learn about the Downsides Of Traveling As A Hobby

What is the Olympic National Park?
Olympic National Park is the largest of Washington's three national parks. It spans about a million acres of land in the state. Olympic National Park contains a lakefront, mountains, and the Pacific Coastline in addition to a wonderful rainforest. Olympic was established as a national park during Franklin D. Roosevelt's presidency. This is due to President Roosevelt's desire to protect the park's natural features, including as lush woods and snowcapped summits.
Mount Rainier vs. Olympic National Park: Access Comparison
It's normal that you'd want to go out of the house because being at home all day might be exhausting. You'd need a rest and a breath of fresh air, both physically and metaphorically. If you're planning a trek for the first time, you're probably thinking which sites should be visited first. Mount Rainier is generally the handier park of the two, albeit it depends on where you're coming from.
Olympic National Park, on the other hand, may be reached in a variety of ways, the most common of which is through Port Angeles.
Things to do at Olympic National Park
Olympic National Park offers something for everyone. Rugged coastline, temperate rainforests, mountain ranges, and many other attractions are available for the people who visit Olympic National Park to do. Let's take a quick look at some of the most prominent activities that you can do while you are spending your time at the Olympic National Park.
1. High Steel Bridge
A pit stop at High Steel Bridge for a vertigo-inducing panorama is an interesting detour on your way to the Olympic Peninsula.
This 427-foot-tall car-accessible bridge spans the South Fork Skokomish River. The stunning blue water in the canyon below, as well as a waterfall, can be seen from above. Remember to bring your camera as well as your senses. When photography on this bridge, please exercise extra caution because the barrier is rather high (especially on the west side, is very short).
Despite the fact that it seems scary in the photo, I was really sitting rather far away from the edge, with a barrier in front of me. Do not attempt to climb over obstructions in order to obtain photographs.
This bridge is likely to be busier than Vance Creek since it is more accessible. Though the lighting was wonderful when we arrived around dusk, and we were alone except for a group of kids who were throwing fireworks down the canyon to make a loud boom, the lighting was excellent.
Take Highway 101 north and turn left onto West Skokomish Valley Road to get there. After about 7.5 miles, turn right on NF-2340 to this bridge, and the remaining section of the road is gravel. Drive to the pullout on the other side of the bridge and park. You may cross the bridge again but be cautious since the barrier on one side is rather small, and if you're not careful, you may fall.
2. Olympic Peninsula's Vance Creek Viaduct
These historic railroad rails have become an Instagram-famous PNW landmark in recent years. Images of people crossing this rustic wooden bridge may be seen on Google, but the view we saw when we went (in May 2017) was much different.
The entrance to the bridge has been torn out, and there is no means to get to the top. I'm thinking that people walking out on the bridge without any barricades produced some dangerous circumstances, which is why the landowners decided to lock it down.
You can still go a little distance and have a wonderful view from the side, but don't come here expecting to be able to walk over.
To reach there, take the same West Skohomish Valley Road as the High Steel Bridge. Instead of turning right, continue for about 300 yards on NF-23 (which is still a gravel road) until it gets paved again. When you park your car, you'll see a barrier on the right side of the road that stops cars from accessing the road (the second orange gate).
Despite the fact that it is private property, a sign states that guests are permitted to walk to the overlook. After around 100 meters, you'll come to a Y in the route. The genuine bridge is on the right (though it is no longer accessible), and a 0.6-mile walk along a wooded trail leads to the viewpoint on the left.
Brown Creek Campground, which is not far from the bridges and is a nice area for a riverside camp, is a great place to stay near High Steel Bridge. A campground costs $14 per night, and there is a pit toilet.
3. Sequim
Number three on the list is Sequim Olympic National Park. Lavender is a popular crop in Sequim, Washington. Isn't it nice that this small community is known for its lavender fields and sunshine? If you're visiting the Olympic Peninsula in the summer, keep an eye out for lavender, and you might be lucky enough to attend their lavender festival in mid-July.
4. Ranger Station
This isn't a particularly large city, with a population of 20,000 people, but it is the largest on the OP. We don't recommend spending too much time here. You don't come to the Olympic Peninsula for the towns, after all. It's a good idea to stretch your legs after a long journey, pick up any food you might require, and fill up the gas tank.
The Port Angeles Wilderness Information Center is the most significant reason to stop here. Get any permits you'll need. This is where, for example, we got our Shi Shi Beach camping permit and picked up a bear canister. In the visitors center, you may also check trail conditions, weather, and speak with rangers about any questions you may have.
5. Hurricane Ridge
When the mountains "beckon," a trip to Hurricane Ridge will show you what that means. This breathtaking environment will transport you away from the hustle and bustle of Seattle while being easily accessible. The view from the summit, as well as the trip up to the visitors center, is breathtaking.
Explore the nearby trails, which include some of the best hikes in the OP and sit at one of the many picnic tables for even more breathtaking views. Pack a picnic lunch to enjoy while taking in the breathtaking views. Remember to bring your camera as well!
If you plan on staying on any of the Olympic Peninsula beaches, get your permits and bear canister at the Olympic Peninsula Visitor Center on your route to or from Hurricane Ridge.  This area might appear significantly different depending on the time of year you visit. When we visited in mid-May, there was still a lot of snow on the ground, and some of the hiking trails required snowshoes. Later in the summer, though, the walks are carpeted with wildflowers.
6. Lake Crescent
On your way into the peninsula, you'll undoubtedly pass by this lake, which is surrounded by mountains and offers a few fantastic viewpoints. As an added bonus, climb Mount Storm King.
Try ascending to the top of Mount Storm King if you have the time and are a hiker. Although we heard that a stretch of the road had been washed away when we went, the views across Lake Crescent looked to be fantastic (including a rope necessary to making it to the summit). I guess we'll have to postpone it for now!
7. Sol Duc Falls
Sol Duc Falls are located on the Olympic Peninsula. These magnificent waterfalls remind me of Fern Gully (remember that movie?!). The falls are separated into two sections, the first of which is smaller and more densely forested with moss-covered rocks.
If you travel a little further, you'll reach the main section of the falls, which is larger. You'll want to watch both parts, albeit we preferred the first!
Sol Duc Falls are located on the Olympic Peninsula. The hike is short (1.6 miles roundtrip) and straightforward, with only 200 feet of elevation gain. The Olympic Peninsula's Lyre Campground is a fantastic spot to camp near Sol Duc Falls.
Lyre Campground is an excellent place to spend the night if you're camping in the OP. It's free if you have a Discover Pass ($30 for a year of access to all Washington State Parks). Each site costs $10 per night between June 15 and October 15, and you must register yourself.
There are just 11 seats left, and we got one of the last ones when we arrived about 7 p.m. It's a lovely little riverbank retreat, and we were happy to call it home for the night. If only all campgrounds were as pleasant as this one! There is a pit toilet and a water spigot. Note that while there is no phone coverage near the river where the campsite is located, there is a strong signal near the entrance.
8. Shi Shi Beach
Shi Shi Beach on the Olympic Peninsula. To get to this pretty remote beach, you'll have to trek 2 kilometers on a muddy, jungly trail on the Makah Indian Reservation. To see the beautiful sea stacks, walk another 2 kilometers on the sand once you've reached the ocean. But, oh my, is the sunset worth it.
We only recommend stopping here if you're camping overnight or want to spend the full day exploring because it's such a long trek.
9. The Hoh Rainforest
For most first-time visitors to the Olympic Peninsula, the Hoh Rainforest is must-see. There are a few different treks of varying lengths to choose from, so this is a fantastic addition to your itinerary. Keep in mind that the readily accessible trails see a lot of foot traffic, so this might be one of the busiest spots on your OP tour.
It was a wonderful, bright day when we were there. If the weather isn't cooperating during your visit, don't fret. When I was a kid, I recall being there on a wet, dreary day, and the forest had an entirely different atmosphere.
10. La Push Beaches
The first, second, and third beaches are all within walking distance of each other. These beaches are well-known and can be spotted on the Instagram pages of almost any photographer in the Pacific Northwest. There's a reason they're so popular.
Bring a tent, a guitar, and a surfboard if you want to be more adventurous, or simply a blanket and some snacks. You'll have a nice time any way you choose to enjoy the rustic, driftwood-strewn beach. But rest assured that you will not be alone. Because these beaches are so accessible, you'll be sharing the vista with hippies in their half-tent, half-driftwood shelters, day-trippers, surfers, and photography schools. The eclectic mix of individuals creates a pleasant atmosphere, and the stunning seascape doesn't hurt either!
11. Ruby Beach
Ruby Beach is a fantastic area to stop for a picnic lunch among the sea stacks and driftwood, and it's only a short walk from the parking lot. Ruby Beach, unlike Shi Shi and the beaches in La Push, does not allow camping. Have a little extra time to spend in Olympic National Park?
Consider venturing into the wilderness! We've become (relatively) fascinated with backcountry camping, and while we didn't have time on our first visit to the Olympic Peninsula, it's on our must-do list for the future. There are other routes to select from, but the Enchanted Valley Trail is a fantastic option. Continue reading to learn how long you'll need and what you'll see along the route.
12. Enchanted Valley
The Enchanted Valley Trail, which follows the Quinault River into a valley bordered on both sides by mountains, is one of the greatest walks in Olympic National Park. The Quinault River Trail is a 27-mile out-and-back journey that takes you through old growth forests, through waterfalls, past mountain views, and even over a couple of rustic bridges. Eventually arriving at a magnificent wide open valley teeming with animals such as black bears and elk.
The major attraction is the Enchanted Valley Chalet, a famous sight at the conclusion of the trip surrounded by mountains with gushing waterfalls. The vistas are breathtaking and a sight to see! This historic chalet was erected in 1931 to provide lodging for hikers on the path. Although sleeping inside the Chalet might be enjoyable, the inside of the structure is now closed to the public, but it still provides for a terrific photo opportunity!
Things to do at the Mount Rainier National Park
You'll find adventure, tranquility, and inspiration aplenty at Mount Rainier National Park, which dedicates 97 percent of its land to conserving this important environment. Mount Rainier may seem quite crowded, with just 3% of the park set aside for buildings and infrastructure, so I hope these 11 activities to do can help you make the most of your visit to Mount Rainier National Park.
1. Take a photograph of Mount Rainier
While traveling around Mount Rainier National Park or trekking through the park, there are several photo opportunities. Pinnacle Peak Hike Mount Rainier National Park, Rainier Activities
You'll have your first chance at the Kautz Creek Picnic Area when you first approach the Nisqually entry, but don't worry if the mountain is being shy; there will be additional possibilities as you get closer to Paradise, and even more if you opt to travel past Paradise into Ohanapecosh.
2. Take a walk through an old-growth forest.
Mount Rainier National Park is home to over 1,000-year-old trees. Consider how absurd that is! Trail of the Cedars is on the Longmire side, while Grove of the Patriarchs is on the Ohanapecosh side. Strolling through the Cedars Trail near Longmire Have a Picnic on the Trail of the Cedars, which can be accessible from Longmire.
3. Go on a picnic
This national park makes up for a dearth of parking near tourist centers with spectacular picnic sites. Plus, the food in the lodges and visitor centers is fairly bad (but then again, I'm a health fanatic) and costly, so do yourself a favor and load up on some nice artisan food in Seattle and bring it into the park with you.
Picnic places are available at all visitor centers, and picnic tables may also be found at Mowich Lake, near the Cougar Rock or White River campsites, near Box Canyon, and at Kautz Creek. Do you need some healthy snack ideas before you go to the park? Visit our site What to Buy At Costco For A Healthy Lifestyle for more information.
4. Stay in the Park Overnight
Only staying in a national park overnight is preferable than visiting one. The Park might be crowded during the day, but from nightfall to dawn, it transforms into a magnificent spot.
For additional information, see our Mount Rainier Camping Guide. The golden hour of sunset is the best time to visit Mount Rainier. If locating lodgings or camping in the park proves difficult, take your headlamps and the rest of your things, and go for a trek before sunrise or after dusk.
5. Look for a Waterfall
Many beautiful waterfalls may be found in Rainier National Park, and many of them can be reached with little or no trekking. Christine Falls is a lovely wayside waterfall hidden behind the road bridge's stone arch. RVs may find it challenging to find parking here.
The view from Narada Falls (left photo) involves a short steep hike, but it's from a large parking lot with a picnic area, making it a little simpler if you're traveling with an RV.
Carter + Madcap Falls: This is a one-mile (one-way) trek that begins directly across the street from Cougar Rock campsite.
Myrtle Falls (right photo) is a half-mile paved trail walk from the Paradise Visitor Center.
Comet Falls is a 4-mile roundtrip trek that begins on the road between Longmire and Paradise. Parking is scarce and frequently unavailable.
Spray Falls is a two-mile trek on the Spray Park Route from Mowich Lake that leads to a side trail to Spray Falls. Return to the main route after seeing the falls and ascend up to Spray Park's beautiful subalpine meadows.
If you go backcountry camping, there are many more waterfalls to see.
6. Pick up a tip from a ranger
Ranger workshops and guided ranger presentations are excellent opportunities to learn more about the park. Every time we visit a national park, our family looks forward to the nightly ranger sessions, and the smaller kids become enthusiastic to earn their Junior Ranger badge. A list of ranger programs at Mt Rainier may be found here.
7. Participate in a Citizen Quest
Who says you have to be under the age of 12 to act childish? The Citizen Quest program, like the Junior Ranger books for kids ages 6 to 11, allows adults and older children to learn about the national park's history and science while also encouraging conservation. You can obtain additional information at the tourist center, or you may go online and start a quest before you come.
8. Get Away from the Crowds
There's no doubting that Mount Rainier National Park is crowded, but the people dissipate as you climb a bit further.  You really must trek Skyline to Panorama Point, although it is usually always packed; however, if you take the time to hike Lakes Trail or one of my favorites, Pinnacle Peak, you will be rewarded with spectacular vistas and some privacy.
9. Relax and unwind
It's not a competition. While visiting Mount Rainier, take some time to relax and absorb why the national park administration opted to keep 97 percent of the area untouched. There's a lot of raw wildness here and getting away from it all might be the finest thing you can do at Rainier. There are plenty of trees to choose from, so bring a hammock and a good book and reconnect with the most amazing person in your life…YOU.
10. Take a look at the wildflowers
The wildflowers in the subalpine meadows around Paradise and Sunrise are spectacular, although only for a brief time in the mid to late summer. The current wildflower report may be seen here.
11. Go on a Wonderland Trail or Backcountry Camping Adventure
The Wonderland Trail encircles Mount Rainier and is 93 miles long. It's a popular and challenging backpacking path that requires a wilderness permit months in advance. There are, however, several locations around the park where you may access the path and spend the day trekking sections of this well-known route.
What is the best National Park to visit?
Olympic National Park, it is stated, provides a wider range of activities than Mount Rainier. Probably because of the park's unique terrain, which includes forest, mountain, hot springs, and the seashore.
When compared to tourists to Mount Rainier, visitors to Olympic National Park have a wider selection of activities to choose from. Mount Rainier, on the other hand, is a better alternative if all you want to do is trek. Mount Rainier offers a breathtaking perspective of the surrounding mountains and the state of Washington.
Because Mount Rainier is more accessible than Olympic, it is projected that Mount Rainier would attract more people. At times, Mount Rainier may be congested. If you are visiting, you should also think about how long you intend to spend there. If you have more time on your hands, you could like to visit Olympic to participate in their activities. Because Olympic Park has so much to offer, one weekend may not be enough to see everything. If you just have weekends free, though, head to Mount Rainier and attempt trekking on their famed glaciers.
What is the best place to stay?
There are hotels and lodges in both parks where you may stay. Many people recommend staying at Paradise Inn, an iconic national park lodge, when visiting Mount Rainier. There are several possibilities in Olympic, but many people choose Lake Crescent Lodge. You might even go camping, since there are camping spots all throughout the place, and be one with nature for the duration of your visit.
When is the most ideal time to go?
The months of July and August are ideal for visiting both parks. It's because numerous wildflowers are blooming in the fields at this time. This time of year, the pleasant weather is also great for trekking the mountain. This season, you can get the greatest view of the meadows from Mount Rainier. If the weather is nice and dry, several activities are accessible at Olympic National Park.
Trails for Hiking
When comparing the two parks, Olympic National Park has more hiking routes than Mount Rainier. If you're hiking Mount Rainier, there are four paths to select from, depending on how challenging you want your trail to be. There are 12 popular hiking paths in Olympic National Park to select from. There may be additional paths around that you should check out and explore.
Quick Facts
When comparing the two, the following are some key differences:
Mount Rainier National Park is located in the state of Washington.
Annual Visitors 2.25 million (2019 3.25 million) Land Size 236,381 acres 922,650 acres Highest Point 14411 feet 7980 feet (2019)
Final Thoughts on Mount Rainier and Olympic National Park Comparison Chart
In the end, it all comes down to what you enjoy doing. If you're looking for a more laid-back vacation where you can merely sightsee, Olympic National Park is a good choice. Because, aside from hiking, Olympic National Park has so much to offer.
You can visit different regions of the park and appreciate what nature has to offer because it has a more diversified scenery. If you're looking for a more challenging pastime and hiking is one of your favorite ways to unwind, Mount Rainier is a good choice. Mount Rainier is more than a hiking destination. It can help you achieve the quiet mood you desire thanks to its amazing outlook and accessibility. If you have the time and ability, you should go to both parks because they have distinct things to offer. It's always excellent to reconnect with nature every now and then.