Melbourne, Florida is a great place for a romantic holiday, whether it's for a week or just one night, thanks to its warm weather, gorgeous beaches, and breathtaking ocean vistas. Explore the stunning botanical gardens filled with blooming flowers and shaded trees as you meander through Historic Downtown Melbourne, which is brimming with lovely old buildings, art galleries, and museums. Spend the morning watching dolphins or learning to sail, then spend the afternoon celebrating your love in private at one of these wonderful places.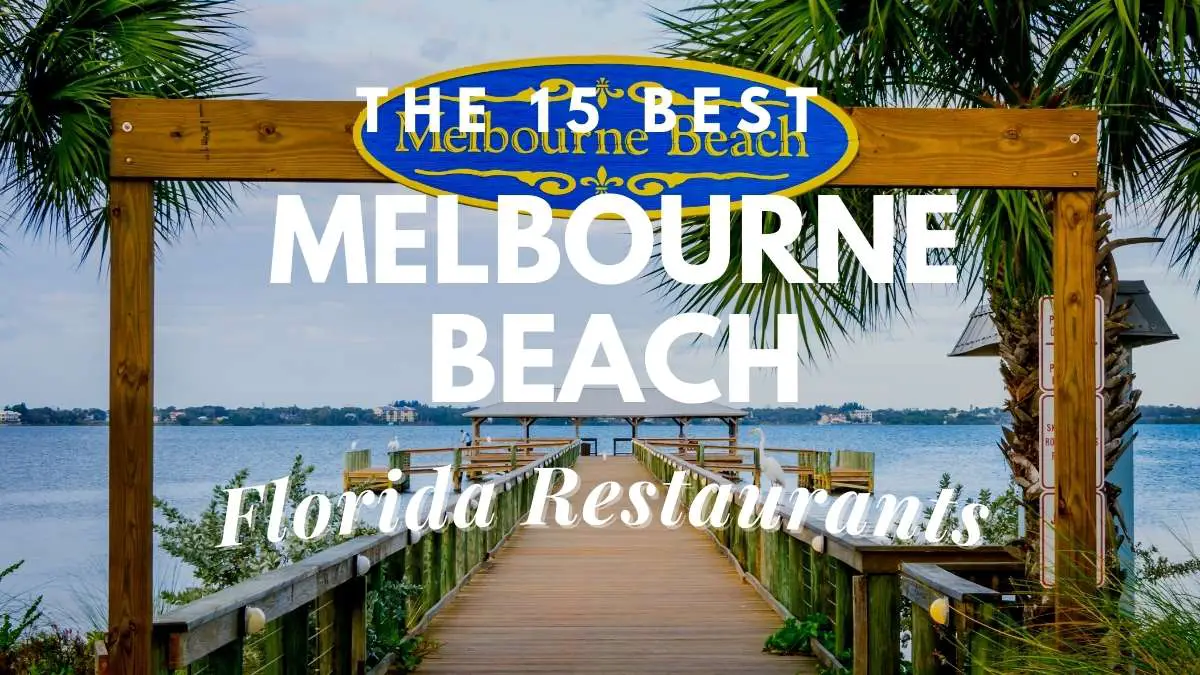 1. Bacco Wine Cafe
Modern Italian food is served in a warm, modern atmosphere at the family-run Bacco Wine Cafe, a trattoria housed in a modest strip mall. The modern Italian restaurant is run by Loris and Raffaella, who are natives of the Italian Riviera Liguria region. It is a well-liked dining spot for both locals and tourists who come to enjoy traditional Italian dishes prepared with locally sourced ingredients and regional products using old family recipes. The menu offers something for every taste, from antipasti platters to hot plates of handmade pasta and fresh seafood to robust beef and veal meals and delicious desserts. The restaurant is available for supper from Tuesday through Saturday and serves a variety of casual wines, craft, and draft beers on tap and in bottles, premium spirits, and traditional cocktails.
Read: Is Traveling A Hobby? The Ultimate Guide To An Exciting Way Of Life Learn about the Downsides Of Traveling As A Hobby

2. Café Coconut Cove
A family-run restaurant called Café Coconut Cove offers sophisticated German cuisine in a warm, inviting setting. The Himmeroeder family owns the restaurant, which has been serving traditional German fare for 32 years and is located on the banks of the Indian River Lagoon in a historic riverside property with lovely views of the water and a private pier where visitors may wander before dinner. The romantic restaurant provides delectable traditional German delicacies including Eisbein, Sauerbraten, Béarnaise Schnitzel, Weisswurst Plate, Roasted Pork Shank, Goulash, and Spätzle and has charming lakeside views from every table. The restaurant is open for supper from Tuesday through Saturday. The bar serves casual German wines and imported German and European beers on tap and by the bottle.
3. Crush XI
For lunch and supper, Crush Eleven is an upmarket neighborhood hangout that provides rustic-urban cuisine, artisan beers, and uncommon specialty wines. The restaurant offers a unique sharing menu with farm-to-table fare such Chicken Chicharrones, Tepache Braised Pork Belly, Sriracha Marinated Flat Iron Steak, Seared U10 Scallops, Grilled Duck Breast, and Santa Maria Style Pork Tenderloin to promote a group eating experience. Other bar choices include craft and draft beers, casual wines, and a creative cocktail menu that provides inventive spins on traditional drinks like the bacon-infused Old-Fashioned cocktail. Sunday brunch as well as lunch and supper are served at Crush Eleven.
4. CuiZine Restaurant & Lounge
Cuizine Restaurant & Lounge is a stylish, classy eatery that provides an amazing fine-dining experience, and it is situated in Satellite Beach. The elegantly decorated restaurant, which is owned and run by the brothers Zoran and Marjan Stanojkovski, emanates the vibe of a vintage jazz piano bar with dark wood and leather accents, comfortable eating booths and private dining areas, and a softly lighted romantic environment.
Delicious meals like Herb Lump Crab Cakes, Grilled Lamb Chops, Pork Osso Bucco, and three different Certified Angus steak cuts are offered on a menu with a Mediterranean influence. A selection of casual wines, craft and draft beers on tap and in bottles, premium spirits, and traditional cocktails are served with the food. On weekends, live music is also featured. Dinner is served at Cuizine Restaurant & Lounge from Monday through Saturday.
More locations we like are the beaches in Cincinnati, Maryland, Oregon, Hawaii, indoor theme parks, Gatlinburg, Wisconsin, and Orlando, Texas. "22 Best Restaurants in Melbourne, FL this Weekend with Friends" is what you're reading. Return to Top
5. Djon's Steak and Lobster Restaurant
Popular eatery Djon's Steak and Lobster House is known for serving fresh seafood and top steaks in a cozy setting. The fine-dining restaurant offers a selection of prime cuts of USDA choice steaks, fresh seafood, free-range chicken and pig, and a variety of vegetarian alternatives. It also has typical steakhouse décor with dark wood and leather accents, tastefully arranged tables, and soft lighting. Signature meals include Filet Mignon, Lamb Chops, Veal Chops, and Steamed Lobster.
A wide selection of quality wines from across the globe are also available by the glass or bottle, as well as craft beers on tap and in bottles, as well as specialty drinks. Tuesday through Friday, Djon's Steak and Lobster is available for lunch and supper; Saturday through Monday, it is only open for dinner.
6. Cuban Ambition
El Ambia Cubano is a welcoming Cuban eatery that takes customers on a gastronomic tour of the vivid, colorful, and music-loving nation. The relaxed, unpretentious café offers handmade beverages and genuine homemade Cuban food in a buzzy, musical setting where live music acts as the background for each meal. The restaurant offers a variety of delectable Cuban cuisine with plenty of pork dishes, gourmet sandwiches, fresh seafood, chicken and beef plates, and sweet treats for dessert. It also boasts a bright and cheery decor, plain wooden tables, a full-service bar with conga bar stools, an outdoor terrace for alfresco dining, and beautiful water views. The restaurant is open for lunch and supper, Monday through Wednesday, and serves traditional rum-inspired cocktails, artisan beers, and casual wines.
7. Brazilian steakhouse Estampa Gaucha
The Estampa Gaucha Brazilian Steakhouse, which is situated in Melbourne Square, is a typical Brazilian steakhouse that offers a distinctive manner of food preparation and service in the Brazilian Gacho tradition by presenting a range of hand-sliced meats right off the skewer. Signature steak cuts include bottom sirloin, which has a rich, powerful taste, and the sirloin known as Alcatra. Estampa Gaucha Brazilian Steakhouse is available for lunch and supper seven days a week and provides outstanding dining experiences for couples and groups in private, semi-private, and lounge settings for all occasions.
Beaches near Orlando, SC, Last Minute, NH, Houston, Palm Springs, Monterey, and other nearby attractions that are inexpensive and worth visiting Sedona, Arizona, and Atlanta, Georgia "22 Best Restaurants in Melbourne, Florida" was just read.
8. Isles Fish Grill
Fish Grill is a laid-back seafood restaurant with vibrant Caribbean decor that serves excellent fresh fish that is collected off the coast of Florida and cooked in unique ways. It is situated in the Indialantic Islands. Chef Jared and Chef Nate take great delight in making exquisite meals of fresh fish and seafood and presenting them in artistic ways along with delectable, fresh sides. They offer 11 different types of fresh fish every day. The restaurant is open solely for supper, every night, and the food is complemented with craft beers on tap or by the bottle, artisan cocktails, and casual wines from around the globe.
9. The French crepe
With a distinctive breakfast and lunch menu including traditional French fare, La Crepe de France provides a genuine French dining experience to Melbourne's downtown. The kid-friendly café has a selection of traditional French foods including a variety of crepes, galettes, handmade soup and fresh salads, quiches, gourmet sandwiches, and small sides. It also features a cozy dining room and a bright outside terrace for laid-back brunches. Along with the meals, freshly squeezed juices and locally roasted coffees are offered. Every day for lunch and supper, La Crepe de France is open.
10. Makoto
A chic Japanese restaurant featuring classic hibachi and teppanyaki-style grilled cuisine as well as fresh, handmade sushi is located in the Nasa Plaza. Its name is Makoto. In addition to hibachi, sushi, sashimi, rolls, tempura, and teppanyaki, the modern Japanese restaurant also provides soup, salad, seasonal tempura, and California rolls. At the open sushi bar, skilled sushi chefs create specialized rolls while a selection of beverages, including sake and traditional cocktails, is available. Every day, lunch and supper are served at Makoto.
11. Matt's Casbah
Matt's Casbah is a chic, roomy establishment that offers an outside terrace, a dining room with twinkling lights on the ceiling, an eclectic international menu of modern food, and a sizable wine selection. In addition to flatbread pizzas, hand-made Angus burgers, gourmet sandwiches, chicken paninis, seared Mahi filets, and delicious desserts like key lime pie and raspberry truffles, the famous downtown restaurant has a sleek sushi counter where chefs produce fresh, handcrafted sushi and sashimi. The full-service bar offers creative cocktails, casual wines from around the globe, craft beers on tap or by the bottle, and live music every night of the week from DJs and bands. Tuesday through Sunday, Matt's Casbah is open for lunch and supper.
12. Red Ginger
Red Ginger offers genuine Chinese food in a relaxed atmosphere. Chinese and Asian cuisine, including a variety of beef, chicken, pig, and fish dishes, as well as noodles, rice, and vegetarian options, are served on the restaurant's delectable, freshly created menu, which is decorated in an Asian manner. The menu offers entrées including chow mein, vegetarian and chicken noodles, steamed dim sum, and fresh sushi in addition to appetizers like beef skewers, garlic chicken wings, and shrimp egg rolls. A range of beverages, including authentic sake, craft brews, international wines, and fruit juices, as well as the food are provided by informed and skilled employees. Red Ginger is open every day of the week for lunch and supper.
13. The Hilton Melbourne Rialto's Rustic
The Melbourne Hilton Hotel's Rustic Restaurant provides a casual, elegant dining experience with a seasonal cuisine that includes fresh seafood and other modern foods. Two options for cozy eating areas where visitors can munch into delicious seafood served with amazing Floridian flare include an exquisite dining room with contemporary décor, a covered atrium, and a delightful garden. The Corn & Crab Bisque, Chicken Martinique, Filet of Beef Tenderloin, Garlic and Herb Crusted Grouper Pasta, and Shrimp Etouffee are among of the menu's signature dishes. With a wide choice of exquisite wines from across the globe available by the glass or bottle, craft beers on tap or in bottles, and handmade cocktails, Bar 9 is a full-service bar. Every day, breakfast, lunch, and supper are served at Rustic Restaurant and Bar 9.
14. Restaurant Salt and Sweet
A family-run restaurant serving traditional Polish food, Salt and Sweet Restaurant is situated at the Lake Washington Crossing. The quaint restaurant serves a variety of traditional Polish dishes like beet borscht, potato pancakes, pierogi, Wiener schnitzel, Golabki, and cutlet de Volaille. The food is paired with imported polish beers and light wines and has a warm and welcoming atmosphere with boutique decor and soft lighting. Monday through Saturday, lunch and supper are served at Salt and Sweet Restaurant.
15. Spikes Mediterranean Grille
In a cheerful setting, the vibrant and colorful Skewers Mediterranean Grille delivers Mediterranean fusion food with a Middle Eastern flare and approachable wines. An excellent Mediterranean cuisine with scrumptious meals such kabobs of lamb, beefsteak, and garlic chicken as well as specialty dishes like stuffed kibbeh, yogurt kafta kabob, and mousakhan is available. The full-service bar offers creative cocktails, casual wines from around the globe, artisan beers on tap or by the bottle, and belly dance sometimes takes place throughout the week. From Monday through Saturday, lunch and supper are served at Skewers Mediterranean Grille, with dinner service exclusively on Sunday.
Final words
If you are searching for Melbourne beach Florida restaurants, you are now aware about the different options available out there to visit. While keeping these options in mind, it will be possible for you to plan your visit accordingly. Then you can end up with getting a bunch of unforgettable experiences. You will surely enjoy what is being offered on your way by these restaurants. Moreover, you will also be able to get a perfect dining experience at all these restaurants.