Considering a beach vacation in Northeast Florida? Make a quick start on planning your schedule and remember to include some of the top Amelia Island beaches. Amelia Island, which is a part of Nassau County, is renowned as a timeless vacation spot with a blend of history and natural beauty. You can experience outdoor adventure away from Florida's tourist hive on its unspoiled beaches since they aren't inundated with tourists.

With the Atlantic Ocean in your view, there are several secluded and family-friendly beaches to choose from. Achieve a balance between areas with quick access to the beach, gazebos, and restaurants on the seafront, and empty stretches of sand that are covered with driftwood and the sounds of singing birds. Are you prepared to organize the ideal getaway to this barrier island in Northeast Florida? At one of these well-liked beaches on Amelia Island, Florida, you may find peace.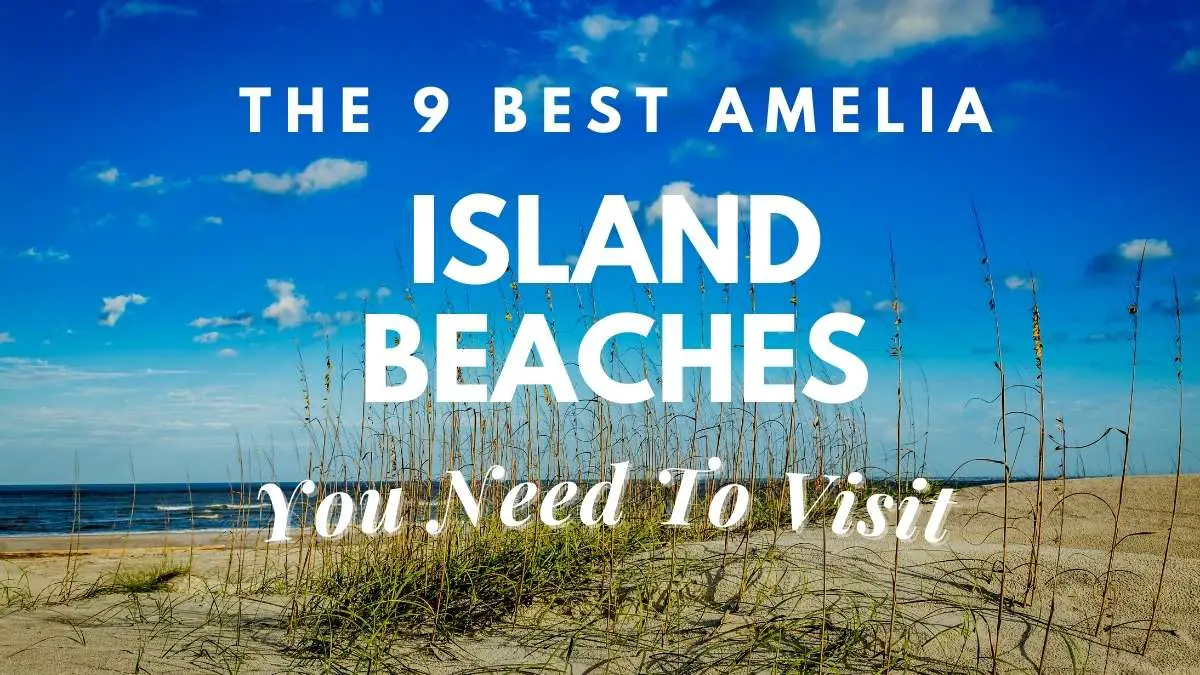 1. Main Beach Park
One of the best beaches on Amelia Island is located at Main Beach Park, which also offers a variety of attractions and recreational opportunities. The sand beaches and crashing waves of the Atlantic Ocean are separated from Fort Clinch State Park by Main Beach. It's five minutes from Fernandina Beach and located in the northeastern part of the island.
A new elevated boardwalk that runs around the neighboring desert-like dunes connects the park to the bustling section of seashore. It's a terrific spot to take a dune walkover after you've finished swimming or tanning in the Florida heat.
The facilities available are part of what makes this energetic beach appealing for tourists. Large grass at Main Beach Park makes it ideal for family outings or romantic picnics. The neighborhood skate park, volleyball courts, BBQs, picnic areas, and public facilities are also available to you.
After spending the day at the beach, stay around for some friendly rivalry on the neighborhood mini-golf course. Or enjoy the warm evening at one of the two restaurants that are located by the water.
Read: Is Traveling A Hobby? The Ultimate Guide To An Exciting Way Of Life Learn about the Downsides Of Traveling As A Hobby

2. State Park on Amelia Island
Amelia Island State Park, which is bordered by the Nassau River and the Atlantic Ocean on both sides, provides outdoor enthusiasts a tranquil setting and a beach with a wide range of activities. The park, which lies near the southernmost point of the island, offers opportunities for horseback riding, swimming, shelling, and good fishing.
Visitors without a 4-wheel-drive car must go on foot to get to the seashore. Due to the lack of lifeguard towers, strong currents are often present along the shoreline. Visitors with small children may have to limit their activities to making sandcastles, looking for shells, and looking for shark teeth.
Amelia Island State Park, one of the greatest sights to view on Amelia Island, has a historical coastal maritime forest. The forests, which originally reached as far as southern Virginia, are now an important habitat for animals. The coastline itself is one of the park's most vulnerable features. Viewers are treated to amazing views as sea turtles, Wilson Plovers, and gopher tortoises hatch here.
The second well-liked activity in this area, apart from beach driving and shelling, is located within George Crady Bridge Fishing Pier State Park. Anglers may try their luck catching tarpon, drum, jack, and whiting along the fishing bridge that spans Nassau Sound.
Tired of leaving your vehicle parked a distance from the beach and dragging your equipment over the sand? Seaside Park has, in fact, heard your cries. If you have a permission, you may drive onto the beach at Seaside Park from Sadler Road.
The Amelia Island State Park, which is close to Jacksonville, Florida, is ideal for the entire family. The six-mile northern section of Peters Point Park is connected by paved bike tracks, including the Timucuan Trail cycle path. This state park offers a number of possibilities for birdwatching since it is one of the top locations on the Great Florida Birding and Wildlife Trail. The state record flounder is caught in the Nassau Sound, one of northeast Florida's top fishing spots. At the Amelia Island State Park, you may also enjoy horseback riding, kayaking, picnicking, and shelling. Additionally, this is the ideal spot to engage in watersports on Amelia Island!
Once you've located a lovely area on this Amelia Island beach, park the vehicle, unpack your beach equipment, and start your day. Unsurprisingly, those without 4WD had a worse outcome, so be sure your vehicle can manage the road conditions.
The sandy sands south of Main Beach Park are a nice area to unwind and take in the landscape, and there are public restrooms nearby. With lots of space to stretch out and get away from the throng, gaze out into the infinite Atlantic Ocean. Between Memorial Day and Labor Day, the lifeguard towers at Seaside Park will also be staffed.
Enjoy the walking trails that are hidden beneath the sands after a day of sun and sand to meander over the dunes and take in the stunning but vulnerable local nature. Go to Sliders Seaside Grill for a sunset beverage as the golden hour draws near.
3. Peters Point Beach Park
You don't have to stress about arriving to Peters Point Beach before the throng since there is a large, free parking lot. Visitors may take advantage of the opportunity to stroll along the Atlantic coastline or obtain their recommended daily dosage of vitamin D on the southernmost tip of Amelia Island, off Peters Point Road.
Peters Point Beach is a well-liked day fishing location. Anglers are welcome to bring their rod, lure, and equipment and set up along the wide beach. If you wish to utilize the BBQ facilities, cast your reel in hopes of catching today's lunch or tonight's supper. There are also picnic tables, outdoor showers, and public bathrooms on the property. There are four staffed lifeguard towers here from Memorial Day to Labor Day.
If relaxing on the beach while reading a book or fishing doesn't tickle your interest, how about hiking a nearby trail? The Amelia Island Trail may be started from Peters Point by bikers and walkers alike. The 6.2-mile nature walk leads into Amelia Island State Park in a single direction.
4. Clinch State Park
One of the greatest Amelia Island beaches is located in Fort Clinch State Park, which is open every day from 8 am until sunset. There is a bustle of activity in the historic park for a variety of reasons. At the northernmost point of Amelia Island, Fort Clinch is situated between tranquil beaches along the Atlantic Ocean and the Amelia River.
The 19th-century Fort Clinch is the park's main attraction. For $2.50 per person, you may either take a tour of the old fort or just stand on the beach and look at it. You may discover a number of hiking and biking routes that will take you around the park and between the campsites once you've crossed the sand dunes. If you wished to stay the night, there are two campsites accessible on the east and west sides.
On Highway A1A, behind Main Beach Park, lies the main entrance to Fort Clinch State Park. There is a $6 admission charge each car, which may accommodate 2 to 8 people. The cost for a single driver is $4. The cost is $2 if you access the park on foot or by bicycle.
On the Atlantic Coast, Fort Clinch's beaches are the ideal location. Beautiful white sand beaches, calm winds, and unusual shells may all be found here. Along the shores, you may go swimming, surfing, fishing, and shelling, but swim at your own risk since there are no lifeguards on duty. Make careful to leave any of the local animals at Fort Clinch alone if you come across any. An important thing to keep in mind while visiting Amelia Island is that nature must be left unharmed.
5. Burney Park
Burney Park in the American Beach Historic District offers beachgoers a stunning coastline and a grand dune system. Once you've arrived at the park, you'll appreciate the large, unpaid parking area. However, parking on the beach is permitted for locals and visitors with a permission.
Burney Park offers a wide variety of services to make your day on the beach on Amelia Island as enjoyable as possible. The many oceanfront picnic shelters, public bathrooms, and outdoor showers are all available to visitors. The lifeguards keep an eye on things from their towers throughout the summer and autumn.
Nana Dune, though, is the primary attraction. In Florida, the local dune system is the tallest. It is regarded as a component of the American Beach neighborhood, which served as a refuge for African Americans in the past due to Jim Crow laws and segregation. MaVyanna "Beach Lady" Betsch, who gave the dunes their name and later resided nearby, worked tirelessly to preserve the spectacular dunes.
6. Little Talbot Island State Park
Little Talbot Island State Park is the ideal destination for a brief day trip from Jacksonville, located 20 minutes south of Amelia Island along the picturesque Highway A1A. Enjoy a rural park with unspoiled beaches and a variety of natural fauna on an untamed barrier island.
Five kilometers of beaches may be found at Little Talbot Island State Park, which seems quite different from Amelia Island's east coast beaches. While the North and South Beach parking lots include changing facilities, bathrooms, and outdoor showers, it's simple to end yourself in your own little Castaway.
Some of Northeast Florida's greatest surfing can be found at the park's North Beach. You can chase the stoke all day long thanks to reliable waves and plenty of room to stretch out. Shelling is one of the most well-liked pastimes here. The shelling prospects at Little Talbot Island State Park are superb, making it a popular tourist activity. If you dig around, you'll find a variety of shells, including periwinkle, shark, and clam shells.
7. Boneyard Beach
The well-known Boneyard Beach is located in Big Talbot Island State Park, which lies to the north of its tiny sibling. The gloomy setting is as gorgeous as it is terrifying, with the salt-washed remnants of cedar and oak driftwood. Because of Boneyard Beach's lovely surroundings, some people decide to get married there outside in front of the actual "graveyard."
Hiking along the Shoreline Trail is a fantastic opportunity to discover the lovely beach and the rest of the park. Enjoy views of Nassau Sound while traveling from the Bluffs picnic spot, which has shelters, grills, and tables, to the driftwood.
There is a ton great do in the area of Big Talbot Island State Park after visiting the famous beach close to Amelia Island. Boating and kayaking are popular sports here, and visitors may explore the nearby salt marsh, Nassau Sound, and tidal creeks. Sit back and relax on the sandbars, try your hand at fishing, or just take in the tranquility.
8. Oceanfront Beach
One of Amelia Island's most stunning and well-known beaches may be found here. This magnificent beach in Fernandina Beach has well-kept facilities and breathtaking views. You and your family may bring food and enjoy a picnic at one of the many covered picnic tables at the Tourist Service Area at the end of Sadler Road, which offers public bathrooms.
A restaurant, bar, and concession stand are also available at Seaside Beach. If you merely want to wander in the shade, you may also use the covered boardwalks.
9. Key Beach
One of Amelia Island's most well-known beachfront parks is Main Beach. This park has two sand volleyball courts, a kid's playground, picnic tables, a skate park, and a large grassy area ideal for playing baseball or soccer. There is access to the beach, a multipurpose court, an outdoor shower, and bathrooms.
Many people take pleasure in seeing the birds that soar over and around the park while shelling along the shore. In the waters immediately off the shore, you may also go swimming, canoeing, and kayaking. The beaches on Amelia Island provide many chances for entertainment!
Final words
Now you have a clear idea about the best Amelia Island beaches. Make sure that you take a look at them and plan your visit to the Amelia Beach accordingly to get the best possible experience.