Some of the biggest firms in the United States have their headquarters in Northwest Arkansas, making it a popular destination for business travelers. However, in recent years, the locals have been gradually changing the area. Bentonville and Fayetteville, two of the state's biggest communities, have been transformed by craft drinks, an emerging culinary scene, and an unexpectedly dynamic cultural environment. Beyond its recent hipness, Northwest Arkansas is enjoyable due to its wide range of peculiar attractions. The following list of ten distinctive experiences will help you to understand the most perfect things to do in North Arkansas.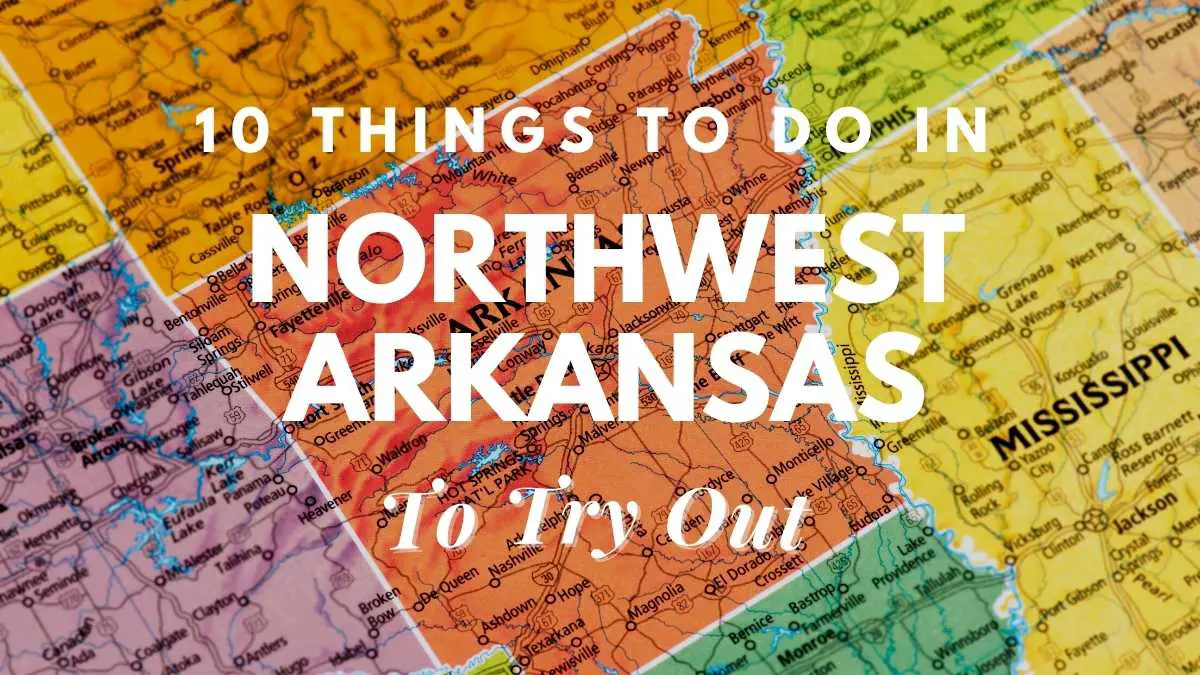 1. The Walmart Museum
Sam Walton's first 5&10 shop, called the original Walmart, opened in 1950, and is now housed at Northwest Arkansas' Walmart Museum along with the company's headquarters. The Walmart Museum is a free attraction for anybody interested in understanding the history of the well-known company, and it is attached to the modest store that is situated on the town square in Bentonville. The Spark Café Soda Fountain, a well-known location for ice cream, is located at the conclusion of the museum as a treat for reviewing the mega-history. chain's
Read: Is Traveling A Hobby? The Ultimate Guide To An Exciting Way Of Life Learn about the Downsides Of Traveling As A Hobby

2. The Clinton Residence
The Clinton House Museum is the place to go if you're interested in politics or if you like the Clintons. It all really started at Bill and Hillary's first house, and the museum there is stocked with priceless artifacts from Bill's formative years in politics. One of the most significant events in the life of the couple was also held there: their wedding, which was held in the living room. Visitors may meander around the First Ladies Garden in addition to learning about the history of the Clintons.
3. 21c Museum Hotel
There are only four 21c Museum Hotels in the nation right now, and one of them is located in Bentonville. With one 12,000 square foot exhibition space and a recurring exhibition schedule showcasing renowned international artists and up-and-coming artists, the luxury hotel brand mixes the experience of staying in a hotel with going to an art museum. The hotel's restaurant, The Hive, honors the High South with sophisticated country food to highlight what makes Arkansas special in the culinary world.
4. Visit Bentonville
The 36-mile Razorback Regional Greenway is a bike-pedestrian track that passes through seven communities in Northwest Arkansas and is open to both amateur and professional riders. Take a bike from your hotel or hire one from a nearby bike shop, then go out on the trails while stopping sometimes to see some of the art pieces you pass along the route (located in the Bentonville area, near the Crystal Bridges Museum of American Art).
5. Buckyball
A well-liked evening activity is to see Leo Villareal's captivating sculpture Buckyball, which is located on the grounds of the Crystal Bridges Museum of American Art. Villareal employs light as his medium and has produced two nested geometric spheres in the form of a Carbon 60 molecule using LED lamps (the sculpture is named in honor of visionary engineer Buckminster Fuller). The building emits 16 million different colors and is lit every day from 10 am to 11 night, while the after-dark hours are the most favored. Extra-large communal lounge chairs around Buckyball, where anybody may go and become lost in the lights.
6. Bachman-Wilson House
Although Frank Lloyd Wright may not have been to Northwest Arkansas, this region is home to one of his famous houses. The building, often referred to as the Bachman-Wilson House, is a prime example of Usonian design by Wright. The house was originally constructed in 1954 beside the Millstone River in New Jersey. Lawrence and Sharon Tarantino, an architect and designer team, bought the house in 1988 and meticulously renovated it. The new owners decided to start a lengthy search for a suitable organization prepared to buy, move, and maintain the home, but the building was endangered by frequent floods in the neighborhood. The house is presently located on the grounds of the Crystal Bridges Museum of American Art; admission is free, but reservations are requested.
7. Scott Family Amazeum
The Scott Family Amazeum is an utopia for families and science enthusiasts. It's simple to spend the whole day here thanks to the 50,000 square feet of interactive displays and hands-on activities. A pioneer-style home and farm, a Hershey's-sponsored chocolate learning lab, a play area with Nickelodeon characters, and a "Tinkering Hub" where youngsters can experiment with technology and make art are some of the exhibits. Additionally, there are whispers of adult-only nighttime activities, so make sure to enquire about those unique events.
8. The Handlebar
The Handlebar, a bike store with a social atmosphere in the heart of Fayetteville, welcomes both bikers and non-cyclists to hang around and drink beer or coffee while speaking. Locals and visitors are welcome to stop by on Saturday mornings to enjoy handmade chocolate cookies cooked by the owner's mother while dining at a community table.
9. Ale Trail in Fayetteville
Beer lovers, rejoice! The Fayetteville Ale Trail, the first craft beer tasting event in Arkansas that only features neighborhood brewers, was just introduced by the Fayetteville Visitors Bureau. Since the trail is self-guided, you may take your time and sample as much beer as you'd like. (Guided tours are also offered for those who want some guidance.) Anyone interested in exploring the Ale Trail may pick up a passport at businesses that are involved and add stamps to it at each brewery site.
10. Fountain of World Peace
The World Peace Fountain, a work by local artist Hank Kaminsky, is possibly Fayetteville Town Facility's most recognizable feature as a multifunctional conference center. The 8,000-pound bronze sphere was made to be resolved by hand like a prayer wheel and bears the words "May Peace Prevail on Earth" in more than 100 different languages. When facing the street from the sculpture, move forward until you reach the intersection of the sidewalk and the pavement. There, you will find the artist's hidden installation, which is typically not seen. Ask around if you want to meet Kaminsky; he likes to hang out around town and is always eager to meet new people.
Final words
Now you are aware about the best things to do in Northwest Arkansas that you can try out as of now. You can keep these activities in mind, and you will be able to end up with getting the most adventures coming on your way. While keeping that in mind, you can make plans to visit Northwest Arkansas accordingly.
The fact that Northwest Arkansas has its own airport (XNA) with several direct flights to cities like Dallas, San Francisco, New York, Chicago, and Los Angeles may surprise you. Prices aren't all that much more expensive than Tulsa, the next nearest airport. Additionally, Northwest Arkansas makes it simple to catch foreign flights because to the direct flights to and from bigger locations. If you choose to fly to XNA, you may use a ridesharing service like Uber or Lyft to get to your hotel. However, we advise against it since public transit is only available in Fayetteville and certain areas of Springdale.