Kayaking is a popular water activity in Michigan, and the state offers some of the greatest paddling possibilities in the nation. Paddlers may enjoy Michigan's Water Trails and more than 3,200 miles of freshwater shoreline, as well as tranquil interior lakes and rivers. Continue reading to discover more about kayaking and get recommendations for wonderful paddling experiences in Michigan from an experienced Michigan kayaker. Can you kayak on Lake Michigan? Take a look at this guide and we will help you to figure out answers to this question.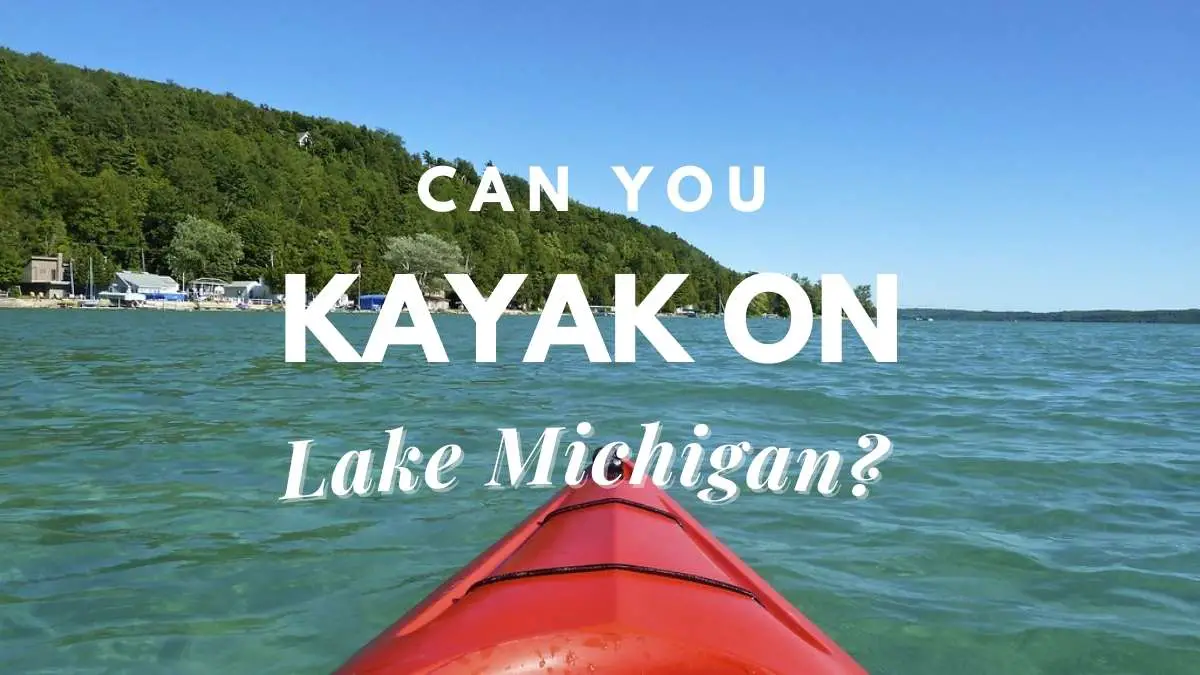 What is it like to kayak on Lake Michigan?
When I learnt about kayak touring — multi-day paddling adventures with camping gear in the kayak – I fell in love with kayaking. I was a seasoned hiker and traveler, and the prospect of exploring rivers in a kayak piqued my interest.
A three-day paddle on the James River in Virginia was my first kayak touring adventure. The gentle, placid river was ideal for a novice, and I loved dragging my kayak ashore and falling asleep to the sounds of the river each night. Since then, I've tried sea kayaking on Lake Superior, nasty whitewater kayaking, and more difficult wilderness paddling expeditions on the Au Sable River.
Read: Is Traveling A Hobby? The Ultimate Guide To An Exciting Way Of Life Learn about the Downsides Of Traveling As A Hobby

Kayaking is divided into three categories.
Lakes and slow-moving flat rivers are ideal for recreational kayaking. This is the finest style of kayaking for beginners since they can concentrate on learning good paddling skills without having to worry about rapidly moving water or waves. Recreational boats are generally preferred by photographers and anglers because to their stability and size. Sit-on-top, tandem, and inflatable kayaks are all suitable.
Kayaking in open bodies of water such as lakes, bays, and seas is known as sea kayaking or kayak touring. Tandem, inflatable, and sea touring kayaks are all suitable.
Whitewater kayaking is the most intense kind of adventure paddling, including paddling through class two and higher river rapids. Whitewater kayaks are short and nimble, with spray skirts to keep the water out and the paddlers in! Whitewater kayaks and playboats are recommended.
Tips for Getting Started Paddling in Michigan
1. Enroll in a basic paddling course.
A kayaking lesson will teach you the fundamentals of entering, exiting, paddling, and other critical skills. You'll get the chance to hear from an expert while also having the option to ask questions. Many Michigan outdoor groups provide pool days and trips to teach fundamental paddling skills and provide a safe environment for novices to practice. Local outfitters may also provide information about paddling groups, neighboring rivers and streams, and local risks. Classes and clubs are also excellent places to meet new paddlers.
2. Learn how to securely enter and depart a kayak.
It's critical to understand how to enter and depart a kayak without tipping it over. Keep your weight centered and low while entering a kayak, and enter in calm, shallow water so that you may do it safely.
The most critical skill to acquire is how to exit a kayak safely. Practice wet escapes if your kayak demands one in case of a capsize. Exiting an open kayak in shallow water without flooding it is a skill to master. Then practice entering and exiting your kayak in deep water to get a feel for how it behaves when you're not in it.
3. Become acquainted with and practice fundamental paddling methods.
Paddling basics are all about being comfortable in a boat and learning how to maneuver it about on the water effectively. Learn to relax when paddling and paddle using your legs and core rather than your arms. Using simple forward and sweep strokes, try to propel your boat forward in a straight way. Then, as an emergency stop, perfect the back or reverse paddle by gripping your paddle softly and reversing your boat in a straight path.
4. Become familiar with local risks and carry appropriate safety equipment.
Each location and canal has its own set of dangers. Learn how to recognize and avoid water dangers including sweepers (trees/debris pushing out of the water), strainers (difficult-to-see underwater trees), and other obstructions by talking to local paddlers or reading forums.
Drowning is responsible for more than 70% of boating deaths, according to the Michigan Department of Natural Resources. Always wear a life jacket when paddling and leave a float plan with a friend or family member, including the "who, what, where, and when" of your excursion. Paddle alongside more experienced kayakers and learn the fundamentals of water rescue so you can assist others in an emergency.
5. Figure out which kayak is best for you.
Don't go out and get a kayak right now. Spend some time studying and practicing fundamental kayaking skills in leased or borrowed kayaks. You can determine which kind of kayak best matches your style after you've gained some expertise. Whatever option you choose, fit and comfort are paramount.
What Makes It So Special
Canoeing is difficult due to the waves, although it is possible when the weather is quiet, and the water is flat. The most difficult challenge is getting there, yet despite the city's busy Lakefront, there are plenty of chances to enjoy Lake Michigan and one of the greatest skyline vistas in the world.
You'll discover lots of access points at the Chicago Park District's beaches in the city of Chicago. However, you'll almost always have to carry your kayak or SUP to the shore, since paddling access does not seem to be a top priority. Montrose Beach arguably has the finest mix of parking and beach access within walking distance of the parking lot. North Avenue Beach is very nice; however, parking might be problematic.
Who Will Fall in Love with It?
The experience of sea kayaking on Lake Michigan is unlike any other river adventure. Lake Michigan is worth visiting if you appreciate broad open landscapes and a challenge. When the water is calm, it's also a fantastic area to stand-up paddle board. Paddle boards are simpler to transport than kayaks, and you can remain close to the beach and learn the sport in a safe atmosphere.
Regulations, Parking, and Directions
If you don't have your own sea kayak, it could be a good idea to start with a guided lake excursion. Several outfitters in the city provide opportunities to explore the lake with a group in their boats for a couple of hours while learning the fundamentals of sea kayaking, safety, and lake laws. Starting at North Avenue Beach, just north of downtown Chicago, Kayak Chicago offers 2.5-hour lake paddles. At the Dempster Street Beach, the city of Evanston rents kayaks and stand-up paddleboards by the hour. Beginner kayaking sessions are also provided in groups.
Final words
When you're searching for a location to paddle, sometimes the solution is just in front of you. As in the city's massive lake to the east. Of course, kayakers and stand-up paddle boarders flock to Lake Michigan. Keep in mind that the weather on Lake Michigan may change fast. Make sure your skill level is appropriate for the lake conditions. You should never paddle alone and should be prepared to make a wet escape. Before conquering the lake on your own, consider taking a lesson or kayaking with a group.