The West Virginia Central and Pittsburgh Railway's original path, constructed by Henry Gassaway Davis in 1884, is followed by the Allegheny Highlands Trail (AHT). This 26-mile, very beautiful path offers sweeping vistas of West Virginia's scenery as it winds through a hilly area dotted with quaint communities and rural agriculture. (An additional 5-mile portion also runs north from the Davis town.)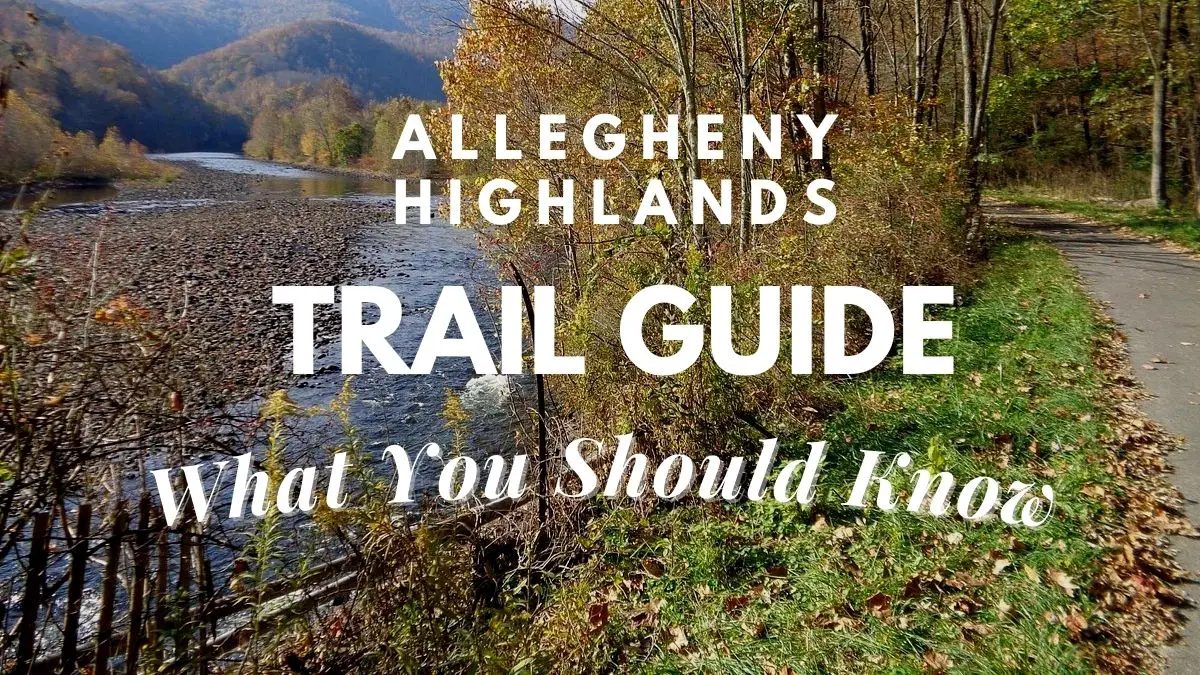 What is the Allegheny highlands trail all about?
The route starts in downtown Elkins, next to the West Virginia Railroad Museum, at its southernmost point. The route then turns north and travels to the Highland Park trailhead before steadily ascending for roughly 15 miles while skirting the Pheasant and Polecat Knob mountains. Numerous picture possibilities are offered by the agricultural vistas and the hilly backdrop. The route begins to slope more steeply after leaving the mountains as it gets closer to Parsons, a tiny town.
You may stop for a bite to eat at any of the many eateries along a brief, simple-to-follow portion of the path in Parsons. The Western Maryland Railroad bridge, which has been repaired, is used to cross the Shavers Fork River as the path continues into Mill Race Park. The Black Fork River bridge's bike lane is accessible by a ramp from the park. The following trailhead is situated on the southern side of US 219, just over the Black Fork River. The last stretch is paved and travels along the lovely Black Fork River to the town of Hendricks.
The Allegheny Highlands Trail will be extended north to Mount Storm Lake, adding roughly 44 miles to its length. Even though it was not built as part of the AHT, the railroad grade continues as the Blackwater Canyon Trail following the Blackwater River to Thomas. Beware, the slope is steep.
Read: Is Traveling A Hobby? The Ultimate Guide To An Exciting Way Of Life Learn about the Downsides Of Traveling As A Hobby

Access to parking and trails
Take US 219 north from downtown Elkins to reach the trailhead at Highland Park, which is next to the Division of Highways District 8 Headquarters (just a mile from downtown Elkins). Midway down the path are the Gilman, Kerens, Montrose, and Porterwood trailheads, which are all equipped with parking. Follow US 219 north until you reach the northern trailhead in Hendricks, which is situated at the junction of Main and 3rd Streets.
Why should you explore the Allegheny highlands trail?
The Highlands Trail Foundation (HTF) has been working to provide recreational trail possibilities in West Virginia's Potomac Highlands since 1995. As the "backbone" of a regional trail network that provides access to additional hiking and biking trails in the Monongahela National Forest (MNF) as well as water trails on nearby rivers, the all-volunteer organization has concentrated primarily on developing the Allegheny Highlands Trail (AHT), a rail-trail in Randolph and Tucker counties.
The route is presently finished for a total of 31 miles in the counties of Randolph and Tucker, including a separate 5-mile segment close to Davis and 26 continuous miles from Elkins to Hendricks. After the Elkins Rail Trail Connector project connected the AHT from its northern trailhead in Randolph County to its southern trailhead at the Elkins Depot, our focus shifted to the need for trail maintenance and continuing growth in Tucker County.
The Allegheny Highlands Trail will be highlighted at a number of events put on by the HTF. Nearly a dozen different states, including West Virginia, send runners to our iconic Blackwater Canyon Half Marathon to participate in this absolutely exceptional race. The event has been nominated for recognition once again in 2022 after being named to Blue Ridge Outdoors Magazine's Best of the Blue Ridge in 2021. The Blackwater Canyon Bike Ride, Ramps & Rail Bike Ride, and Spring Rail Trail Cleanup are other activities.
What do people say about Allegheny highlands trail?
We made the decision to hike the Allegheny Highlands Trail. This biking route winds through the West Virginia highlands and was formerly a railroad. The majority of this path, which links Elkins and Hendricks, follows Route 219. The track will eventually go all the way to Thomas. There are now roughly 25 kilometers of trails that are built. The path has both paved and ground gravel sections, making it ideal for hybrid or mountain bikes.
I would advise setting up a shuttle, leaving a vehicle at Parsons, and departing from Elkins if you were interested in hiking the full path. Due to the grade, this method seems to be a bit simpler than the alternative.
We completed two sections of this path on our first visit: Parsons to Porterwood and Bretz to Hendricks. These two portions were both brief and simple. This time, we made the decision to just complete the Montrose to Porterwood stretch, a roundtrip distance of little under 15 miles. Our journey began in Montrose. The route to Portwerwood turned out to be more downhill than uphill, making the return journey a steady five kilometers upward. I would depart from Porterwood first if you felt like finishing the more difficult tasks first. Since this is a rails-to-trails, the slope is not very high, making the climb manageable for the ordinary rider, but the uphill is unquestionably continuous moving south.
Although the path doesn't have very picturesque sections, you do travel through some lovely wooded areas. Expect to encounter some residences close to the route as you approach some of the towns. The Bretz to Hendricks region genuinely impressed us as being the most beautiful.
There are a ton of geocaches to locate along the path if geocaching is your thing. If you are going on a family ride, finding the caches is not too difficult. Sadly, my GPS device found its last location while traveling the Allegheny Highlands Trail. I placed the GPS device on the top of the vehicle as I was putting the bikes inside and immediately started driving away. It was never located. Along Route 219, it is probably in a million pieces.
How does it feel to ride a bicycle?
If I hadn't started getting a migraine one hour into the bike ride, it would have been such a fantastic experience. I felt like an ice pick was being used to stab me in the skull. Adam kept asking me to stop bike, take a break on the side of the road, and let him come fetch me in the vehicle. But since I'm obstinate, I sobbed (for real this time) and continued to ride my bike for another eight or so miles. Ibuprofen, which we were able to locate in our first aid bag, helped to lessen the severity of the migraine. By the final few miles, I was feeling much better, but for most of the trip, I was terrible.
Having said that, I heartily endorse this biking track for bikers of all skill levels. Both the ascents and descents are gradual, and the path is in excellent shape. Along the walk, there are numerous sizable rhododendron stands, and ferns cover the woodland floor. The trail's low use constantly astounds me. This past weekend, it was bright and 75 degrees with a little breeze. Even though it was a long weekend with a holiday, we only passed a few other bikers. People are unaware of what they are lacking!
What's Great About It
This path is all about variation, so you won't get bored while riding along or get worn out from cycling up a challenging slope. Despite having a very level beginning, the course does become more difficult for approximately five miles in the middle before flattening out once again. You can ride your bike on a variety of terrain since you transition from pavement to gravel and dirt to pavement and back again. Aside from the diversity, one of my
 favorite aspects of this route is that it passes through neighborhoods with charming stores and eateries. It was constructed following the original path of Henry Gassaway Davis's 1884-built West Virginia Central and Pittsburgh Railway. Although it has a rail background, this community now caters to mountain bikers, so whether we stop for lunch or simply to relax in the many villages along the road, we are enthusiastically welcomed. The range of cyclists on the trail—from families to weekend athletes to individuals who seem to be semi-professional—adds to the enjoyment of riding. No of their level of expertise, everyone is kind and supportive.
Those who will adore it
This is probably not the path for you if your goal is to get on your bike and have an intense workout. Due to several steep inclines, it's also not a path for novices. This is a path for families and people who wish to take a trip that resembles a "Sunday driver" automobile ride and experience a variety of sights, including farms, small villages, and woodland regions. That's not to suggest the path doesn't provide a challenge or need a reasonable degree of endurance; rather, it's better suited to folks who like mountain biking as a recreational activity rather than an extreme one.
Final words
If they begin with the Allegheny Highland Trail in Canaan Valley, West Virginia, those who have never gone rail-to-trail on a mountain bike risk being spoilt. The path is not only beautiful and enjoyable to ride, but it also passes through quaint restaurants and shops that welcome mountain bikers and hikers. If you decide to make your day excursion into a weekend adventure, you may also locate some reasonably priced yet attractive hotels. However, if you want to go outside in the cold, be sure to bring enough of clothing. However, there is really never a terrible day to ride the Allegheny Highlands Trail.