New Jersey is a state that is unique. Where else can you go hiking, canoeing down a river, skiing, swimming in the ocean, and picking fruit? There are several hiking opportunities in New Jersey thanks to the Appalachian Mountains in the north and the Delaware River Gap in the south. Discover your next route by reading on this article about hike trails in NJ.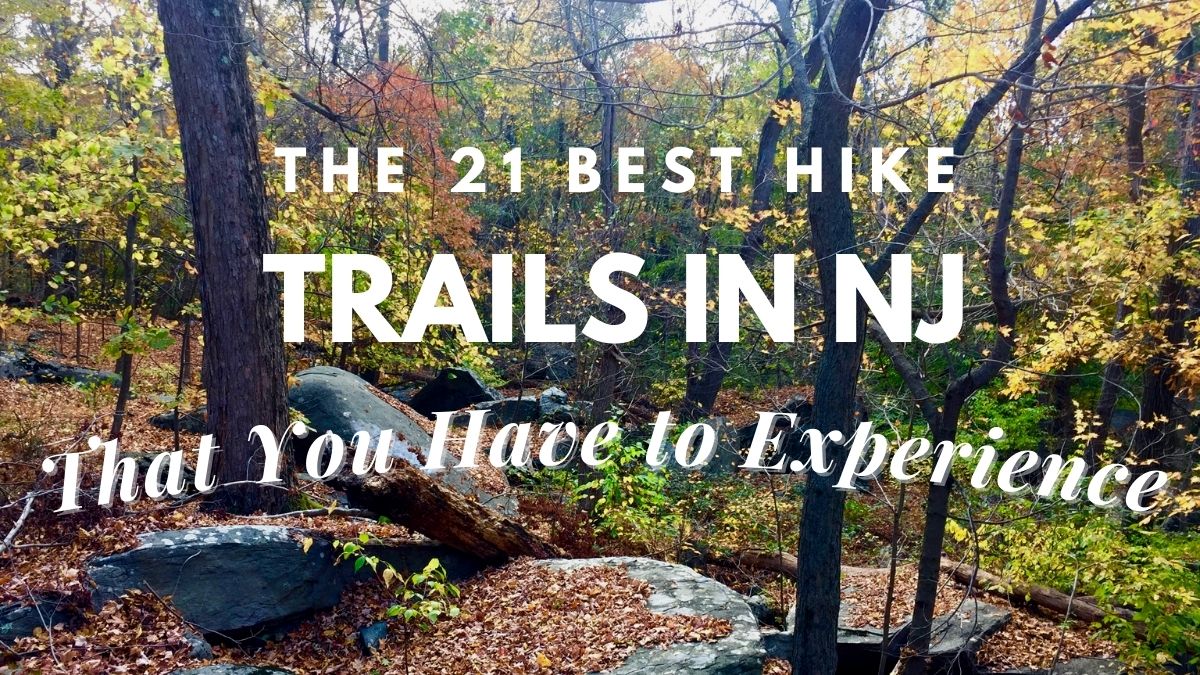 1. Hacklebarney State Park
Hacklebarney State Park ranks first on the list of hiking destinations in New Jersey! In the 1800s, Hacklebarney State Park was a location for iron ore mining. The paths are cut through by the Black River, Rinehart Brook, and Trout Brook, which enhances your journey with the soothing sounds of nature. For the whole trek and the greatest views, stay on the red path for 3.7 kilometers. If at all possible, go in October to enjoy the lush autumn color all around you.
2. Stone Lake Loop
Despite being brief, this path delivers a powerful impact. The 1.1-mile circle, which is located in Stokes State Forest, has two waterfalls. The Stony Brook Falls are hidden into the hillside, an almost vertical plunge of water. While the marks on the trees are truly blue/yellow, the route is shown on the map as blue/brown.
3. Boardwalk at Pochuck
This two-mile trip is on a level boardwalk that allows you to cross wetlands and high grass. Turtles may emerge from the marsh, so keep a watch out for them. The Pochuck Boardwalk, albeit one of New Jersey's simpler treks, yet provides a fascinating view of animals. You might also mention to your pals that you trekked a portion of the Appalachian Trail.
4. Waterfront Park in Atlantic City
Take a break from the slots in Atlantic City and wander across Waterfront Park. The sound of the breaking waves will provide an added sense of calm to your two miles of beachfront hiking. Along the walkway are sculptures made by regional artisans. The Waterfront Park is one of the few oceanfront hiking routes in New Jersey, however it is by no means challenging.
5. Trail of Barnegat Branch
With a length of 7.6 miles, this is one of the easier lengthier routes, making it ideal for hikers who like trains. The Central Railroad built the track in the 1830s, and the footpath still follows its former path. Take in the abundance of hiking in New Jersey as you journey from picturesque Barnegat Township through the pine barrens through the adorable settlement of Waretown and ultimately to the Forked River on a mixture of paved and dirt routes. The route crosses a renovated railway bridge at one point, which is ideal for a selfie.
6. Atkins Glen Park
Get lost for 1.6 miles in the breathtaking grandeur of the nearby woodland and streams that cross your route, then go to Park Ridge for a snack at a mom-and-pop restaurant. There is a sign that states that this route is reserved for locals to use, but as long as visitors are kind and leave no evidence, the warning is seldom enforced.
7. Great Swamp National Wildlife Refuge
Enjoy the boardwalk trip through a swamp nature refuge that is level and easy on the feet. The area is one of the last remaining natural habitats for animals and birds in New Jersey since it is bordered on all sides by suburbia and urbanization. Bring your binoculars since the Great Swamp is home to 244 different bird species. Consider your 2-mile trek a little safari. Think deeply while relaxing by one of the many ponds and lakes that dot the refuge or by the Passaic River.
8. The Stairway to Heaven
The very pinnacle of New Jersey hiking. The Pochuck Valley to the Pinwheel Vista hike is 7.3 miles long. The journey includes a variety of landscapes and sights, including a boardwalk (the aforementioned Pochuck Boardwalk), suspension bridges, deep woodlands, wildflower meadows, railway lines, a cow pasture, and a boulder field. All of them lead to the spectacular Pinwheel Vista, which offers panoramic views of the surrounding mountains, farms, and High Point. Wear adequate hiking shoes since the Stairway to Heaven leg of the trip requires you to ascend a stretch of rocky rocks.
9. Worthington State Forest Mount Tammany Hike
When thinking about trekking in New Jersey, you must visit the Delaware River Gap, which is seen from the 3.6-mile Mount Tammany Hike path in Worthington State Forest. Red and blue are the two available paths. It is advised that you trek the harder red path on the way up before taking the simpler blue track to return.
10. The preserve at Sourland Mountain
This 5.7-mile track allows hikers to traverse boardwalks and the boulder fields of Devil's Half Acre and Roaring Rocks. Check the weather before you arrive since the terrain is very rough and might be harder after rain. If you love gazing at rock formations, this walk is perfect for you.
11. Chikahoki Falls
This 7.7-mile track, which is part of Norvin Green State Forest, is renowned for being rough yet doable. During your hike, you may see the Chikahoki Falls slashing through the rocks and trees, and you'll arrive at a top with 360-degree views, including, on a clear day, the skyline of New York City. You may divide this up into smaller walks since the forest's route network is rather extensive. For instance, the distance to the falls is about 2.2 miles.
12. Baldplate Mountain Hiking Trail
The Central Jersey region with the longest continuous forest cover is Baldplate Mountain. The 6.7-mile track, which is generally level and surrounded by lush vegetation, is a beautiful example of the hiking in New Jersey. Due of hunting season, the routes are off-limits to hikers in December.
13. Apple Pie Hill Wharton State Forest
Consider doing this 8.4-mile journey through the Pine Barrens, the world's biggest surviving Atlantic coastal coniferous habitat, which is located in Wharton State Forest. Although much of the area is level, it does take some getting accustomed to walking on the unusual sandy soil. On the walk, be sure to climb the fire tower for a panoramic view of the whole Pine Barrens.
14. Cape May's Higbee Beach
Take a stroll along this 2.9-mile route if you're in historic Cape May. The Higbee Beach walk leads you onto the sand dunes of Delaware Bay Beach after cutting through forested nature preserves. Your legs will undoubtedly work out if you walk through sand dunes. It is advisable to go before the weather becomes hotter in the spring.
15. Inkmilk Falls
The strenuous 6.8-mile journey is worthwhile to see New Jersey's largest waterfall. The route begins rocky and climbs fairly steeply before levelling off. Once you've overcome that obstacle, enjoy the serene serenity of Hemlock Pond. Then, be ready to be humbled by the sight of Buttermilk Falls, which will make you think of hot syrup cascading down a sizzling stack of pancakes.
16. Bearfort Mountain
A 7.3-mile climb up Bearfort Mountain involves a lot of difficult terrain. There were several protruding spindly roots and sharp stones. Before levelling out, the path begins with a steep ascent. Amazing views of Surprise Lake and Greenwood Lake may be seen at the summit.
17. Sunfish Pond
The route is just 4 miles long, but the first 1.3 miles are all uphill, and the remaining distance winds around the pond on a very rocky and difficult trail. Sunfish Pond's rugged landscape is a result of its butting up against the Appalachian Mountains.
18. Pine Barrens of the Batona Trail
The Batona Trail is the toughest hiking route in New Jersey. The Batona Trail, also known as Back to Nature, is a 50-mile, multi-day journey that traverses all three Pine Barrens woods. The majority of the land is level, and just 20% of it is covered with the distinctive sandy soil of the Pine Barrens. Although there are many campgrounds, the Batona Trail is one of the few walks in New Jersey that enables backpack camping.
19. Hudson River Hike on Giant Stairs
This 4-mile climb is difficult because of the route's namesake natural stairway. From the top of the cliffs, you must descend down to the Hudson River. However, you still get stunning views of the river and New York State. It works your legs well!
20. Wanaque Reservoir
Enjoy the 10.6-mile hike to Harrison Mountain's summit. There are several steep ascents and descents, as with any mountain trek, so be sure to wear the proper boots. You will, however, be treated to stunning vistas of the Wanaque Reservoir and the New York skyline.
21. Grand Loop Trail
Grand Loop Trail is last but certainly not least on my list of hikes in New Jersey. The 6.5-mile trek is challenging and interesting, which will appeal to history aficionados. The route passes via the location of George Washington's and the Continental Army's 1779–1780 winter quarters. Even recreated army barracks are available for viewing.
Important things to know before going ahead with a hiking trail in NJ
Nothing compares to the joy of finishing a trek. Beautiful scenery, a well-earned respite, and clean, clear air. Hiking is a simple activity that is great for improving balance, connecting with nature, and building strength. Hiking may simply be a straightforward nature stroll in the neighborhood. Beginners and experienced hikers can enjoy a variety of paths in local and state parks throughout the year.
Trails for hiking come in a variety of lengths, elevations, and climates. Before hiking, it is important to investigate paths to find out what skill levels they allow. Beginners should stick to level or paved trails and trek no more than five miles, according to experts, while experienced hikers can handle elevation changes, rough terrain, and longer distances. Fortunately, New Jersey is mostly level; but, while driving outside of the state, take the landscape into consideration.
Additionally, it's crucial to pack sensibly. Before going on a hike, be aware of how much weight you can safely carry in a backpack to prevent exhaustion, sore muscles, and bad posture. Always bring the necessities like water and food, but also think about bringing additional clothing and a personal locating beacon in case the weather suddenly changes and to ensure communication on unserviced paths. To prevent ticks, insect bites, and dangerous plants as well, bring bug spray and wear high socks or trousers.
The right clothing may help control body temperature. For colder climates, dress in layers; for hotter climates, dress in lightweight material like nylon or polyester. Cotton absorbs perspiration but doesn't dry quickly, therefore it isn't advised. Veteran hikers advise that cotton kills and steer clear of it since it raises the possibility of hypothermia. Although hiking boots are not necessary, wearing the right shoes increases stability and lowers the risk of damage.
Although hiking with a companion is safer, it may be done either alone or in a group. To keep safe while hiking alone, remember to do your study on the path in advance, dress, and pack adequately to be ready for any weather, and let a close friend know about your intentions.
Be mindful about fitness level
Hiking is a fantastic method to become and stay in shape but be honest about your level of fitness. If you've been a lazy person for the last five years, avoid taking on a 7-mile trek since you may not like it and risk harming yourself.
Taking on too much too soon is the easiest way to lose interest in a new sport. To determine if you enjoy it, start with a few kilometers, and work your way up. Keep in mind that the further you trek out, the distance you must hike back.
Final words
Now you are aware about the best hiking trails in NJ. Many trails are located in parks that have dedicated parking lots, nature centers, or visitor centers with brochures, maps, and other information. Trailheads are often prominently identified with signs or colored markers in these parks. Some trailheads are just dirt parking spots next to the road with space for a few vehicles, a sign designating the trailhead, or sometimes only markings on a tree. Restrooms may or might not be present.