Most people refrain from going on vacations because of the expenses associated with it. However, vacations shouldn't be expensive as there are multiple methods available for you to save money. Let's take a look at some of the most effective tips on how you can save money as you go on a vacation.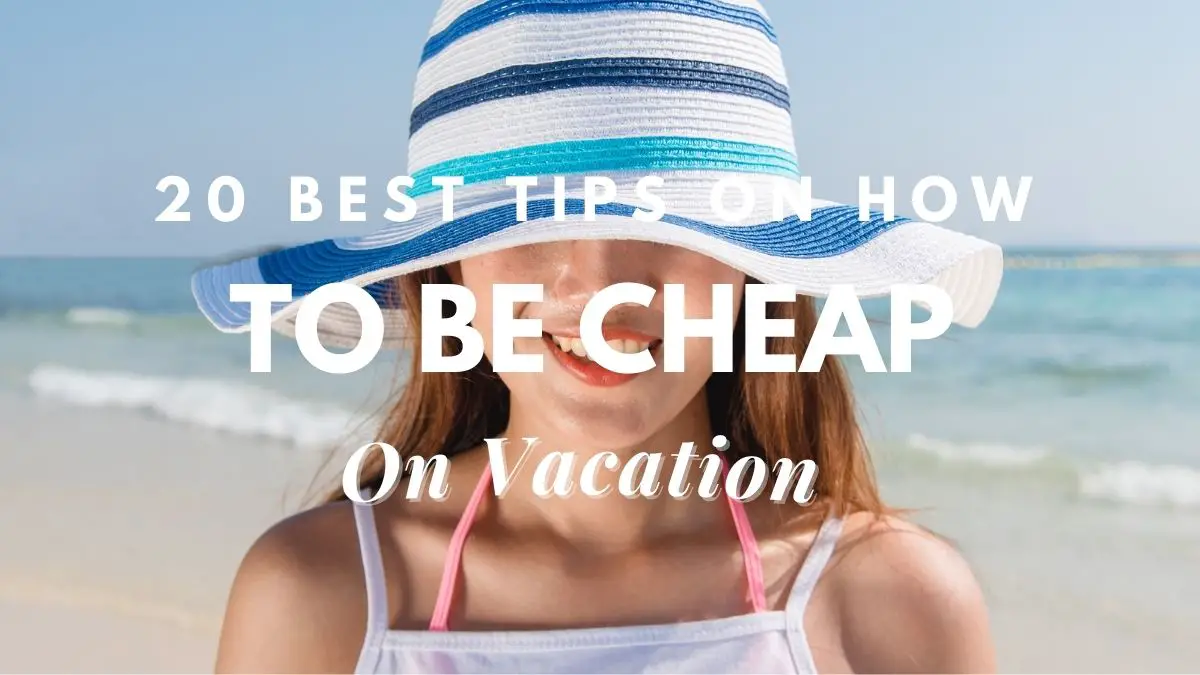 1. Travel on shorter vacations more frequently.
When you have a limited amount of vacation days at work, taking them all at once means you'll be waiting for fresh vacation days for the rest of the year. Using a few on occasion implies you'll be traveling more frequently throughout the year. It's also simpler to rationalize a week-long vacation to Asia or a weekend excursion to Europe since foreign tickets are typically less expensive than domestic flights. You will also need to make sure that you pick the vacations in a wise manner, so that you can end up with getting pleasurable experiences
Read: Is Traveling A Hobby? The Ultimate Guide To An Exciting Way Of Life Learn about the Downsides Of Traveling As A Hobby

2. Make the most of lengthy weekends and vacations.
Examine your calendar for each three-day (or longer) weekend to determine how many quick excursions you can fit in. If you don't celebrate a major holiday that provides you extra time off work (such as Christmas or New Year's), take advantage of the opportunity to travel. You may also make the most of your time at the destination by leaving after work and returning late the night before your return to the workplace.
Read: How To Eat Healthy On Vacation [Answered]Learn about the healthy meal plan even before you leave
3. Go where the deals tell you to go—and when they tell you to go.
The majority of individuals select where they want to travel, when they want to go, and then search for flights. That script should be flipped. Keep an eye out for bargains and book when you see something you like if you're open to a variety of places. Having some wiggle space around dates might also assist; changing your dates even by a single day can occasionally result in a considerable price reduction. You may save a lot of money by being flexible.
4. Prioritize low-cost vacation spots.
We all have bucket lists of locations we've wanted to see for years, but they aren't always budget-friendly. If money is keeping you from taking more trips, make each dollar go farther by going to locations where travel is less expensive. South America, Southeast Asia, and Eastern Europe, for example, are all on the lower end of the price scale.
Read: Why are vacations so stressful?Learn about assuming that travel will help you solve all your problems
5. Work from home and then travel
To work from home, you don't have to become a digital nomad. Find out whether your employer is receptive to the idea, and if they are, give it a test run or two to demonstrate your efficiency. Working remotely, even if only infrequently or for a portion of your trip, can help you make the most of your holiday time. Yes, you'd be working for part of the day, but once your computer is turned off, you're still on vacation.
6. Take a look at your expenses and prioritize them accordingly
It will require some soul-searching and a lot of honesty, but it will be worth it in the end. Consider what you spend your discretionary income on, and then consider if your spending reflects the importance of each item to you. Perhaps you could make your own coffee instead of going to the coffee shop every day. You may be able to do more secondhand shopping, extend the time between salon appointments, or reduce the amount of food you purchase. Perhaps Netflix, Amazon Prime, Hulu, and HBO aren't necessary. Even saving $80-$100 each month might easily build up to a second vacation.
Read: How to go on vacation when you're brokeLearn about to travel during the off peak season
7. Be sharp on your travel goals
It's critical to reaffirm your dedication to your aim of traveling more after you've made the decision to do so—especially if it necessitates a shift in your routine. Consider any possible travel expenditures (this season's must-have boots, for example, may be another night at a budget hotel). It could also help to keep visual reminders around, such as a guidebook or a snapshot of the destination, so you don't lose sight of how the sacrifices you're making now will pay off later.
8. Consider house sitting or home swapping.
While house sitting (or pet sitting) means you go when and where someone else wants to go, it also means you don't have to pay for lodging when you get there. If you own your home, a home exchange may be a great way to travel on a budget while also having someone look after your property while you're gone. Trusted Housesitters is a website that connects homeowners with house and pet sitters.
Read: Why Are Vacations Important?Learn about vacations that can help you with stress management
9. List your home for rent while you are spending the vacation
If you advertise your house on a home sharing service like Airbnb whenever you're out of town, you may earn money while you're away. While making sure you and your house are ready for visitors might be a major job, it may be worthwhile. It's a self-perpetuating loop since more money in your account implies more trips in the future and more opportunities to earn while you're gone.
10. Get a part-time job.
Consider taking on some extra work to supplement your vacation money if you have abilities beyond what you do from 9 to 5—or if the skills you employ in your day job are in demand on the freelancing market. There are dozens of options, such as selling handicrafts (like woodworking or sewing), driving for a ride-sharing company, walking dogs, tutoring, or even running errands or being a virtual assistant, thanks to the ever-expanding gig economy.
Read: Plane VS Cruise Ship On Vacation – What Is The Best Option?Learn about which one is better?
11. Save money by using a budgeting software.
Financial applications can assist you with almost any financial issue. You Need a Budget will help you figure out how much you can spend on trip, while Acorns rounds up your purchases for easy savings. There's an app for that, too, if putting money aside for a trip seems like too much of an abstract concept. When you're saving, Albert lets you move money into a specific budget so you can see your money grow in a more tangible way.
12. Find a travel companion or group
You have choices if you don't feel safe traveling alone. Maybe your book club wants to go to the setting of a favorite novel, or maybe your best friend wants to go on the same trip you are. There are numerous group tours that include built-in companionship. From river cruises to long-distance riding, companies like Intrepid, Contiki, and Globus provide trips based on age group, travel, style, or anything you're interested in.
Read: Plane vs rental car on vacation – (pro's and cons)Learn about the what experiences matter the most?
13. You can also travel alone and save money
You don't have to become a homebody if your friends and family aren't interested in traveling and you don't want to go on a group excursion. From the aforementioned tours and cruise lines (many of which don't charge an extra price for a single room) to internet communities of other solo travelers exchanging ideas, there are numerous tools to make solo travel simpler.
14. Ask for additional vacation days from your employer
It's not true that just because your employer gives a particular amount of vacation days, that it's fixed in stone. You might be able to obtain a few more days off or work out a flex-time agreement with your boss so that you can "bank" some of your overtime hours and use them to take additional vacation days. When you're negotiating a new job, getting a promotion, or getting your annual review, these are the best times to ask.
Read: [16 Reasons] To Stay At An Airbnb Instead Of A HotelLearn about the exclusive Airbnb discounts
15. Make work trips longer.
If you're fortunate enough to travel for work on a regular basis, turn your business trip into a fun adventure by adding a day or two to your trip after you've completed your work. Even if it isn't a destination you've always wanted to see, half of the pleasure is figuring out what to do there—or what side trips you can do. Depending on where you're going, you might be able to hop from your business trip destination to a more personal one quickly and cheaply.
16. Check to see whether your credit card offers incentives.
If you don't carry a debt on your credit card, you may use the points to supplement your trip budget. Look into a credit card that offers frequent flyer miles, hotel points, or the ability to "erase" travel expenses if you pay off your credit card bill each month. Then, anything from groceries to petrol to a doctor's appointment can help you save money for your next vacation.
Read: [Top 10 ] Best Low-cost Airlines In The USALearn about Southwest Airlines
17. Go on a local adventure.
There are vacations you may take from home, whether for a weekend or simply an afternoon, no matter where you reside. Take your family on a beautiful trek with a lunch. Pay a visit to a museum or gallery. To locate new activities to do in your city, look into tours on Viator or Airbnb. You don't even need to get on a plane to have an adventure if you approach your own backyard with the same curiosity as a foreign location.
18. Let go of the "once-in-a-lifetime" mentality.
It bears repeating. We live in the Golden Age of Travel, and international airfares are frequently available for around $1,000. People often postpone their ideal vacations because they want to "do it right"—whether that means staying in a five-star hotel or traveling for more than two weeks. But, because they can't "do it correctly" right now, they don't do it at all. Forget about doing it properly and focus on doing it now; it might not be the exact fantasy vacation you imagined, but it might be precisely what you wanted.
Read: Biggest Lakes In Texas [Top 20]

Learn about the largest natural lake in Texas
19. Adjust your definition of "travel."
It's great to use your entire two-week vacation from work to go on an epic overseas adventure in one fell swoop, but if that's the only thing you consider "traveling," you'll only get one of those per year. When the term "travel" refers to going somewhere that isn't your home for an extended period of time, a whole new world of possibilities opens up.
20. Become a member of Scott's Cheap Flights.
We search dozens of websites, airlines, and online travel agencies (OTAs) for the best deals, and when we find one departing from your home airport, we send you an email with all the information you need to book it.
Sign up for a cheap flight subscription that curates significantly discounted ticket bargains to many places if you don't have a certain destination in mind.
Scott's Cheap Flights, a free email that arrives every day or two on average, is my go-to. Each deal includes a brief description of what you need to do to get the deal, the deal's expected lifespan usually no more than a few days from the email's time stamp), and the travel date ranges during which it's likely to usually apply a span of several months into the future.
Scott's greatest offers are held for the premium edition of the newsletter, which costs $39 per year and comes nearly twice as frequently. I don't travel overseas enough to warrant the expense, but if you travel internationally more than once or twice a year for work or pleasure, it could be worthwhile.
Read: Biggest Lakes In California [Top 20]Learn about the largest natural lake in California
Final words
In the end, whether you accept or reject some or all of these money-saving travel tips is a matter of personal taste and travel style. I won't be upset if you decide that any of these suggestions aren't right for you, but I'd love to hear about your favorite ways to save money on the road that aren't on this list. Follow these tips and save money as much as you can while you travel. Then you can go on vacations every year, without having to worry too much about your finances.