Going to Hawaii? Find out which islands in Hawaii are ideal for honeymoons and romantic getaways, from Oahu and Maui to The Big Island, Lanai, and Kauai. One of my favorite locations on earth is Hawaii. I doubt there are many locations with as stunning of a natural landscape as this particular group of islands. It's a place known for its massive waves, breathtaking landscape, and tropical beaches, and the romance is in the air there!

There is a ton to do there as well, from lounging on the beach to swimming with turtles and climbing to waterfalls. It's the birthplace of surfing, flip-flops, and laid-back beach vibes, and I believe the best way to experience it is while reserving a luxurious vacation rental! Continue to read and we will help you to learn the best Hawaii island for couples.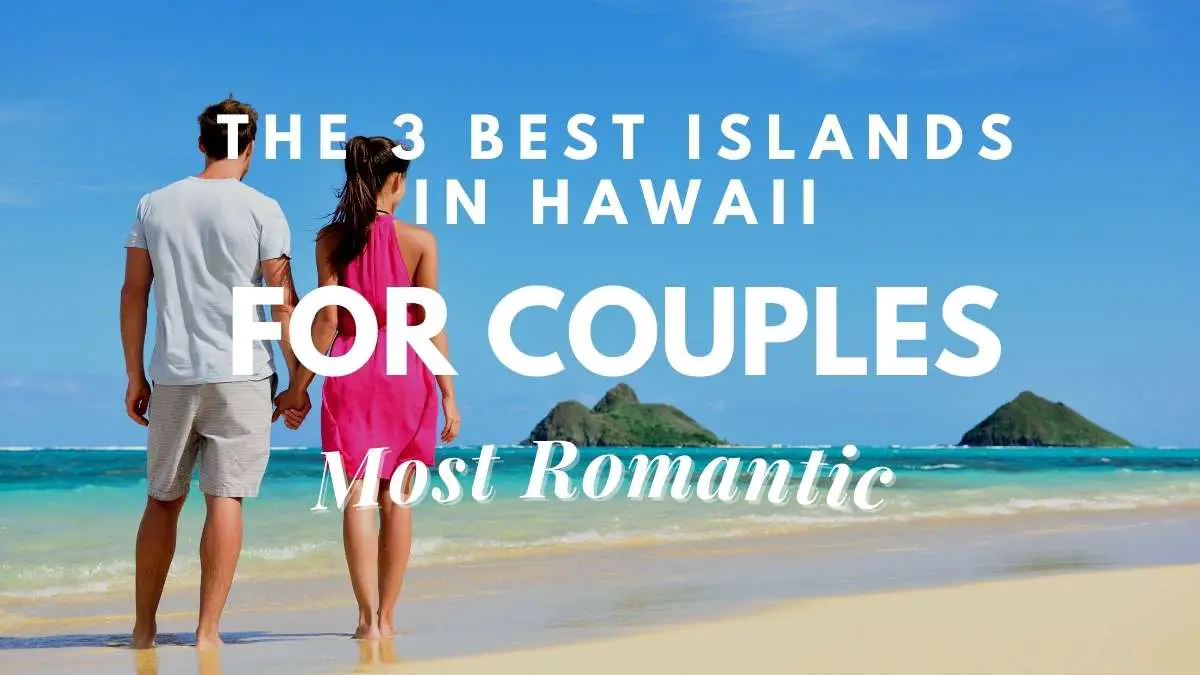 Hawaii offers breathtaking beauty
Hawaii is home to breathtaking sights. But these islands offer much more than outdated honeymoon stereotypes! Whether it's lava fields, black sand beaches, tropical rainforests, or spectacular coastlines that are excellent for whale viewing, every island you visit has breath-taking beauty.
In Hawaii, eating is a pastime in and of itself. You'll discover upscale Japanese fusion restaurants providing delectable food with all the American-style goodies you've gotten used to. My recommendation? You won't regret getting a poke bowl, so do it now!
Read: Is Traveling A Hobby? The Ultimate Guide To An Exciting Way Of Life Learn about the Downsides Of Traveling As A Hobby

What is the best island in Hawaii for couples?
It's challenging to choose the ideal Hawaiian island for a honeymoon. But how do you decide which island to visit while traveling to Hawaii? There are several, and each one is quite distinct from the others. I'll offer you some advice on how to choose the greatest Hawaiian island for couples in this article. Although, to be really honest, you can't really choose a bad island! They are all exceptional and great, albeit for different reasons
Hawaii Big Island
Hawaii has magnificent sceneries! like this location in The Big Island, Kulaniapia Falls. This information is sure to be helpful if you're trying to decide between Oahu and Maui or if you're wondering why you should visit The Big Island rather than Lanai or Kauai. Additionally, I'll provide some fantastic travel advice on where to stay and what to do once you arrive.
Oahu is home to Waikiki Beach, the state's capital Honolulu, the Pearl Harbor National Memorial, and wonderful shopping. The bulk of domestic and international flights land on this island, which is the most commercially developed in Hawaii. For couples who are first-time travelers, Oahu is a fantastic choice since there is such a vast range of things to do there.
Hawaii's Waikiki Beach
One of Hawaii's most developed and well-known islands is Oahu. In Waikiki Beach, you may discover five-star beach resorts, sizable retail centers, and a variety of places to eat and drink, so I'd suggest booking a luxury hotel there. You'll enjoy breathtaking views of Diamond Head Crater from your hotel room on Waikiki Beach, which is one of my favorite aspects of the area. One of my favorite things to do on the island was this trek up, which is just one hour from the main Waikiki Beach area.
A road trip to the North Shore, a region renowned for its enormous surf waves between November and July, could be in order. If you're not yet an expert, don't worry; you can get a board and learn on the island at a quieter beach.
North Shore of Hawaii surfers
On Hawaii's North Shore, I adored watching the surfers. The Honolulu Zoo and The Polynesian Cultural Center are two further well-known attractions in Oahu. This island culture "living museum" has a nightly presentation and engaging displays. It's a fantastic location to really immerse yourself in Hawaiian culture while on vacation.
Some more reasons to go to Hawaii
Alohilani Resort Waikiki Beach is a five-star beach resort with a unique touch. Right adjacent to a nice bar, they have their own Oceanarium complete with local reef species. A wonderful, though unconventional, way to enjoy a drink together while on your honeymoon or at a romantic destination!
A unique hotel on Waikiki Beach is called The Laylow. This charming resort, surrounded by tropical plants, is a great location to unwind by the pool or have a drink at the hip bar.
In a nutshell, Hawaii (The Big Island) is an adventure island with active volcanoes, waterfalls, treks, stargazing, and other outdoor pursuits.
We are all aware that Hawaii is home to beautiful waterfalls, beaches, volcanoes, and more. The Big Island, however, has some of the most beautiful landscapes in the world. This island was my favorite of the group since there is so much to see and do there, and I had an amazing time while I was there. This is the greatest Hawaii island for you if you and your partner prefer to cram a lot of activities into your vacations.
This island offers zip line through the jungle, waterfall treks, scuba diving, and snorkeling, making it a haven for adventure seekers. On The Big Island, there are two active volcanoes that may be reached by hiking from Hawaii Volcanoes National Park. It is indeed a once-in-a-lifetime event to see lava eruptions that are vibrant red and orange. It was great!
Mauna Kea Observatory is one factor that contributes to The Big Island's reputation as Hawaii's most romantic island. You'll be astonished if you climb to the top of this dormant volcano at night. One of the greatest places in the world to see the stars is here. It would be the perfect location for a special date night!
Think you've visited enough beaches with white sand on your trip? Due to olivine crystals in the sand, Papakolea Beach, also known as "Green Sand," Beach, is one of only four green beaches in the world. Another well-known beach in Hawaii is Punaluu Black Sand Beach, which was formed by volcanic sand.
Accommodations on The Big Island
Hotel at Mauna Kea Beach
This is a fantastic option for couples visiting The Big Island because of the private lanais, the top-notch spa, and the beachfront location. However, the on-site world-class golf course is what will thrill you. Played on a coastal inlet, hole 3 has rising waves that encourage you.
Beach at Mauna Kea
In addition to being a five-star resort, the Four Seasons Resort Hualalai has an on-site swimmable aquarium where guests may assist in feeding Kainalu, a spotted eagle ray who is a well-known hotel resident.
Mauna Lani Hotel
This upscale beach resort is really Hawaiian, down to the locally produced spa items and farm-to-table restaurant. On what may be Hawaii's most romantic island, engage in water sports, have a conversation with a local historian, or watch sea turtles hatch.
1. Kauai
In a nutshell: An amazing choice for a romantic vacation, a nature-filled paradise with scenery to match. The natural beauty of Kauai, sometimes known as the "Garden Isle," speaks for itself. This island, which is covered in tropical vegetation, has some amazing beaches.
Hawaii's most beautiful landscape may be seen in Kauai. The best beach for swimming, surfing, and seeing monk seals is Poipu Beach. In the secluded cove of Hanalei Bay, there is excellent scuba diving. Even an ancient shipwreck is located here!
You may trek to Waimea Canyon, known as the "Grand Canyon of the Pacific," if you like being physically active. The Waipo'o Falls, a magnificent waterfall that cascades into the canyon, are reached by the Black Pipe trek, which also offers amazing views. Kauai may be the greatest Hawaiian island for your couples vacation if you're seeking for a relaxed environment and loads of wildlife.
Grand Hyatt Kauai
This five-star hotel has a 24-hour pool "complex" with waterfalls and an adults-only area. Together, go swimming here at night and watch the stars as the coconut palms swing. That sounds so lovely, doesn't it?
Resort at Koloa Landing
To "become part of the island," you are invited to the 25-acre Koloa Landing Resort. Take courses in surfing, hula, and lei making while on your luxurious honeymoon, or just relax in one of the three pools to fully experience Hawaiian culture.
2. Maui
In a nutshell: There are many beach resorts and alternatives for adventurous activities; this is a fantastic additional choice for romantic trips. Most people undoubtedly picture honeymoons and opulent resorts when they think about Maui! The greatest resorts may be found in West Maui especially at Wailea, Kaanapali, and Kapalua, some of the nicest island beaches.
Maui's top resorts for couples
One of the nicest Hawaiian Islands for couples is Maui. Inland, Maui has a lot to offer couples, including Haleakala National Park, home to the largest dormant volcano in the world. You may do a romantic morning trek here if you two are fit. This and other activities make Maui the ideal Hawaiian island for adventurous couples!
Maui's top resorts for couples
Maui has stunning beaches like this one that are ideal for romantic beach strolls. Go snorkeling with your significant other in the safe Honolua Bay or take a tour boat out to the Molokini Crater, a marine life conservation area. Alternately, go out and explore the 26 km long Pali Coast, which has enormous cliffs, calm waters, and a variety of coral life.
Four Seasons Resort
One of Hawaii's top luxury hotels for a honeymoon is this Wailea resort. There are three restaurants, a wonderful spa, and fantastic whale watching cruises available in the winter at this beachside resort!
Wailea's Four Seasons Resort Maui
Luxury accommodations and facilities with genuine Hawaiian traditions are available at the oceanfront Andaz. An occasion that combines storytelling and locally produced Hawaiian food is called the regular Feast at Mokapu. Oh, and they also offer custom drinks! It's a great option for Maui honeymooners.
Wailea Resort
Read my list of the top luxury hotels in Maui for additional fantastic hotel suggestions on this beautiful island.
3. Lanai
Briefly stated: Quiet, private, and romantic—perfect for nature lovers. The finest Hawaii island for honeymooners looking for a post-wedding hideaway is the more sedate Lanai, which is very different from Oahu. This is a nice spot to unwind and enjoy each other's company if the festivities grew too exciting. Given its remote location and romantic atmosphere, some claim that this is Hawaii's most romantic island. In actuality, the island only has three paved roads! You can see from that how slowly things move around here.
Lanai's beaches are lovely
Investigating the Lanai Cathedrals is among the top things to do on the island. These dive locations have stone caves that, when lit from above, have a rather church-like appearance. Another fantastic location is Shipwreck Beach, a quiet area where sea turtles often stop by (yep, it has a shipwreck!). Due to the high winds, swimming is not advised here. Instead, take the route beside the beach to view the Kukui Point petroglyphs rock art.
You may go on romantic treks with your significant other on the island of Lanai. One of the nicest is Sweetheart Rock, which is near to the Four Seasons Resort and is situated along a small road. Try the Munroe Trail, which leads to Lanai's highest point, for genuinely unique hiking routes.
Oahu, Maui, Molokai, Kahoolawe, and Hawaii are just a few of the five islands that may be seen from that location. You'll like Lanai if you prefer to take things slowly and spend time with your loved ones outside and in nature. Could this be Hawaii's most romantic island?
Accommodations in Lanai
Four Seasons Lanai Resort
There is only one resort on the Hawaiian island of Lanai, but it's one of the greatest there is! You may find five-star accommodations and suites, a private beach, a spa, a pool, and restaurants at the Four Seasons. The most romantic of the numerous accessible activities include stargazing at the Lanai Observatory or trekking along dawn paths!
Final words
I hope this advice has assisted you in deciding which Hawaiian island is perfect for your honeymoon or romantic getaway! Tell me which one you decide on.