The finest water parks are those produced by nature itself; forget the artificial ones. Burger's Lake, a spring-fed swimming hole on the outskirts of Fort Worth, serves as a prime example. This vintage swimming area includes activities for swimmers of all ages, including sandy beaches, many diving boards, a 20-foot-high slide, and a 25-foot trapeze that swings over the water. The 30-acre park offers swimming as well as tennis and volleyball facilities, grills, picnic tables, and concession kiosks. And despite the short distance from Dallas (only 45 minutes from the city center), this aquatic marvel justifies the journey. From May 28 until August 14, 2022, the Lake is accessible every day; after that, it's only open on weekends until Labor Day.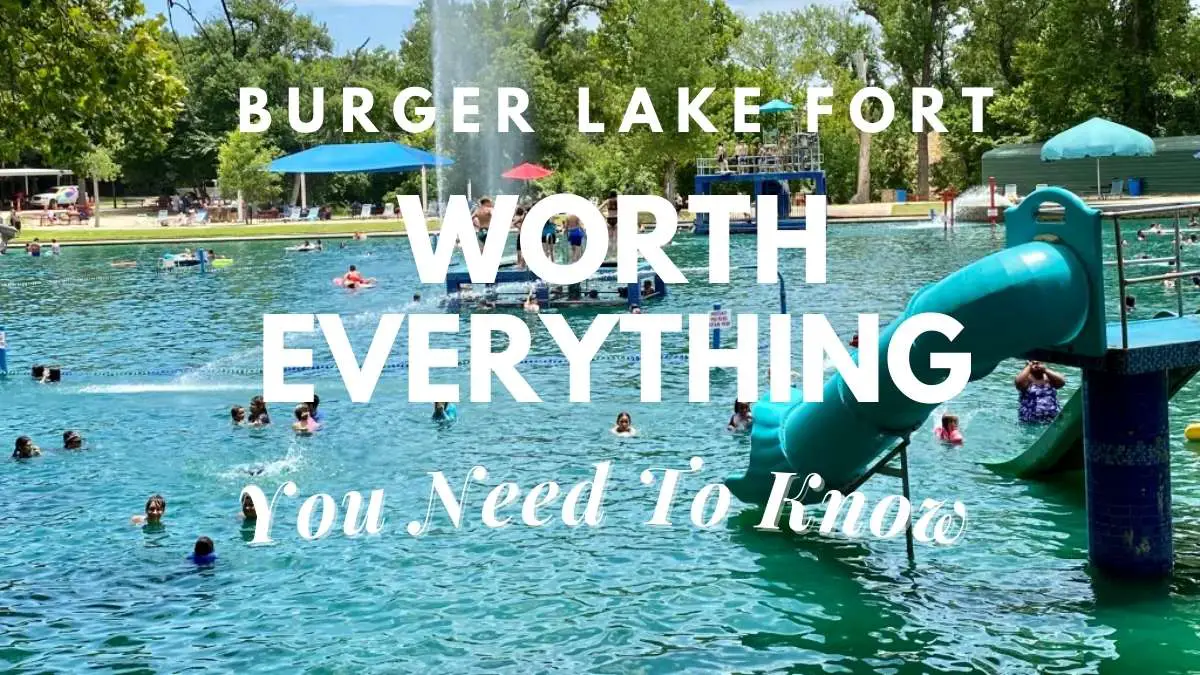 What is the Burger Lake Fort Worth?
Burger's Lake is a 30-acre park with a swimming lake that is supplied by a spring. Six diving boards, a 20-foot slide, a 25-foot trapeze, great huge trees for shade, a full team of professional lifeguards, and two sandy beaches for sunbathing are all included in the facility.
For us, visiting Burgers Lake is a must-do throughout the summer. It's the only location in the DFW region where a cool, spring-fed lake can be found, making it the ideal spot to spend the day! McDonald Lake The Fort Worth Burgers Lake is the ideal lake and pool mix. You won't ever see fish, turtles, or other little squiggly creatures in the water with you since the water is micro-filtered and chlorinated like a swimming pool, but it does have a soft, sandy bottom like a lake. Your sunscreen will last a little bit longer also since less sunlight is reflected back up by the darker water.
Read: Is Traveling A Hobby? The Ultimate Guide To An Exciting Way Of Life Learn about the Downsides Of Traveling As A Hobby

Things to keep in mind before visiting Lake Burgers Fort Worth
Fun slides, diving boards, a trapeze rope swing, and a swim platform in the center of the lake with diving boards are some of the water-based activities available.
From Memorial Day Weekend through Labor Day, the lake is accessible every day from 9 am to 7 pm! You are welcome to use their grills or stop by their snack counter while bringing your own cooler (no glass or alcohol please). Get a table along the water if you arrive early. People bringing their own pop-ups providing shade in the grassy areas, and some even covering the picnic tables, was something we saw a lot of this year. There is a ton available for smaller kids as well! A fantastic sandy beach, a nice slide, and a little diving board!
We always carry a float with us since we like water toys. This year, Geoff II, a large pink flamingo owned by my son, arrived to join in on the excitement. In the deeper, roped-off areas, as well as off the diving boards, rope swing, and red, white, and blue slides, floats and even life jackets are not permitted. Over 25 feet deep in the centre, the water is deep here. Although there are lifeguards on duty at the lake and an observation station that keeps a close eye on the water, you are still responsible for your child's safety, therefore they should always be under your supervision. Weak swimmers and young children must use life jackets.
Remember to bring your sand toys! Beaches' smooth sand is perfect for creating sandcastles, so take advantage of it! With pals, Burgers Lake in Fort Worth is always better! When bookings are made two days in advance, groups of 25 people over the age of six may get a $5 per person discount.
Summer days at Burgers Lake in Fort Worth are the BEST days! Burgers Lake in Fort Worth Burgers Lake is more than simply a summer swimming hole—a it's piece of Fort Worth history, having been operational since the late 1920s.
Important tips to know when you visit Burger Lake Fort Worth
Bring lots of ice-cold drinks and sunblock.
Bring life jackets if you're a child or inexperienced swimmer; alternatively, you may borrow theirs.
Toys and flotation devices are permitted in the shallow sections.
There are barbecues in the park, and coolers are permitted. Alcohol is prohibited.
Snacks and snow cones are sold at a concession stand.
There is a dog ban.
If at all possible, go during the week when it's less busy and come early. Our preferred day to travel is Tuesday!
Additional things to do and know around Burger Lake Fort Worth
1. The Trinity River Allows Landlubbing
Fort Worth residents drag their tubes to the river to escape the heat for Rockin' the River, a free summer music series, despite the extreme temperatures and swamp-like humidity. While floating down the Trinity River in inflatable tubes, folks enjoy the music and the occasional wind. On the bankside, there are a lot of landlubbers who like playing music while lounging on blankets and chairs.
2. Have You Heard Of The Horned Toad?
You will need to learn how to support the most distasteful mascot in college history if you relocate to Fort Worth. Okay, so the slimy slug from UC Santa Cruz could win this contest, but the horned frog from Texas Christian University comes fairly close. If there were such a thing as an anime horror tale, the mascot would look like it.
3. Speaking About Strange Creatures
A creepy folklore from 1969 about a cryptid haunting Lake Worth, just outside the city, has survived through the years. Over the years, there have been many rumors about Goatman, a mythical being with a human body and a goat head that lurks around like something out of a Guillermo del Toro film. The 3,500-acre lake is a wonderful destination whether or not you think the Goatman exists.
4. When you give someone in Fort Worth an enchilada, they take a guacamole.
One of the finest outcomes of American-Mexican ties is undoubtedly Tex-Mex. The combination of Mexican and American cooking styles has expanded across the United States, but the vast state of Texas has its unique Tex-Mex that satisfies the palate and warms the heart. El Asadero in Fort Worth serves Tex-Mex cuisine. The green tomatillo sauce that has been created over time and with affection is slathered over the enchiladas verdes and topped with white cheese. The periodically performing mariachi bands and other crowd favorites like the fish soup and chalupas nicely sum up the evening.
5. Cat Lovers in Fort Worth Are Crazy
similar to their minor league baseball club, the Fort Worth Cats. The Cats play baseball at LaGrave Field and are a part of the United League Baseball's South Division. Julio Franco, the All-Star MVP who was the oldest player in the big league in 2008 at 55, was just signed by them.
6. You Can Love Fort Worth Like Hustle Man Hefner Does If You Want To
Watch the "I Love Fort Worth" video by Fort Worth rapper Hustle Man Hefner if you've just relocated to Cowtown and haven't yet developed a feeling of civic pride in this amazing, rural community. The high schools of every member of his group are mentioned in his love letter to the "royal south" metropolis, and he thanks Fort Worth for shaping who he is now. You will become a believer as a result.
7. Alcohol Is Freely Poured Billie Bob's
The "World's Largest Honky Tonk Bar," which is situated in the Fort Worth Stockyards, has more than 20 bar stations and 127,000 square feet of boot-scooting' area to keep the party going. The soap opera "Dallas" often makes mention to it, and the Academy of Country Music has given it multiple "Club of the Year" honors. Among others, Waylon Jennings and Willie Nelson have performed there. On Friday and Saturday evenings, some of the greatest up-and-coming bull riders may be seen there, riding actual live bulls.
8. And Cowtown Coliseum Is Where Champions Are Raised
Every Friday and Saturday, more than 3,400 spectators may cram into the Coliseum to see the Stockyards Championship Rodeo, where they can see contemporary cowboys lasso their herd. Along with historical recreations of Pawnee Bill's Wild West Show, which include trick roping, shooting, horseback, and traditional cowboy ballads, there are other music festivals.
9. Residents of Fort Worth Enjoy It Very Much!
Pendery's World of Chiles & Spices, which has been around since 1870, is the place to go for all of your capsicum needs. Every kind of chili imaginable is available, including whole, diced, and ground varieties. In addition, Pendery's sells gourmet gifts as well as sauces, spices, cookbooks, and kitchenware.
10. Fort Worth Has the Best Festivities Down
At the yearly Fort Worth Music Fest, which is stretched out across two stages and two days, everything from indie to pop to country and R&B is performed live. Along with fantastic headliners, the event features smaller, local musicians, delicious food, and interesting pieces of art.
11. A Taste Bud Explosion
Doesn't Require a Long Trip to New Orleans Keith Hicks the soul food chef of Buttons Restaurant, is a well-known figure in this area. Like Ray Charles on the piano, he skillfully prepares meals like collard greens, chicken and waffles, and fried green tomatoes. His "cool cuisine" nourishes the spirit. Buttons attracts ravenous eaters from all social classes, including the young and hipster, the elderly and well-dressed, and everyone in between. If soul food doesn't affect you, Buttons' live performances will. You may enjoy concerts by some of the top jazz artists in the area and locality at any time.
12. The Museum in Fort Worth Is More Up-To-Date Than Yours
In fact, it is so contemporary that it just goes by the name "The Modern" and omits the whole word "museum." The Modern is a prominent post-World War II art collection in the central United States and is located in Fort Worth's Cultural District. Its space can accommodate more than 2,600 works of art, and its permanent collection includes works by Picasso, Andy Warhol, Cindy Sherman, and Jackson Pollack, among others.
13. Downtown Is A World Apart
Going downtown in Fort Worth may sometimes seem like going back in time. You never know when you may encounter longhorn steers ambling around the streets in carts or on horses. The great ancient buildings and the cowboy culture that seems to permeate everything around are signs that the downtown area and the surrounding areas have a lot of history. Not that the downtown area is a decaying, filthy hole. The exact opposite. Downtown Fort Worth embodies urban elegance and does it well. There are several fantastic locations where you may enjoy fine dining, shop like a valley girl, and party like a rock star.
14. Transit is for "T"
The primary bus system servicing FW's downtown and suburbs is the "T," which is run by the Fort Worth Transportation Authority. Additionally, it collaborates with DART to provide commuter train service from downtown Fort Worth to the airport and Dallas.
15. Esperanza's
Prepares Food So Delectable That Papa Cries Eye of Joe T. Garcia the progeny of Joe T. Garcia's, a Fort Worth institution for delectable Mexican cuisine for almost 80 years, is Esperanza's Mexican Café and Bakery. Esperanza's, which is named after Mr. and Mrs. Garcia's daughter, offers delicious pastries and breads, as well as breakfast and lunch, although the morning menu is the main attraction. A word of caution: the tortillas are handmade, and the huevos rancheros will make you drool. Yum!
16. See Fort Worth's Crown Jewel in Heavenly Perspective
In Texas, everything is larger, including the performance halls. The Bass Performance Hall, which occupies a whole block in the city's center, is sometimes referred to as Fort Worth's "crown gem." It is constructed of limestone and has a Beaux-Arts dome and intricately carved angels playing trumpets. Aside from its stunning design, it has a reputation for having magnificent acoustics and is unquestionably the best site to see an opera or ballet performance.
Final words
Now you know quite a bit about visiting Burger Lake Forth Worth. Keep these in mind and you will be able to get the best possible experience while you are in here.