The Wantastiquet Mountain State Forest is dominated by Wantastiquet Mountain, which rises to a height of 1335 feet. The woodland stretches over 520 acres along the Connecticut River in the southwest portion of Chesterfield.

Wantastiquet and neighboring Miner's Ledge provide spectacular views of the Connecticut River Valley, Brattleboro, Vermont, and the Vermont Mountains. From Miner's Ledge, a difficult route leads to Indian Pond and the Madame Sherri Forest. Wantastiquet Mountain Trail starts on a gravel road that was created to service the mountain's quarries. It starts on Mountain Road, off of NH 119, just before the Connecticut River bridge into New Hampshire.

Make your way to the orange gate and waterfall. The path to the top of Wantastiquet Mt. (1368′) is a sequence of switchbacks that takes around 2 miles and 1 hour and 1/2 to hike. On the Anne Stokes Route in the Madame Sherri Forest, the trail leads up to a communications tower before continuing on to the Mine Ledge Trail and down to the Indian Pond.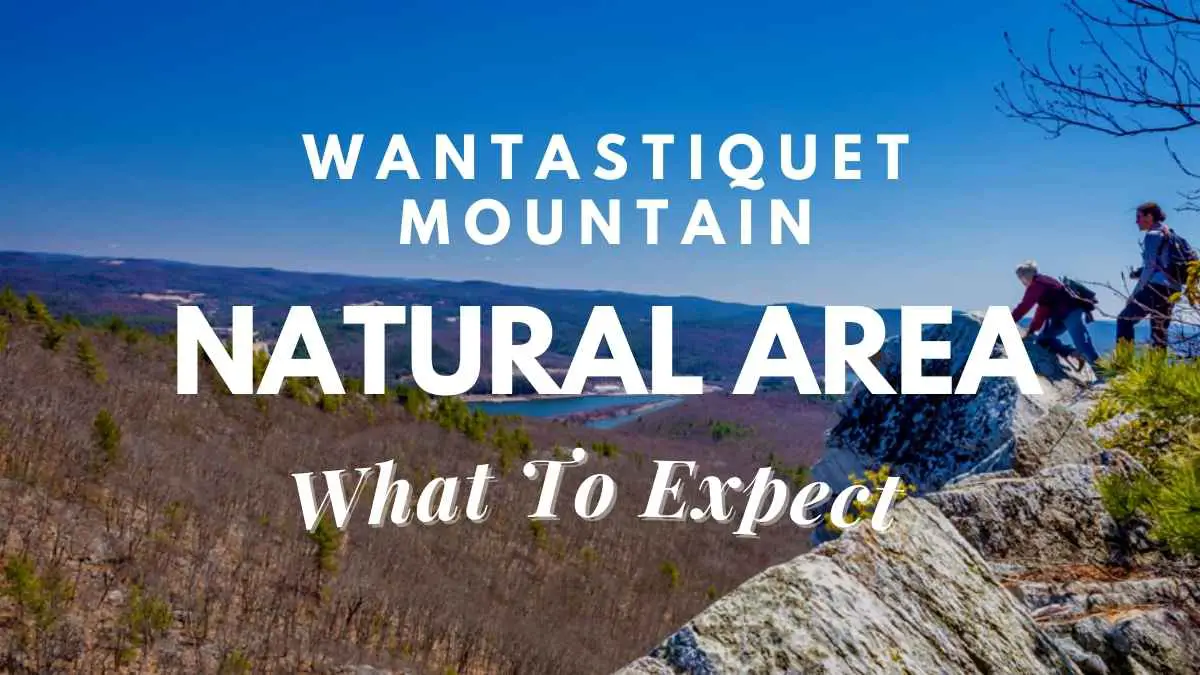 Exploring the Wantastiquet mountain natural area
From Brattleboro to Mt. Monadnock, the 50-mile Wantastiquet-Monadnock Hiking Trail (WMT) may now be traveled in its entirety. The Mt. Wantastiquet, Bear Mt., Pisgah, and Mt. Monadnock State Parks, the Horatio Colony Preserve, the Cheshire Rail Path, and the Forest Society's Gap Mountain and Monadnock Reservations, as well as the Madame Sherri Forest, are all located along the trail.
On this one-of-a-kind route in Hinsdale, take in the breathtaking views from the summit of Mount Wantastiquet. It begins with an easy section of the route that leads by a waterfall in a beautiful state forest! Following that, ascend a series of switchbacks to the peak, where you can see the Connecticut River and Battleboro below. Once the climb starts, the track somewhat rises in difficulty, although it is still fairly achievable for hikers of all ability levels. The breathtaking vistas of the surrounding region make this a must-visit.
The WMT is the result of a quarter-century of planning, negotiating, and trail construction by Chesterfield Conservation Commission members, park employees, and Friends of Pisgah Park. The Forest Society, the State of New Hampshire, the Troy, Hinsdale, and Winchester Conservation Commissions, the Swanzey Rail Trail Advisory Committee, Antioch New England, Colony Memorial Trust, Keene Parks and Rec, the Monadnock Conservancy, Pathways for Keene, and the Southwest Regional Planning Commission make up the Wantastiquiet-Monadnock Trail Coalition, which now oversees the trail.
Read: Is Traveling A Hobby? The Ultimate Guide To An Exciting Way Of Life Learn about the Downsides Of Traveling As A Hobby

Why should you go there?
Wantastiquet's 520-acre forest is the ideal area to soak in nature and photograph stunning vistas, whether you're ready for a challenge or prefer a walk. At the entryway, a 35-foot winter runoff waterfall welcomes tourists. Choose between a 1-mile reasonably level road on the left that hugs the Connecticut River and a 2-mile (one-way) extremely steep track with many switchbacks on the right that gains over 1,000 feet elevation gain.
Both paths are quite popular among locals, and each provides a unique experience. The river walk contains various side trails leading to the river to the west, some with water access, and another waterfall approximately a half mile down the path on the right. Pass the end of the path and continue for up to a mile on Mountain Road, a residential dirt road with stunning views of the Connecticut River.
Because it was formerly a quarry access road, the Wantastiquet Mountain Summit Track is rocky, tricky in places, muddy in the spring, and relatively broad for a hiking trail, making it perfect for a group trek. It takes you to the summit of a mountain that stands at 1,335 feet. The challenging endeavor is rewarded with a spectacular view of Brattleboro and the Connecticut River Valley. If you continue beyond the observation point and through a communications tower, the summit route becomes the Mine Ledge Trail, which leads to another amazing vista with likely less people to enjoy it with. You may continue on the route to Indian Pond and Madame Sherri Forest from there.
Travel advice for visiting Wantastiquet mountain natural area
Responsible travel to natural regions that conserves the environment and enhances the wellbeing of local people is known as nature-loving tourism. It is a kind of tourism that is built on a location's natural charms. Birdwatching, photography, astronomy, camping, hiking, hunting, fishing, and visiting parks are just a few examples.
How to get the most out of your trip to Wantastiquet mountain?
Nature travel has the advantage of changing with the seasons, so there's always something new to explore. You can choose the appropriate spot for you, whether you favor animal viewing or just enjoy views of beautiful landscapes.
Look for hidden beauties around Wantastiquet mountain
You'd be surprised at what you can discover just in your own backyard. Look up the national parks in your state if you're considering a staycation this year. Wantastiquet mountain, for example, have a lot to offer in terms of history, rare plant life, and recreational activities. Alternatively, jump in the vehicle with your family and go on a family road trip to discover hidden jewels you never knew existed.
Seasonal planning is essential.
Prepare a journey that is appropriate for the season. The atmosphere and weather will vary at every place throughout the year. If you want to save money, you may vacation during the off-season. You could come upon natural beauty and fauna that most people overlook since the area is overcrowded. To help you pick a vacation, here is an off-season travel calendar.
Get the most out of wildlife viewing
Wildlife viewing is probably not the ideal pastime to undertake with your dog, but it may be a really gratifying experience. It's important to do your homework so you know what to anticipate and don't endanger their natural environment.
Take a break from your hectic schedule
Vacations in the great outdoors should be done at a leisurely pace. In the city, leave your hectic lifestyle at home. Instead, be conscious and go for a walk in the woods. Take your time to take in the sights, sounds, and fragrances that are all around you. Forest bathing has a number of well-documented health advantages. You don't need a jam-packed schedule. Allow yourself to be guided by the path. Pack just the bare necessities and let nature amuse you.
You already know you won't need much in the way of trendy clothing if you're going into the woods. You should be able to put all of your requirements into a backpack and go trekking or camping with ease. As a nature enthusiast, you're in for a treat when it comes to selecting a vacation place. Whether you like to go overseas or explore uncharted area close to home, you will undoubtedly make many memories to treasure.
Nature travel  in Wantastiquet mountain has a way of emphasizing how much larger, more magnificent, and fragile our planet is. The growth of ecotourism corresponds to a rise in the attractiveness of natural places among tourists. Finally, nature tourism provides travelers with views and feelings they would not be able to see or feel anyplace else.
Take a detour off the usual route.
Many places were literally being loved to death prior to the epidemic, as they became victims of their own popularity. Historic towns, beaches, and other tourist sites were being overwhelmed by crowds; a phenomenon now known as "over tourism."
By avoiding tourist traps and venturing off the main route, you can help prevent a comeback of over tourism. While it may be tempting to visit the same bucket-list sites that everyone is Instagramming, exploring less-traveled areas may be even more gratifying. The fact is that many tourist sites don't live up to their hype — you may have to queue for hours just to realize that the destination doesn't appear as good in person as it does on the internet.
Take it easy and stay a while.
It's tempting to get caught up in trying to pack as much into a vacation as possible. After all, this may be your only trip to the location. On paper, a jam-packed schedule may seem great, but you'll likely spend the most of your trip running from one location to the next. While you'll see a lot of the attractions on your bucket list, you'll lose out on getting to know the place. Not to mention that this fast-paced "hit-and-run" style of travel is a stress-inducing formula.
Give yourself additional time to explore the place if you want to do yourself a favor. Rather of taking many shorter excursions throughout the year, choose just one longer vacation. Instead of jumping from one location to the next after you've arrived at your destination, park yourself in one spot for a bit.
Final words
Now you know how to enjoy the time in Wantastiquet mountain natural area. Make sure that you adhere to all these tips and get the most out of your time that you are going to spend. It will make you fall in love with whatever you do.