What is there to do in Beavers Bend and Broken Bow? The Best Things to Do in Beavers Bend & Broken Bow are included in the list of attractions and activities that is provided below. You may discover information here on summer vacations on Broken Bow Lake, horseback riding through Beavers Bend State Park, driving an ATV through historic log roads, taking a train through Beavers Bend, or taking a Broken Bow Lake Duck Tour. Broken Bow offers a ton of activities even in the winter. You may reserve one of our cabins and relax in the hot tub next to the fireplace while reading your favorite book on the sofa. Anytime is a good time to visit Broken Bow. Great restaurants, regional events, and activities are constantly available in Hochatown to make your family vacation or romantic break memorable. Every season has something unique to offer. Following is a list of things to do in Beavers Bend as of now.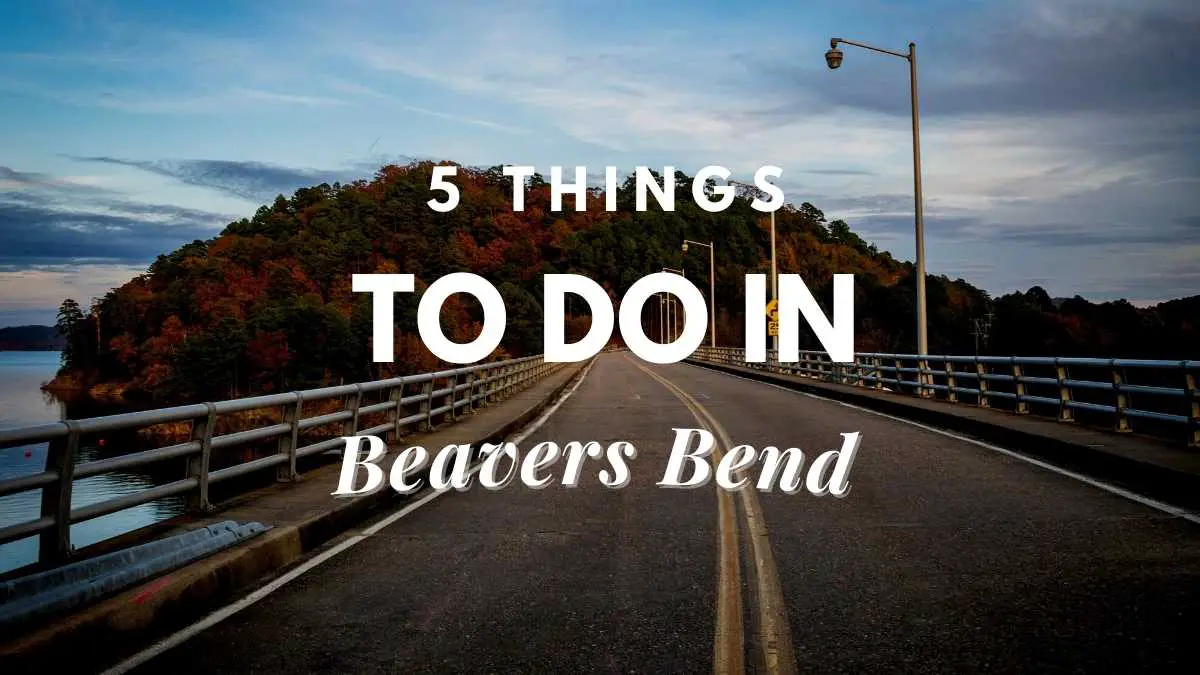 Where is Beavers Bend?
Broken Bow Lake and Beavers Bend State Park are located in the Ouachita Mountains' foothills. 180 miles of beautiful, naturally occurring coastline around Broken Bow Lake's 14,000 acres make it ideal for boating, fishing, swimming, and other water activities. Hikers and nature enthusiasts will find paradise in the wooded area that surrounds Broken Bow Lake. The Mountain Fork River, which flows through Beavers Bend State Park, is praised for its year-round trout fishing and many riverside activities. Broken Bow & Beavers Bend State Park has so much to offer to create a wonderful trip for you and your family, whether you enjoy delicious dining, hiking in the great outdoors, family activities, or just resting in your cabin.
Read: Is Traveling A Hobby? The Ultimate Guide To An Exciting Way Of Life Learn about the Downsides Of Traveling As A Hobby

Things to do in Beavers Bend
1. Water sports in the Broken Bow Lake
The 14,000-acre Broken Bow Lake is nestled away in the Ouachita Mountains' foothills. Its 180 miles of beautiful, naturally occurring coastline, which is covered with trees, is ideal for boating, fishing, swimming, and other water activities. The little islands on the lake provide for enjoyable pauses in a canoe or boat, and it is the ideal depth for smallmouth bass fishing.
For a day on the lake with family and friends, Beavers Bend Marina offers a complete choice of jet ski and boat rentals, as well as a convenience shop, marine fuel service, and boat space rentals.
Are you looking for adventure? Are you an addict to the drug adrenaline? Do you yearn for exhilarating adventures and time spent outside? If so, Jet Boat Joe's offers the ideal solution for you. In Broken Bow, Oklahoma, we provide jet boat trips that are enjoyable for the entire family and a real thrill for any intrepid traveler.
2. Go for a hike
In the Ouachita National Forest, Beavers Bend State Park is a great area to spend the day hiking through, bird-watching, and taking in the scenery. The park has a wide variety of hiking paths, from strenuous 12-mile climbs to small nature pathways. At several locations in the park, organize a picnic in the tall forests with a packed lunch. You may enjoy stunning views of the Mountain Fork River from the trails or go on a stroll to observe some wildlife, such as eagles, deer, turkeys, many other types of birds, and other creatures.
Whether you choose the Skyline Trail, an 11.6-mile difficult hike winding through waterfalls and mountain peaks, to the Lookout Mountain, a 1.9-mile easy trail with incredible views, or hike up and down the Lower Mountain Fork River, you are sure to find the trail that suits you best. These parks have wonderful hiking among towering pines, rivers, and vistas. From late October to early November, when the forest starts to change from lush green to dazzling tons of gold and blazing scarlet, the region is renowned for its lengthy autumn color season. You won't be dissatisfied with Broken Bow's natural beauty.
With breathtaking views around every corner, autumn is something to fully appreciate in this location. To fully enjoy the peace and lushness of Oklahoma all around you, rent Rustic Mountain Lodge, a 4 bedroom lodge with breathtaking views, Rustic Hollow, a 2 bedroom cabin in a remote location with contemporary styling, or Rustic Retreat, a 2 bedroom cabin surrounded by tall pines.
3. Engage with fishing
Bring your fishing gear and choose your favorite spot along the Mountain Fork River; alternatively, you may hire some of the top fishing guides to help you become the finest fisherman in Oklahoma. For the greatest trout fishing in the area, Mountain Fork River is a year-round attraction. Brown and Rainbow Trout may be fly fished year-round in the chilly waters below Broken Bow Dam. Whether you are wading in the Mountain Fork River with a fly rod or trolling on Broken Bow Lake's 180 miles of coastline, fishing at Beavers Bend never disappoints.
The lake's rock-lined surface produces some of the cleanest water in the area. Fishing is permitted year-round in Lower Mountain Fork's 12 miles of designated trout water. The Ouachita National Forest surrounds you and runs through Beavers Bend State Park, making the area very gorgeous. You may visit Pine Creek Lake, which is 30 miles to the west, or the Glover River, which is the only free-flowing river in Oklahoma and is only a short drive north of Broken Bow.
4. Spend time with kayaking, canoeing and water rafting
You may discover kayaking, rafting, and canoeing excursions in some of the most breathtaking locations in the clear mountain-fed waterways of Beavers Bend, ranging from wild and exhilarating to calm and tranquil. Although the Mountain Fork River is well known as a fly fishing hotspot, its raging waters are also ideal for kayaking, drifting, and canoeing. The river has calmer waters bordered by bald cypress trees in addition to Class I and II rapids with thrilling cascades. Glover River is a remote, undeveloped, and natural stream if a more difficult ride is more your style. To arrange a trip on these rivers, get in touch with any of the businesses listed in our Directory & Map section.
With a board under your feet and a paddle in your hand, take a slower, more leisurely tour around Broken Bow Lake. Enjoy the 180 miles of gorgeous beachfront as you paddle around Broken Bow Lake. The Lower Mountain Fork River also offers paddle boat and paddle board rentals. Look no farther than paddles UP if you want to get out on the water and have a wonderful time while being active and taking in the scenery. Whether you are an experienced or novice paddler, paddles UP will provide an amazing experience on the water.
5. Explore the finest restaurants
Rustic Luxury Cabins is a quick 3–10-minute drive from Hochatown's wonderful eating establishments, where you may treat your taste buds to a variety of delectable dishes. Pizza is served at Grateful Head Pizza Oven & Taproom, fried chicken and home cooking is served at The Blue Rooster, and steak, seafood, and brunch are served at Abendigo's Grill & Patio. Breakfast, catfish pies, and comfort food are served at Steven's Gap Restaurant. Coffee is served in the morning at Adam & Eve.
Around Broken Bow, there are several wineries with outdoor patios and fire pits, fantastic gift stores, and entertaining wines ranging from dry Cabernets to sweeter-styled Moscato. All the vineyards provide tastings and the option to purchase wine to drink on site or take a couple bottles back to the chalet.
Final words
Based on this, you are aware about 5 great things to do in Beavers Bend as of now. You can move there in the upcoming weekend and have a quality time with all these activities.