Hersheypark is nearly associated with Hershey, Pennsylvania. If you're visiting Hershey for the first time, you must spend some time at the town's most popular attraction. But what if you're staying in Hershey for longer than a day? What if you've already had your fill of Hersheypark and are ready to branch out? Here are 15 great Hershey attractions to visit when you need a vacation from Hersheypark. You'll be astonished at how much more Hershey has to offer. If you wonder what to do in Hershey PA besides Hershey Park, you can continue to read. We will share some of the best activities to enjoy your stay.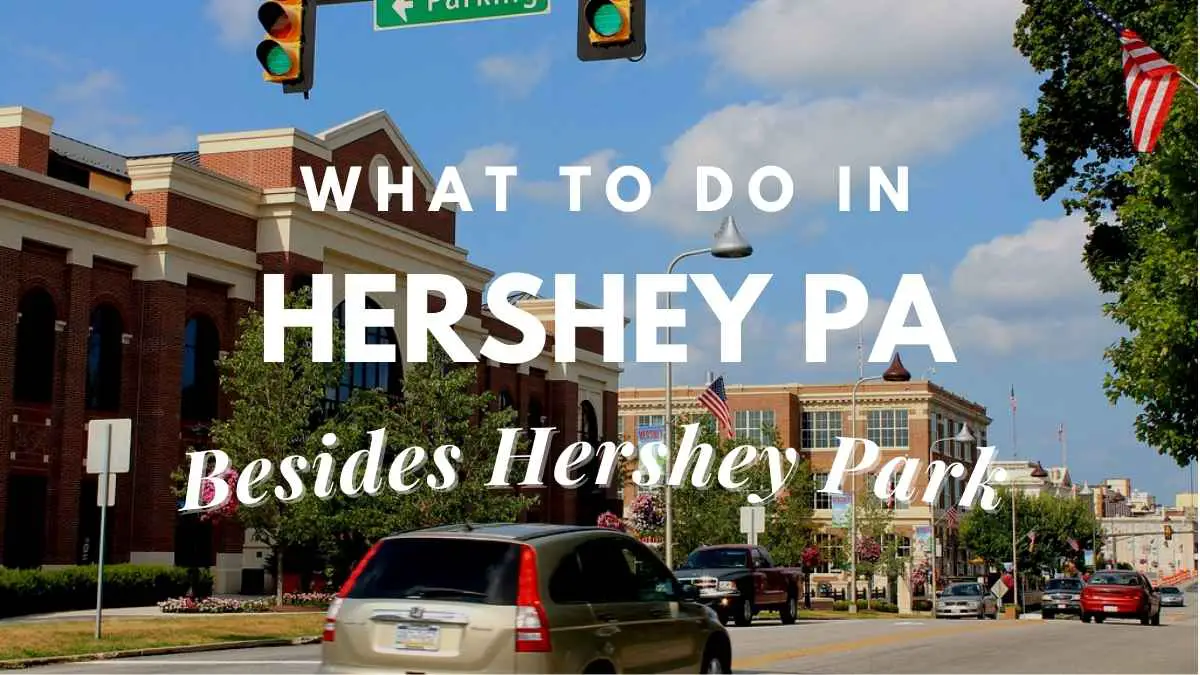 1. Hershey Gardens
Hershey Gardens started as Milton Hershey's rose garden in 1937 and has grown into a botanical marvel with more than 23 acres of gorgeous flowers, shrubs, and trees over the following 80 years. Theme gardens, such as the Butterfly Atrium and the interactive Children's Garden, will delight the whole family. Hershey Gardens is so lovely that it takes the top spot on our list of Hershey, Pennsylvania attractions.
Read: Is Traveling A Hobby? The Ultimate Guide To An Exciting Way Of Life Learn about the Downsides Of Traveling As A Hobby

2. The Hershey Story Museum
Chocolate fans of all ages will enjoy the Hershey Story Museum, which is situated on Chocolate Avenue near Hersheypark. The museum's activities and displays take visitors on a journey through Milton Hershey's life and the ups and downs he faced on his road to building his chocolate empire. There are interactive displays such as the Chocolate Lab, international tastings, special activities for children, and much more.
Read: Biggest Lakes In Pennsylvania [Top 20]Learn about The shallowest lake in Pennsylvania
3. Hershey's Chocolate World
If you like Hersheypark and want to prolong the enjoyment, visit Hershey's Chocolate World. A free chocolate tour and fun activities like Create Your Own Candy Bar and the 4-D Chocolate Mystery await chocolate lovers at this chocolate utopia. There are also lots of chocolate-themed retail options, culinary pleasures, picture chances, and other activities. A trolley tour of Hershey is also available, which is both thrilling and instructive. The tour is accessible all year, including special Halloween and Christmas festivities.
4. North American Wildlife Park
Hershey offers ZooAmerica North American Wildlife Park, which is a terrific zoo for a great tourist town. This 11-acre walk-through zoo next to Hersheypark educates tourists on over 200 creatures from five different areas of North America. You can buy ZooAmerica tickets individually, but if you're already heading to Hershey Park, your entrance also includes ZooAmerica, so you get two attractions for the price of one!
ZooAmerica North American Wildlife Park is without a doubt one of the most entertaining attractions in Hershey, Pennsylvania. If you purchase a Hersheypark ticket, you'll get free entrance to ZooAmerica, but even if you don't, the animal park is worth a visit on its own.
The 11-acre ZooAmerica North American Wildlife Park is meant to be pedestrian-friendly, with over 200 different animals and plants representing five distinct areas of North America. Bats, lizards, bears, and wolves are just a handful of the wildlife that live in this park. You can get up and personal with flora and animals at ZooAmerica North American Wildlife Park.
Animals are divided into natural areas by habitats such as the Northlands, Southern Swamps, The Great Southwest, Eastern Woodlands, and Big Sky County. Throughout the year, a variety of activities are offered, ranging from Zoo Camp to tours. Among the most popular are Wild Winter Adventure, Animal Tales, and Preschool Palooza.
5. Hershey Adventure Sports
Check out the family fun at Adventure Sports in Hershey when you need a bit more activity than a couple roller coasters can supply. Go-kart racing, laser tag, arcades, batting cages, mini-golf, and other activities are available at this attraction. Adventure Sports' new candy shoppe themed escape room may be of interest to individuals who appreciate a good puzzle.
6. Hershey Golf Club
If you like golf and chocolate, Hershey is a great place to live. Three award-winning golf courses may be found at Hershey Country Club. Spring Creek Golf Course, a nine-hole, par-33 course, is one of the numerous public golf facilities in Hershey. Play a short game before heading off to one of the many other great Hershey activities.
7. The Antique Automobile Club of America Museum
If you like historic vehicles, this museum is a must-see, with up to 100 on show at any one moment. The KissMobile will also be on exhibit, as well as an outstanding bespoke model train display with interactive capabilities. Private events, such as business gatherings and weddings, are often held at the museum.
The Antique Automobile Club of America Museum is a terrific place to see antique vehicles in person. This is one of the better alternatives for things to do in Hershey, Pennsylvania if you're a car aficionado. It's even associated with the prestigious Smithsonian Institution, so you know it's legit.
The Antique Automotive Club of America Museum, which is fun for people of all ages, takes you on a tour through approximately 100 distinct automobiles that span the history of the automobile industry, from the 1890s to the 1980s. Trucks, historic automobiles, and buses are among the many vehicles on show.
The 1906 Cadillac Model E Runabout, the four-hour expert-taught Model T driving instruction, and the stunning 1896 Ford Quadricycle are just a few of the attractions of the Antique Automobile Club of America Museum. There are also various hands-on exhibits that let you to engage directly with displays, such as an assembly line, to learn more about the creation and development of these wonderful machines. You may take behind-the-scenes tours of the Antique Automobile Club of America Museum to learn more about the rich history and heritage of the autos on exhibit.
8. Troegs Brewing Co
Chocolate is delicious on its own, but it also goes well with the appropriate beer. Troegs Independent Brewing Co. may have it, as well as some of the most inventive microbrews ever created. Try the holiday-themed Mad Elf beer (or the new "Blizzard of Hops"), the Troegenator double bock, and, of course, the Nitro Chocolate Stout. Troegs Independent Brewing Co. should be at the top of your list if you're seeking for things to do in Hershey at night.
9. Cullari Vineyard and Winery
Everyone knows that wine and chocolate complement each other well. If a visit to a vineyard wasn't on your list of things to do in Hershey, reconsider! Cullari Vineyards, created by Italian immigrants Salvatore and Kathi Cullari, is Hershey's first and only winery. More than 30 different wine varietals are available to try, including the Coco Nostra chocolate wine.
10. Derry Township Historical Society
Obviously, Milton Hershey's life is an important aspect of Hershey's history, but the town also has other tales to tell. The Derry Township Historical Society captures those lesser-known elements of Hershey history via oral histories, artifacts, and archive materials that will delight Hershey residents and tourists alike.
11. Museum of Bus Transportation
The old dependable bus is beginning to become a thing of the past in these days of Uber and Lyft. It was the most popular and dependable mode of transportation in many towns and cities for decades. Visit the Hershey Museum of Bus Transportation to explore how buses have changed through time.
12. Hershey Playhouse
A fantastic play does not have to be seen on Broadway. The Hershey Theatre hosts some incredible shows. The Book of Mormon, the Goo Goo Dolls, Red Hot Chili Peppers, Brian Wilson, Riverdance, and Motown: The Musical have all performed at the Hershey Theatre.
13. Hershey Trolley Works
One of the greatest ways to see Hershey is to ride the Hershey Trolley Works. These charming trams go from Hershey's Chocolate World to Hershey's Chocolate World and provide an instructive, historical tour of Hershey. You'll discover even more about Milton Hershey, the company's creator, as well as all of the things and locations that made Hershey famous. There are also holiday trips and taste tours offered. For a comprehensive Hershey experience, a visit to Hershey Trolley Works is a must.
14. Founder's Hall
Founder's Hall at the Milton Hershey School is a tribute to Milton and Catherine Hershey and their efforts to aid destitute children, and it's another stunning piece of Hershey history. It is regarded as one of central Pennsylvania's most stunning and one-of-a-kind architectural wonders. Founders Hall Visitors Center offers public tours every day between 10 a.m. and 3 p.m., except during school vacations.
15. Giant Center
The Giant Center, a 10,500-seat multipurpose sports arena located near Hersheypark, lives up to its name. The Hershey Bears Hockey Club's home rink, as well as several state high school championship events, concerts, and special performances, are held here. Trans-Siberian Orchestra, Disturbed, Pentatonix, Foreigner, Miranda Lambert, and many more have performed at the Giant Center.
Final words
Now you know what to do in Hershey PA besides Hershey Park. Keep these attractions in mind and plan your stay. You will be able to enjoy every single second that you spend in Hershey.