Dude ranches that are all-inclusive and provide everything from meals to lodging to horseback riding may be found all around Wyoming. Others allow you choose the activities you wish to take part in and provide you with the equipment you need to prepare your own meals in a private kitchen. On this article, we will be able to help you with getting to know about the best dude ranch Wyoming. You may pick it and proceed to secure a perfect experience that you will love.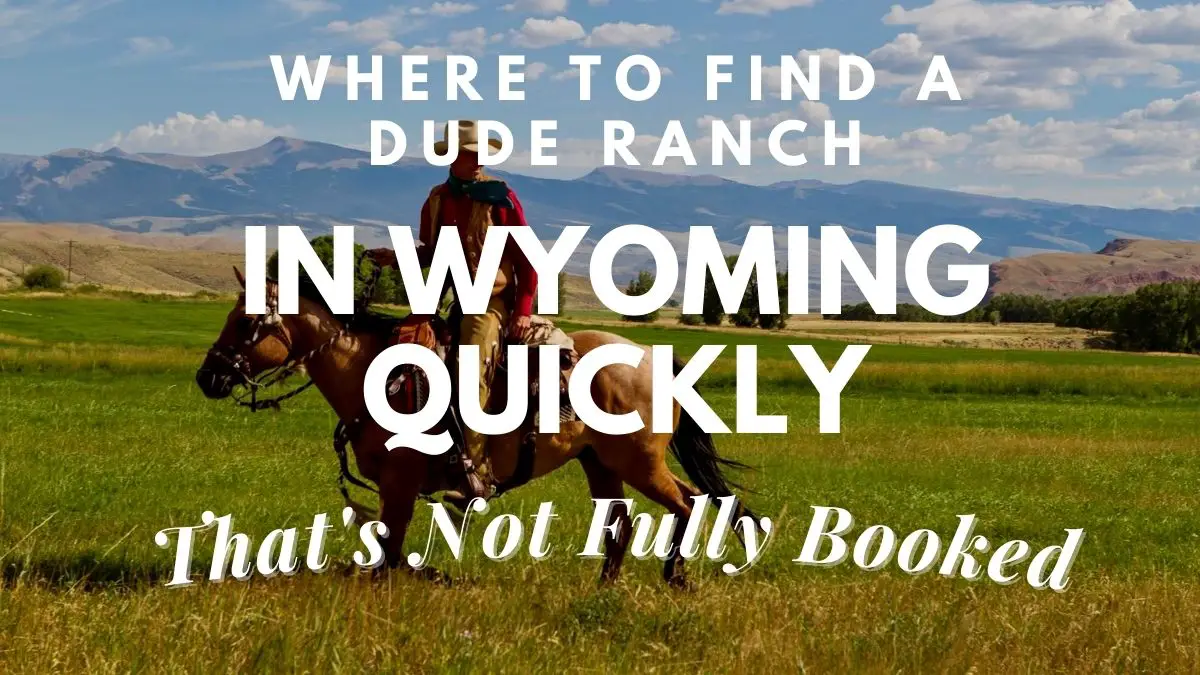 1. Paradise Guest Ranch
Since it has been welcoming visitors for more than a century, Paradise Guest Ranch has become popular with a variety of visitors, including those who like horseback riding, hiking, and fishing. One, two, three, or four-bedroom rustic or luxurious cabins are available for your stay. Modern amenities and inviting fireplaces may be found in every cottage. They all include distinctive western art, kitchenettes, showers, full toilets, washers, dryers, and outside decks and were either recently constructed or refurbished.
Attend activities at the French Creek Saloon, such as square dances, talent shows, swing dance parties, and sing-alongs, if you visit during a family week. Live music is offered during adult-only weeks at the same location. The three meals that are provided each day in the large dining hall at Paradise Guest Ranch are all-inclusive for each stay and have a gourmet flavor. The purpose of meals is to allow you relax and enjoy your cuisine while also giving you a chance to hear announcements and find out about forthcoming ranch events. Enjoy the wine of your choice with dinner on Gourmet Night. Adults may enjoy the French Creek Saloon in the evening with its selection of fine liquors, mixed cocktails, local and international beers in bottles and on tap, as well as domestic and imported wine. Numerous non-alcoholic drinks are also available, including non-alcoholic beer.
Read: Is Traveling A Hobby? The Ultimate Guide To An Exciting Way Of Life Learn about the Downsides Of Traveling As A Hobby

2. R Lazy S Ranch
The Jackson Hole and Grand Tetons region, where R Lazy S Ranch is located, is Wyoming's most picturesque locale. The ranch focuses in providing an experience that is really peaceful with as much or as little activity as you like. Each cabin has a front porch that is ideal for getting in touch with nature, as well as a different size and layout. Each cabin features a sitting area with a stone or wood fireplace, one or two private bathrooms, electric heat, and other standard conveniences. Up to 45 visitors may stay at the ranch, and a staff of roughly 35 ensures that every visit is unique. A large stone fireplace and a comfortable living area can be found in the main lodge.
You may engage in a variety of activities here or have a beverage before supper. The lodge's cozy lounge is ideal for reading a nice book or meeting new people. The duration of any riding lessons or horseback rides available to visitors is up to them. Visit a Western Rodeo, go fishing, or fish in some of the best trout streams in the nation. The food is of high quality and is well-balanced, and there are cookouts, buffets, and sit-down dinners at the lodge.
3. Gros Ventre River Ranch
The renowned Teton Range may be seen from the Gros Ventre River Ranch, which is located on the banks of the Gros Ventre River. The ranch can accommodate between 30 and 40 visitors each week, which contributes to an intimate atmosphere with plenty of seclusion. Each room features electric heating, a private bathroom, a balcony, and a deck. Among the contemporary comforts they supply are CD/clock radios, coffeemakers, portable food and drink coolers, amenity baskets, electric blankets, and hair dryers. The lodges are larger and provide all of the same facilities as the cabins, but they also include individual fireplaces, kitchenettes, and wood-burning stoves.
During their visit, visitors will have much to do, including whitewater rafting, horseback riding, fly fishing, and hiking. The porch is the ideal place to unwind while viewing sunsets at night, as does the lounge. In addition to other facilities, the main lodge features a pool table and games. In addition, there are stocked fishing ponds, hiking trails, trail rocks, mountain bikes, lessons in roping, laundry facilities, internet access in the main lodge, an outdoor play structure, fishing gear, picture opportunities when riding a horse, and breathtaking vistas. Family-style meals are served to guests by the chef. Cocktails are available for adults at the lounge. With every meal, vegetarian options are available.
4. Triangle X Ranch
Within Grand Teton National Park, Triangle X Ranch offers western hospitality and unmatched natural splendor. Five generations of the same family have owned and operated the property. There are 20 log cabins, each of which is distinctive and has a unique narrative from Jackson Hole. The cabins range in size from one to four bedrooms, each with stylish decor and contemporary conveniences. Daily cleaning, a mini-fridge, a terrace with breathtaking views, cozy log beds and linens, and complete private bathrooms are all standard cabin features. Nearly all of the multi-bedroom cabins feature two complete bathrooms, and two of the cabins also have sitting areas.
The absence of Wi-Fi, phones, and TVs in the cabins helps visitors better connect with nature. The sun porch dining room was added to the Main House, which was the initial structure, in the 1960s. While on the ranch, visitors may eat here and mingle with other visitors. There are many levels of horseback riding, which is the ranch's principal pastime. Ranch visitors have access to millions of acres of national parks and forests because of the ranch's location. Other activities include swimming, photography, sightseeing, fishing, climbing, and square dancing. Take a float excursion or see some entertainment in the evening. During their stay, visitors may take advantage of cookouts three times each week in addition to normal meals.
5. The Bitterroot Ranch
The Shoshone National Forest and Yellowstone National Park are also easily accessible from The Bitterroot Ranch, which offers a variety of equestrian riding. Rustic appeal is provided by the historic main lodge and the cottages, which have been tastefully furnished and decorated. All of the cottages are modern, yet many of them have interesting history. Most cabins feature bathtubs, and all have electric heat in addition to showers. Some also have stoves that burn wood. There are many sleeping options available, including a queen or double bed, two twin beds, and a combination of a queen or double bed and twin beds. For more solitude, there are walls separating each cabin from the others. Large stone fireplaces and a large porch for dining and relaxing are also hallmarks of the main lodge.
Play games like pool and horseshoes. For those who wish to fly fish in the East Fork of the Wind River, the ranch's location is ideal, and anglers get discounts. Every week, the ranch hosts a number of yoga courses that include positions that are beneficial for riders. Alternatively, you may go trekking or take part in the ranch's popular horseback riding. You may eat meals prepared at home every day at the main lodge. With vegetables from the garden, lamb and cattle farmed on the ranch, and bread cooked in the kitchen, the meal is nutritious.
Final words
You may usually take a look at these dude ranches and pick one of them. Then you have a higher chance of finding availability, where you will be able to secure a comfortable stay with ease.