First of all, let me remark how gorgeous Mohican State Park is throughout the autumn. It's really stunning wherever you look! I strongly advise going in the autumn if you can! But you should also be aware that Mohican is packed with summertime activities! Mohican State Park is about 30 minutes from where I grew up, and when I was a youngster, it was the place to go canoeing every summer! When I was a young child, we would spend the summer days boating on Pleasant Hill Lake, and to me, Mohican was "the beach"!

Coming back to the park many times over the last year to see it as an adult was enjoyable. I had never spent a lot of time within the state park itself. I hadn't spent much time seeing any of the park's attractions or going on hikes. On this Mohican State Park canoeing guide, we are looking forward to sharing all important information that you need to be aware about the park.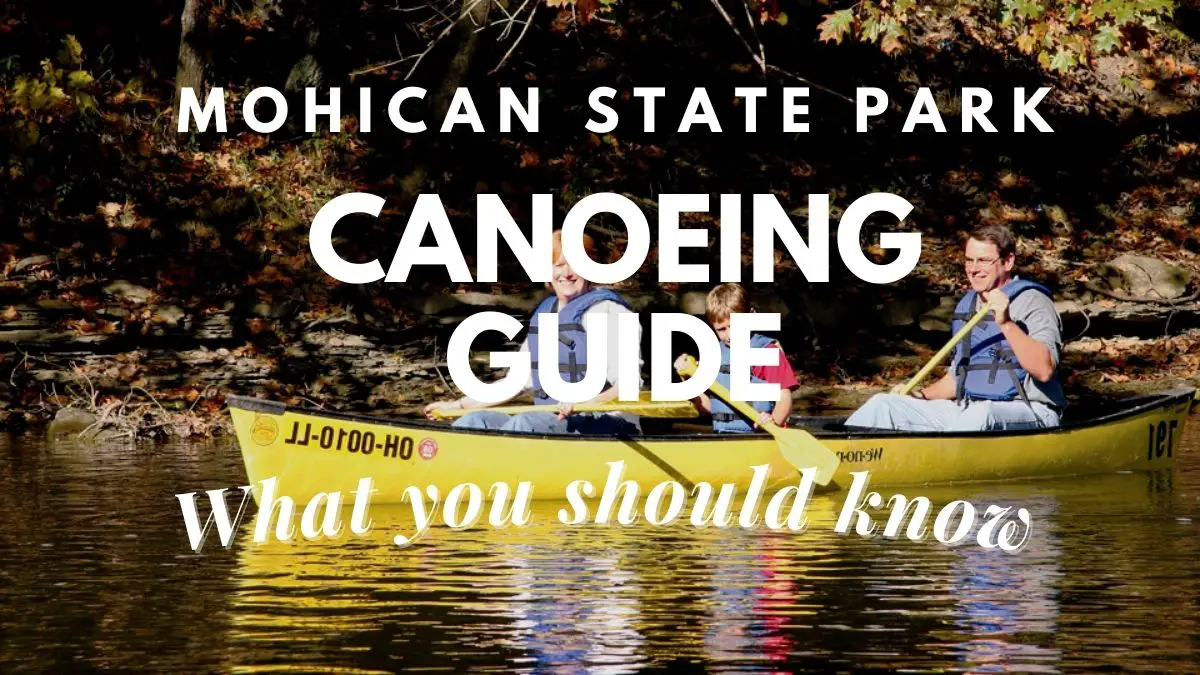 The history of Mohican State Park
The 4,541-acre Mohican-Memorial State Forest contains Mohican State Park. Native Americans from Delaware originally used the park and the surrounding region as their homes and hunting grounds. In 1949, the park's development began.
Canoeing at the Mohican State Park
One of the best things to do at Mohican State Park is to take a boat ride down the 40-mile Mohican River. Canoeing is the most popular river activity at Mohican State Park, but tourists can also hire kayaks, tubes, and rafts to explore the river.
Renting a canoe and going on a journey down the river is without a doubt among the top things to do in Mohican. Couples, groups of friends, and families may enjoy canoeing at Mohican State Park.
The Mohican River offers canoe journeys of varied lengths (3, 7, 11, and 23 miles), however the duration of the trip will depend on the water level and flow at the time. Longer visits may take all day, while shorter ones often last 2 hours.
Mohican State Park canoe rentals are available from a few different businesses. You should do your homework to choose the Mohican State Park canoe rental that is best for you and your party, even if they all provide comparable outings at comparable costs.
You can also do kayaking with canoeing
Kayaking is another excellent option to explore the river at Mohican State Park. Kayakers who want to control their own boat will find Mohican State Park to be the perfect place to kayak. The canoe tours and kayak trips at Mohican State Park follow the same itineraries. Renting a mix of canoes and kayaks for the downriver excursion is an option for group outings.
Tubing at Mohican State Park
River tubing at Mohican State Park is an enjoyable and tranquil way to spend the day in the park. While floating downstream takes longer than paddling, it needs no effort. Mohican State Park only offers tubing throughout the summer.
Rafting the Mohicans
One of the entertaining activities for youngsters at Mohican State Park is rafting. Rafting in Mohican State Park is a nice pastime for parties and families with kids who wish to paddle together in a single boat even if there aren't any rapids per se.
In Mohican State Park, you can rent kayaks, canoes, tubes, and rafts.
As we've previously indicated, there are various locations at Mohican where tourists can hire rafts, tubes, canoes, and kayaks. Shipley's Canoe Livery, another rental firm, also offers shorter and longer excursions, however Mohican Adventures is by far the most well-known.
Tips to get the most out of Mohican State Park canoeing experience
For beginners, getting them to move straight may be an exercise in sheer frustration. Here are some crucial tips to help you get started in a tandem canoe and keep you safe on your next expedition.
Paddle on different sides of the boat
Your vessel won't tip back and forth as a result, and the boat will be more stable in motion. If you're in choppy water or attempting to make progress against a headwind, kneel for increased stability.
Build your rhythm as you paddle
Setting the tempo is the responsibility of the bow (front) paddler, and the stern (rear) paddler's task is to follow that tempo. This guarantees that your forward motion is being maximized. Until you master a few additional steering techniques, namely the J-stroke and the sweep stroke, calling a "switch" often can help keep your boat moving straight. Watch a video with information about steering motions.
Keep the shaft of your paddle vertical
Not as easy as it seems. A vertical paddle shaft will guarantee that your paddle blade remains vertical throughout the power portion of your stroke, optimizing forward propulsion every time. The alternative is what we refer to as "lily-dipping," which is acceptable when excellent conversation takes priority over getting anywhere specific.
You never know when something silly may occur and you'll find yourself in the alcohol by accident. In 75% of drownings involving paddle sports, no personal flotation equipment was present. Alcohol was a contributing factor in 20% of fatal paddle sport accidents. Invest in a comfortable PFD if you want to do a lot of canoeing so you'll be more likely to wear it. If it's worn out, so mildewed you can't wear it, or fastened to a thwart when you take that swim, it won't save your life.
Dress for the water's temperature rather than the surrounding air's
Think about this sobering fact: a person in street clothes has a 50% probability of swimming 50 yards in water that is 50 degrees. The true killer is hypothermia, which lowers core temperature and impairs motor function.
Good trip preparation includes having a map and understanding the experience that lies ahead. Before you go, measure. On flat water, novice paddlers often go at 2 mph. Paddlers with experience seeking for a workout may go at 3-3.5 mph. Consider how river current could affect your pace and route.
Use sunscreen anywhere you need it
Sunlight reflected off the water may cause burns in unexpected areas, such as behind your ears and beneath your nose. There is more reflection off metal surfaces in an aluminum canoe. Keep those pricey glasses where they need to be with a broad brimmed hat, an alligator clip, or sunglasses on a keeper cord, which will also increase your level of sun protection. On a frigid October day, my father once overturned his canoe while bravely saving his partner's cap from sinking. A swift boat rescue and the ability to get a paddler weighing more than 250 pounds back in the boat and out of the chilly water averted a near-disaster and lost headwear. Which takes me to my next piece of advice.
Get back in your boat and practice
Practice canoe rescues over canoe escapes if you're paddling alongside another vessel. The best recommendation is to paddle near to shore and in the lee if you are kayaking alone. Keep your boat as close to the beach as you can while still being able to swim to it. I really like the Canadian re-entry method. It is effective on turbulent seas and for those who are less athletic.
Have the swimmer reach one end of two boats that are being held side by side by a rescuer after you have T-rescued the capsized boat. As you float on your back and loop a leg over a gunwale of each boat, place a hand on each one. After that, arch your back and plunge your buns into a boat. On board, da.
Wide, flat horizon lines should be avoided
They often have low head dams. Despite having a small 2-4 foot drop and a benign appearance, underwater currents may ensnare and hold boats and the people within them due to the way water hydraulics function. Recognize these risks and learn how to navigate around them.
For a little floating flare, bring something entertaining
Along with plenty of water, think about including entertaining snacks, a picnic for a floating dinner date, fishing gear, binoculars, and extra chocolate. The night sky may also be enjoyed while floating in the middle of your preferred lake if you pack headlamps and light sticks for either end of your boat. Bring your inventiveness to the water.
Is Mohican State Park free to enter?
Yes! The park is free to enter, as are the paths for hiking; parking is also free. Nevertheless, some of the events have a cost for participation. Nevertheless, we do have a lot of free things to do in Mohican on our list.
Are there kid-friendly Mohican State Park activities?
Absolutely! When I was little, I loved going to Mohican (and I still find it to be a blast as an adult). With many of kid-friendly activities, the park is particularly family-friendly.
Are there lodging options in Mohican?
Yes! Mohican offers a variety of lodging options, from basic campsites to opulent castles. the whole spectrum in between! At the conclusion of the piece, we discuss our best selections for different Mohican hotel alternatives.
The ideal time to visit Mohican State Park is when?
Mohican is surrounded by stunning scenery all year round. However, the timing of your visit will depend on the things you choose to do.
The ideal weather for outdoor activities in Mohican State Park is in the summer. Additionally, a lot of attractions are only available during the busy summer season.
Autumn is the best time to go hiking in Mohican State Park because the temperature is cooler, and the leaves are just starting to turn. Visitors may warm themselves in a cabin in the winter and enjoy the park blanketed in snow. Visitors may see the stunning wildflower flowers in the spring.
Final words
Keep this Mohican State Park canoeing guide in mind and proceed with your canoeing adventures. You will surely fall in love with all the amazing experiences that the park can offer on your way.