Mammoth Cave National Park is the world's biggest and longest cave system (at least that is known), with a staggering 400 miles of cave that has been explored, and new areas of the cave are discovered on a regular basis. We resided in Knoxville, Tennessee before embarking on our full-time travel adventure. We were near enough to hear about Mammoth Cave National Park, but we never got there. It was a much-anticipated visit on our journey after hearing it was a terrific family activity.

To be honest, we did very little homework before going to Mammoth Cave with the kids and had no idea what to anticipate. To say we went into it blindly is an understatement. We were surprised by a number of things during our visit, some good and some bad, so we made a lot of notes and compiled all of our finest mammoth cave tour advice to aid people visiting Mammoth Caves with kids, particularly toddlers.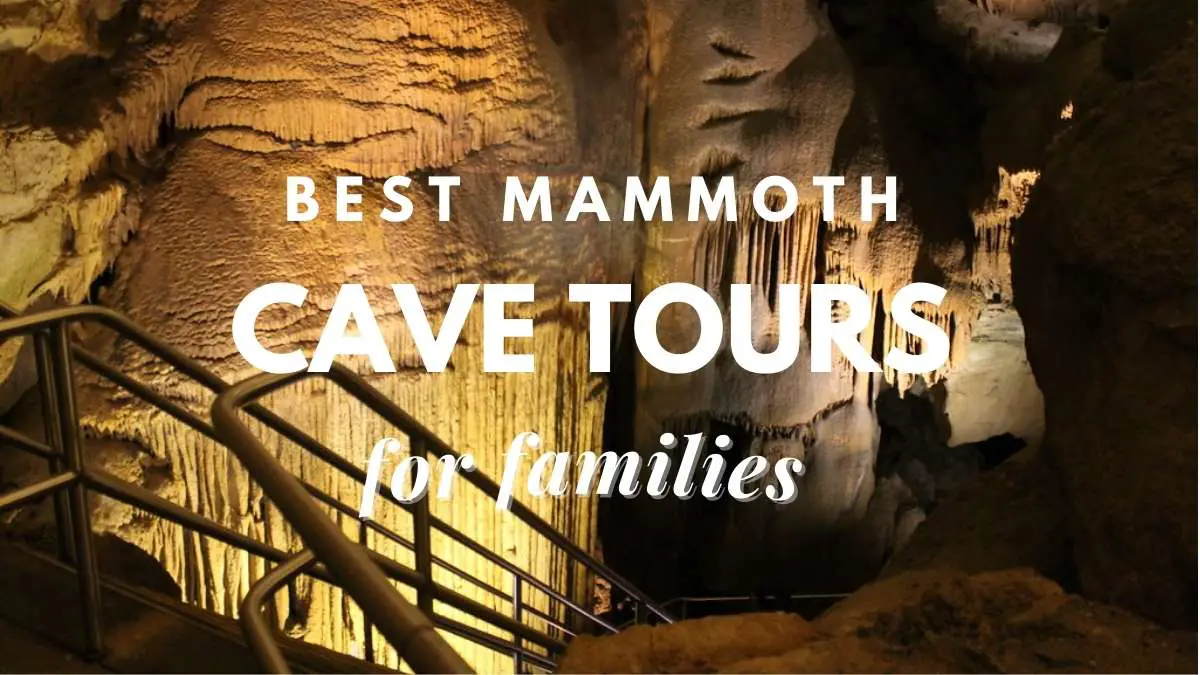 Preparing for a Mammoth Cave Family Adventure
Make a reservation for a Mammoth Cave Tour as soon as possible.
And when I say early, I don't mean later than you think.
As soon as possible, begin organizing your cave visit.
Many of the popular summer trips sell out weeks in advance.
You may make a reservation on the national park's website.
So, my first piece of advice is to conduct your study on the tour you want to go on and then start looking for dates that work for you.
Please note that online booking ends at 9 p.m. CDT the night before the tour, however you may be able to buy same-day tour tickets at the visitors' center depending on availability.
Plan ahead of time to visit the Visitors Center.
The Mammoth Cave National Park Visitor Center not only gives historic tours of the caves, but it also contains a number of interactive displays that will appeal to children and people of all ages.
We homeschool, so we're all over that (hello, Science class), and you'll want to set aside some time before your tour to explore the visitors center, get your National Parks Passport stamped, and use the bathrooms.
We made the grave error of arriving just a few minutes before our tour time.
We made our reservation online and assumed we'd be able to go right up to the cave entrance and go inside.
This isn't the case at all.
As previously said, while visiting Mammoth Caves with babies or small children, you should schedule time to use the potty before entering the cave.
Aside from that, you'll have to queue to present your proof of booking in order to get actual tickets that will enable you to board the bus and determine where your trip departs from.
We were unaware that we would be riding a bus with a park ranger from the visitor center to the cave entrance.
Please learn from our blunder in order to avoid the anguish we experienced! We were running late and almost missed the deadline.
I would mention that the rangers at Mammoth Caves National Park are polite and helpful, and they assisted us in cutting in line and chasing down the bus when we were in a hurry.
Read: Is Traveling A Hobby? The Ultimate Guide To An Exciting Way Of Life Learn about the Downsides Of Traveling As A Hobby

Best Mammoth Cave Tours
There are multiple Mammoth Cave Tours available for you to consider.
To make the life easy, we thought of listing down the most prominent tours out of them.
Simply go through this list of tours, and you will figure out the best one out of them.
Tour of the Frozen Niagara
When we booked our Mammoth Cave trip for our family, I assumed the Frozen Niagara Tour was one of the most popular since it was always sold out.
It's a shorter tour (about an hour) that's easy to get there, doesn't have a lot of stairs (there are some, but they're optional), and doesn't have any tight squeezes.
It was also one of the less expensive trips.
This would be an excellent choice for families travelling with little children, elderly parents, or anyone with special needs.
The Dome and Dripstones Tour
We picked the Dome and Dripstones trip since it was only about 45 minutes longer than the Frozen Niagara tour and covered that area of the cave as well.
We were disappointed by the lack of availability for the Frozen Niagara Tour, so we opted the Dome and Dripstones tour instead.
It does have 500 stairs, and you will have to crouch and walk sideways in some of the tighter spots.
My family is not very claustrophobic and is well-managed.
The cramped regions don't last long, and you'll soon be in wide-open spaces.
The tour went smoothly for all of the children aged 8 to 2, but they did become a little cranky at the end.
Because it is just roughly a 30-minute trip with 120 stairs, the Discovery Tour is well suggested for families with toddlers or young children.
Little children could easily be carried, and the natural surroundings would certainly keep them amused for just long enough on such a short excursion.
This trip is also self-guided, so you may go at your own pace depending on your family's requirements.
Please keep in mind that this is not a tour for families with little children.
Because it is fairly long, you should keep it for older adolescents and young adults.
It's a four-hour trip that highlights some of Mammoth Caves' greatest and most difficult features.
Our is something I wanted to add in this guide so you wouldn't make the mistake of booking this with a 2-year-old.
Read: Best Time To Visit Mammoth CaveLearn about When visiting, where should you stay?
What to Pack for a Visit to Mammoth Cave?
There is no food or drink permitted on any of the Mammoth Caves guided excursions, and no gum is allowed.
You are only allowed to carry bottled water.
You do not need to wear closed-toed shoes; nevertheless, I would recommend wearing sturdy shoes or perhaps hiking grade shoes of any type.
My kids were all wearing running shoes, and I was wearing my usual Tevas.
Strollers and luggage are not permitted within the guided tours if you are bringing toddlers or small children.
They'd be inconvenient anyhow, and with low ceilings, you'd want to keep an eye on a baby's head at all times.
Front low-lying slings are said to be permitted but check with the ranger beforehand.
Cameras are allowed within the caverns, but there is a strict no-flash policy.
They also suggest that you come to a complete stop before taking photographs or videos.
This is done for the sake of safety.
As you go through the trip, they'll warn you not to touch the caverns.
What Else Should You Know?
Children under the age of six are admitted free to any of the cave excursions that are acceptable for their age.
Around the visitors Centre, there are several free children's activities and nature treks.
While visiting the visitor's Centre, kids may engage in junior ranger activities (check with the information desk) or pick up a worksheet scavenger hunt.
As I previously said, all cave trips involve a brief bus journey from the tourist Centre.
You'll be dropped off at the Lodge at the conclusion of your trip, where you'll walk through a mushy mat that will remove cave fungus off your shoes and safeguard bats.
You'll be thankful if you wore shoes at this stage since the solution sloshed my feet.
Bring a picnic lunch and eat it on the grounds, but not within the caverns.
On-site dining options include a café and a restaurant.
Snacks may be purchased at the gift store.
Make time to go trekking or riding.
The Heritage Trail is suitable for all members of the family.
You may go the additional distance to a little waterfall if you're up for it.
The paths are lovely and well-kept, and many of them are paved, so strollers are welcome.
In addition, the national park offers a diverse range of hiking and riding paths.
Consult a ranger to determine which is best for your family.
Free parking is available right outside the visitor's Centre.
There was plenty of RV and bus parking in Mammoth Caves National Park if you were travelling by RV.
If you're simply passing through and want to make a day trip out of it, you can easily park, go on a cave tour, go for a bike ride or walk, have lunch, and then get back on the road.
Getting the most out of your Mammoth Cave Tours
The MCNP has 52,800 acres of hilly, forested land with two rivers above ground.
Six trailheads across the park allow access to some of the most beautiful and lush woodland in south-central Kentucky for paddling, hiking, and bicycling.
Three built campsites are accessible, as well as over a dozen rustic sites in the woods and along the Green and Nolin rivers.
The Green River, which runs approximately east-west through the park, divides it in half.
The park's south side is referred to as "front country," while the north side is referred to as "backcountry."
The cave tours, tourist Centre, hotels, and established camping places are all located in the front country.
Along the almost 11 miles of trails here, there are a variety of short, simple treks with unique karst formations and sinkholes.
The Cedar Sink Trail, Sand Cave Trail, Sloan's Crossing Pond Walk, Turn hole Bend Nature Trail, and the Mammoth Cave Railroad Bike and Hike Trail are the principal routes in this region.
A map of all the park trails is available at the visitor Centre.
Equestrian traffic and local people enjoying their local park on weekends keep the trailheads of the backcountry regions busy for most of the year.
So, if you're planning to camp, get there early or make a reservation.
With the exception of Big Hollow Trail, which does not allow equestrian usage, most backcountry paths are solely for hikers and horses.
Mountain biking is permitted on a limited number of "Gateway Trails" designated for beginners and intermediate riders at MCNP.
The 9-mile Big Hollow track is the finest choice, but cyclists and hikers may also spend a day on the Mammoth Cave Railroad Bike and Hike Trail (also 9 miles), a rolling crushed-gravel path that follows part of the park's old railway.
Paddle the 26 kilometers of the Green River that run through MCNP if you prefer kayaking or canoeing.
During the summer, a number of local operators provide sightseeing cruises that sail the river by motorboat, canoe, or kayak.
The river, which has towering cliffs, bald eagles, and hawks, provides excellent photographic and wildlife possibilities.
You may camp on islands and along river floodplains if you're more than a half-mile from a ferry crossing or campsite if you're planning a multi-day journey on the river.
If you like fishing, bear in mind that you do not need a license to fish inside park limits, and The Big Woods, Sloan's Crossing Pond, and Cedar Sink are excellent sites to visit.
Final Words
Descending into the underground realm, where the darkness and damp, earthy air signify that you've reached an old location, has a certain allure. Humans have been exploring Kentucky's Mammoth Cave for almost 4,000 years, where vast chambers with towering rock formations create subterranean cathedrals.
Mammoth Cave National Park's subterranean passages are the hub of one of the world's longest known cave systems, with more than 400 miles of recorded pathways (MCNP). Adults and children may explore the cave via a variety of cave excursions ranging from simple to difficult. If caving isn't your thing, you may still have a good time above ground by hiking and biking wilderness routes, paddling the Green River, or visiting museums, a zoo, and even a zipline.