Although trappers David Thompson and Finan McDonald were lured to the Kootenai River's banks and established a fur trading station there in 1808, a permanent town was not created there until 1864. That year, E.L. Bonner's ferry took the place of the Native American boats that had taken gold miners to the Canadian Wild Horse lode the year before.

Today, the community of Bonners Ferry, located 25 miles south of Canada, retains a resource-oriented economy based on farming and logging rather than trapping and river transportation as its primary modes of trade.

The Bonners Ferry area is well known for its beauty due to the valley created by the Kootenai River and the rugged topography of northern Idaho. A view of the Kootenai Valley, the Selkirk Mountains, and the planned Selkirk Crest National Wilderness area may be had from Katka View Point, located 9 miles east on CR 24. Another well-liked and accessible location to take in mountain vistas is close to the intersection of US 95 and SR 1. If you wonder what to do in Bonners Ferry Idaho, continue to read this. We will be sharing a list of the most impressive activities available for you to try.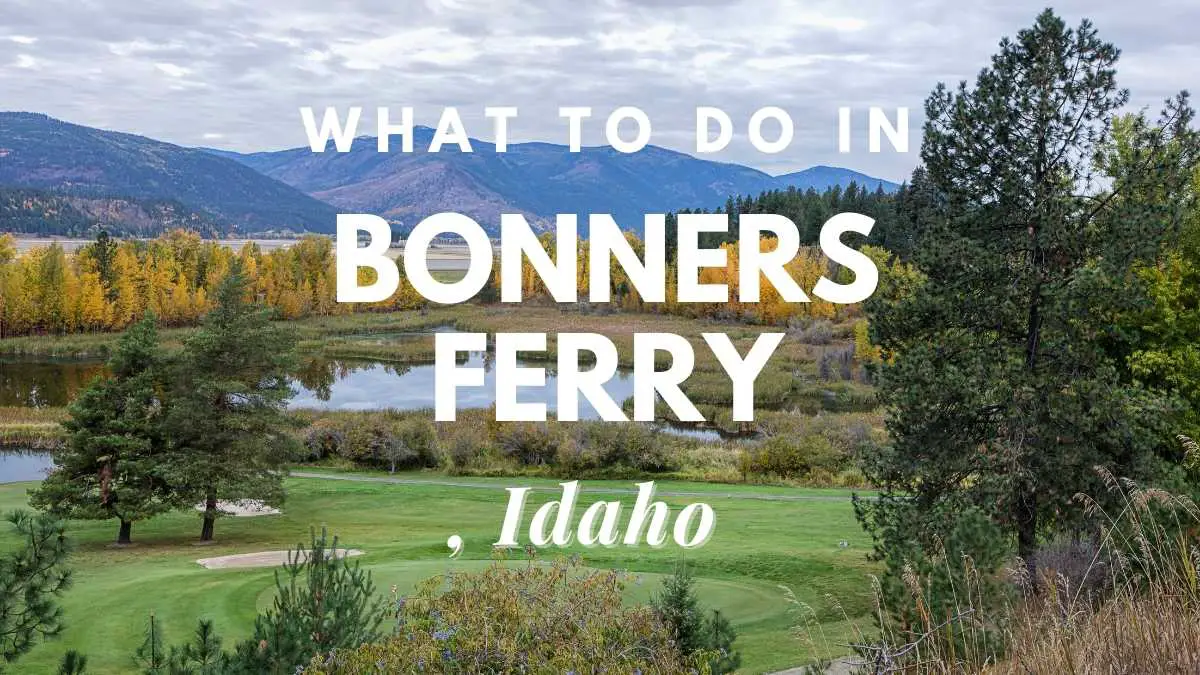 What to do in Bonners Ferry Idaho?
Have you ever been to a new location and experienced awe? At Bonners Ferry, it occurs for plenty of tourists. Although Bonners Ferry may not be as well-known as other American cities, don't be deceived by that. A tiny, emerging, yet lovely tourist attraction, Bonners Ferry is well worth a trip. You may be shocked by some of the unusual activities and locations you might discover in this undiscovered location. Perhaps you could go back there one day to take a break and unwind in Bonners Ferry.
If you want to go to the United States but are unsure if Bonners Ferry is on your schedule, keep reading. Here is a list of some of the things to do in and near Bonners Ferry. If you include this city in your trip itinerary, we have a feeling you'll be glad you did.
Read: Is Traveling A Hobby? The Ultimate Guide To An Exciting Way Of Life Learn about the Downsides Of Traveling As A Hobby

1. Hunting in copper creek falls
One of the tallest waterfalls in the whole state of Idaho is Copper Creek Falls. The actual path is a simple 1.4-mile out-and-back with a 274-foot elevation gain. All ages and ability levels may enjoy this exceptionally well-kept track. The vistas are amazing, and the trek may be finished in an hour or two. You may also "drink it all in" by boulder-hopping your way to the foot of the falls from the bottom and getting a sight of its imposing enormity.
2. National Wildlife Refuge in the Kootenai
Back in 1964, the Kootenai National Wildlife Refuge was first created as a haven for ducks and migratory birds. More than 220 different species now call it home, including deer, elk, moose, bear, and a large number of birds. The 2,774-acre refuge is a lovely location to see the outdoors and animals. Additionally, it is always free and accessible to the public. The area offers a variety of activities throughout the year, including cross-country skiing and snowshoeing in the winter and hunting, fishing, hiking, and animal watching in the summer. The uplands, marshes, and forests are connected by four major pathways. The Myrtle Falls Trek is one such trail that you just must visit.
3. Go for a walk in Myrtle Falls
Another stunning natural feature in Idaho is Myrtle Falls, which is located inside the Kootenai National Wildlife Refuge. The viewing platform offers a fantastic vantage point from which to take in the falls, cascading approximately 100 feet below. Another straightforward trek, this 1.1-mile out-and-back path barely gains 200 feet in height but offers some spectacular rewards. I had heard a report that during the summer you may swim in the stream by following it up to the foot of the falls. In only a few hours, we were able to complete the hikes to Copper Creek Falls and Myrtle Falls, both of which I highly suggest.
4. Have lunch and do some shopping at the Gathering Place
Off Highway 95, Sharon's Country Store sells a variety of goods, including handcrafted Amish rocking chairs, fresh vegetables and dairy, toys, and trinkets. It's the shop that never closes! The shop wraps around as you enter through the barn doors, offering something fresh to see at every corner. Local farmers provide the freshest in-season produce to the 3-Mile Produce Stand throughout the summer. The Bread Basket, though, is this place's true jewel. Fresh aromas of freshly baked goods and locally roasted coffee welcome you inside. We treated ourselves to some "fried pies" for dessert after grabbing sandwiches for lunch on their fresh bread. Everyone should surely visit this gathering place!
5. The Kootenai River Brewing Company offers delicious food and local beer.
I'm a sucker for a good local brewery, as anybody who knows me would attest, and Kootenai River Brewing Company did NOT disappoint! The breathtaking mountain views from the windows were the first thing I saw when I entered! They have a terrace in the rear so they can enjoy it all in the summer. The outstanding hospitality was the second thing I observed. Kimberly, our server, was excellent! She welcomed us with open arms, recommended several beers, and even offered us a tour of the brewery.
The exquisite cuisine, though, was the greatest part. Kimberly's dad, Chef Michael Carmean, really wowed us with a fantastic supper! They certainly had everything for everyone's taste buds, from the conventional pub cuisine like beer cheese soup and fried green beans to the fresh Alaskan Salmon that equaled the best restaurants. Kimberly told us that the owner and his son loved to fly fish, and that the salmon had been flown in fresh from Alaska THAT DAY!
6. Spend the night at Bonners Ferry
If you want to spend the night in Bonners Ferry, you must visit the Northside School Bed & Breakfast. This former schoolhouse, built in 1914, has charming rooms, desks with chalkboards and seats, as well as board games and rocking rockers. Each room has a particular theme, and you may discover ancient relics and school portraits in the halls. Fresh, warm cookies were offered to us as we checked in, and the next morning, a delicious, prepared breakfast was served. The three Duarte generations told us tales about the history of the school and how their family manages this fantastic B&B while we savored our supper.
Final words
In a world of its own, Bonners Ferry, Idaho is situated at the top of Idaho's panhandle, close to the Canadian border. This community, which is known as "Idaho's Most Friendly Town," is surrounded by the stunning Selkirk Mountains and is full of natural beauty, delectable food and drink, and exceptional friendliness.
In fact, Bonners Ferry lives up to its reputation as Idaho's friendliest town. Everywhere we went, the locals welcomed us and treated us like family. This is an Idaho destination that must be experienced to be understood, with its breathtaking natural beauty, charming historic tiny town, and amazing friendliness. Learn more about Bonners Ferry and North Idaho by clicking here and watching the whole episode below.