Perhaps you are unaware of Smith Lake's size. HUGE, in fact! It features more than 500 miles of stunning, tree-lined shoreline, and 21,000 acres of some of the cleanest, deepest lake water in the United States. This entails spectacular natural landscape and exquisite, blissful seclusion. You should bring your swimsuits since the average summer water temperature is 80 degrees. Continue to read this article and we are looking forward to sharing additional details with you on what Smith Lake Alabama fishing is all about.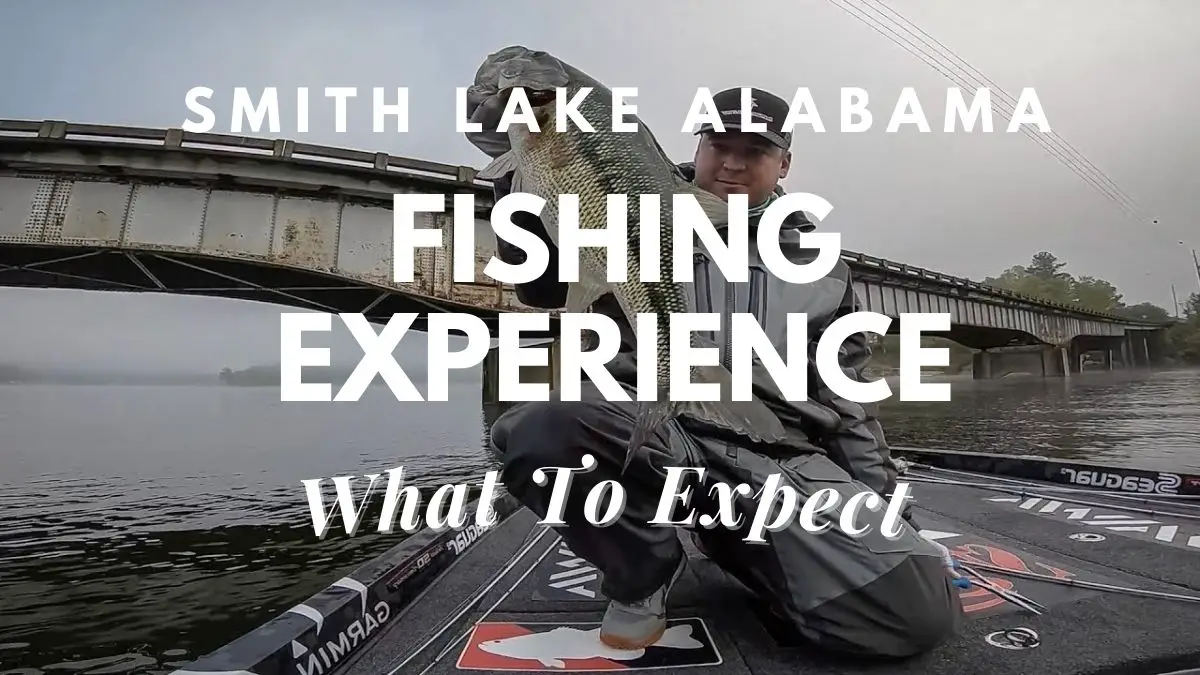 What is Smith Lake Alabama?
About 20 miles northwest of Birmingham, on the Sipsey Fork of the Black Warrior River, there lies a sizable reservoir called Smith Lake. Bremen, Crane Hill, and Dodge City are among the towns on the lake in Cullman County. Curry and Jasper are located in Walker County. Addison, Arley, Houston, and Double Springs are located in Winston County.
Smith Lake, sometimes known as Lewis Smith Lake, is a 21,000-acre lake in north-central Alabama, approximately an hour north of Birmingham, and is well-known for its enormous striped bass. Along with enormous stripers, this area is also home to catfish, crappie, bluegill, white bass, sunfish, and largemouth, spotted, and smallmouth bass.
Everyone may wet a line knowing they have a chance of capturing the fish of a lifetime thanks to the more than 500 kilometers of coastline. A large portion of the coastline is littered with boat docks, rocks, and trees, all of which sometimes harbor fish. For the purpose of enhancing boating, fishing, and camping experiences at the lake, several boat ramps and marinas provide the general public with fuel, launching, fishing equipment, sundries, ice, food, and a variety of other products. Bring your own boat for fishing or leisure or rent one nearby. Choose from a variety of campsites in the area of the lake to use as your base of operations for a weekend fishing excursion with the family.
Read: Is Traveling A Hobby? The Ultimate Guide To An Exciting Way Of Life Learn about the Downsides Of Traveling As A Hobby

What it is like to get Smith Lake Alabama fishing?
Lewis Smith Lake is a jewel of Alabama, like a deep, clear, and blue diamond. This 21,200-acre lake, which is in Walker, Winston, and Cullman counties, is distinct from most other reservoirs in Alabama. If you are used to fishing in shallow, dirty bodies of water, Smith Lake may seem scary at first. You can feel disoriented after seeing your depth detector leap 200 feet or more. However, casting to the many big boulders and fallen trees along the shoreline is how most people fish for bass, bream, and crappie, as is the case with most lakes. There are several spots to fish along the more than 500 kilometers of beach. The lake is conveniently situated just off I-65, an hour north of Birmingham or south of Huntsville.
Trophy striped bass may be found in Smith Lake. A 50+ pound Smith Lake record fish may be captured one day, according to certain fishermen who have reported seeing fish in the 40+ pound class. There are unique striped bass rules that apply. The best bait is local live shad, which is readily accessible.
Fishing tournaments at Smith Lake Alabama
For many years, the FLW Tour will visit Lewis Smith Lake, also known as Smith Lake, and once again, more than one species will have a voice in the results. More than 500 miles of coastline may be found around Smith Lake, which is long and winding, deep, and steep. It's a great fishery that sometimes presents difficulties, and it's stocked with largemouth bass and spotted bass.
The Black Warrior River's Sipsey Fork is where Lewis Smith Dam was constructed. The lake has three main arms: the Sipsey to the west, Rock Creek to the center, and Ryan Creek to the east. All of the arms contain trophy fish, but because to its relative flatness, Ryan Stream is considered to be the best creek for largemouth bass. With largemouth he caught from flooded bushes; Zack Birge came close to winning the Tour event in Ryan in 2015. Caney Creek (off the Sipsey arm) produced wildly in a B.A.S.S. Open on the lake last autumn, so even though Ryan has had a lot of practice pressure, the other competitors shouldn't be written out.
Smith isn't exactly acting as expected this week for an impoundment that is often noted for being clean and rocky and having plenty of fish to be caught deep. A significant downpour on the first practice day caused the water level to rise by roughly 2 feet over full pool, drastically altering the lake's appearance.
How easy is it to fish at Smith Lake Alabama?
The stream is solid mud up in Ryan at Smith Lake Park, but it doesn't reflect the bulk of the lake. Smith swallows up dirty water because it is so deep and clean. Although there is a perceptible stain in the higher reaches of the streams that isn't there when the lake is more stable, the majority of the lake is still pretty pure. We anticipate that when the water level decreases during the competition, the mud will continue to creep down the lake, but the likelihood that it will really harm more than the top quarter or so of streams is low.
Lewis Smith reached a height of 515 feet during the winter of 2016, which is around 5 feet over full pool. That kind of variation is not very rare. What is rare, as has been the case lately, are many flood occurrences heaped on top of one another. Prior to Sunday's first practice day, the lake had dropped swiftly from its height of around 513 feet on April 16 to just a little bit over full pool. The lake rose to a height of more than 514 feet as a result of heavy rainfall on Sunday.
It wouldn't be surprising if the competition was fished closer to full pool than the flood circumstances we experienced in practice since the water may pour on Smith very rapidly. More floating garbage is one of the repercussions of the rising water. Smith is still very accessible, but there is a lot more sawdust and the like in the backs and sides of pockets than the high-water event we just witnessed at Lake Cumberland, when logs and other major impediments presented problems for boaters. It seems to be quite flappable and may make a nice target for fishermen who find it difficult to view bass that are cruising and spawning as effectively as they might when the water is low and clear.
How to get the most out of fishing Smith Lake Alabama?
Smith's shrubs are consistently a nice target. There is water in them even in the spring when it is a bit low, and several largemouth and spots have been taken from bushes. The shrubs are seen in the photographs above in little less than a full pool of water. Bass now have access to much more habitat.
Smith may have a lot of wood cover right present, but docks and rocks have always been the town's trademark. Almost everywhere in the lake you may find a sheer cliff or a steep wall of rocks, and spotted bass love to get in and around them. Additionally, there are seawalls and riprap to bounce a bait off of. In essence, swaths of gravel like those seen in the Ozarks are the only kind of rock the lake lacks.
Fishing docks has historically been a wonderful method to win on Smith, and it very well may be this time as well. There are several docks with more than 40 feet of water underneath them as well as the more common shallow docks because of the lake's steepness. A lot of spotted bass have been caught during the time using a wacky rig and aggressive dock fishing, and this is probably going to happen again this week.
While spotted bass will spawn on the main lake and in the steeper pockets, most largemouth bass in Smith spawn in the shallower pockets. Due to the shifting water and more stain this week, sight-fishing for bass off beds is likely to be challenging, but pockets may still be very productive. After all, they often get a lot of traffic in the spring.
The spotted bass that are popular in Smith have been becoming larger and larger ever since blueback herring was introduced. Although Zack Birge came close to winning in 2015 by using just largemouth bass, it's expected that the ultimate victor this time will use only or mostly spotted fish. Largemouth can often win local one-day contests, but multi-day contests need a strong focus on places. Smith is still one of the best spotted bass lakes in the East, however it's doubtful that the spotted bass fishing will be as outstanding as it was at Lanier.
Since the trees in Smith are all quite deep, reaching a maximum depth of 35 to 40 feet, they don't have as much of an impact as they may on other lakes. It still offers a healthy ecosystem. The blueback herring and the trees mean that the stripers and spots aren't truly bound to the bank. And although trees may not now have a direct relationship with bass, they most likely contributed to the lake's recent dramatic recovery.
Smith has some difficulties moving about. Smith sprawls in a manner that necessitates some running to go from stream to creek, despite the fact that it isn't difficult to really traverse, and it doesn't become extremely rocky. In essence, you won't be fishing much of the remainder of the lake if you commit to traveling far up one of the major arms. If the backs of streams are the goals, fishermen will find it simple to lose time moving since there are creeks and arms that loop back nearly like canyons. It's not a huge deal if professionals are conducting more main-lake events. Although Smith is sizable, Kentucky Lake is not.
Final words
Now you know what it is like to fish at Smith Lake Alabama. The stage at which the bass are being captured is the last consideration this week. Since this spring has been so unusual, there is a chance that someone may find some spotted bass despite the fact that the majority of the professionals' practice spotted bass had already spawned. There is disagreement over the shad spawn and blueback herring spawn stages.
Although baitfish spawning may be a significant effect at this time of year, they haven't yet been acknowledged. It seems plausible that spawning activity of some type would play a role in the occurrence given how green and springlike it feels in northern Alabama right now. However, since spotted bass often spawn early, it seems from practice reports that this event will be held after the spawn.