Whether you're on a shoestring budget or visiting with a big group, Branson offers a broad range of free activities. Free outdoor excursions and indoor museums, as well as free samples at local wineries and distilleries, are just a few of the ways you can have fun in Branson without breaking the bank. Here is a list of free things to do in Branson for everyone.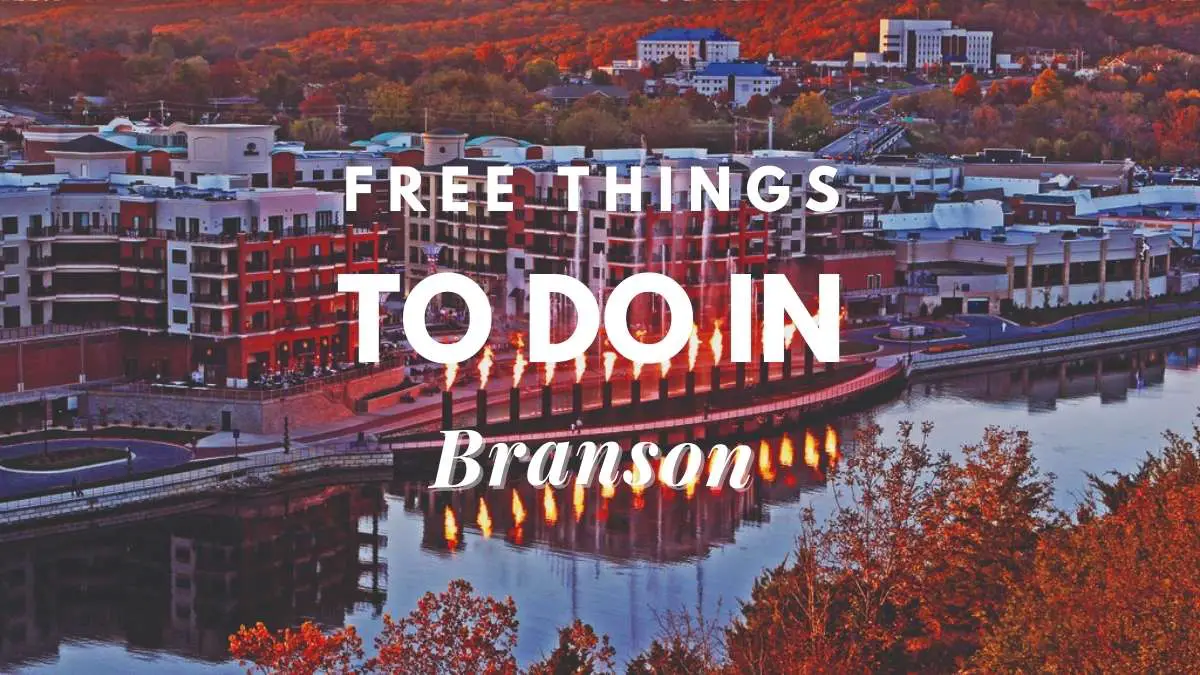 1. The Great Village
When you window shop here, you are not required to purchase anything, but you may be tempted! Visit Kringle's Christmas shop all year, Peter Engler's wood, pottery, and jewelry creations, Lori's Soap Market, the Thomas Kinkade Art Gallery, Sunrise Leather Works, Dickens Gift Shoppe for fudge and souvenirs, and Mulberry Mill for FREE samples of select food and beverages.
During any season, take a leisurely walk outdoors and drink up the lovely artisan inspired ambience of the Grand Village.
Walking through cobblestone lanes lined with picture-perfect stores, outdoor pavilions, water fountains, and lovely park seats could make you feel like you're in a Disney movie. There are also some interesting photo chances, such as the supersized wooden chair seen below! Grand Village is undoubtedly one of the best free things to do in Branson!
Read: Is Traveling A Hobby? The Ultimate Guide To An Exciting Way Of Life Learn about the Downsides Of Traveling As A Hobby

2. Historic Downtown Branson
Branson's Historic Downtown is the scenic home of Mom & Pop stores, restaurants, and select outdoor events. Discover charming breakfast cafés, antique shops, novelty businesses, foreign cuisine choices, Bed & Breakfast places, and photo-savvy wall paintings by riding Sparky, the FREE downtown trolley, or walking around the neighborhood.
Historic Downtown is the perfect place to spend time with family and friends while still being centrally located to other attractions, dining, and shopping in Branson, MO. It is just minutes from the Branson Landing, Starbucks, the Hilton Hotel, and Branson's Scenic Railway.
3. Dunkin Donuts Donut Statue
If you like doughnuts, you should pay a visit to Dunkin Donuts in Branson, Missouri. No, not to purchase donuts, but to pose in front of the massive chocolate glazed, rainbow sprinkled cake doughnut in the center of the outside dining area!
It's a short and simple stop off of Highway 76, and a great picture opportunity for the family trip book. This double frosted doughnut can also make a great Facebook or Instagram post if you're more current! You could purchase a doughnut or two on your way out if you can't avoid temptation!
4.Trails for Hiking
In the Branson, Missouri region, there are several hiking paths to enjoy in the morning, day, or evening. Enjoy the area's natural splendor year-round, with breathtaking overlooks, natural landscapes, and even caverns! When you visit any of these great hiking places in the Ozark Mountains, bring your finest footwear and perhaps your bike for some routes.
Nature Trails, Waterfall Hiking Trail, White River Valley Trail System, Sunset Park, Chinquapin Trail, Lakeside Forrest, Stockstill Park, and Northbeach Park are some of the most popular hiking places.
5. Picnic Locations
Take your breakfast, lunch, or supper to go and enjoy it in the great outdoors at one of Branson's approved picnic spots!
You may dine at a table in any of the parks or locate a space on the grass if you have a blanket. There are several unspoiled locations with expansive views of the lake and Ozark mountains. So relax, eat a lot, and listen to the chattering birds while you participate in this relaxing and delightful free activity!
Eiserman State Park, North Beach Park, Murphy Park, Indian Point Public Use Area, Caudill Park, Epps Park, Parnell Park, and Alexander Park are all great places to picnic in Branson.
6. Statues of Copper
At Branson's Veterans Memorial Garden and Museum, pay tribute to the veterans who have sacrificed so much for our nation. Come view the "Storming the Beach" monument, which depicts 50 bronze WWII warriors. In front of the Veterans Memorial Museum stands this statue.
A 12-man monument named "Stay Low" is also on exhibit in the Veteran's Memorial Garden, which is not far from the museum. Both monuments are supposed to be viewed by the general public so that people may remember and commemorate our troops whether they are driving by or stopping to look closer.
7.165 Scenic Viewpoint
The Scenic Overlook off of Highway 165 is a fast stop over place with spectacular views of the lake, the Ozark mountains, and the Table Rock Dam. Any time of day is a good time to visit, but dawn and sunset are especially beautiful! The overlook is another of Branson's numerous free attractions, and it's a favorite hangout for tourists.
8. Lakes Branson
With three lakes all within walking distance of Branson, Missouri, visitors will have triple the excitement and entertainment! Swimming, fishing, picnics, camping, hiking/walking, and other lake activities are all available for a wonderful family holiday. Bring your own kayaks, boats, fishing gear, and/or floaties to Bull Shoals, Lake Taneycomo, or Table Rock Lake in Branson if you genuinely want a FREE experience!
9. Dewey Shore Visitor Center
Visit the FREE Dewey Shore Visitor Center to learn about the history of Table Rock Lake and the dam being developed and constructed by the US Army Corps of Engineers. An interactive map of the lake, gorgeous wall murals, Native American relics, Ozarks dioramas, interactive water safety displays, and a model of the inner workings of a hydroelectric dam may all be found at the Visitor Center! Excellent for children and families who want to learn more about the region!
10. Hollister's Downtown
Another historic downtown neighborhood only minutes from the Branson Landing is also worth a visit.
Downtown Hollister is a hidden treasure with delicious Mom and Pop eateries, coffee shops, a public park, and even a Ye Old English Inn. Local artisans, painters, and musicians exhibit their skills for everyone to enjoy at local events and festivals in downtown.
11. The Branson Landing
Every year, hundreds of people visit this unique and upmarket shopping complex because of the numerous shopping options, wonderful restaurants, interactive activities, and FREE daily fountain displays and concerts! Take a stroll with the family along the gorgeous boardwalk while listening to music from the speakers and watching boats and kayaks pass by on Lake Taneycomo. Whether you purchase anything or not, the Landing offers a fun pastime that is guaranteed to leave an impression!
12. Apple Tree Shopping Center
The Apple Tree Mall stands out among the various flea markets in the area for its enormous variety, hundreds of booths, and hundreds of unique things, all wrapped up for visitors in a welcoming, pleasant environment. Spend hours looking through one-of-a-kind collections and/or antiques or take a brief stroll to see what catches your eye. New and used things are offered for purchase in well-organized and themed booths.
13. The Holy Spirit's Shrine
The Shrine of the Holy Spirit is a magnificent and inspirational commitment that brings serenity and tranquility to those who come. According to designer Gene Buckwell, everything about the shrine, from the site to the blue stone materials, was selected by the Holy Spirit. People may visit the chapel to view it, pray, and have special events such as weddings, vow renewals, and military ceremonies (which can fit up to 80 people).
14. Table Rock State Park (#14)
Come enjoy the best of outdoor fun! Table Rock State Park has public swimming, picnicking, and hiking areas where you may get your fill of the lake. Take the family for a stroll or bring your volleyball to the property's sandy volleyball pit, which is open for day use. There is an open picnic shelter with grilling spots available. During park hours, you may hold activities like family cookouts, barbecues, and special events like birthdays! There are also open grassy areas where you may play Frisbee, football, or catch!
15. Scenic Railway of Branson
Branson's historic railway station, located near the Hilton Hotel in Branson, is a great blend of modernity and heritage. The Branson Scenic Railway now calls the antique station home, and it has a wealth of tales and history. Since the early 1900s, the railway has provided travelers with convenient access to Branson. The White River Railway was instrumental in the establishment of the Branson region and is still in operation today, providing passengers with a scenic excursion through the Ozark nature. What an interesting site to visit!
16. Ozarks Community College
Take a self-guided tour of College of the Ozarks, one of the country's most distinctive college campuses. Edwards Mill, where students grind cornmeal and weave baskets, and the College Dairy, where you can observe Holstein, Jersey, and Guernsey cows, are just a few of the attractions on this student-run campus.
Sit in the beautiful Williams Memorial Chapel with its gorgeous stained-glass windows, pay your respects to the "Lest We Forget" 9/11 Memorial Patriots Park, or take a tour of the Fruitcake and Jelly Factory on campus, where you can even taste some of their fruitcake! Another fantastic addition to the list of free things to do in Branson!
All tours are free, however there is a unique Ralph Foster Museum on campus that is ideal for children, parties, and couples. The pricing is good, and there are some unique objects on exhibit, such as the original " Beverly Hillbillies" truck from the 1960s and 1970s show! Wow!
17.The Ozarks Farmer's Market
The Farmer's Market of the Ozarks is held every Tuesday from 3-7 p.m. from April through October. Farmer's Market is a pleasant FREE event where people may shop booths for fresh delicacies and homemade products while surrounded by music, amazing aromas, and a nice environment. It's conveniently situated in the Branson Landing Parking Lot on the Belk side. Local farmers make and cultivate all of the food goods supplied by vendors.
18. Tanger Stores
Tanger Outlets offers a wonderful shopping and/or browsing experience in both indoor and outdoor locations. Again, paying for anything is entirely optional, but it may be difficult to ignore all of the fantastic prices and bargains on offer!
Look for charming stores like the Disney Store and name-brand outlets like the Nike Factory Store and Old Navy. You're good to go when you combine hundreds of fantastic stores with amazing conveniences like free WiFi and mobile device charging choices.
19. Branson Strip
Take a walk along 76 Park anywhere along 76 and stroll down the famed Branson Strip to witness a variety of eye-catching buildings, architecture, attractions, and theaters. At the Hollywood Wax Museum, see King Kong atop a looming structure. Take photos with the larger-than-life camera at Beyond the Lens Family Fun, or marvel at Branson's Giant Spinning Ferris Wheel, which has over 16,000 LED lights and 40 gondolas!
20. Branson Skate Park
At Branson's Stockstill Skate Park, you may participate in the popular and well-loved sport of skating! The park is available to the public and is free to use, with lots of ramps and rails for novice and expert skaters to enjoy. Put on your helmets and bring your own skateboard to take advantage of all this park has to offer!
21. Shepherd of the Hills Fish Hatchery
The Shepherd of the Hills Fish Hatchery, one of the biggest trout-rearing facilities maintained by the Missouri Department of Conservation, is a perfect site to visit for fish enthusiasts and is situated just beneath Table Rock Dam. The fish hatchery is a fascinating business that is free and available to the public to see. Rainbow and brown trout of all sizes may be found, with 80 percent of the catch going to Lake Taneycomo. Overall, a fun, informative experience for the whole family!
22. Table Rock Dam
Bring your camera with you to this stop! The Table Rock Dam, which is not only 6,423 feet long and 252 feet above the riverbed, but also the generous giver of Table Rock Lake, is a stunning and practical structure. What a blessing! Anyone interested in the history, technology, or beauty of the lake should definitely go!
Final words
Now you are aware about the best free things to do in Branson. You may take a look at these activities and start spending your time on them. Then you can get the most out of time you enjoy in Branson.