The town of Winthrop, located in the North Cascades, has a western atmosphere that makes you feel like you've stepped back in time. From the architecture to a saloon with a swinging door, you'll feel like you're in the Wild West. The best Seattle weekend escape is to spend a weekend in Winthrop. If you wonder about things to do in Winthrop, continue to read, and we will impress you with the activities that you should do.

Whatever time of year you visit, there are lots of activities to do in Winthrop. During the winter, it's a cross-country skier's dream, with miles and miles of routes to explore, while the summer is ideal for hiking or floating on the lake. I've been during both seasons and found them to be equally enjoyable. This guide will show you how to travel to Winthrop, how to organize your Winthrop weekend schedule, and what to do during your vacation in Winthrop, Washington.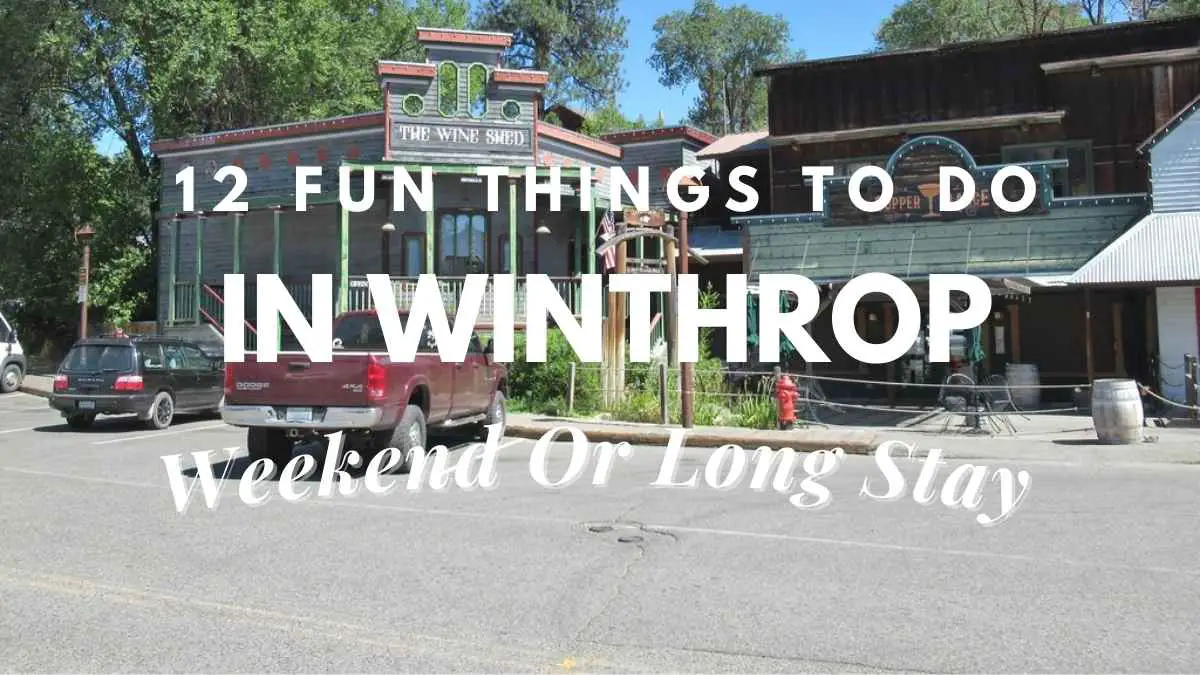 What is the best way to go to Winthrop?
If you're traveling from Seattle to Winthrop during the summer, you may use either I-90 E or I-5 N. Because I-5 is speedier in the absence of traffic, you'll continue north until you reach Sedro-Wooley, where you'll leave at exit 232.
From there, it's a straight ride on SR-20 E for roughly 2 1/2 hours until you reach Winthrop. Allow additional time to get there if you're leaving on a Friday afternoon to account for traffic. I prefer to break up long car journeys with breaks to make them more tolerable. Dinner at Birdsview Brewing Company was an excellent option for me since it's approximately midway between Seattle and Winthrop. There is an outside beer garden where you may stretch your legs, and children are welcome in the restaurant section. Dinner consisted of a pint of their Ditsy Blonde and a vegetarian burger, which kept me going for the remainder of the journey.
Read: Is Traveling A Hobby? The Ultimate Guide To An Exciting Way Of Life Learn about the Downsides Of Traveling As A Hobby

Best things to do in Winthrop
1. Explore downtown Winthrop city
Downtown Winthrop, Washington, is a historic town that is open all year. A little old village with largely wood structures. In front of the old buildings, there are contemporary automobiles parked on the street.
Make time to stroll around Winthrop's historic downtown, which is reminiscent of the Old West. Although the town itself is small, just a few streets long, there are many lovely stores and restaurants in this little town. The wooden boardwalks and cottages are attractive, and there are a surprising number of delicious culinary choices to choose from (see below). In addition, there are several independent stores where you may spend some time. Don't miss the well-stocked outdoor store, as well as the lovely bookshop and confectionery shop!
2. Enjoy local beer
A former schoolhouse that has been converted into a brewery. The Old Schoolhouse Brewery sign on the front of the schoolhouse is red with white trim. If you appreciate sampling local beverages while traveling, Winthrop has a lot to offer! The Old Schoolhouse Brewery is a historic schoolhouse with wonderful beer and a pleasant atmosphere. Visit the Methow Valley Ciderhouse to experience local cider, a long-standing tradition in Washington's fruit-loving state!
Lost River Winery is a great spot to unwind with a glass of wine or sample some of Washington's best wines for free. If you like wine, take a trip to the numerous vineyards in the Lake Chelan region, which is 60 picturesque miles away.
3. Visit a farmer's market
If you're coming during the summer on a weekend, be sure to check out the farmer's market, which takes place on Sundays. Twisp, a nearby town, has a Saturday market. You'll find lots of good cuisine in Winthrop since it's surrounded by some of Washington's richness of agriculture.
Read: 12 Fun Things To Do In Dauphin Island 2023
4. State Park Pearrygin Lake
A campground in Winthrop, Washington, at Pearrygin Lake. The sun is setting, and two folks are standing in the campground. Between the huge trees, there are also three tents and two hammocks. There are four camp chairs and a pile of firewood. The campground sits adjacent to the lake, surrounded by trees and plants, with an open slope across the lake with a few trees.
Read: 7 Fun Things To Do In Ruidoso, NM In Winter
5. Pearrygin Lake
One of my favorite Washington State Parks is Pearrygin Lake. It includes a lovely lake and a fantastic campsite. If you're camping, this is a great place to start exploring Winthrop and the surrounding region, or just relax for the weekend. If you don't want to rough it, there are a handful of cabins for rent.
The park is built around a lake that is ideal for swimming and fishing. It's also an excellent spot for resting when sitting around your campfire or reading a book. There are also around 6 miles of hiking paths that circle the lake and provide views of the neighboring hills.
Read: 12 Fun Things To Do In Dennis Port MA In Winter
6. Enjoy fishing
The Methow River provides excellent catch-and-release fly fishing, and there are several more rivers in the vicinity where steelhead and trout may be caught and released. There's also a lot of lake fishing to be had. Washington's fishing restrictions might be difficult to comprehend, but they are crucial to obey. For more information on fishing in the Methow Valley and Winthrop region, click here.
Read: 9 Fun Things To Do In Siesta Key For Families
7. Visit North Cascades National Park
The North Cascades National Park is a short drive from Winthrop and is one of the most gorgeous national parks in the United States. Although it is billed as one of the least frequented national parks, the highway that runs through it is quite busy in the summer and early autumn, and crowded trailheads are to be expected.
Between Winthrop and Burlington, Highway 20, the North Cascades Highway, is one of Washington's most picturesque drives. It takes you from the dry farmland and hills of eastern Washington to the drier foothills surrounding Mazama, over the towering Cascade Mountains, and via rivers to the rainy woods of western Washington. If you don't want to trek, there are lots of pullouts with vistas and short hikes to keep you entertained.
Along the roadway, there are some fantastic treks in addition to gorgeous driving (see the next section).
Hike across the North Cascades and the Methow Valley to take in the breathtaking views. On a cloudy day, distant mountains may be seen through a forest. The forest has evergreen trees as well as larch trees that are changing color from lime green to gold.
Read: 7 Fun Things To Do In Port Townsend In 2023
8. Exlpore the Maple Pass
The North Cascades surround Winthrop, and there are some truly magnificent treks to be found there, making hiking one of the greatest things to do in Winthrop! There are a lot of great treks in the region, certainly more than you could do in a lifetime of hiking. In late April, the ones in the valley are nice alternatives, but the upper mountain locations are generally snow-free until far into July. The best trekking season in this area is from July to early October.
Read: 10 Fun Things To Do In Cape Cod For Couples In 2023
9. The Methow River
Rafting, kayaking, and tube floating rentals and tours are available in Winthrop from a few businesses. You may go whitewater rafting or kayaking if you want to get your adrenaline pumping. You may also enjoy a relaxing tube float on a hot summer day or a relaxing kayaking trip.
Read: 12 Fun Things For Couples To Do On A Road Trip
10. The North Cascades
Late September and early October are my absolute favorite times to hike in the North Cascades, when the alpine larch trees turn a dazzling gold! There's nothing quite like golden groves against a mountain background and a clear blue sky. You could even get a sprinkling of snow to bring out the hue even more.
Several of Washington's greatest larch treks are around Winthrop or along Highway 20 through North Cascades National Park on the route there.
Read: 10 Fun Things To Do In Dodge City, KS In 2023
11. Skiing at a World-Class Level
The Methow Valley and Winthrop cross-country ski paths. A groomed ski route in the shadows of a pine forest, with a rocky tree and a snow-covered hill in the backdrop. One of the Methow Valley Trail system's outstanding paths.
12. The Methow Valley
The Methow Valley is well-known across the globe as a fantastic cross-country skiing destination, which means that winter is just as busy, if not busier, than summer. This is one of the finest things to do in Winthrop in the winter, even if you've never skied before! The grooming is impeccable, and it's simple to find out more about the conditions on the internet. They will also inform you where the finest skiing and grooming is for that day on the trail report. There are rentals and lessons available, as well as a variety of beginner and expert terrain.
The Methow Valley trail system, which spans from Mazama up into the North Cascades to Winthrop, is North America's biggest cross-country ski route system (almost 130 miles!). The trail system connects public and private land; pay attention to and respect any private property notices.
Final words
Now you know the best things to do in Winthrop. Make sure that you enjoy these activities, and you will never end up with anything to worry about. Instead, you will fall in love with all adventures that Winthrop has to offer you.