Kayaking in Oklahoma keeps our family busy and fit when it comes to recreational water activities. We live in Oklahoma City, so we know a thing or two about the best spots to kayak in the state. When you want to go kayaking, do you think of Oklahoma? While preserving Type II rapids, Oklahoma offers some of the most breathtaking river and water vistas. Check out these amazing areas to go kayaking in Oklahoma, whether you're looking for a more daring experience or the peacefulness of quiet waters. Let's take a look at the list of best Oklahoma float trips and start planning your adventures in the region.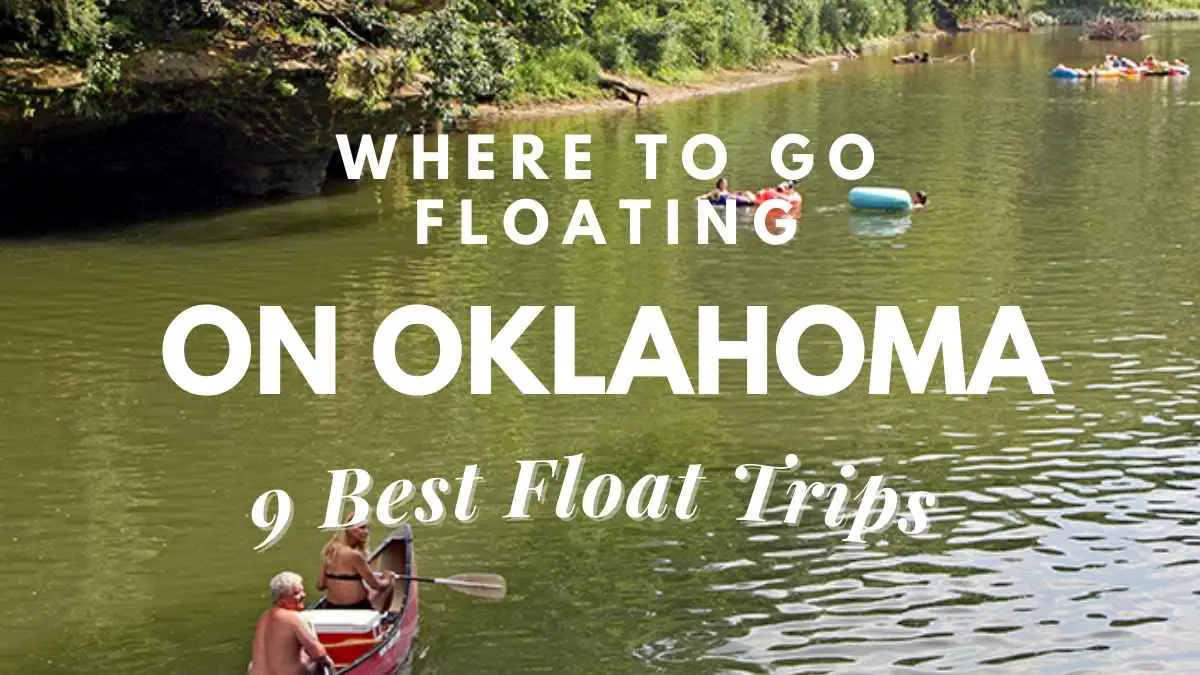 Is it worth kayaking in Oklahoma?
Do you want to go kayaking in a beautiful setting? Take a look at the sights along the Illinois River in Tahlequah, Oklahoma.
There is something for everyone along this famous Oklahoma river destination, with more than ten lodges and launching spots.
The Illinois River has a wide range of water types.
You may choose from tranquil waters to more strenuous Type II fast parts, depending on your preferences.
Public launching spots enable you to kayak on the Illinois River without having to utilize a resort.
Read: Is Traveling A Hobby? The Ultimate Guide To An Exciting Way Of Life Learn about the Downsides Of Traveling As A Hobby

1. Broken Bow River – Beavers Bend
The Mountain Fork River near Broken Bow, Oklahoma, offers breathtaking scenery and calm waters.
The Mountain Fork River originates in southeastern Oklahoma and flows south to Arkansas, feeding Broken Bow Lake.
The river is known as the Lower Mountain Fork River below the lake.
The 2-mile loop at Beaver Bend State Park, north of the Re-Regulation Dam, is one of the most popular summer kayaking spots on the Lower Mountain Fork River.
The Hwy 70 Bridge, which runs south along the river, is an excellent public access point.
Along the Lower Mountain Fork River, there are about 15 kayak rental businesses.
During the summer, the river is typically quiet, but after rainstorms and dam releases, it may reach Type II rapid parts.
2. The Arbuckles Lake
Some of the most stunning water features may be found around Davis and Sulphur, where you can kayak.
The Washita River, which is closer to Davis, is more renowned for tubing than kayaking.
The Lake of the Arbuckles is located inside the Chickasaw Recreational Area.
The Lake of the Arbuckles, located just south of Sulphur, offers some spectacular views and kayaking opportunities.
The east side of the lake is popular for water access.
Buckhorn Road landing locations include the Buckhorn Campground loops C and D, as well as the Buckhorn Boat Landing.
Not sure whether you're ready to swim in a vast body of water? Veteran's Lake is located north of the Arbuckles Lake.
Despite its tiny size, this lake is great for family fun.
The lake is surrounded by a well-kept boardwalk. A well-equipped playground on the north side will keep the youngsters occupied.
Kayak rentals are not widely accessible at the Lake of the Arbuckles, so you'll have to bring your own.
3. OKC Riversport
Riversport OKC White Water Rapids offers rafting, kayaking, and floating opportunities.
Kayaking options abound in the Oklahoma River stretch that runs through Oklahoma City's downtown region.
The tranquil water is ideal for novices and families who just want to enjoy the water in Oklahoma City's Boathouse District.
Riversport OKC, an adventure park offering whitewater rafting, kayaking, and tube floats down their man-made river, is located along the river.
4. Stinchcomb Wildlife Refuge Kayaking
Kayaking excursions are available well beyond Oklahoma City's downtown area.
Kayaking is a great family activity in Oklahoma City's northwest region, where there are two lakes.
The Canadian River portion near Lake Overholser is one of our favorites.
This portion of the Northside of Lake Overholser, known as the Stinchcomb Wildlife Refuge, enables kayaks to witness various types of birds and animals in their natural environment.
It takes your breath away to see a crane standing amid the water reeds!
5. Hefner Lake
Lake Hefner is located northwest of Oklahoma City, but northeast of Lake Overholser.
This lake has a little bit of everything for everyone.
In addition to golfing, boating, fishing, and hiking trails, Lake Hefner offers kayaking for the whole family.
You may put in at the Lake Hefner River Sport Sailing Center, which is located on the southern side of the lake near the Northwest Expressway.
6. Watonga Lake
Roman Nose State Park, just west of Watonga, is one of Oklahoma's lesser-known kayaking destinations.
Roman Nose State Park is located in the western part of the state, west of Oklahoma City, north of Interstate 40.
Lake Boecher and Lake Watonga are two water features in Roman Nose State Park.
With the bulk of hotels and water activities, Lake Watonga is the most prominent aquatic feature.
Put ins may be found on the lake's western side. The sights of animals near Lake Watonga are breathtaking.
One of our favorite moments is watching the muskrats by the General Store.
7. River Run in College Town
Enjoy great tubing conditions on more than 20 miles of the Illinois River between Kansas and Tahlequah as it winds past limestone bluffs.
The river is frequently bustling with college-age tubers and a joyful, party atmosphere throughout the summer.
Deep pools where you may swim up to your neck alternate with foamy rapids.
At Spencer Ridge Resort, where camping and cottages are also available, rent a tube at the top of the river, or hire a tube at the bottom of the river from Green River Floats and have your vehicle waiting for you at the conclusion of your float excursion.
If you're taking your own tube down the river, you'll need to purchase a river user wristband for each trip. On the river, no glass or Styrofoam is permitted.
8. Kiamichi River
Jump on the Kiamichi River at Moyers in the state's southern corner to experience bouncy rapids in a rural environment away from the partying masses.
The river winds its way through the Kiamichi Mountains, passing through the remnants of an ancient railroad bridge and a few tiny waterfalls along the route.
Summer is the greatest season to raft the river, not only because of the cool water temperature, but also because spring and fall rains may make it too turbulent for safe rafting.
Rent tubes and catch a shuttle from K-River Campground, where you can complete your adventure with an overnight stay in a rustic cabin or campground with hot showers, laundry facilities, and Wi-Fi.
9. Mountain Fork River
On a 4-mile section of the Lower Mountain Fork River near Broken Bow, dodge your way through a shallow rock garden, bounce down rapid-laced chutes, and whoosh over little waterfalls.
Ambush Adventures hires tubes at the bottom of the river's most popular length, with shuttle service to the top available.
The river is located in the state's southeast region and is just 60 miles from the Kiamichi River run, making it perfect for a weekend of back-to-back tubing.
Should you go kayaking in Oklahoma?
Will you travel if you have a tube? Throughout the state, you'll find lots of places to float your tube.
You'll find bouncy rapids on streams categorized as Class 2 on the International Scale of River Difficulty, and you won't need any expert steering abilities.
During summer dry periods, rivers with water 3 to 5 feet deep are generally floatable, allowing you to stand up and walk when navigation is required.
On their website, American Whitewater offers a countrywide database of rivers, along with instructions to river access sites, making it simple to locate a tubing river near you.
So, come on out to Oklahoma!
Let us know about your kayaking exploits.
Let us know how it went for you.
Please do not hesitate to ask any more questions.
We eagerly await your response.
Final words
To cool down during the scorching Oklahoma summers, get on an inner tube and glide over energizing rapids. Nearly a dozen rivers in the state provide great tubing conditions, with easy access to 4- to 9-mile routes with shallow waters and simple rapids. A few rivers have outfitters who rent inner tubes and provide shuttles to river access locations, letting you to relax and enjoy the trip without having to do any labor. Keep the list of best Oklahoma float trips in your mind and go ahead with your adventures. You will surely fall in love with all great adventures that come on your way.