The American barrier island of South Padre Island is situated in the Texas counties of Willacy and Cameron. It should come as no surprise that this island is a favorite with tourists, partygoers, beach lovers, snorkelers, and fans of water sports due to its stunning sandy beaches and crystal-clear seas. This guide on snorkeling South Padre Island will help you to get a better overview of what the entire experience is all about.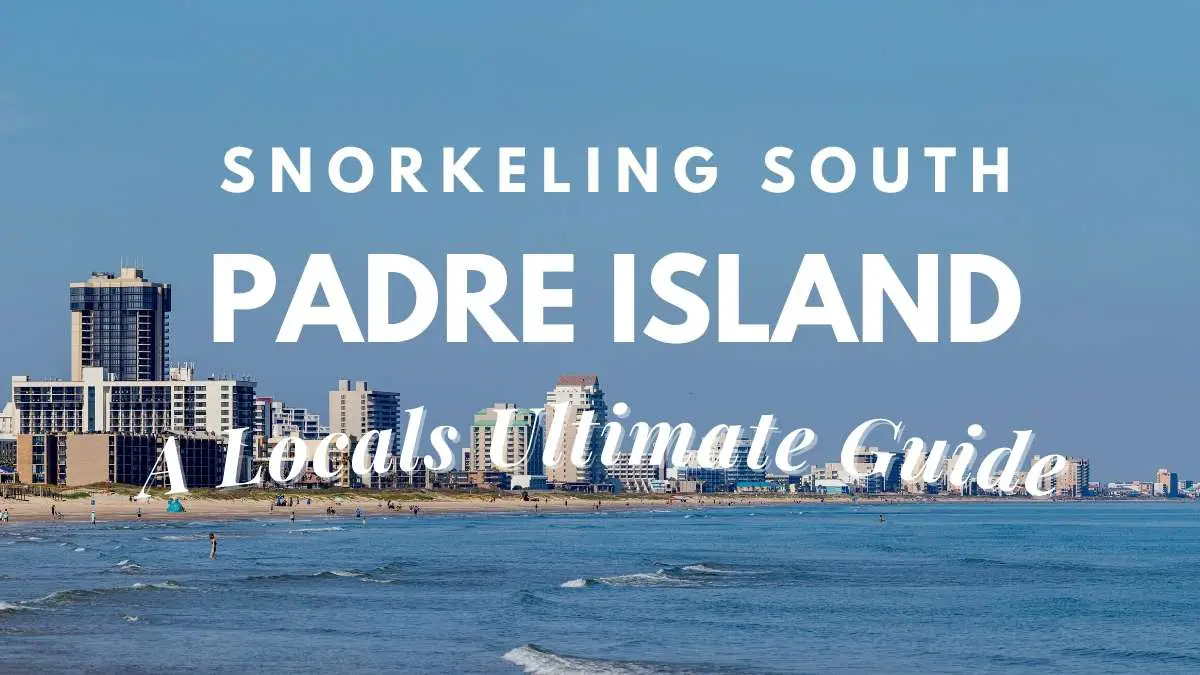 Visiting the South Padre Island
Before the 1960s, the island was off-limits for many years. Then, people began migrating to Port Isabel and subsequently South Padre Island. Today, the island exudes a carefree and enjoyable mood and is a tourist haven, particularly during Spring Break. In fact, "winter Texans," also known as "Snowbirds," who are retirees from more northern states who come to Texas to escape the cold and spend the winter in the warm and pleasant Texan atmosphere, are in high demand during the winter months.
Surfing, sunset cruises, fishing charter excursions, banana boat rides, dolphin viewing, hiking, rafting, eco tours, parasailing, scuba diving, and our personal favorite—snorkeling on South Padre Island—are all accessible on this lovely beach.
Read: Is Traveling A Hobby? The Ultimate Guide To An Exciting Way Of Life Learn about the Downsides Of Traveling As A Hobby

Is South Padre Island a Good Place to Snorkel?
Many snorkelers and scuba divers consider Texas' more than 360 miles of coastline to be a paradise. South Padre Island is a popular vacation spot for travelers of all stripes who like participating in water activities.
Due to its moderate temperature, clear seas, and intriguing marine life, this island is really one of the best in the state for snorkeling. South Padre Island consistently ranks among the cleanest, calmest, and safest seas in this region of the globe in tests and monitoring of the Gulf of Texas's waters. The phrase "the cleanest water in the nation" is literally written on the label, which is a nice greeting to enthusiastic snorkelers!
Marine The Conditions & Life You Can See While Snorkeling at South Padre Island
Laguna Madre's inner lagoon in South Padre has a particularly distinctive environment. Due to its seclusion from other water bodies, it is extremely salinous, which is what makes this site so distinctive. In the lagoon, floating is actually simpler than normal since the saltwater makes you more buoyant. As a result, snorkeling becomes more enjoyable and comfortable. Numerous marine species may be found in the area of South Padre because of its distinctive makeup.
You may see and interact with various stingray species, redfish, snappers, eels, crabs, trout, jellyfish, herrings, catfish, turtles, dolphins, and sometimes shallow water sharks when snorkeling in the Laguna Madre.
It is a fantastic experience, and since the lagoon's waters are shallow (averaging 4.5 feet deep), it is especially thrilling for children and novice snorkelers. Because of this, South Padre Island offers excellent snorkeling conditions for novices.
There, it is also quite simple to see all different kinds of marine species due to the clear water and beautiful white sand bottom. And this inner length of water, which is sheltered from winds, swells, waves, and currents on all sides, is very peaceful and safe, making it the ideal location for snorkeling in a traditional Mexican setting. all while continuing to reside in the USA!
It is obvious that South Padre Island's surrounding waters, which are nutrient-rich and perfectly transparent, provide for fantastic and really special snorkeling. We also advise all levels of snorkelers to visit the island owing to the reasonably calm sea.
What to Expect & Where to Find World-Class Snorkeling on South Padre Island
Although South Padre Island has many fun things to do on land, if the water is calling your name, here is the place to go! The North-East side of this stunning island is widely known to scuba divers for its many shipwrecks, oil rigs, and artificial reefs, but most snorkelers will choose a more laid-back experience in Laguna Madre.
Although it is feasible, snorkeling outside of the lagoon is not advised since the seas may be frightful, and few operators are willing to take the chance. The ocean floor is also fairly deep, making it difficult for snorkelers to see much or have decent views.
Laguna Madre, a protected lagoon, is the ideal location for snorkeling. There are several cruise companies that may take you there for a snorkeling excursion at various locations in the lagoon. There are no reefs, thus there are no designated dive sites. Just follow the guide's instructions and have fun! The average depth of the lagoon's snorkeling locations ranges from 3 to 6 feet. Rays may be seen hiding and napping under the sand, while puffer fish can be seen peacefully swimming about. The clean waters show a wonderful white sandy bottom covered with beautiful sea shells.
On the ocean bottom, you may find crabs, starfish, shrimp, and even seahorses in some of the sea grass areas. Additionally, the potential sighting of Atlantic bottlenose dolphins enhances the experience, making it unforgettable not only while snorkeling but also during a well-liked dolphin watching and sightseeing excursion onboard an eco-cruise ship.
The warm water and ideal conditions of the lagoon make it possible to stay in the water for an extended period of time. Most snorkeling charters will also include a snack or lunch break, allowing you to enjoy the excursion to the fullest and increasing your chances of seeing the marine life we all long to see. While investigating the bottom of the Laguna Madre, it's crucial to bear in mind that young fish thrive in this habitat.
The first few weeks of an aquatic animal's existence are a particularly intense and fragile time, and interaction with these life forms is thought to need the highest care. Therefore, it is advised that you refrain from scaring, touching, and feeding marine animals while you are snorkeling. Instead, we strongly recommend that you bring a video or underwater camera to capture the breathtaking beauty of the encounter.
Practical Advice for Your South Padre Island Vacation Snorkeling
The waters of South Padre Island are suitable for both boat diving and beach diving. If you're a complete novice, we advise training from shore a few days before getting on a snorkeling boat and embarking on a thrilling voyage at sea.
If you have never snorkeled before, take careful to familiarize yourself with the gear. Thanks to the snorkel, which draws air from the environment and enables you to remain face down in the water for as long as you want, you will only need to breathe through your mouth. There isn't a mask that fits everyone perfectly, so choose one that comfortably fits your face and doesn't leak water into the inner chamber.
Ask the snorkeling guide or store employee to help you discover the ideal fit for your face whether you are renting equipment from one of the many shops on the island or even buying your own. If you also use fins, it could be wise to stay with a whole foot fin that is simple, comfortable, and well-propelled. Many snorkelers choose to go without fins, but we like to wear them since they provide us a little additional propulsion, particularly if you want to dive down to view that colorful fish or lovely shells up close!
Fortunately, there are plenty of activities, dining, and lodging choices on South Padre Island, a popular holiday spot. Especially during spring break and the summer vacations, you may discover reasonably priced bed & breakfasts, all-inclusive hotels, and a sizable number of taverns, clubs, nightclubs, and musical venues. A Local's Guide to South Padre Island Nightlife is advised.
SPI, as South Padre Island is often referred as, can be a very different place at various times of the year. During Spring Break, the area is bustling, noisy, active, and even packed as hundreds of young people take advantage of the warm weather and party all night long. It is a considerably more laid-back location the remainder of the year, often preferred by pacifists and sea lovers.
There is seldom ever a terrible time of year to visit South Padre Island and enjoy snorkeling. Having said that, the ideal time to visit is between September and February since it's not too hot and it's not hurricane season. While there is a potential of storms and temperatures reaching 90 degrees Fahrenheit between June and September.
With an average of seven rainy days every month in SPI, September also happens to be the wettest month. There isn't much that could ruin your trip to South Padre Island to snorkel, however!
Check other activities as well
On your vacation to South Padre Island, would you want to spend some time relaxing with your family? Between the Laguna Madre and the Brazos Santiago Pass, explore Isla Blanca Park. It's one of the best spots to visit in South Padre Island for nature enthusiasts and birdwatchers because of the infrequent sightings of dolphins, ospreys, and brown pelicans. Along with snorkeling South Padre Island, make sure that you also take a look at other great activities available for you to engage with.
Enjoy the peaceful atmosphere of Isla Blanca County Park or plan a picnic on the beach. Go fishing, swimming, windsurfing, or kiteboarding for a more active trip. Rent a boat and explore the waterways for something more exciting. The Cristo De Los Pescadores monument, large ships, shrimp boats, surfers flying through the air, and gorgeous marine life will all be seen throughout your journey.
There is plenty of parking available in Isla Blanca Park, and there are food vendors there as well. Do you need to spice up your agenda with some engaging historical sightseeing? Visit the Port Isabel Lighthouse State Historic Site's summit. The historic lighthouse, which is one of Texas's oldest and the only one open to the public, has been guiding ships since 1852.
The 65-foot tower's three ladders and 75 twisting steps must be climbed to reach the summit. You may enjoy a breathtaking 360-degree view of Port Isabel, South Padre Island, and Laguna Madre Bay from the top of the Port Isabel Lighthouse. Additionally, you'll see the keeper's quarters, which is now a museum. Numerous relics and exhibits tell the story of the lives of lightkeepers and their families.In search of a quick outdoor activity? The grassy knoll that surrounds the Port Isabel Lighthouse State Historic Site is a great place to enjoy a leisurely walk.
Do you want to include some aquatic activities in the mix? Visit Isla Blanca's Beach Park to see some action. There are thirteen amazing indoor and outdoor slides, as well as two river systems, at this 25-acre water park on the Rio Grande. Dive into the Beach Park in Isla Blanca's crystal-clear waters to experience the rush of excitement while riding slides like Gale Force and Sea Blaster. By flying through the skies on the Soaring Eagle Zip Line, take in the bird's-eye perspective. Bring your kids to the sizable Sand Castle Cove where they may enjoy themselves by playing on the slides, fountains, ground sprays, and water buckets.
Are you feeling the Gravity Park Adventure in your veins? Visit Gravity Park to feel the thrill. One of the top South Padre Island tourist attractions for the entire family, this amusement park is located in the center of the island and provides enjoyable activities.
Final words
Now you know what it is like to go ahead with snorkeling South Padre Island. If you are a person who loves snorkeling, this is a place that you should be visiting at least once in your lifetime. It will provide you with a bunch of outstanding memories and experiences, which you will truly fall in love with. You cannot get the same experience from anywhere else. Therefore, we strongly encourage you to come here for snorkeling.