Is Port Townsend worth visiting? Yes, it is one of the destinations that you need to add to your bucket list. That's because you can secure numerous outstanding experiences as you continue to explore Port Townsend. While keeping that in mind, let's deep dive into the facts and see whether Port Townsend is worth visiting or not.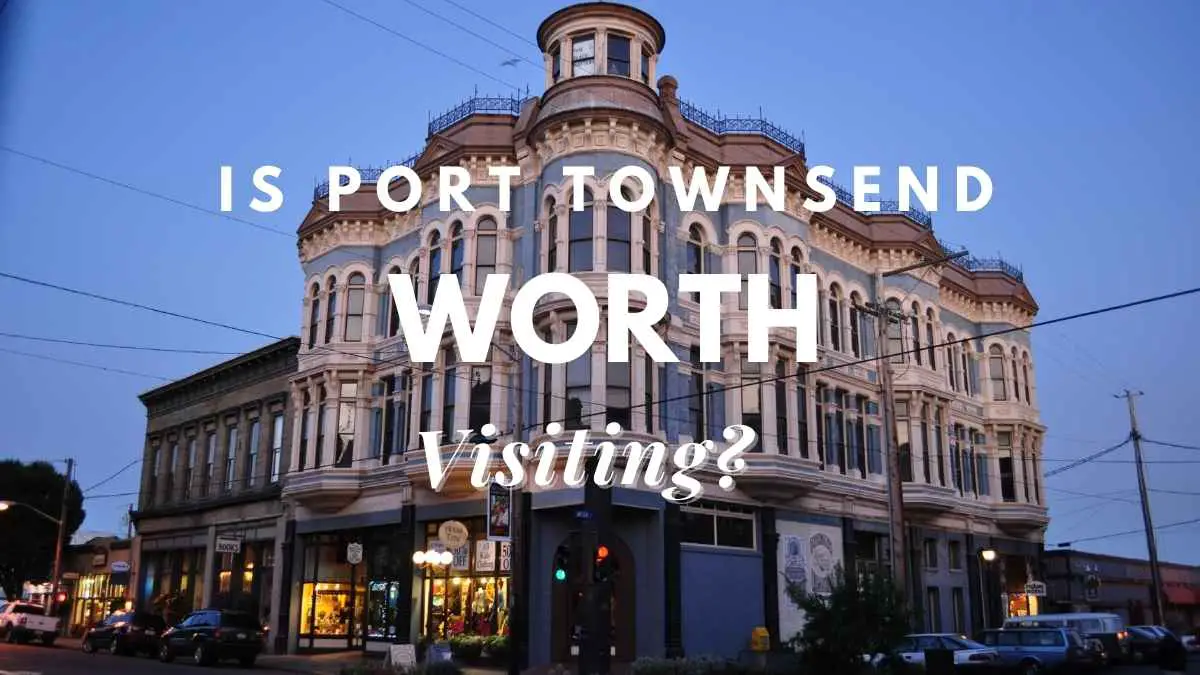 Why should you visit Port Townsend?
Port Townsend, Washington, is a very lovely American town.
Port Townsend, Washington, is recognized for its Victorian architecture and natural beauty.
Port Townsend's success is due to its various attractions, particularly for outdoor enthusiasts.
Port Townsend is one of our favorite year-round tiny communities.
It's quaint and laid-back, with frequent sea breezes and the nicest people.
Our family initially discovered Port Townsend on a cross-country road trip and has been hooked ever since.
In fact, our firstborn now builds and repairs wooden boats on the Port Townsend shoreline.
This means more time in our favorite west coast town!
We wanted to share some of our favorite Port Townsend activities with you since we love it so much.1.
Read: Is Traveling A Hobby? The Ultimate Guide To An Exciting Way Of Life Learn about the Downsides Of Traveling As A Hobby

1. Enjoy a Picnic in Chetzemoka Park
We enjoy visiting parks, trails, beaches, and campers everywhere we travel.
This city has so many natural places! Chetzemoka Park is a tiny seaside park in Port Townsend's uptown and downtown.
Pack a picnic and wander around the tropical flower gardens and the brilliant rose promenade.
Chetzemoka Park has floral mysteries just waiting to be uncovered.
Deer often browse on the park's rich grass.
Take the short trek to a rocky beach and watch the tide come in.
You'll likely see dog walkers, bird watchers, and whale watchers.
There are few benches swings and picnic tables to relax on.
Not only is an afternoon picnic overlooking Puget Sound lovely, but it's also free!
If you need a break from the hustle and bustle of downtown Port Townsend, take a walk through Chetzemoka Park and enjoy the stunning vistas of Puget Sound.
It's a quiet urban park full of surprises!
2. Explore Fort Worden State Park All Day and Night
Fort Worden State Park is the best place to camp and hike in Port Townsend.
Hikers, swimmers, anglers, and environment enthusiasts will enjoy Fort Worden.
You may go for a week without seeing the same path!
You may camp or RV near downtown Port Townsend.
Fort Worden State Park has two camping sites.
The Beach Campground is the most popular, however the beach sites are exposed and lack shelter and seclusion.
The Beach Campground is ideal for RVs, providing shelter from the weather and seclusion.
The Point Wilson Lighthouse and the Marine Science Center are both within walking distance of these lovely campgrounds.
Consider the Upper Forest Campground for shade and seclusion.
It's near the Chinese Gardens Lake at Fort Worden's southwest corner.
25 of the 30 sites include complete RV hookups.
The other 5 are for hikers or cyclists.
We generally always camp at Upper Forest Campground in Port Townsend.
In addition to year-round camping, Fort Worden also offers dedicated housing inside the park.
Reservations may be made online at Washington State Parks.
Summer camping at Fort Worden State Park in Port Townsend may be crowded.
August and September need reservations.
During the remainder of the year, you can generally avoid booking reservations.
Read: Port Angeles VS Port Townsend Compared- Which Is Nicer?
3. Discover the Fort Worden Bunkers
Fort Worden State Park near Port Townsend, Washington.
Exploring the bunkers is a must in Port Townsend WA.
Our kids used to love exploring the turn-of-the-century bunkers at Fort Worden State Park.
Our favorite bunkers are on the cliffs overlooking the Straits of San Juan de Fuca and Puget Sound.
Safeguards must be taken since these abandoned bunkers are enormous concrete constructions without any safety precautions or management.
That's what makes them so exciting to discover!
Our kids called them "catacombs" since they were dark and seemed like they might become labyrinths if they were entered.
The bunkers are a delight for the daring or inventive and would make a terrific horror film backdrop.
You may take your kids to the Fort Worden bunkers, if they are old enough and not terrified of heights or dark tunnels.
4. Point Wilson Lighthouse
The Point Wilson Lighthouse is situated in Admiralty Inlet on the coast of Fort Worden State Park.
It's a key navigational assistance for ships passing through.
An 1879 lighthouse atop the lightkeeper's residence.
Both the lighthouse and the fog signal structure were built in 1913.
It is one of 19 remaining US lighthouses along Puget Sound.
The Point Wilson Lighthouse is not part of Fort Worden State Park, although it is easily accessible.
You may stroll there from Fort Worden Beach or the park's north coast.
Saturdays from 1 to 4 p.m. from May to September.
5. Visit the PTMSC
Looking for more family fun in Port Townsend? The popular science center at Fort Worden State Park is a terrific place to take youngsters who enjoy the beach.
The Marine Science Center debuted in 1982 and has touch tanks, aquariums, and even a hydrophone to listen to offshore whales.
Only six completely articulated orca whale skeletons exist in the US.
During the winter, the Marine Science Center is open on weekends and every day except Tuesday.
6. Port Townsend Farmers' Market
The Port Townsend Farmers Market is one of the greatest outdoor markets in Washington, held every Saturday in uptown Port Townsend.
You won't want to miss this market, whether you want to meander around and enjoy live music, or fill up on fresh fruit, meats, cheese, and seafood.
From April through December, the Port Townsend Farmers Market is held on Tyler and Lawrence Streets downtown. Winter hours are 10am-2pm.
7. Explore Downtown Port Townsend
A charming Victorian village on the Olympic Peninsula, Port Townsend combines Victorian houses, gardens, and a lively downtown.
Downtown has hundreds of stores, art galleries, and eateries.
There are so many unique shops to discover, many within walking distance of the waterfront.
Let me tell you about the fascinating locations downtown, but the best way to discover them is to go out there and wander!
Staying at a downtown hotel allows you to walk everywhere.
There's much to do in Port Townsend without driving.
8. Wooden Boat Festival in Port Townsend
In 2019, we went during the Port Townsend Wooden Boat Festival.
The event lasts three days and includes activities, seminars, boat cruises, music, and more.
The Port Townsend Marina houses nearly 300 wooden boats, and the town is crowded with boaters, sailors, and woodworkers.
We'd heard about the event for years and were excited to finally go.
Visitors to Port Townsend who are interested in boats and maritime history owe it to themselves to attend this fantastic event.
My only advice is to book early since housing for this world-famous event sells out rapidly.
Final words
Now you know a lot about Port Townsend and a list of exciting activities available for you to engage with. Keep these in your mind and go ahead with your adventures of visiting Port Townsend. You will never regret about the decision you take to come here.