Norris Lake is a popular vacation spot that offers a variety of water activities, fantastic fishing, relaxation, and a terrific location to create lasting memories with friends and family. Planning a vacation to Norris Lake might seem a little intimidating because of its more than 800 miles of coastline and distribution over five East Tennessee counties. In order to make planning your Norris Lake trip a bit simpler, we've put up a list of things to know.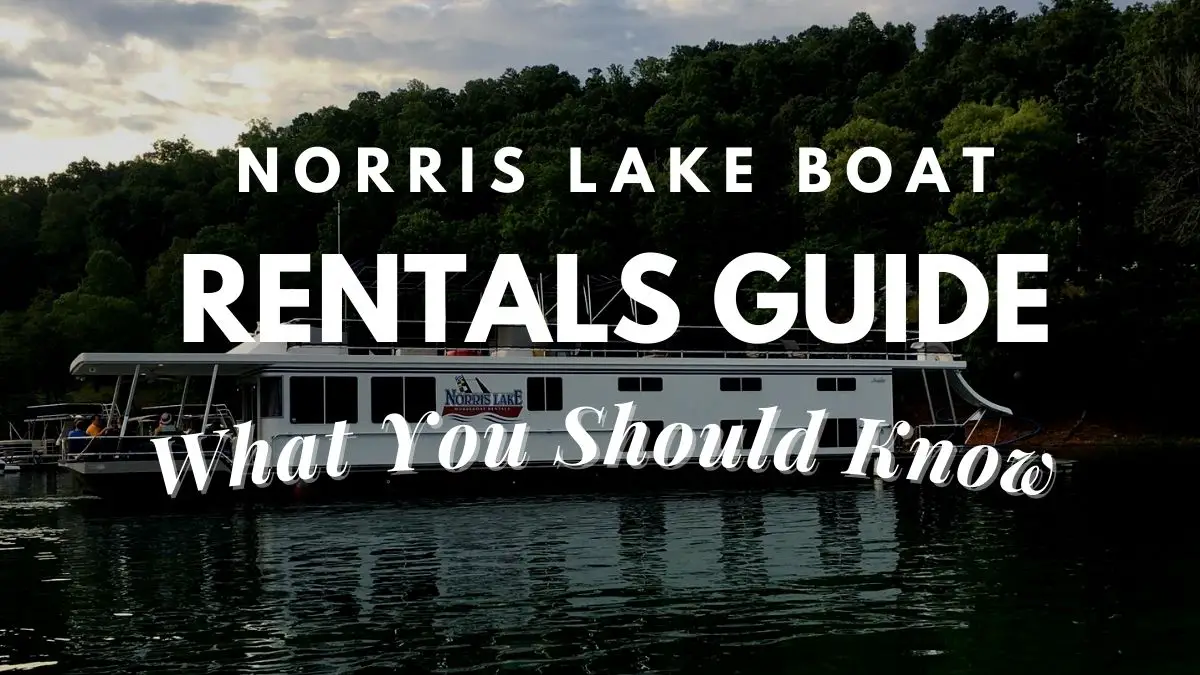 Wakeboarding on Norris Lake: Things to Do
Norris Lake is the ideal holiday spot, regardless of whether you want to relax by the pool and soak up the sun or if you like a bit more excitement. Water sports include wakeboarding, wake skiing, tubing, and several paddle sports, among others. Norris Lake's crystal-clear water makes it ideal for paddle boarding and kayaking. Wakeboarders may try out new tricks on the smooth, wide channels, and Norris is a terrific area to tie up with friends and float the day away because to its many secluded coves. You may try your hand at a variety of water sports at Norris Paddling Adventures, which is situated near Norris Dam Marina. They hire paddleboats, paddleboards, kayaks, canoes, and hydro bikes.
Read: Is Traveling A Hobby? The Ultimate Guide To An Exciting Way Of Life Learn about the Downsides Of Traveling As A Hobby

Fishing at the Norris Lake
Although Norris Lake is home to 14 different fish species, bass are the most common. Although April, May, and June appear to be the finest months for fishing, you may still get lucky at any time of year. Bass tend to be shallow in the mornings and nights throughout the summer, but they go deeper as the sun rises. We advise hiring a fishing guide if this is your first time fishing on Norris Lake. The prime areas will all be known by the guides, who can ensure an enjoyable fishing excursion. Click here to see a list of fishing guides. Remember that you need a Tennessee fishing license to go fishing on Norris Lake. The Tennessee Wildlife Resources Agency website has all the information you want to purchase a fishing license.
What are the best places for Norris Lake boat rentals?
Rent a boat from one of the nearby marinas and spend the day on the lake with your family and friends. On Norris Lake, there are 19 marinas that rent out boats. Make sure to prepare lunch and drinks, put in your bathing suit, bring your tubes, and water floats, and all of this before you begin your day on the lake! Don't forget to check the weather's temperature and pack lots of sunscreen. Determine the size of your party before making a boat rental reservation.
Rental pontoon boats are typically 24′ long, with plenty of room for sitting, and can hold up to 12 people or less. A full tank of petrol and an all-day boat rental cost about $225+, plus you may be asked to put down a damage deposit on your credit card. Normally, you have to be 25 years old to rent a place. A CD player and a radio with an MP3 input connector are accessories. At a few marinas, discounts for several days are offered. Even if they don't have costs listed, be sure to inquire. Reservations are advised since the summer becomes popular and fill up fast. in particular on long weekends.
On Norris Lake, there is a full-service marina called Beach Island Marina. Additionally, several marinas hire out paddle boards, tubes, and other watercraft.
Gas consumed when renting a boat must be paid for when the boat is returned. Please don't forget to clean up your garbage and all of your possessions. In accordance with the boat's maximum carrying capacity, life jackets are offered for boat rentals. Typically, a one-size-fits-all life jacket is used. Ask for a kid's life jacket if you are traveling with a little child. Some marinas do not provide life jackets for youngsters under the age of 12.
What are the best places to stay?
Cabins, homes, condominiums, floating cottages, houseboats, and more are available at Norris Lake. You may discover accommodations to fit your requirements, whether you're seeking a big-group getaway or a cozy getaway for a couple. Visit our website to get a complete list of available rentals in Anderson County.
On Norris Lake, there are a lot of marinas, but we're just going to mention Stardust and Sequoyah. They just so happen to be two of the top marinas on the lake, and both are in Anderson County! Every Friday night throughout the summer, Sequoyah Marina hosts Wing Night, which is popular. They provide some of the lake's tastiest wings and the frostiest Corona! On the weekends, they also provide a delectable breakfast buffet. Live music is performed every Saturday night throughout the summer from 6:00 to 10:00 p.m. at Stardust Marina.
Not only will their dock rock, but you can also have one of Norris Lake's tastiest meals there! The bang, bang shrimp is what we suggest since it is so delicious! You may still have a vacation on Norris without having a boat thanks to the availability of boat and jet-ski rentals at both marinas. Visit http://www.norrislakemarinas.org/ for a complete list of marinas on Norris Lake.
Things to do in the area
Whether you want a day in the shade or some inside entertainment on a wet day, there is enough to keep you occupied. The biggest privately owned off-road park in the nation, Windrock Park, is a well-liked spot for lake visitors and offers quite the experience! You may spend a day hiking the trails and admiring the gorgeous surroundings not far from Norris Lake. Renting a side by side is an option, so don't worry. The trails of Norris Dam State Park are excellent for mountain biking, hiking, and trail running. Be sure to swing by Clinch River Brewing while you're at the park to sip on some craft beer and eat some mouthwatering food.
1. Watercraft and Boating Sports
You've come to the perfect location if you like outdoor activities that include boats and water sports. The beauty of the lake is one of the primary attractions for tourists visiting Norris Lake, Tennessee. One of East Tennessee's purest lakes is Norris Lake. On Norris Lake, there are roughly 21 marinas that rent out pontoons, wakeboard boats, jet skis, and fishing boats. Even party pontoon boat rentals with double decks and water slides are available at certain marinas! For a full day of boat rental on the lake, budget between $225 and $250 plus gasoline. Visit boat rentals on Norris Lake for a comprehensive list of boats for hire and rates. Oasis Watersports also offers boat rentals that may be delivered to your vacation rental home or local marina!
In addition to boating, there are other water sports such as paddleboarding, canoeing, and kayaking. The newest fad in water activities on Norris Lake is paddleboarding, sometimes known as SUP for Stand Up Paddleboard. Because it is thrilling, enjoyable, and gives plenty of exercise, Bros Boards on Norris Lake is happy to introduce this new water activity to the lake. Rental prices may start at $25 and go as high as $100.
2. Explore the Norris Dam State Park
With family and friends, enjoy a day of sightseeing and outdoor activities at Norris Dam State Park! A must-see is the Norris Dam reservoir! The park also offers nearby camping opportunities and hiking routes including Lakeside Trail and the trailhead for Hootin Hollow. Lunch should be had in the tourist center. You can see the dam from the picnic tables that are positioned throughout the grass. Visit the Grist Mill and Threshing Barn if you like history. The Lenoir Museum Cultural Complex offers more information about Appalachian life.
3. Spend the day hiking at Big Ridge State Park.
Big Ridge State Park, which spans 3,687 acres, is an example of how the TVA lakeshores have been used for public pleasure. Everyone may enjoy the park's hiking trails, fishing, swimming, picnic spots, pavilion, playground, tennis facilities, basketball courts, camping, and other amenities. The Lake Trail, Meditation Trail, Loyston Overlook Trailhead, and Dark Hollow Trailhead are the four hiking routes in this region. A hiking route may be between 310 yards and 1.5 miles long. Visit the visitors center on-site for further details and a map of the region!
4. Campgrounds at Morris Lake
On Norris Lake, camping is a well-liked outdoor pastime. Visitors have a choice of 12 marinas on Norris Lake that provide camping facilities, or they may set up a tent at a nearby park. The cost of camping at the marinas ranges from $15 per night for tent sites to $25 to $50 per night for RV camp sites and $100 or more per month to $1848 a year for long-term campsites. There are camping areas in Anderson County Park, Big Ridge State Park, Cove Lake State Park, Loyston Point Campground, and Norris Dam State Park. Tent camping costs $15 per night, RV camping costs $20 per night, and long-term camping costs $285 per month. Usually, a minimum of two nights is needed. Reservations for camping are strongly advised. Visit camping spots on Norris Lake for a comprehensive list!
5. Go to the Lenoir Cultural Complex Museum and Grist Mill
If you like history, enter Norris Dam State Park and make a pit break at the Lenoir Museum Cultural Complex. Visitors may see hundreds of early American antiques used in Tennessee daily life at the museum, which is free to enter. Make sure to see the 18th-century Crosby Threshing Barn and Rice Grist Mill, which are both within walking distance and just around the corner. Free entry is offered.
In the American state of Tennessee, there is a lake named Norris Lake. The Powell River and the Clinch River combine to form the lake. 72 miles up the Clinch River and 56 miles up the Powell River are Norris Lake. It has 809 miles of coastline, including 50 miles of island shoreline, and 33,840 acres of water. Norris Lake is 1.2 miles wide at its widest point. Norris Lake offers stunning views of the highlands from its fresh, warm, clear waters since it is located near the foothills of the Cumberland Mountains. Many fish species, including walleye, rockfish, largemouth and smallmouth bass, live in the warm water. The biggest reservoir in the Tennessee River system is Norris Lake. It has recently developed into an incredible water sports destination in Tennessee.
Norris Lake and Norris Dam's history in Tennessee
The site of a potential dam construction in the upper Tennessee Valley was found in 1911. The prospective construction site, known at the time as the "Cove Creek Site," was chosen because of its natural setting and capacity to support a large dam. The building of Norris Dam, the first dam in Norris Lake, was given to the very young Tennessee Valley Authority on October 1, 1933. (TVA). Over $32 million was included in the project's budget that was suggested. Norris Dam was built with the intention of bringing some stability to the chaotic and unpredictable floods in the Tennessee valley as well as to provide the region with a sizable supply of self-generated electricity. The dam bears the name of Senator of Nebraska and longtime TVA supporter George Norris (1861-1944).
Norris Dam's construction was finished on March 4, 1936, and the gates were shut. The completed dam measured 265 feet in height and 1,860 feet in length. The Norris Reservoir was entirely filled by January 1937, creating the biggest reservoir on a Tennessee River tributary. 33,840 acres of water and 809 kilometers of coastline may be found in Norris Lake. A TVA-funded project, the Norris Dam, is also pleased to provide a maximum energy output of 131,400 kilowatts.
Norris Dam and the reservoir's whole development phase necessitated significant acquisitions and purchases. Over 152,000 acres of land were acquired during the course of the project, and 2,841 households and 5,226 cemeteries were also moved to make room for the massive TVA project's construction region. The Norris Dam building project attracted tens of thousands of employees, thus Norris Town, Tennessee, was first established and erected as a refuge for them all.
At the start of 1933, the Tennessee Valley Authority (TVA) was established. It was established as a component of the New Deal under President Franklin D. Roosevelt. The President's law gave TVA the authority to start building shortly after it was established.
Even today, the Norris Dam, which is in East Tennessee and close to I-75, remains tall and proud. Numerous people get electricity from it, and it also stabilizes and controls floods in the Tennessee Valley and the five counties that surround Norris Lake.
Final words
Norris Lake attracts thousands of tourists and families each year because it provides a breathtaking natural haven. The tranquil and astoundingly beautiful turquoise-green deep waters are well framed by the gorgeous rolling hills in the area. Lake Norris is a unique and priceless discovery for anybody looking for scenic magnificence. At Norris Lake, there are a ton of activities available, including fishing, swimming, vacationing, boating, tubing, wakeboarding, water skiing, kayaking, canoeing, hiking, paths, and camping.
The locations around Norris Lake attract you to return time and time again with their sheer splendor, in addition to providing leisure, quiet, and a new experience with breathtaking natural beauty to explore. Along its lengthy and meandering coastline, Norris Lake also offers a lot of secret secluded coves, in addition to many miles of hiking routes into the hills. To have an absolutely fantastic holiday, there is enough of water and land to explore.