The second-oldest colonial settlement in Puerto Rico is San Germán. After the French devastated the ancient settlement, which had been erected in 1511, it was founded in 1573. A lot of the streets in this charming town are lined with stately mansions from the 18th and 19th centuries that have been painted pastel colors of blue, pink, and green and are decorated with verandas, columns, and elaborate wrought-iron work. It features two plazas, San Germán.

One of the oldest chapels in the Americas, Porta Coéli, is located in the older of the two plazas, Plazuela Santo Domingo, which is the smaller of the two. The alcalda (town hall) and Iglesias San Germán de Auxerre are located on Square Francisco Mariano Quiones, the city's biggest plaza. Continue to read and we will be sharing more details about San Germán Puerto Rico with you.

San Germán has few accommodations, although the culinary scene has recently grown to include a few destination eateries. It's a terrific chance to see a colonial town that has largely escaped the impact of the mainland since the drive is a peaceful and shaded journey along winding mountain roads from Ponce or Mayagüez.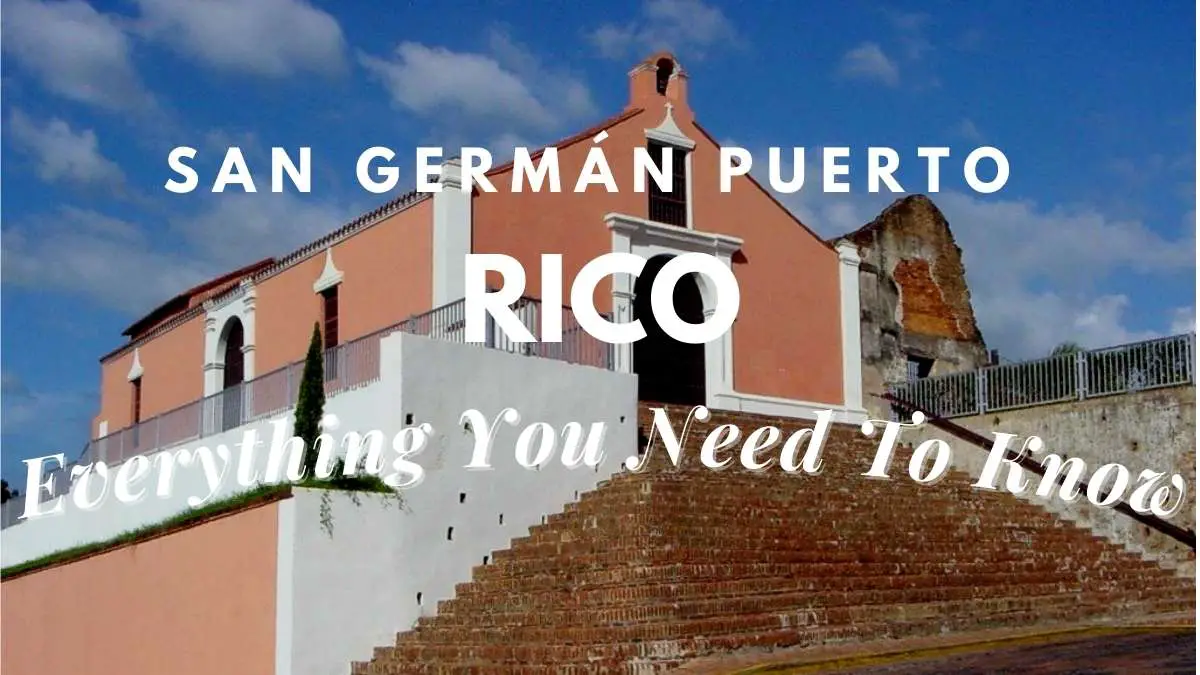 Exploring the history of San Germán Puerto Rico
More than 100 noteworthy structures make up the San Germán Historic District, but the monastery and church Porta Coeli, built in 1609, is the most recognizable. The magnificent staircase that leads to the austere building's interior now leads to a religious art gallery with hand-painted tiles representing biblical texts, wood-carved saints, and other interesting Christian artifacts.
Iglesia San Germán de Auxerre is a 1688-built Roman Catholic church that overlooks Plaza Francisco Mariano Quiones. The current place of worship has more elaborate elements than Porta Coeli, including an 1869 marble altar, wood carvings from the seventeenth century, painted archways, and a picture by renowned Puerto Rican artist José Campeche.
The Museo de la Historia de San Germán is a museum that includes a number of modest rooms describing the history and heritage of the town. It is housed in a former savings and loan bank built in 1881. Rare Puerto Rican coins and the town's passion for basketball are only two examples of the many historical and contemporary topics covered in the exhibits. An English-language movie illustrates how San Germán had a significant part in the creation of Puerto Rico, even though the majority of the displays are in Spanish. A beautifully renovated 1887 building across the street is home to the bottom floor of Museo Farmacia La Botica. The museum is modeled as a typical pharmacy from the nineteenth century, down to the authentic features like an antique cash register, apothecary jars, a microscope, and a balancing scale.
The art museum in San Germán, Museo de Arte y Casa Estudio, has a collection of artworks, including paintings, sketches, religious items, and other artifacts that illustrate Puerto Rico's history. Visitors may tour a reconstruction of the home of one of the town's most famous and distinguished families nearby at the Casa de Lola Rodrguez de Tió museum, where artifacts including antique furniture and housewares, significant letters, and historical papers are on display.
Read: Is Traveling A Hobby? The Ultimate Guide To An Exciting Way Of Life Learn about the Downsides Of Traveling As A Hobby

San Germán Puerto Rico offers great cuisine for everyone
San Germán's eating scene provides a delectably diverse selection of modern, international food. At Tierra Viva Bistro, delectable fare like cinnamon roll pancakes and eggplant burgers with sweet potato fries are produced with ingenuity. In addition to mouthwatering tacos, burritos, nachos, and other Mexican cuisine, Lupito's provides breathtaking views of Porta Coeli from the outside terrace. Grab a seat at Tapas Café in San Germán for a taste of Spain. The menu include favorites like house-made sangria and chorizo in wine sauce. Visit the trendy bar Donde Sea Bar for a pre- or post-dinner beverage if you're thirsty. It's decorated with vibrant murals.
Activities in San German
San Germán, Puerto Rico's second-oldest town, is a little museum piece and is just over 2 hours from San Juan and just an hour's drive from Ponce and the beaches of the southwest coast. It was established in 1512, and the French destroyed it in 1528. It was reconstructed in 1570 and given the name Germain de Foix in honor of King Ferdinand of Spain's second bride. San Germán, formerly San Juan's competitor, was home to a large population of pirates who plunder ships cruising along the adjacent shoreline. In fact, a large portion of the current population is related to the former occupants, who included politicians, poets, priests, and smugglers.
1. Exploring the historical sites
Although the sugar plantations and pirates are long gone, the city nevertheless has vivid remnants of its former Spanish colonial life. Similar to Seville, several of these patios are cheered up with flowers. A lot of the locals also wander around the historic district in the early evening, much like in a small Spanish town. Spanish colonial (1850s), criolla (1880s), neoclassical (1910s), Art Deco (1930s), and international (1960s) architectural styles are represented in the charming old-world buildings lining the streets of San Germán, which is also known as Ciudad de las Lomas (City of the Hills). San Germán is included on the National Register of Historic Places because of the importance of these structures.
The 249 historical sites in the city are all conveniently close to one another. Unfortunately, you have to look at the majority of them from outside. You should consider yourself lucky if any of them are truly open; the volunteers who work there never show up, they don't have phones, and they don't maintain regular hours. Be advised that many of the streets in the old town tend to flow one way and that the signage for the ancient buildings might be unclear. From the busy main street, the majority of the city's architectural gems are located upward (Calle Luna). In order to get to the architectural features indicated below, we often attempt to park on the town's main street (Carretera 102, which changes its name inside the confines of San Germán to Calle Luna), then walk through the city's commercial district.
2. Iglesia Porta Coeli
Iglesia Porta Coeli (Gate of Heaven) (tel. 787/892-0160), located on a hill near the eastern end of the Parque de Santo Domingo, is one of Puerto Rico's most notable churches. The oldest church in the New World, it was constructed in 1606 in a design influenced by northern Spanish Romanesque architecture. It has been restored by the Institute of Puerto Rican Culture and is covered in a coat of salmon-colored stucco. It houses a religious art gallery with an extensive collection of old santos, the carved saint figurines that have long been a significant component of Puerto Rican folk art. Look for the 17th-century painting of the French Santa Claus, St. Nicholas de Bari. The sturdy ausobo-wood beams and antique palm-wood ceiling within lure the gaze skyward. Other gems include early Santo Domingo choral books, a crude depiction of Jesus, and Seora de la Monserrate Black Madonna and Child statues from the 19th century. The price of admission is $3 for adults, $2 for seniors and kids over 12, and free for kids under 12. Wednesday through Sunday, the church is open from 8:30 am to noon and 1 pm to 4:30 pm.
3. The Casa Morales
The Casa Morales (also known as the Tomás Vivoni Home, after its architect), San Germán's most well-known and photographed house, is located less than 100 feet (30m) downhill from Iglesia Porta Coeli, at the foot of the stairs that lead from its front entrance down to the plaza below. It was constructed in 1913 and is designed in the Edwardian style, with wraparound porches, elegant gables, and features that may remind you of a Swiss chalet. This construction reflects the area's agricultural wealth at the start of the 20th century. (Remember that it is a private home and may only be appreciated from the outside.)
4. Parque de Santo Domingo
One of San Germán's two principal plazas is the Parque de Santo Domingo, a long, narrow, slightly sloping plaza that faces Iglesia Porta Coeli. The plaza is also referred to as the Calle Ruiz Belvis on street signage. The square, which was once a marketplace, is paved with red and black cobblestones. Cast-iron seats and portrait busts of significant personalities from the town's past along its perimeter. This plaza smoothly combines with another plaza known as the Plaza Francisco Mariano Quiones, the Calle José Julian Acosta, and the Plaza Principal, according to street signs and maps. The underused (and inaccessible to the public) Viejo Alcalda divides the two plazas (Old Town Hall). It was constructed during the end of the 19th century and is awaiting a new use, potentially as a museum or public structure.
5. San Germán de Auxerre
San Germán de Auxerre, which towers magnificently above the western end of Plaza Francisco Mariano Quiones, is San Germán's most spectacular church and the most significant structure in the area. Its phone number is 787/892-1027. It was constructed in 1573 in the shape of a straightforward chapel with a low-slung thatch roof, following a Spanish baroque design. Its current splendor is the product of at least five expansions and modifications in the intervening years. Following a catastrophic earthquake in 1688, most of what you see now is the product of reconstruction in 1688 and restoration in 1737. Three naves, ten altars, three chapels, and a belfry that was restored in 1939 after an earthquake in 1918 are all located within. The biggest chandelier in the Caribbean is the one in the center, which was crafted of rock crystal and brought from Barcelona in 1866. The trompe l'oeil ceiling, which was painstakingly repaired in 1993, is the church's pride. During a renovation in 1999, many stained-glass windows with modern patterns were added. Visits to the church are welcome every day from 8 to 11 am and 1 to 3 pm.
6. Town square
The town's two major squares are close to a few lesser-known attractions. At the border of Parque Santo Domingo (Calle Ruiz Belvis 22; tel. 787/892-1122), Farmacia Martin, a contemporary pharmacy, is oddly housed within the shell of a beautiful but dilapidated Art Deco edifice. The Calle Dr. Ueve, which winds its way downward from its beginning at the foot of the Iglesia Porta Coeli, is bordered on the southern side by a collection of worn and decaying clapboard-sided homes. The Casa Acosta y Fores at number 66 is the most significant residence. The Casa Juán Perichi, a substantial-looking building at the intersection of Calle Dr. Ueve and Parque Santo Domingo, very next to the Iglesia Porta Coeli, is also remarkable. Both homes are regarded as exceptional examples of Puerto Rican adaptations of Victorian architecture and were constructed using traditional wood construction circa 1917. Unfortunately, both are quite run-down, but that may improve as San Germán is making modest progress on its historic repairs.
7. Public library
The contemporary, cement-sided Public Library, Calle José Julia Acosta, is located next to the Auxerre church. You could be enticed to enter the air-conditioned interior to peruse the book stacks and magazine collection. It is open from 8 a.m. to 8:30 p.m. Monday through Thursday, 8 a.m. to 6 p.m. Friday, and 8 a.m. to 4:30 p.m. Saturday. At least one masonry-fronted town house behind the Auxerre church has a style that can make you think of southern Spain (Andalusia), particularly when the flowers in the window boxes provide pops of color.
8. Parish of San Germán de Auxerre
San Germán de Auxerre Parish (Plaza Francisco Mariano Quiones, 787/892-1027), which was constructed in 1739, has undergone several partial reconstructions and restorations throughout the years but has maintained its neoclassical aesthetic elegance. Three naves, ten altars, two chapels, and a belfry tower were all constructed after the 1918 earthquake devastated the original one. A painting by famed Puerto Rican rococo artist José Campeche, as well as 18th-century wood carvings, can be seen in the choir loft. The ceiling and archways also include trompe-l'oeil paintings that are painted to seem like wood coffers.
9. Events and Entertainment
In Maricao, close to San Germán, a three-day festival known as La Fiesta del Acabe del Café marks the conclusion of the coffee harvest season in the middle of February. There will be musical performances, crafters, and food vendors during the celebration.
Puerto Rican food is creatively interpreted at Food De Lirious (Calle Santiago Veve Plaza, 787/264-4600, open Wed.-Thurs. 1pm-10pm, Fri.-Sat. 1pm-11pm, Sun. noon-8pm, $8-18). Try El Volcán, a mofongo packed with churrasco and prawns in white sauce, or the house speciality, a filet of dorado with coconut and pumpkin. There is eating both indoors and outside.
Final words
Now you know everything about San Germán Puerto Rico. Keep these in mind and plan your visit accordingly. You will surely fall in love with what San Germán Puerto Rico has to offer.