Leavenworth, sometimes known as Washington's "German town," has a lot more to offer than bratwurst and beer gardens. Leavenworth offers a diverse selection of activities that extend well beyond the wooden balconies and tiered roofs for which it is famous. Through this article, we are going to share all the fun-filled Leavenworth summer activities available for you to try. You will be able to get a perfect experience in Leavenworth with the help of this guide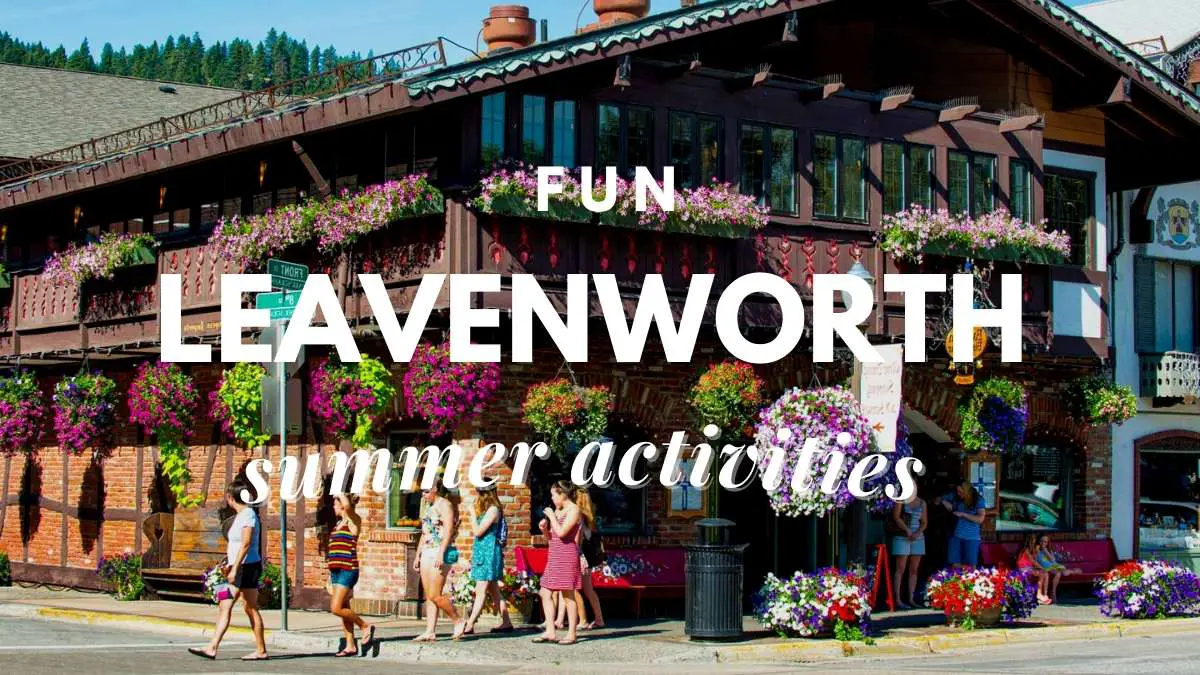 Enjoying your summertime in Leavenworth
Many of the activities to do in Leavenworth on this list are, admittedly, outdoors. However, there is a compelling explanation for this. Leavenworth, which sits on the banks of the Wenatchee River and is surrounded by mountains, emanates outdoor activities from every valley. The village is also an excellent starting place for visiting the North Cascades region.
Hiking Whether you have a whole day or an hour, Leavenworth offers a variety of hiking activities both in town and in the surrounding peaks and valleys. We had a great time touring the three waterfront parks just south of downtown after supper. With cottonwood and pine trees, informative signs, and vistas across the Wenatchee River, Blackbird Island is especially picturesque.
Another of our favorite Leavenworth hikes was the Icicle Ridge trek. This picturesque switchback route leads to a vantage point with a view of the town. Though exposed and challenging at times, the payoff of this path is well worth the effort. Wear a hat and apply sunblock!
Read: Is Traveling A Hobby? The Ultimate Guide To An Exciting Way Of Life Learn about the Downsides Of Traveling As A Hobby

1. Backpacking
It's simple to understand why the Enchantments path is the most well-known backpacking route around Leavenworth. The 18-mile path is peppered with soaring hills, alpine meadows, lovely lakes, and boundless vistas.
The first thing to know about this Leavenworth backpacking path is that during the major hiking season, only 24 people are permitted to stay overnight in the Enchantments core area. The remaining eight spaces are given in a daily lottery at the Wenatchee River Ranger District Office in Leavenworth, with 16 slots granted in an advanced lottery system (opening in mid-February each year). In 2018, well over 17,000 advance applications for the 708 available licenses were filed.
Not able to get a permit? It is feasible to finish the Enchantments path as a thru-hike if you are a strong hiker. Allow at least 11 hours for trekking. A thru-hike through the Enchantments needs two automobiles or the use of the Enchantments shuttle service. Consider another backpacking option near Leavenworth, such as Snow Lakes, Lake Stuart, Minotaur Lake, Lake August, Lake Caroline, or Eightmile Lake. Permit competition for certain places is lower – see the 2018 data here.
2. The Enchantments Hike
Leavenworth is surrounded by apparently limitless high-quality granite that is ideal for climbing. We went on a trip with Leavenworth's Northwest Mountain School, and I was particularly impressed by the number of climbing routes so close to town.
We tackled a multi-pitch route for the first time with the support of our guide Olivia. The location (just off Highway 2) was ideal, and the climbing itself was fantastic. The approach was a bit rocky, but Leavenworth has so many climbing choices that you can easily select another adjacent crag that suits you.
I'd definitely suggest the Northwest Mountain School team if you're seeking to start climbing for the first time or just need an introduction to Leavenworth's climbing. They provide mountaineering adventures as well as anchor, lead, rescue, and crack climbing training. The 4th edition of Leavenworth Rock is a comprehensive reference covering 1700+ Leavenworth climbing routes. Another wonderful resource is Mountain Project. Climbing is one of the nicest things to do in Leavenworth, Washington, and Gemma and JR are ascending a granite cliff.
3. Bouldering
The bouldering scene in Leavenworth is massive, deserving of its own category. I had always associated Leavenworth with climbing, but bouldering is now attracting the most interest. The hotspot is Icicle Creek, which has hundreds of bouldering locations that are readily (and rapidly) accessible from the main road. There are many trailheads, so having a local bouldering guide is essential for determining where to go. Even on weekends, there are generally enough boulders to go around due to the diversity and placement of routes.
In adjacent Tumwater Canyon, there are additional bouldering chances. Before going out, I suggest buying up a copy of Leavenworth Bouldering online or at the Der Sportsman outdoor shop in town.
4. Rafting
The Wenatchee River is Washington's most popular rafting location, and I can understand why. With breathtaking vistas of mountains, caverns, orchards, eagles, pinnacles, and more, our four-hour rafting adventure with Osprey Rafting was both exhilarating and peaceful at moments.
I had the finest view of the ride from the front of the boat, but I also got very, very wet. It was my first time rafting, and I had a great time! JR and I normally avoid rapids and waves while paddling, so it seemed strange (but really fun) to actively strive for them. Osprey offers a private take-out station on the Wenatchee River, unlike other rafting businesses in the vicinity. A grill, changing rooms, and bonfire await you after a fast landing on the beach.
Osprey offers a variety of additional rafting adventures in the Leavenworth area, all tailored to the season. The 'Main Event' route includes 15 miles of Class II and Class III whitewater. Local Class IV rapids Triple Shot, and Tinley Falls may be rafted with high water. I can only image how crazy that is! Rafting the Wenatchee River near Leavenworth with Osprey Rafting White water rafting on the Wenatchee River with Osprey
5. Tubing
One of the most peaceful outdoor summer pastimes has to be floating down the river on an inner tube. Tubing in Leavenworth is a unique experience, with the Wenatchee River passing through town and carving into the valley beyond at a surprisingly sluggish pace. Tube rentals, shuttle services, and other Leavenworth tubing accoutrements are available from a few local outfitters. Osprey Rafting provides a thrilling adventurous tubing journey that includes a few Class II waves.
6. Ziplining
Fly through the air at Leavenworth Ziplines, situated in Plain, a short drive north of town. Choose from 5 to 9 lines, the longest of which includes a suspension bridge. Rain or shine, ziplining tours take place in Leavenworth, making this a perfect choice for those days when the summer weather disappoints!
7. Tasting of wines
Leavenworth offers a remarkable number of wine tasting establishments for such a tiny town. There are about a dozen in the area surrounding Front Street. Try one, two, or visit one of the nearby wineries for a tasting amid the vines. We sampled three wines at Icicle Ridge Vineyard's downtown tasting area, despite the fact that the winery is just five miles away in Peshastin.
8. Beer and cider sampling
Not a fan of wine? There are also lots of chances to sample local beer and hard cider! The Bushel & Bee Taproom, located in the charming Mottler Building on Front Street, was our favorite choice. It's primarily a cider taproom, but there's also a fair selection of beer, as well as a sunny terrace, gaming evenings, and live music.
9. Museum of the Nutcracker
With a visit to the Nutcracker Museum, you may thoroughly immerse yourself in Leavenworth's Bavarian atmosphere for an hour or two. Arlene Wagner has gathered thousands (and thousands!) of nutcrackers from all around the globe as part of her life's work. The end product is much more exciting than you may expect.
There are historical nutcrackers on show that date back thousands of years, in addition to several versions of the conventional Nutcracker form. Arlene continues to travel throughout the world in search of new nutcrackers to add to the collection. As a result, the museum is growing as well.
I don't know about you, but sipping a chilled beverage on a sunny patio is a must-do activity for me this summer. It's much great after a day of outdoor exploration! By chance, practically every eating and drinking establishment in Leavenworth has a terrace. Here are some of our favorites:
10. Beer Garden & Yodelin Broth Co.
South Leavenworth Blewett Brewing Company O'Grady's Pantry at Sleeping Lady Sulla Vita Munchen Haus When deciding where to stay in Leavenworth, as an outdoor enthusiast, I can't help but recommend you take use of the magnificent surroundings. Sure, you could stay at a hotel (and there are many to choose from), but why not try something new?
Final words
Now you are aware about the best Leavenworth summer activities. You will be able to keep these facts in mind and get the most out of your tour. If you can stick according to a plan, you will be able to get the most out of time you spend here. You will surely love the results that come along with the summertime that you spend in Leavenworth.