When your beach trip finally comes, there's nothing like it. You've been looking forward to relaxing on the beach on sunny days. Unfortunately, this isn't always the case, and it may rain during your beach trip. Don't let a little rain deter you from visiting Sandbridge; instead, enjoy it! Because Sandbridge is part of Virginia Beach, there are several things to do within a short drive. Here are our top suggestions for things to do in Sandbridge VA when it rains.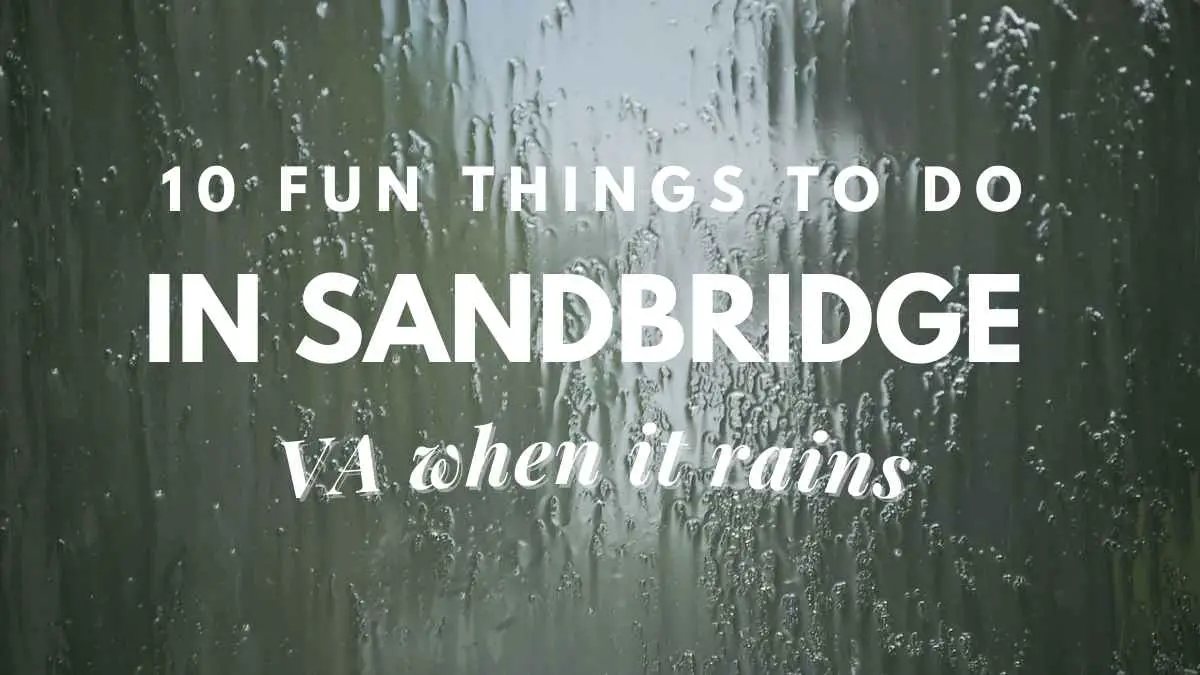 1. Visit the Aquarium.
Whether there are children or just adults participating, everyone engaged will have a fun and instructive excursion to the Virginia Aquarium & Marine Science Center. One of the top aquariums in the nation is the Virginia Aquarium & Marine Science Center. Over 800,000 gallons of fresh and salt water exhibits may be seen in the Virginia Aquarium. On the biggest screen in Virginia, see one of their fantastic instructional films. Guests will enjoy an exciting, updated viewing experience thanks to newly rebuilt seats, flooring, and sound system in our six-story Giant Screen Theater.
This tour will be a fun for everyone, with hundreds of hands-on exhibits and a National Geographic 3D Theater! If the rain stops while you're at the aquarium, you may go on to the Adventure Park for more adventure and enjoyment. Climbing and zip-lining through towering trees near the marsh pavilion, as well as 15 pathways that snake across platforms over 6 acres, are all part of the aerial forest park!
Read: Is Traveling A Hobby? The Ultimate Guide To An Exciting Way Of Life Learn about the Downsides Of Traveling As A Hobby

2. Try your hand at bowling
Bowling is, without a doubt, an enjoyable pastime for everyone involved. There are several bowling lanes in Virginia Beach to pick from. Bring the whole family for a fun-filled day of bowling and arcade games. Start a pleasant family tournament and watch as everyone forgets about the rain and competes to be the day's bowling champion. Seaside Lanes, AMF Lynnhaven Lanes, and Freedom Lanes are the nearest bowling alleys to Sandbridge Beach.
3. Do shopping
Shopping is usually a wonderful alternative on a wet day in Virginia Beach. The Lynnhaven Mall, which has over 130 retailers, is roughly a 30-minute drive from Sandbridge. There is bound to be something for everyone on this shopping excursion alone! Head out to Dave & Buster's for a beer and some arcade games if you have kids who are "shopped out" or if you're an adult looking for a fun break from shopping. The mall isn't the only place in Virginia Beach where you can shop. For a more urban feel, go to Town Area and browse around for local shops; practically every retail center you come across will have something to offer you.
4. Visit a trampoline park.
If you haven't visited a trampoline park before, I strongly suggest it to both children and adults. A trampoline park is a space with trampolines running the length of the walls and floors. On wall-to-wall trampoline courts, let go of gravity and catch some air. There's more to this place than just jumping from walls; they have dodge ball, foam pits to jump into, and even basketball goals to slam on! This is a terrific workout for everyone and is a lot of fun. Now, you may not want to bounce about for hours, but you do want to let the youngsters burn off some energy.
They provide areas for non-jumpers and parents to relax while keeping an eye on the activity. Jump Virginia Beach and Sky Zone are two trampoline parks in Virginia Beach.
5. Stay at your hotel or vacation rental
When it's raining on vacation, it's lovely to go out of the home, but remaining at your vacation rental and spending quality time with your family is also a good idea. On vacation, family members and friends are sometimes so anxious to get to their destination and complete all of their plans that they miss the most crucial aspect, spending quality time with their loved ones. If it rains while you're on vacation, this is the ideal chance to spend quality time with your family.
When you stay in your Virginia Beach vacation rental, there are so many things to do. Bring out the board games, grab some snacks, and get ready to have a good time! Nothing beats a friendly family competition with a few board games or cards. This will undoubtedly offer smiles, laughing, and joy to people of all ages. After all of the games have been completed and the family champion of the night has been determined, everyone can relax in the living room by watching a movie or your favorite Netflix series.
6. Visit TopGolf
Start your day off right with breakfast and a few holes of TopGolf. If you've never played TopGolf before, you should absolutely do so. TopGolf features a range of games that are entertaining for players of all skill levels, regardless of how high their handicap is. We like to go early since the rounds are less expensive before noon, the crowds are less, and their breakfast is delicious. We can get through a round or two with the chicken and waffle sliders and a couple of traditional mimosas. TopGolf is totally covered and open for business rain or shine, even though you are technically outdoors.
7. Visit a brewery
One of our favorite ways to get out of the rain is to take a seat at one of our local craft brewers. The ever-expanding craft beer sector in Virginia Beach is bursting at the seams with distinct tastes that we are delighted to share with visitors to our seaside city. There's a beer, and a brewery, for everyone who comes. From juicy IPAs bursting with hops to nuanced barrel-aged sours, there's a beer, and a brewery, for everyone who visits.
8. Visit the Beach Cinema Alehouse
From the comfort of your seat in front of a huge screen at Beach Cinema Alehouse, order your favorite dish and a local craft beer. The seven-screen movie theater and eating location offers first-run movies as well as delectable food items like as beach fries, pizzas, and crab cake nibbles to savor while viewing your favorite film. Come thirty minutes early to enjoy the culinary selections, since the previews begin after last call.
9. Visit the Funny Bone Comedy Club
At Town Center's Funny Bone Comedy Club, get some much-needed belly laughs with a night with one of the country's best comedians. If you're feeling adventurous, practice your punchline and try your hand at being the center of attention at a comic club while learning from the finest during Comedy School, a free session held throughout the year.
10. Military Aviation Museum
At the Military Aviation Museum, the world's biggest privately held collection of 65 planes from the first 50 years of military aviation, imagine yourself in the cockpit of a WWI or WWII aircraft as you plunge into history. There are no ropes or panes of glass in this room. You may go straight up to each plane and inspect it from the inside. This is a once-in-a-lifetime historic event that you won't find anywhere else, thanks to each plane's extraordinary restoration to flying condition.
As you can see, there are numerous things to do when it rains in Sandbridge. Plan the day correctly and you can get the most out of Sandbridge.