One of Arizona's most picturesque locations is Havasu Falls, where anybody may go swimming and enjoy time with friends and family. Around here, you may locate a variety of swimming holes and have a fantastic journey from beginning to end. You may learn all there is to know about swimming at Havasu Falls in this article, from the guidelines you must abide by to the activities and entertainment that are offered there. Can you swim in Havasu Falls? Continue to read and you will figure it out.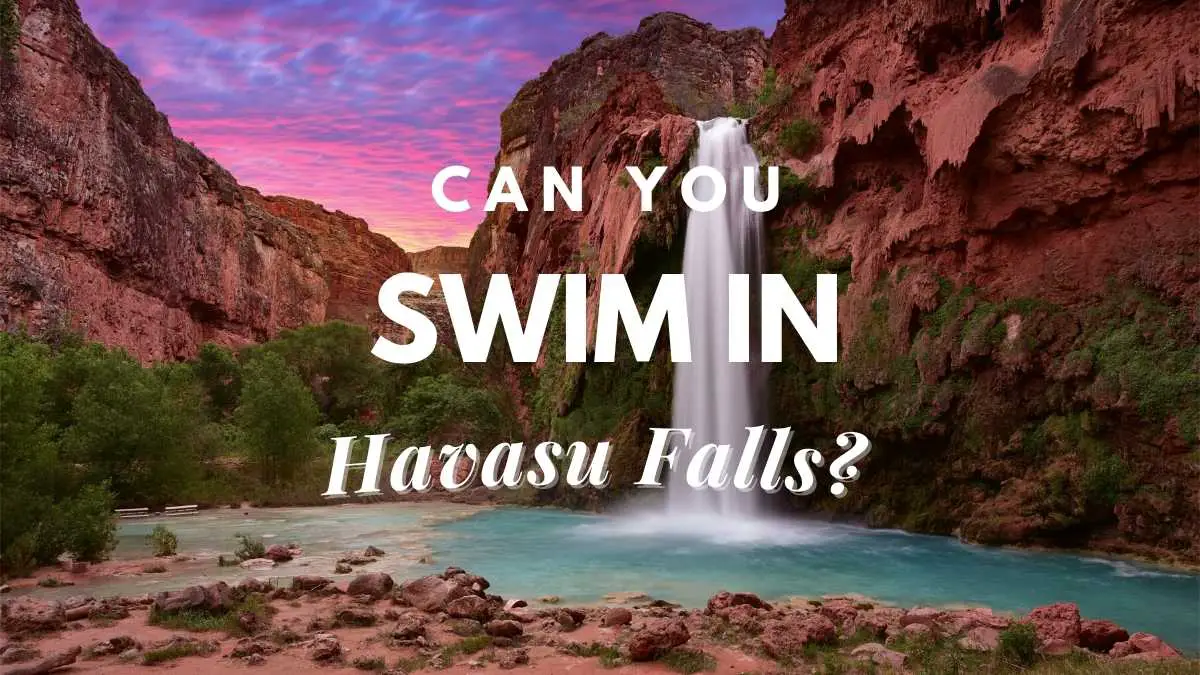 Is swimming at Havasu Falls safe?
the stunning surroundings of Havasu Falls, Arizona. I wish to bathe in and breathe in the splendor of the Havasu Falls' blue-green waters, which are so mesmerizing. Yes, swimming at Havasu Falls is safe due to the average depth of the water being 5 feet and the absence of any contaminants or pollutants. As long as you are cautious and do not take any excessive risks, you may easily swim below the waterfall and explore the whole region.
The only thing to watch out for is the recurrence of flash floods, which have occurred a few times in recent years. Everyone must leave the region during these flash floods to avoid any accidents, and the tribe prohibits access to certain locations until the Havasu Falls' conditions are safe for everyone once again.
Read: Is Traveling A Hobby? The Ultimate Guide To An Exciting Way Of Life Learn about the Downsides Of Traveling As A Hobby

Best time to visit Havasu Falls and go swimming?
Early spring or late autumn are the finest times to go swimming at Havasu Falls because of the favorable weather for both swimming and trekking. Nevertheless, you may travel to Havasu Falls at any time of the year. You might even decide to go in February or March when there are fewer visitors, and it is simpler to make reservations.
The weather is significantly cooler at this season, making trekking ideal and preventing you from becoming exhausted quickly. Additionally, you may avoid sunburn, witness more animals wandering about, and feel safer during flash floods here.
Can you drink water at Havasu Falls?
Although legally speaking you may drink the water from the Havasu Falls as it originates from a nearby spring, we do not advise doing so since many people bathe there, and the water quality may not be the best. Instead, since it is regularly tested to ensure its purity and suitability for human consumption, we urge guests to only drink water from the spring on the campground.
Every time you visit Havasu Falls, you only need to fill up your water bottle or other containers at the spring's spigot or faucet. Bring a five-liter bottle or bag with you if you want to have enough water for your excursion in order to prevent making several treks back and forth to the campground.
Why do a lot of people visit Havasu Falls during winter?
If you take a look at trends, you will notice that most people are visiting Havasu Falls during winter. There are multiple reasons behind the fact on why Havasu Falls is so popular during winter. Let's take a look at those reasons in detail. Based on that, you will also be able to determine whether you are visiting Havasu Falls in winter or not.
One of the main things about visiting Havasu Falls in winter is that it is relatively easy for you to get a reservation. To get a reservation for camping near Havasu Falls, you will have to wait for months to get a reservation. It is next to impossible during the weekends of summer season. If you really don't want to go through all that trouble, you should think about visiting Havasu Falls during winter. That's because the total number of people who visit Havasu Falls is less. You can take advantage over it and reserve your place for camping without a struggle.
Another great thing about visiting Havasu Falls during winter is that you will be able to have waterfalls dedicated to yourself. This is a once in a lifetime experience that you can get. Imagine the experience that you will go through when you are sitting next to the Havasu Falls while enjoying a coffee on your own. If you don't want anyone to disturb you, it is possible to think about visiting here during winter season without keeping a doubt in mind.
Now you will come across the most important question, whether it is possible for you to swim at Havasu Falls during winter. Yes, it is possible for you to swim at Havasu Falls during winter season. You will fall in love with the water temperature in here during winter. On top of that, you will also appreciate the magical colors of the waterfall that you can see in winter. The temperature of water here at Havasu Falls throughout the winter is around 70 degrees Fahrenheit, and you don't have to worry too much about anything.
Is the public able to see Havasu Falls?
Due to the limitations imposed by the Covid-19, Havasu Falls is not now accessible to the general public. However, once the lockdown is released, it will be. When that occurs, you'll need to sign up on their official website and make a reservation in advance by selecting any open day from their calendar. A valid permit is also required in order to visit Havasu Falls and take advantage of everything that it has to offer.
How to Obtain a Havasu Falls Permit?
Prior to doing anything else, you must enter your information and payment method after registering on their official website. When they open to the public on February 1st, you must wait until that day to get your opening permission and be among the first to do so. The new opening permit day will be delayed until they make an update on their website owing to the Covid-19, however.
Reselling your permit, whether it be individual slots or the whole group package, is absolutely banned and all permits must be obtained via the official Havasu tribe website.
At Havasu Falls, how warm is the water?
Havasu Falls has year-round average temperatures of roughly 70 degrees, making it a fantastic option for anybody looking for a relaxing swimming experience.
How Should I Train for Swimming at Havasu Falls?
You must have everything ready before swimming in the Havasu Falls if you booked your bookings on time and are going to leave on your excursion. You will need to pack the essentials for this trip, which include hiking boots for getting to the Havasu Falls, water shoes for walking close to the swimming holes, and a water bottle to carry enough water during the day. If you choose to camp out with the others, you will also need to pack food and camping supplies.
How Do You Get to Havasu Falls?
Once you have everything you need, depending on the amount of money you have to spend on the trip, you must choose how you want to arrive to Havasu Falls. Currently, there are three methods you may use to get to the Havasu Falls: using a helicopter, trekking, or using a pack mule. It takes the helicopter around 15 minutes to get there, with a one-way fare of $85 per passenger.