If you've never been, there are many of good reasons to travel to Arizona. You'll get the chance to check out an Arizona hot air balloon flight in addition to enjoying the change of scenery and the warm weather. There are many reasons to include a hot air balloon trip on your bucket list if you've never thought about it. Statistics reveal that from 2002 to 2012, there were just 16 deaths throughout a ten-year period. But is there a particular trip you ought to go on? What is the ideal business to use? You probably have a lot of questions, but you don't know who to ask in the area or where to begin.

Look into the businesses that provide tours of Arizona that let you see the state from fresh perspectives. You can select the ideal balloon trip for you if you do your homework and have a general concept of where you're heading. These are the best hot air balloon rides Arizona that you can consider as of now.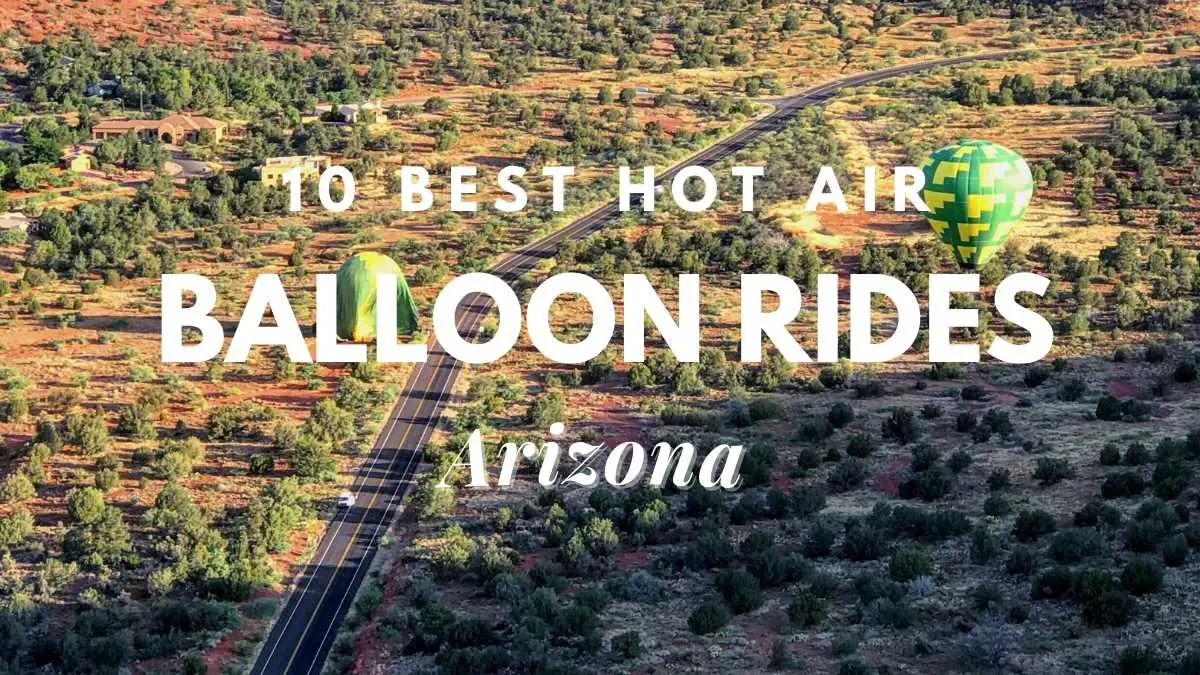 1. Phoenix's Rainbow Ryders Hot Air Balloon Ride
Popular tourist destinations include Phoenix. While there is no lack of things to do, there are many options for where to go for a good hot air balloon trip. Customers had a good time at Rainbow Ryders, and the business has excellent reviews to prove it. People have the option of doing a sunset or dawn trip or even booking a private ride. This is a great alternative for someone who wishes to be married in a memorable and enjoyable manner since weddings are even an option. You may also take home a traditional champagne flute to serve as a memento of your flight.
Read: Is Traveling A Hobby? The Ultimate Guide To An Exciting Way Of Life Learn about the Downsides Of Traveling As A Hobby

2. Phoenix Firebird Balloons
With a variety of vibrantly colored balloons, Firebird Balloons lives up to its colorful name and makes sure you'll never get lost in the skies. You may choose between a private flight, an aerial wedding, or a brief balloon journey with friends. Firebird Balloons offers tethered balloon rides if you're not yet prepared to commit to solo flight. This enables you to experience something comparable without the added height. Despite having its headquarters in Phoenix, the business also serves Chandler, Scottsdale, and Glendale. If you're determined to take the balloon flight of your life but are unsure of what region of the state you'll be in, this may give you a ton of possibilities.
3. Tucson Balloons
You may select between a dawn or a sunset flight with Arizona Balloons, so you can enjoy all the natural beauty that Arizona has to offer. There is also the option of having your own private charter. Like most businesses, they have a licensed in-house pilot and only fly when it's entirely safe and pleasant. Arizona Balloons can accommodate you if you're seeking for a first-class vacation, whether it's for leisure or even as a corporate team-building activity.
4. Phoenix Hot Air Balloon Rides in Arizona
Arizona Hot Air Balloons offers services throughout the neighboring locations, which include, to mention a few, Scottsdale, Tempe, Apache Junction, and Chandler, while being situated in Phoenix. They provide flights at dawn and at sunset, much like the other businesses. If this is your first time flying, you may purchase a certificate to mark the occasion and keep it as a keepsake. This is excellent for anyone who are conquering a fear of heights or are new to the joy of ballooning. Flights at sunset include a delightful mini-meal, while those at morning provide a satisfying breakfast.
5. Phoenix Float Balloon Tours
You already know that the majority of hot air balloon companies offer early morning and late evening flights, but Float Balloon Tours goes one step further. Thanks to their special class, a hot air balloon photography course allows you to take advantage of all the things you'd never get to see and record them on film. A skilled photographer will be accompanying you. This enables you to maximize this special opportunity and benefit from everything that a hot air balloon trip has to offer. Consider utilizing Float Balloon Tours if you're looking for something unique and discover how far your skills can take you.
6. Equinox Goodyear Hot Air Balloon Rides
Have you ever wanted to take a ride but been put off by the cost? You may benefit from trips at Equinox Hot Air Balloon Rides that include more than two flights. Combine with a small group of passengers, a third group, a fourth group, etc. You'll get the opportunity to meet some new people and see the world from a whole different perspective. The beautiful history of this business involves locating (and saving) Chase, who will serve as its mascot. This is a terrific option to go with if you want to support a business that values its customers and gives back.
7. Phoenix Hot Air Balloon Ride at Sunrise with Breakfast
There is no better time to take to the skies than at dawn if you don't mind getting an early start to your day. In addition to the broad vistas and sense of escape that a hot air balloon offers, the combination of tranquility over the landscape and a sky painted in hues of crimson, orange, and pink are benefits. In the Sonoran Desert, where you'll return to at the conclusion of the trip to a champagne brunch waiting for you, you'll also be able to see animals and cactus. starting at $149 per person.
8. Phoenix Half-Day Hot Air Balloon Adventure
The experience starts when the balloon is inflated, just as with every other hot air balloon trip on our list. You may even enter the 11-story canopy before the burner is lit when the wind conditions are exactly perfect. After the balloon is inflated, get inside the cozy basket, and let your FAA-licensed pilot handle the rest while you take in the scenery. The trip itself lasts three to four hours, while flights last around an hour. Receive your certificate and balloon flying pin to remember the event, and toast to your successful trip. from $169 per individual.
9. Hot air balloon flight above Phoenix in the morning
This hour-long trip, which leaves from Deer Valley Airport on the outskirts of Phoenix, provides an additional choice for those who want to get up early. Your pilot will direct you as you soar over the serene Sonoran Desert while pointing out the plant and animal life that may coexist peacefully below, unaffected by your balloon's passing above them. After taking pictures of Camelback Mountain and Downtown Phoenix in the distance, go back to the launch point for brunch. starting at $179 per person.
10. Hot air balloon flight above Phoenix in the afternoon
The late afternoon and sunset hot air balloon trip above Phoenix is available for those who get up late, although at a somewhat higher cost. As the sky changes from blue to crimson to black and the Phoenix cityscape illuminates, enjoy the last moments of daylight while passing Camelback Mountain and the Sonoran Desert's landforms. Due to the weather, this option is only accessible from mid-November to mid-March. Add hotel pickup and drop-off for an extra $20 per person if you don't have a vehicle. starting at $199 per person.
Final words
You may be shocked to hear that there are a lot of businesses providing top-notch hot air balloon rides over Phoenix's Valley of the Sun. All you have to do is to pick the best hot air balloon rides Arizona out of them. There is an unusual blend of urban jungle and hostile environment with the huge metropolis spilling out into the Sonoran Desert, which creates a distinct perspective. The best way to take in this scene is to softly float above it all in a hot air balloon. These top five methods to soar above Phoenix have been chosen based on a variety of criteria, including cost, time, and the tour operators' attention to health and safety.