Camping at one of the many campsites in the North Carolina mountains is one of our favorite ways to immerse ourselves in the magnificence of nature. Yes, hiking paths are fantastic for going outdoors to enjoy the Blue Ridge region's natural splendor. However, compared to day visits, camping enables us to explore a certain location in much more detail. If you are looking forward to camping in the NC mountains, you can take a look at this article. We will be sharing a list of the best places that you can visit for your next camping adventure.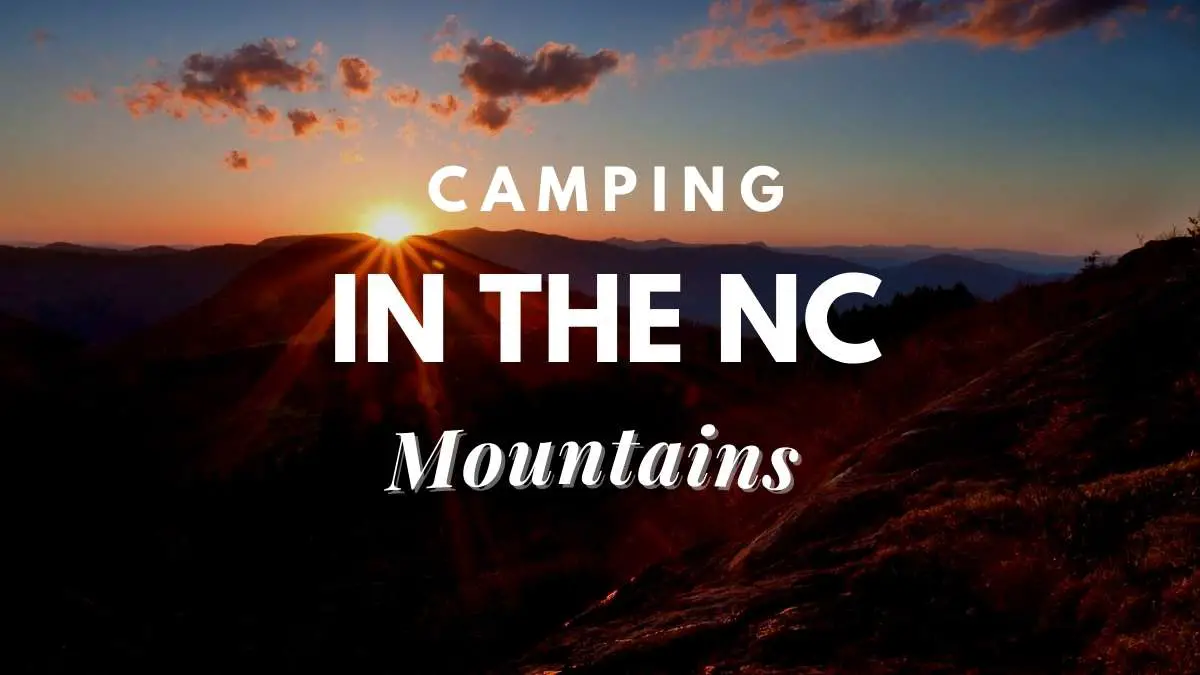 1. Cheoah Point Campground
The Cheoah Point Campground in the 1.3 million-acre Nantahala National Forest seems very far away because it is perched on rocks above Lake Santeetlah. But it's a terrific place for taking beautiful drives, going out on the lake, and exploring the forest. Due to its proximity to Cheoah Point Beach, which has a designated swimming area and a lovely picnic shelter, this campsite in the NC mountains is unique.
A boat ramp for access to the lake lies just beyond there. The Joyce Kilmer Memorial Forest, one of the few surviving areas of old-growth forest on the East Coast, is only ten miles distant, encircling the northern lakefront. There are 23 campsites at the campground, and all but six are first-come, first-served. Numerous RV sites have power hookups. There are flush toilets, hot showers, and water accessible as well.
Read: Is Traveling A Hobby? The Ultimate Guide To An Exciting Way Of Life Learn about the Downsides Of Traveling As A Hobby

2. Blue Ridge Parkway's Crabtree Falls Campground
One of our favorite campsites in the North Carolina highlands is Crabtree Falls Campground, which has a wonderful position along a stunning section of the Blue Ridge Parkway. It is near to many attractions and has a substantial draw of its own. The major attraction is Crabtree Falls, a 70-foot cascade that hikers and photographers both find to be one of the top Blue Ridge Parkway waterfalls in North Carolina. The quaint tiny village of Little Switzerland, North Carolina, and the Emerald Village attraction, which offers a random assortment of historical treasures for the inquisitive, are both just a few miles north.
The trailhead to the peak of Mount Mitchell, the highest mountain east of the Mississippi, is just 15 miles distant, while Linville Falls is about 20 miles down the Parkway. There are 81 campsites at Crabtree Falls Campground, 54 of which are first-come, first-served, while the remaining 27 may be booked. RVs and tent campers are also welcome at the campsites. There are freshwater spigots and flush toilets here, but no showers.
3. Pisgah National Forest's Davidson River Campground
The Davidson River Campground is a superb location in the Pisgah National Forest, sprawling along the Davidson River and right off the Forest Heritage Scenic Byway. Its continued occupancy for a large portion of camping season tells you! The greatest waterfalls in the area of Brevard, North Carolina, are all within easy reach of the Davidson River Campground. Sliding Rock, Looking Glass Falls, Daniel Ridge Falls, and Moore Cove Falls are some of the waterfalls in this region, which is referred to as the "Land of Waterfalls."
The Pink Beds Trail and Looking Glass Rock Trail, two of the most popular hiking destinations in Pisgah, are both nearby. Great places for tubing, fishing, and swimming may be found along the Davidson River. It's also not far to go to Brevard, a little college town. There are more than 160 campsites and eight distinct loops in the park. There are RV sites with full connections available, and each loop has a bathroom block with flush toilets and hot showers. Throughout the camping season, reservations are required; however, during the winter, certain sites are first-come, first-served.
4. North Carolina's Deep Creek Campground
The Deep Stream Campground is snuggled along the well-known creek, which is renowned for its beauty and recreational options, and is situated just within the Great Smoky Mountains National Park. Deep Creek is a fantastic location for wilderness fishing and tubing, both of which occur often throughout the summer. There are fantastic hiking trails nearby as well, including a short, absolutely gorgeous trip to three waterfalls.
Bryson City, a wonderful tourist destination, is located just outside the park. It has a wide selection of fantastic restaurants, shops, and museums. From Bryson City, the Great Smoky Mountain Railroad also leaves. Our opinion is that this is one of the greatest family-friendly NC campsites in the Smoky Mountains. The park can accommodate both RVs and tents, however all of the sites lack electricity.
5. Blue Ridge Parkway's Doughton Park Campground
The 7,000-acre Doughton Park, which is the biggest leisure area on the Blue Ridge Parkway, is located close to the NC-Virginia border. Over 30 miles of excellent hiking routes may be found in Doughton Park, including the vista-rich Bluff Mountain Trail and the cascade-filled Basin Creek Trail to the Caudill Cabin. One of two old cabins in the park, the other being the Brinegar Cabin, which is a popular BRP destination and is situated at milepost 239 in the area.
Additionally, Doughton Park features a wonderful picnic space and the freshly renovated Bluffs Restaurant. 20 miles to the east and west, respectively, are Stone Mountain State Park and New River State Park. In addition to roughly 100 first-come, first-served sites, the campsite features 24 reservation-only sites. Although there are choices for both tent camping and RVs, all sites lack electricity. There are no hot showers, but there are all the standard camping facilities including a fire ring, water, picnic tables, and communal restrooms.
6. Blue Ridge Parkway's Julian Price Campground
The Julian Price Campground is a fantastic stop for travelers or residents seeking for a nice staycation escape. It is situated close to Boone, North Carolina, adjacent to the scenic Price Lake, which is one of the most photographed locations on the Blue Ridge Parkway. The majority of the best hiking routes in the North Carolina High Country are located at Julian Price Memorial Park.
The Boone Fork Trail goes to Hebron Falls, the Price Lake Trail encircles the lake, and the Cascades Trail is a straightforward one-mile loop. Both are among the top waterfalls in the area of Boone. Price Lake is accessible for fishing and offers the option of renting kayaks and canoes. The tourist destination of Blowing Rock is around 20 minutes distant, while Moses H. Cone Memorial Park is just a few miles away.
Nearly 200 campsites are available at this sizable (and well-liked) campground, with 75 of them being reserved and the other 115 being first-come, first-served. There are tent-only and non-electric RV sites on the property, as well as all the standard camping amenities including showers.
7. Blue Ridge Parkway's Linville Falls Campground
One of the most popular locations for hiking along the Blue Ridge Parkway in North Carolina is where you'll find the Linville Falls Campground. The 11,786-acre Linville Gorge Wilderness Area begins with the beautiful, two-tiered waterfall known as Linville Falls. The Linville River is easily accessible from the campsite, which is located beside it. It takes only a few minutes to drive or walk to the trailheads for Upper and Lower Linville Falls. It is not far from the famed Wiseman's View and the western rim of the Linville Gorge Wilderness Area. The independently run Linville Caverns are also close by.
39 campsites, including non-electric RV sites, tent-only sites, and group camping, are available at Linville Falls. While some of these campsites are bookable in advance, more than half are first-come, first-served, which is helpful for people planning a last-minute camping vacation.
8. Blue Ridge Parkway's Mount Pisgah Campground
The Mount Pisgah Campground, another Blue Ridge Parkway favorite that provides easy access to some of the region's top attractions, is perhaps the greatest campground in Asheville, North Carolina (or at least the nicest campground close to Asheville). Excellent treks are available close to the campsite, one of which ascends to the 5,721-foot top of Mt. Pisgah. The Pisgah Inn, a historic hotel just across the Parkway, has a wonderful restaurant with stunning views of North Carolina's fall foliage, a coffee shop, a gift shop, and a store with plenty of camping and hiking equipment.
The Pisgah National Forest's Cradle of Forestry and some of the greatest waterfalls close to Asheville, North Carolina, are just down the road (including Graveyard Fields). The Mount Pisgah Campground is large, with more than 50 sites available for reservations and more than 70 sites that are first-come, first-served. Although clean toilets, drinking water, and bear lockers—which are a need in this area—are provided to all campers, only Loops B and C have showers.
9. Smokemont Camping Ground
The Smokemont Campground near Cherokee, North Carolina, is a sizable area situated immediately next to the Bradley Fork River that offers authorized camping in the Great Smoky Mountains National Park. A few trailheads that go directly into the stunning Smoky Mountains are accessible from the campsite, which is close to the Oconaluftee Visitor Center which is connected to a wonderful history farm museum.
Just a few miles away is Mingus Mill, a historic structure with a working water wheel, and the town of Cherokee is where you can find the Museum of the Cherokee Indian and Qualla Arts & Crafts Mutual. Only a 20-mile journey separates you from Clingman's Dome, the highest peak in the national park. In addition to RVs and tents, the campsite contains approximately 110 spaces. All campers have access to potable water, flush toilets, and practical dishwashing facilities.
10. Stone Mountain Campground
This NC monument, which should not be confused with Stone Mountain in North Georgia, has a 600-foot granite rock face without any Confederate engravings. The North Carolina State Park has excellent, conveniently accessible, year-round camping options. In fact, we contend that this is among the prettiest campsites in the mountains of North Carolina.
At Stone Mountain State Park, there are many of things to do. Experienced rock climbers may enjoy breathtaking views of the NC Piedmont from the mountain's 2,305-foot peak, which also serves as a playground. There are 28 miles of paths, some of which are accessible by horseback. For those who like trout fishing, the park's 200-foot Stone Mountain Falls is the highest of numerous waterfalls. There are also more than 20 miles of other rivers.
At the foot of the mountain, the Hutchinson Homestead offers a big picnic area with 75 picnic spots and three sizable shelters for history aficionados interested in the Appalachian region. With 90 sites, two restrooms, and hot showers, Stone Mountain Campground is a great place to camp. Some sites have RV electric and water connections, and tent campers are also permitted there.
11. Backpacking on Grandfather Mountain
It should be noted that Grandfather Mountain does not have a true campsite. But in this rough NC state park, there are 13 rustic campsites scattered over the wide and difficult route network. Even though this option may not be suitable for everyone, wilderness campers who don't mind a little roughing it will love it here. Due to the high winds in the region, some campsites don't even permit campfires.
With a height of about 6,000 feet, Grandfather Mountain is the tallest peak in the Blue Ridge Mountains' eastern escarpment. The park has 12 miles of trails, with challenging walks being the norm. At Grandfather Mountain State Park, the Grandfather Mountain Stewardship Foundation provides a variety of activities, such as the well-known mile-high swinging bridge, a nature museum, and a wildlife refuge. There are various activities in Banner Elk, North Carolina, directly outside the park, as well as several fantastic restaurants close by. Keep in mind that some campgrounds are quite rustic, without running water and restrooms. Black bears must be kept away from tent sites, thus there are springheads for fresh drinking water within the park.
However, the campgrounds are in incredible locations where few people would ever spend the night. Keep in mind that reservations and permissions are needed.
Final words
By reading this article, you have a clear picture on how to proceed with camping in the NC Mountains. Adhere to the tips that we shared here, and you will be able to end up with getting an amazing experience while you are in NC.